Dell OptiPlex Pre-built Desktop Computer
The Dell OptiPlex is a line of desktop computers designed for use in business environments. Originally introduced in 1993, the OptiPlex has since become a popular choice for businesses. In addition to its traditional use, the OptiPlex is also popularity among home users for a variety of use cases, including gaming upgrades, home servers, home lab setups, and media centers (HTPC).
The OptiPlex line includes a range of models with varying specifications and features. These models are divided into families, such as the OptiPlex 3000, 5000, and 7000 series. Additionally, the OptiPlex line includes tower (MT) and small form factor (SFF), and micro (M) models, allowing users to choose the form factor that best suits their needs.
Latest Dell OptiPlex models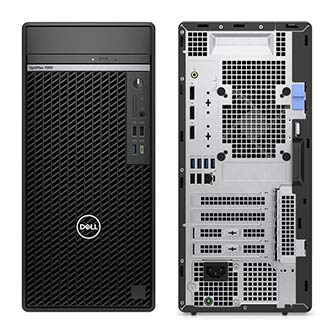 Dell OptiPlex 7000
The Dell OptiPlex 7000 Tower is a pre-built business desktop computer first released in 2022. It is the latest top-tier family from the X000 series. All the models are using Q670 chipset and supports 12th gen Intel Core processor, and 128GB of DIMM DDR5-3600/4000/4400 memory. The family includes three form factors – OptiPlex 7000 MT, OptiPlex 7000 SFF, and OptiPlex 7000 Micro.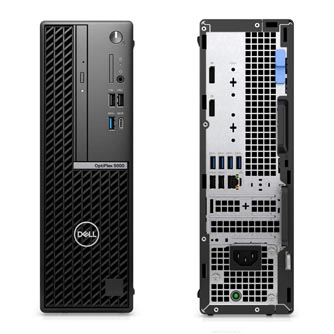 Dell OptiPlex 5000
The OptiPlex 5000 is the mid-tier option which is almost identical to the 7000 with few minor differences. No DDR5 support; Two DisplayPorts instead of three; No USB 3.2 port; Two M.2 NVMe slots; and a 400 watts PSU with the MT model. The family has three form factors – OptiPlex 5000 MT, OptiPlex 5000 SFF, and OptiPlex 5000 Micro.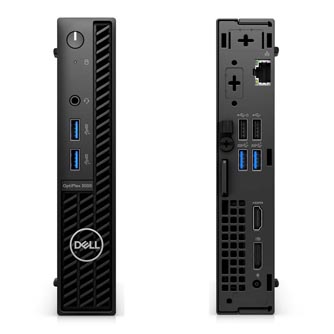 Dell OptiPlex 3000
The OptiPlex 3000 is the cheapest option. What you get is a less capable chipset (B660); Fewer m.2 SSD slots; Fewer RAM slots (2) and an HDMI port instead of a second DisplayPort. Fewer and and slower USB ports – no USB 3.1 or USB Type-C ports; and less SATA ports. The family includes three form factors – Optiplex 3000 MT, OptiPlex 3000 SFF, and OptiPlex 3000 Micro.
One popular method of optimizing OptiPlex computers is through hardware upgrades. This includes upgrading the RAM, adding a new graphics card, or increasing the storage capacity. These upgrades can significantly improve the performance of the computer, allowing for better FPS, faster speeds and smoother operation. As the Dell OptiPlex desktop line has evolved over the years, certain changes have been made to the internal design that affect the ease of upgrade. In general, older models up to the OptiPlex 9020 are considered to be easier to upgrade than newer models starting from the OptiPlex 7040.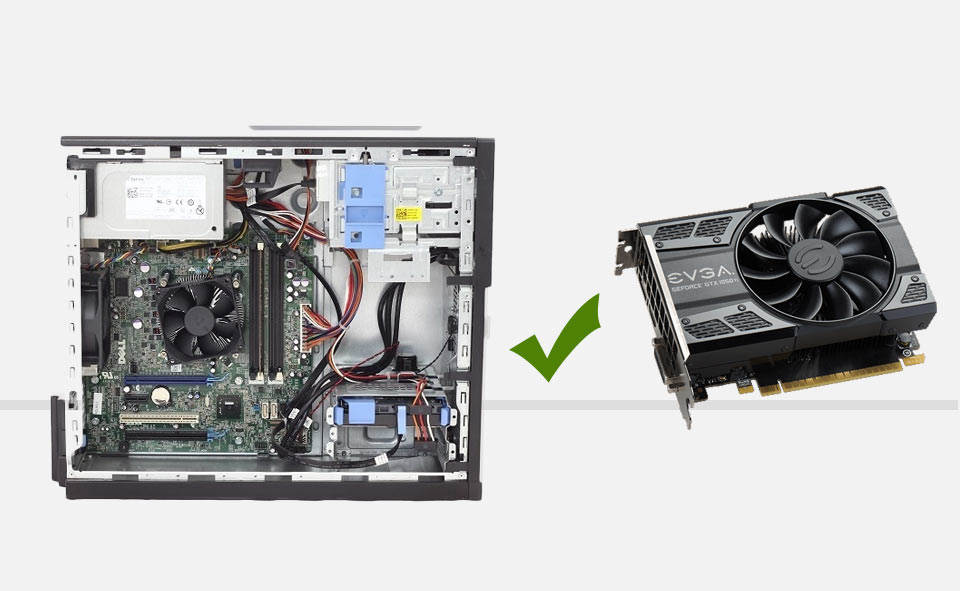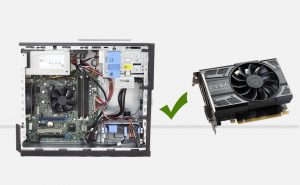 Using dedicated GPU with Dell OptiPlex
You can upgrade the GPU for the entire range of Dell OptiPlex models – from the 990, 3020, 7020, 9020, and 7040 to a more recent models like 7080 and 7000. Installing a GPU inside a OptiPlex business desktop is a great way to get into 1080p, and 1440p gaming.
---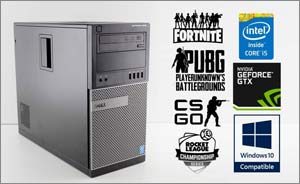 You can build 1080p or 1440p gaming machine from a refurbished desktop Dell OptiPlex. Whether it is the older 9010 or the a newer model like 7040,. These DIY builds can saves you decent amount of money and will runs some of the most popular games with very good FPS.
---
Comparing OptiPlex to other model and brands
When it comes to choosing a Dell OptiPlex desktop computer, it's important to compare the various models. With each generation of OptiPlex, Dell upgrades the chipset, processor, RAM type, and power supply unit (PSU) form factor, resulting in differences in performance, power consumption, and upgradeability. OptiPlex models share similarities with other desktop brands like HP EliteDesk and Lenovo ThinkCentre. A comprehensive comparison of the features and specifications of each model will enable users to determine which one will best fit their specific requirements.
There are many different OptiPlex models that vary in performance, size, and features. From the OptiPlex 9010, equipped with the classic Core i5 2500 CPU, to the most recent OptiPlex 7000 series, featuring the 12th generation Core i9 12900 processor. Most of the old models are available as refurbished option or as a the secondhand purchase. Last gen models can be found on Dell's OptiPlex website.
In 1993, Dell introduced the OptiPlex. Since than the OptiPlex line of desktop computers has been continuously evolving. The first systems in the OptiPlex line were the OptiPlex MX products, which were launched in 1994. These mid-sized desktop PCs were designed to be versatile, powerful, and easy to upgrade. One of the key features of the OptiPlex MX was its factory-installed network cards, which were the same as those used in Dell's NetPlex line of network servers.
The x90, xx10, and xx20 series
The classics era of Dell OptiPlex begins in mid-2011 with the entry-level 390, part of the Series 4. The 390 has Intel H61 chipset, with Intel Core i3 and i5 processors from the second-generation Sandy Bridge series. The model supports up to 16GB of DDR3 RAM at 1066MHz and has a chassis similar to the 9xx OptiPlex series. Sandy Bridge is was a powerful platform that is still viable and capable of running games, servers and home theater system with great performance.
The XX20 series, released in late 2013, became the most popular Dell OptiPlex meta for making budget DIY gaming build. The model features an Intel H81 and Q87 chipset, with 4th gen Intel Core i3, i5, i7 capabilities. The mid-tier PCs from this family support up to 32GB of DDR3 RAM at 1600MHz, has PCIe x16 slot, and a chassis that supports proper ATX power supply. This features alone make possible to upgrade OptiPlex 7020 and 9020 with powerful graphics card.
The OptiPlex Series 4 line includes various storage options, including SATA II and III, and PCIe x16 and x1. It also includes multiple USB 2.0 and 3.0 ports, as well as various display options.