Disclaimer
---
We are supported by our readers. When you use links on our site to buy products, we may earn an affiliate commission. As an Amazon associate we earn from qualifying purchases.
---
We are supported by our readers. When you purchase through links on our site, we may earn commission.
A collection of refurbished laptops that will last longer than any low tier consumer grade device
Picture this.
Powerful, well built, factory refurbished laptop for the lowest price possible.
A fast portable computer for watching movies, browsing the web, editing videos and photos, programming, etc.
Combine this with a warranty and factory recertification from Dell, Lenovo, HP, and you have a machine that will serve you for years to come.
Follow our guide and learn more about
Our best refurbished laptop suggestions
What makes an excellent recertified product
Where to find cheap refurbished models on sale
Also check our detailed articles about:
Best all round refurbished laptops
To find a reliable and cheap refurbished model you have to sift through hundreds of specs, models, and sites.
To save you some time, we are going to answer some important questions:
What models are the best, are they good, reliable and fast enough for your needs?
If you don't feel like reading and you just want to buy a laptop for your business or everyday tasks, we have selected for you the best all-rounders, so you can't go wrong.
They are certified, factory refurbished, off-lease business laptops, with a one year warranty. And they are currently on sale.
Refurbished Lenovo ThinkPad T460s
Specification:
CPU: Intel Core i5-6300U @ 2.4 GHz | GPU: Integrated | RAM: 8GB DDR4 | Storage: 256GB SSD M.2 | Display: 14 inch @ 1080p IPS 60 Hz | OS: Windows 10 Pro
Where to buy?
What can you do with it?
Word processing
Watching HD movies
Streaming Web content
Working with Excel
Programming
Compared to the previous model-T generation, the T460s comes with a fully revamped body – it's slimmer (0.67 " or 17 mm) and lighter (3 lbs or 1.3 kg).
The "s"  in the "460s" stands for slim. But being skinnier and lightweight doesn't hinder durability. All ThinkPad models are military grade tested and this one not an exception.
What's so great about this laptop?
The chassis. It's military grade with MIL-STD-810G spec.
The inner casing is magnesium-alloy with carbon fiber and the outside is reinforced fiber-glass. This is a laptop you can take anywhere and not worry about anything. It is tested against dust, heat, cold, water and shock.
The next video is from Lenovo's durability testing lab in Yokohama Japan and shows the types of test each laptop goes through.
In terms of servicing, it is very easy to open – just four screws and the bottom is off.
Possible upgrades:
One free 4RAM slot
M2 PCIe NVMe
M2 SATA slot
There are two batteries inside for a combined 50 Wh in total. They are not hot-swappable anymore, but you can replace them.
In terms of ports it has:
3 x USB 3.0 ports
Combo headphone jack
SD card slot
4G LTE sim card slot (optional)
Ethernet port
Full size HDMI
Mini displayport
It comes with a standard ThinkPad keyboard. And by standard we mean an award winning keyboard, with 1.9 mm travel – very quiet and responsive to the touch.
The trackpad (Synaptics) works very well with plenty of settings  – zooming and multi-finger gestures.
The screen comes in Full-HD (touch and non-touch) matt variant with very decent colors.  It's an IPS panel with good viewing angles and little glare.
Watching video on the display feels pleasant and the audio is very lively with no distortions.
Refurbished does not mean less powerful.
Lenovo managed to get quite a good score for this dual core, 4 threads, Intel Core i5 Skylake processor.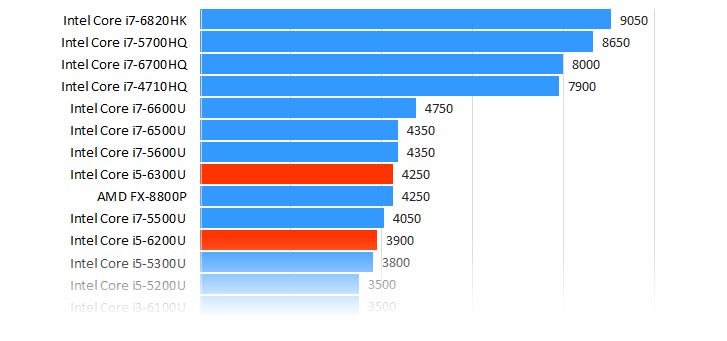 i5-6300U is fast and is going to run all your everyday tasks. Although, it is not a gaming machine or workstation, it may run some older titles and professional software (e.g. Photoshop).
The RAM is at 8G DDR4 with an option to extend up to 20G.
Battery life is around 7 hours for a new one but expect a little less if you go for refurbished and the battery wasn't changed.
For the price of around $400 you can't find a better built laptop. The closest you can get is the bulkier Lenovo IdeaPad 330s (Lenovo's consumer line) with 8th gen Core i5 processor.

Yes, the processor is faster (4 cores vs 2 cores) but you are not getting the benefits of the ThinkPad line.
Check out the price difference with newer generation of the T-series.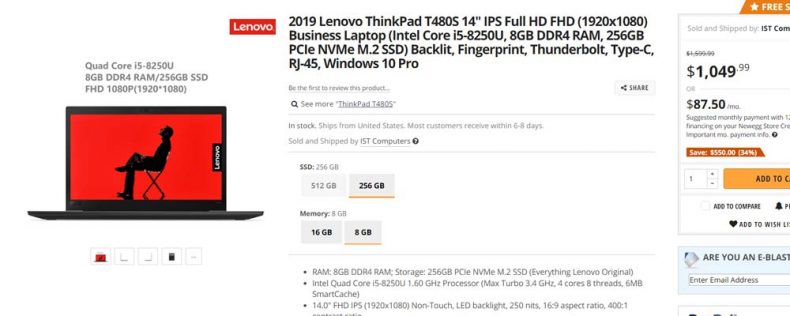 Refurbished Dell Latitude E7480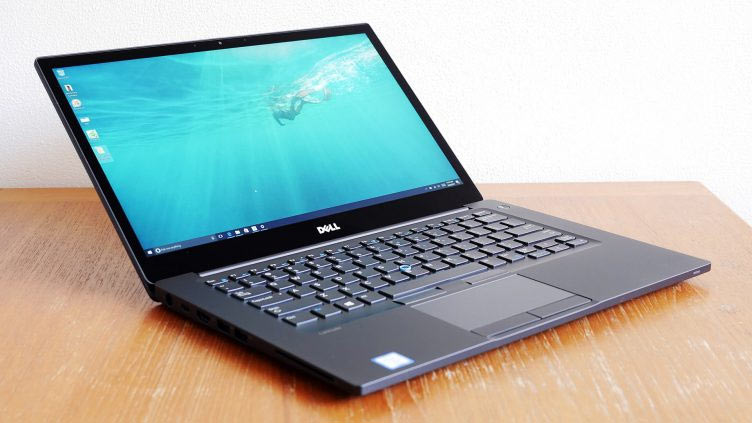 Specification:
CPU: Intel Core i5-6300U @ 2.4 GHz | GPU: Integrated | RAM: 8GB DDR4 | Storage: 512GB SSD | Display: 14 inch @ 1080p IPS 60 Hz | OS: Windows 10 Pro
Where to buy?
What can you do with it?
Word processing
Watching HD movies
Streaming Web content
Working with Excel
Coding
Another classic business ultrabook, occupying top spot in our best-refurbished-buy list.
E7480 is fairly light (3.01 lbs or 1.36 kg) and thin (0.7 " or 17.9 mm), a modern looking laptop from Dell's premium 7000 line.
The E7480 has a magnesium-alloy chassis with optional carbon fiber lid. MIL-STD-810G certification is included, protecting from all kinds of nasty stuff – vibration, heat, water, etc.
Compared to the T460s, the keyboard feels less responsive and somewhat spongy, although a lot better than most other brands.
The display is matt and comes in two resolutions – 1080p and 720p. The higher option has touch and non-touch versions.
E7480 has a better display than the T460s – 280 Nits, 99% sRGB, and 78% Adobe RGB – with very good contrast and almost full sRGB.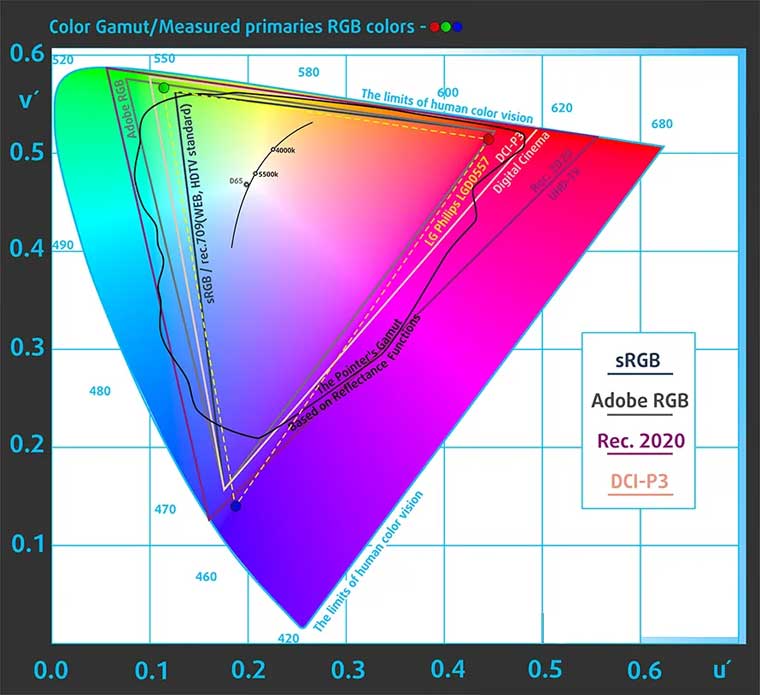 In terms of performance it is a 6th gen ultrabook laptop with three variants to choose from – i3, i5, and i7.
For everyday general use we suggest you go with i5, 8 gigs of RAM, and 256 GB SSD.
E7480 has a decent amount of ports.
USB Type C – optional Thunderbolt 3
Memory card reader
3 x USB 3.1
HDMI
External uSIM
SmartCard Reader (optional)
Headset/mic combo jack
RJ-45
Most configurations come with 65 Wh battery that will run for around 8.5 hours if new. As we mentioned previously, the battery degrades with time. Thus, expect less running time if you opt for refurbished and the battery was not changed. If you want to do this yourself, they cost around $50 dollars on Amazon (link to battery).
Overall, not the sexiest build, but you have lost of ports, a good keyboard, decent amount of processing power and a surprisingly good display.
To recap:
It is a common practice among corporations to lease such laptops in bulk and change their inventory often. This is where you get the most value for your money.
Both units we discus are proven models with excellent reviews. At the time of their release these they were selling at around $1200, but you can get them now for approximately $400. For a well refurbished model, it's a steal.
For more reasons why a refurbished laptop is a good purchase, keep reading.
For gaming and workstation models move a few scrolls bellow.
What is the meaning of "refurbished laptop"?
A refurbished laptop is one that has passed through distribution channels more than once. It is a laptop returned to the manufacturer or the seller, where it was renovated (tested and repaired) and sold again.
How good are refurbished laptops?
They are as good as their initial build quality, their components and the refurbished process used. When properly renovated and carefully picked, they can be as good as new and will last you years.
How reliable are refurbished laptops?
This is tightly connected to the refurbishing process. When recertifications are carried out by the manufacturer, the control is stricter and the refurbished product is no different than a new one.
Third-party recondition companies usually follow proper recertification procedures and this yields great quality products. Problems may arise if the process is not strictly monitored or they lack the knowledge and access to proper spare parts.
We try to filter out such unreliable third-party refurbishers.
What operating system to chose
Chose Windows 10. Refurbished models come mostly with MS latest OS (occasionally Windows 8.1). The OS is genuine and has Microsoft refurbished certification. Because some of the models listed here are more than two years old, one may think that there are no drivers available or they are hard to find. Well, this is not the case. All the recertified models have Windows 10 and Linux drivers.
Choosing the right model
The process of choosing a refurbished laptop is no different than choosing a new laptop.
To choose the right model you must decide on your budget and how you are going to use it. These two things define which laptop you should buy.
Often, buyers do not consider their needs and focus only on the higher specs of latest generation processors. However, specs don't tell the whole story.
There must be a balance between specs and quality.
Check out these two models. They are similar in specs but differ in price – by $600 to be exact.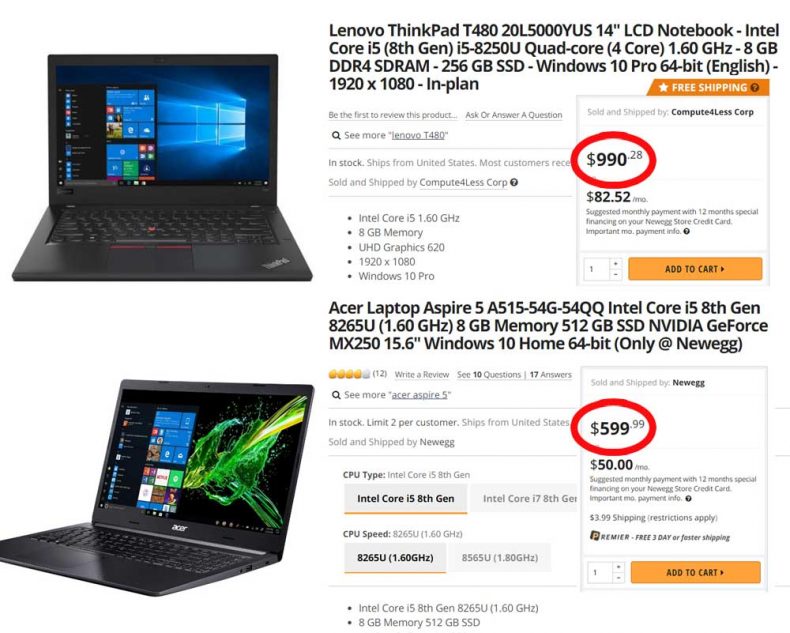 The question is – how do we get the more expensive and durable laptop for a lower price?
Enter: Refurbished!
The trick is to buy a slightly older refurbished model from the same product family.
Most of the time you don't need the latest generation mobile CPU for watching movies or doing spreadsheets. You are most definitely overpaying if you buy new.
Let's get back to the example we had – Acer Aspire 5 VS ThinkPad T480.
The specs are the same but there is a significant difference in quality and price. But the segment doesn't  look so different – they both can do household as well as business related tasks.
Now, let's go two generations back – certified refurbished ThinkPad 460s with 6th Gen Core i5 processor.

Almost $100 less than the Acer.
Build quality: much better than the Acer; specs: more than enough for everyday tasks; a strong body, best in class keyboard, lightweight (3 lbs / 1.3 kg), and up to 8 hours of battery life.
If your goals are non-intensive tasks – home, business and student work – this is the laptop for you.
Refurbished laptops for general/home use
Refurbished Dell M4800 15.6in FHD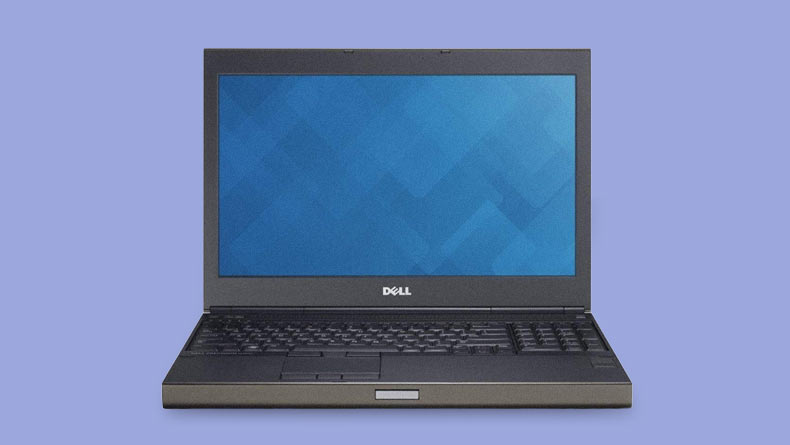 Specification:
CPU: Intel Core i5-6300U @ 2.4 GHz | GPU: Integrated | RAM: 8GB DDR4 | Storage: 256GB SSD M.2 | Display: 15 inch @ 1080p IPS 60 Hz | OS: Windows 10 Pro
Where to buy?
This is not a cheap consumer model. The laptop is aimed at professionals for company usage. The display is 15 inch at 1080p. The specification is top of the line – a fast processor, lots of RAM and dedicated graphics. Overall, a well balanced machine with lots of ports.
Refurbished HP Mobile Workstation ZBOOK 15 G2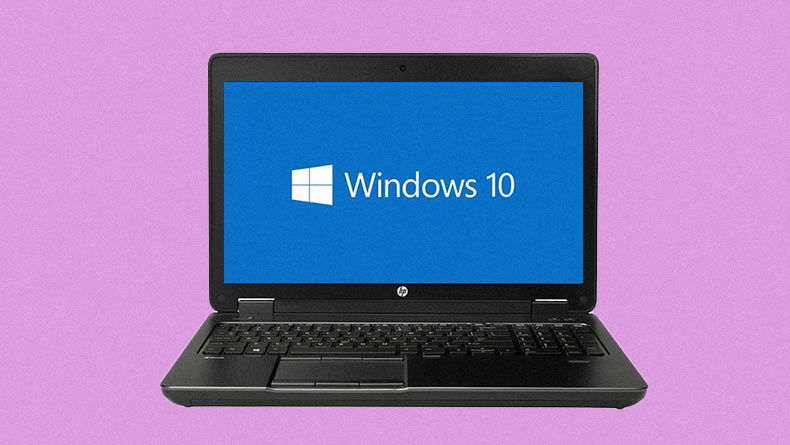 Specification:
CPU: Intel Core i7-4810MQ @ 2.8 GHz | GPU: Integrated | RAM: 16GB DDR3 | Storage: 256GB SSD | Display: 15 inch @ 1080p IPS 60 Hz | OS: Windows 10 Pro
Where to buy?
Zbook 15 G2 covers the full spectrum of laptop sizes, but for home use the 15 inch model is your best bet. One thing that separates the Zbook from the rest is the display. It has superb colors, nice saturations and 99% Adobe RGB. It's great for watching movies. It's not an ultrabook, it's a bit on the heavy side but powerful – Core i7 processor and 16 GB RAM. Because this is a big guy, you have all the ports you need.
This is your everyday workhorse – Netflix, YouTube, browsing and writing docs.
The truth is home laptops are some of the most abused household electronics. Do not make the mistake of buying a cheap and powerful model. It is not going to work out in the long run. Cheap and powerful devices have poor build quality.
Consider something more robust.
Refurbished laptops give you the opportunity to aim for better quality for less money.
What to look for in general use model:
1. The Screen Size
The 15.6-inch is the most popular household laptop size. You get optimal experience for streaming and browsing online.
They are heavier but because you are not going to put it in your bag as much, you can get the advantages of a larger display.
Another advantage you can aim for is the type of display technology. Always choose IPS if you care about accurate colors and good picture quality.
2. The Productivity (CPU)
Old generation laptops with Core i5/i7, 1st Gen Ryzen 3/5 or newer Core i3 have plenty of productivity.
You don't need an 8th or 9th Gen Core processor to run your home laptop. They are too expensive and overkill for the job.
3. The GPU.
When searching for a refurb unit, don't discard models solely for the lack of a discrete GPU.
Discrete graphics are not the most logical choice for a general use laptop. They are useful when playing games or editing videos, but when watching movies and browsing the Internet, they only raise the price and don't add much value.
Both AMD and Intel offer integrated GPUs that are a good fit for a home machine:
Intel's HD4600, HD5500, HD6000, HD6200, HD520, HD620, HD630
AMD's APUs Vega 3 to Vega 11
Light gaming is possible, but for more serious titles, look to NVidia or AMD for a stand-alone video card.
4. RAM
8 GB RAM is plenty, assuming you are doing simple tasks.
For heavy Web users (think 20+ Chrome tabs), light gaming and better responsiveness you can get a bit more, say 12 GB or 16 GB. Don't worry, RAM is super simple to change, so you can always install more later.
5. Battery
We are aiming for at least two hours on a single charge. Household computers are easy to charge at any time so even an older battery will be enough.
6. Storage
Either SSD or 7200-rpm HDD are enough for a home computer. Our suggestion is to take the SDD. The system becomes very responsive and you can always add external storage later.
For budget builds, 128 GB SSD is more than enough space to store the OS and some apps.
Your multimedia, photos and important files can be on a 1TB HDD.
7. Operating System
Refurbished models come mostly with Windows 10 (occasionally Windows 8.1). The OS is genuine and has Microsoft refurbished certification. Because some of the models listed here are more than two years old, one may think that there are no drivers available or they are hard to find. Well, this is not the case. All the recertified models have Windows 10 and Linux drivers.
Refurbished gaming laptop
The desktop computer remains the top choice when there is gaming involved. This is all well and good but you need something portable and powerful to run your favorite games when traveling.
Portability in the context of gaming comes at a certain price. The price of a high end gaming machine can reach up to $4000 dollars, with most popular models being around $2000.
So how does one avoid the premium price and still get to own a decent gaming laptop?
You've guessed it – refurbished.
There are hundreds of refurbished offers suitable for hardcore gamers. Most of them will save you between $500 and $1000+ for a good gaming laptop.
Think about laptops similar to MSI GS Series with 144 Hz display and NVIDIA GeForce GTX 1070 for as low as $1300. This is more than $500 blow the original price.
If you are a casual gamer with an interest in classic titles, there are countless good options for around $600 -$800.
For additional info, check out our detailed article about refurbished gaming laptops.
Acer Predator Helios 300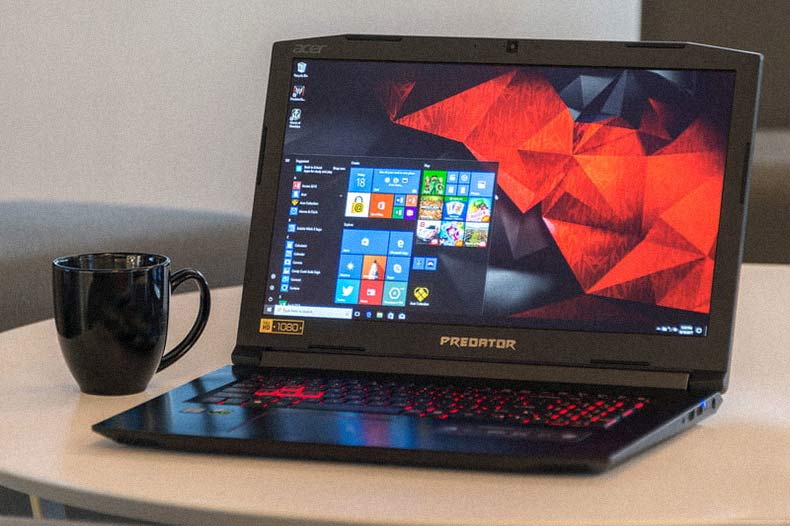 Specification:
CPU: Intel Core i7-7700HQ @ 2.2 GHz | GPU: GTX 1060 | RAM: 16GB DDR4 | Storage: 256GB SSD + 2 TB HDD | Display: 15 inch @ 1080p IPS | OS: Windows 10 Pro
Where to buy?
Acer has been doing some really good things with the Predator line laptops. Although targeted as entry level gaming laptop, this model has the power to run AAA titles. More demanding games like Witcher and Fallout are possible on high, because of the strong processor and the GeForce GTX 1060 graphics card. Older classic titles will run even better.
Another thing we like is the relatively slim and sturdy body. Both the top lid and keyboard decks are metal and the bottom is plastic – giving you easy access to the drive bay and the RAM.
One tiny drawback we found is the battery – only 45 Wh, a parameter you usually see on cheaper models. Not that anyone is gaming on battery.
The keyboard is not the best, with a little less travel than we like, but actually not bad to type and play on.
Overall the Predator Helios makes a superb offer for a refurbished purchase – strong, slim chassis; lots of power for newer titles; maybe not ultra, but surely on higher settings.
Refurbished laptops for college students
It is a common practice among tech reviewers to suggest $1500 or $2500 dollars student laptops.
We are talking about models with dedicated graphic cards, the latest processors and 16 gigs of RAM.
Why would anyone suggest a big, heavy, gaming laptop to a student? Student laptops should be light, inexpensive and targeted toward studying, not gaming.
Look…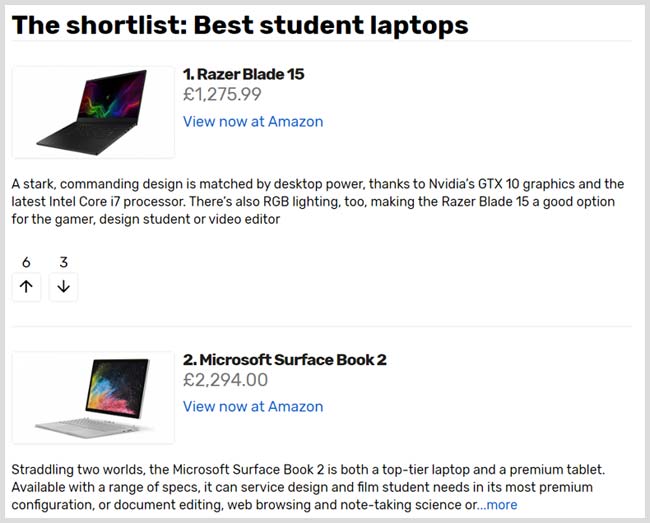 This is over $2000 gaming laptop.
As a student you must consider a laptop that is fast, portable, affordable and very durable.
OK, but how affordable?
We think $800 dollars is the maximum price you should pay.
What constitutes a good student laptop?
Durable construction
Look for something relatively light, but not fragile, with well-made plastic or aluminum case.
Trust us, you don't want a cheap eggshell that will look like a broken bucket at the end of your third year. Changing laptops and migrating your stuff along the way is annoying.
Pay attention to the build quality. You will be working in class, out of class, in the library, in group projects and back home; you will be using it approximately 24/7, so getting something durable is important.
The refurbished approach adds a lot of value with regards to build quality and a low price. You will find that lots of well-built, renovated, corporate models are perfectly suitable for students. These are the most abundant type of refurbished laptops on the market.
Protected your data
Think about a dual drive approach – one for the OS, one for storage. Maybe you will reinstall at some point, who knows; having separate drives is a practical approach.
Important: Don't forget to backup your data to external devices or to a cloud account.
Quiet, tactile keyboard
One of the most important features in a student laptop is the keyboard.
You will spend a lot of time writing papers and researching. A quality keyboard is crucial.
Search for a tactile keyboard, with good responsiveness and long key travel. Shallow travel keyboards are not good for longer typing. They are noisy and give you the sense of pushing against a flat plastic surface.
Another neat feature is the backlight functionality. Useful when working in dark rooms.
Fast performance
Fast and fluid performance is mandatory. It depends on the amount of RAM, the type of processor, software used and the OS. Again, your needs plays a major role.
For a budget, general use student solution you can settle for a refurbished Intel Core i5 6th Gen or Core i3 laptop. Plenty of power for your everyday tasks. You can combine that with 8 gigs of RAM and an IPS display panel at 1920x1080 pixels and you are good to go.
If you are a student with more niche requirements, check the next section. There we discuss (in more detail) a couple of professional use-cases.
Lenovo Yoga 460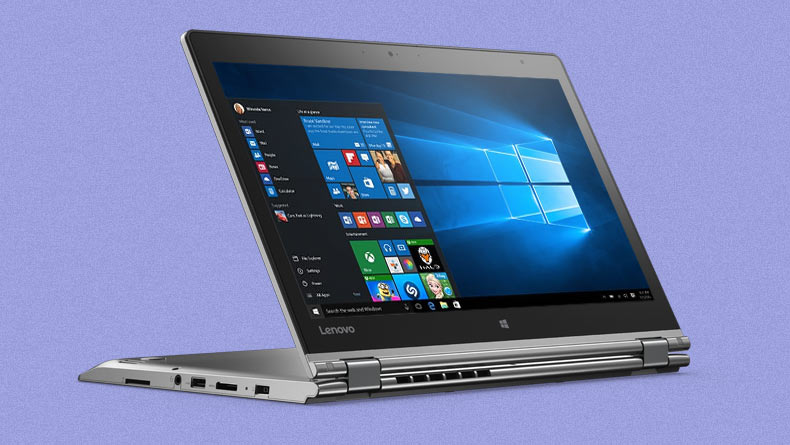 Specification:
CPU: Intel Core i5-6300U @ 2.4 GHz | GPU: Integrated | RAM: 8GB DDR4 | Storage: 256GB SSD M.2 | Display: 14 inch @ 1080p IPS 60 Hz | OS: Windows 10 Pro
Where to buy?
For those of you who want something slim, light and with more screen real estate, check out the Lenovo Yoga 460 (Yoga 14 at Best Buy).
Classic convertible 2-in-1 laptops that are super appropriate for students. They are lift and lock, with Full-HD touchscreen, IPS display panel and a pen.
On a component level, Yoga 460 is powerful enough to appeal to a wide variety of student needs.
For those of you enrolled in a graphic design major, there's an option with a dedicated video card for better rendering. However, that exact model is not so easy to find refurbished.
Students can use the pen for note-taking or sketching. This model is well matched with the pen, with both fast tracking and palm rejection.
The keyboard has all the good features of a ThinkPad – deep travel, great tactile feel and durability. There is a soft pleasant sound when typing. A definite productivity booster.
The body has an aluminum-alloy chassis; no bending anywhere; strong, tight hinges. At the end of your fourth year it will still look as good as new.
Now, for something more portable, light and modern looking:
Refurbished Dell XPS 9350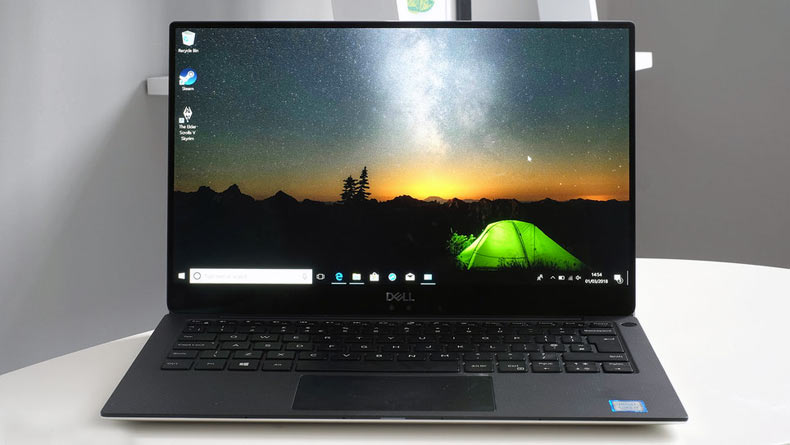 Specification:
CPU: Intel Core i5-6200U @ 2.5 GHz | GPU: Intel HD 520 | RAM: 8GB DDR4 | Storage: 128GB SSD | Display: 13.3 inch @ 1080p IPS 60 Hz | OS: Windows 10 Pro
Where to buy?
The XPS 9350 is a popular model among students. Super portabile with a long battery life and good display colors.
To tell you the truth, this 6th Gen 2015 configuration is more than enough for all your student assignments.
Newer models give nothing revolutionary in terms of performance. There are some cosmetics here and there, like a new camera position and lighter body, but the overall speed is similar.
Most of the software you are going to use will run just fine anyway, so why bother with something more expensive?
There are three major selling points that haven't changed over the years. They are the reason why this is a good refurbished solution.
Portability – 13.3 inches with the footprint of a 12 inch model. It's highly portable and weights just 2.6 lbs (1.17 kg). The chassis is another thing you should not overlook – full aluminum body with a carbon fiber deck.
Infinity display – very satisfying to look at, with a wide color gamut. It's what we like the most in the XPS. It goes right to the edge of the lid with almost no bezel. This reduces the size of the laptop even further. The resolution is 1080p on a matt no-glaze display.
Battery – 52 Wh estimated at 12 hours work time. In reality it's less, around 10 to 11 hours. Despite the fact that the battery is not very powerful, it has a long working time. This is because of the synergy between the battery and the IGZO display. The IGZO regulates itself and has a lower power footprint.
The skinny nature of the laptop makes the keyboard more shallow then we would like it to be, but still comfortable to type.
We love this model.
Yes, it is more expensive than the Yoga, but it's stylish, portable, powerful and it's such a joy to work on. Go find a refurbished model and buy it.
Refurbished computers for professionals.
A laptop for professional use has to cover two sets of requirements – to be suitable for the environment it operates in and to run well all the necessary applications.
Professionals like artists, programmers, architects, doctors, lawyers, designers, freelancers, network administrators, copywriters, journalists, photographers have to carefully make their choice based on their workflow.
Due to the specificity of their work, the main requirements are: powerful processors, a large amount of RAM, specialized keyboards, high-resolution displays and protected chassis.
IT professionals and programmers
As an IT professional you can use any of the previous refurbished models – they will cover most of your day to day tasks.
However, for something more targeted toward ITs, we suggest you look at the ThinkPad T and X series.
For years ThinkPads have been the choice of IT professionals.
This is based on a couple of important features:
Easy to upgrade and service – ITs love that.
Durable body
Best in class keyboard (to be honest, durability and the quality of the keyboard are the two main parameters we look for when buying a new laptop. If a laptop lack those, it's a no-go)
Minimalist design approach
Works well with both Linux and Windows 10
The nipple mouse
For something fast, responsive and targeted towards you, we think you should go for a refurbished Core i5 7th Gen ThinkPad.
Refurbished Lenovo ThinkPad T470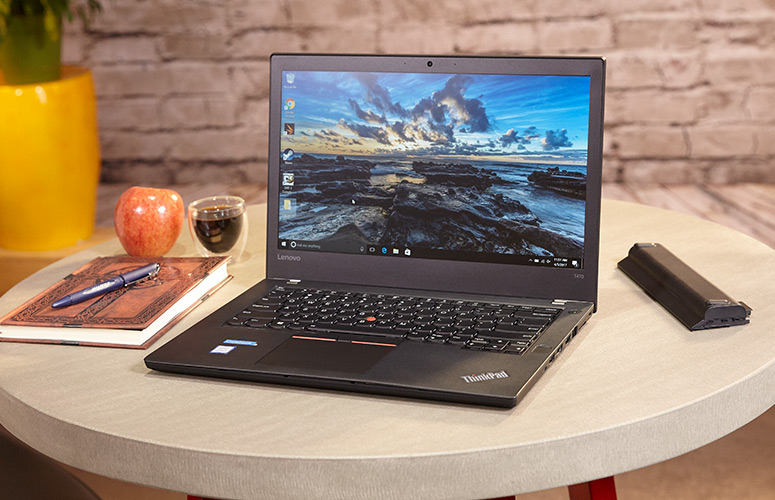 Specification:
CPU: Intel Core i5-7300U @ 2.6 GHz | GPU: Intel HD 620 | RAM: 16GB DDR4 | Storage: 256GB SSD | Display: 14 inch @ 1080p IPS 60 Hz | OS: Windows 10 Pro
Where to buy?
This 2-year old refurbished laptop is a beast. IT departments still use it even today. The 7th Gen Core i5 and Core i7 processors have plenty of power for programming or IT related stuff. And it is super easy to service and upgrade.
Yes, it all depends on your workload, but if you throw in enough RAM, you can easily run a couple of VMs. On top of that you can add your favorite IDE and still have some processing power left.
When we talk about ThinkPad we usually praise the keyboard. No difference with T470, it is flawless – tactile, backlit, with 2 mm. travel and very responsive.
Another major feature for power users is the hot swap option. This means two batteries – one integrated 25 Wh model, and the other removable – 25 Wh or 72 Wh battery. Now you can easily pull 18+ hour coding sessions without charging.  You can even buy a bunch of batteries and code indefinitely!
For people who like to tinker with their system, there is room for upgrade – RAM, SSD, HDD, Wi-Fi and 4G LTE. It is very easy to disassemble and clean; and if something breaks, parts are easily available.
You get an excellent set of ports:
HDMI
Thunderbolt 3
Ethernet
3 normal USB
SD-card reader
5 jack
Solid appearance and very robust. A very quiet fan, rarely runs. It is quiet even at maximum speed.
The T series from Lenovo work extremely well with Linux. The drivers are easy to find and just work well. They are a breeze to install on any distribution – Arch, Mint, Debian or Ubuntu. Window 10 also works well with older refurbished models.
Overall, it is a great computer for ITs and students who want to pursue a career in this field; currently only found as a refurbished model.
For those of you who are searching for something even cheaper, get the T460 – similar build quality, but a tad slower.
Refurbished laptop workstation for architects, graphic designers and videographers.
For these professions you are going to need something more powerful.
You are going to render, so faster CPU, more RAM, and a dedicated GPU are a must.
As a graphic designer you need something with enough RAM to handle the software and bigger files. When working with Photoshop or Premiere Pro you need large amounts of RAM – 16 GB or more. Large files will demand more storage and RAM, keep that in mind.
For CAD follow the same rule – 16+ GB of RAM.
A dedicated graphics card like NVIDIA Quadro and GeForce GTX saves time when rendering and will improve quality, especially with CAD. A dedicated video card is mandatory when doing 3D work.
Photoshop and Premiere users will also benefit from a GPU. It's not necessary for simpler cases, but for complex design tasks or heavy editing it is a must.
Higher per-clock-speed is the name of the game when doing both CAD and design, because most of the software is still single threaded and a higher core count is not always beneficial.
In other words, Core i7 with a high clock speed will shine by speeding-up the 2D and 3D rendering process.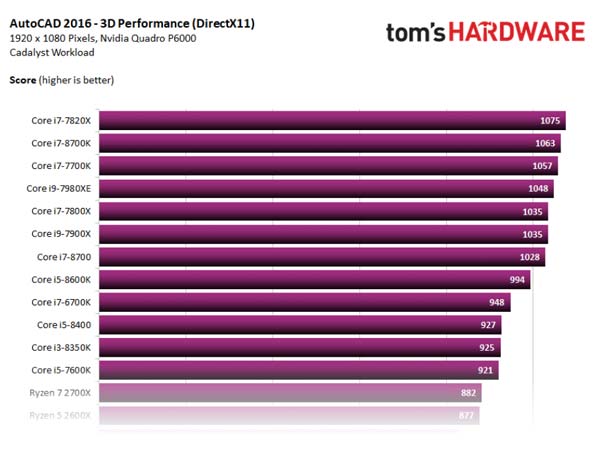 SDD is a must with this type of work – 500GB is a good starting point.
The price tag for such workstations is high. We are talking about $2000 and more. So a certified refurbished workstation or gaming model is a natural choice.
Refurbished MSI GF63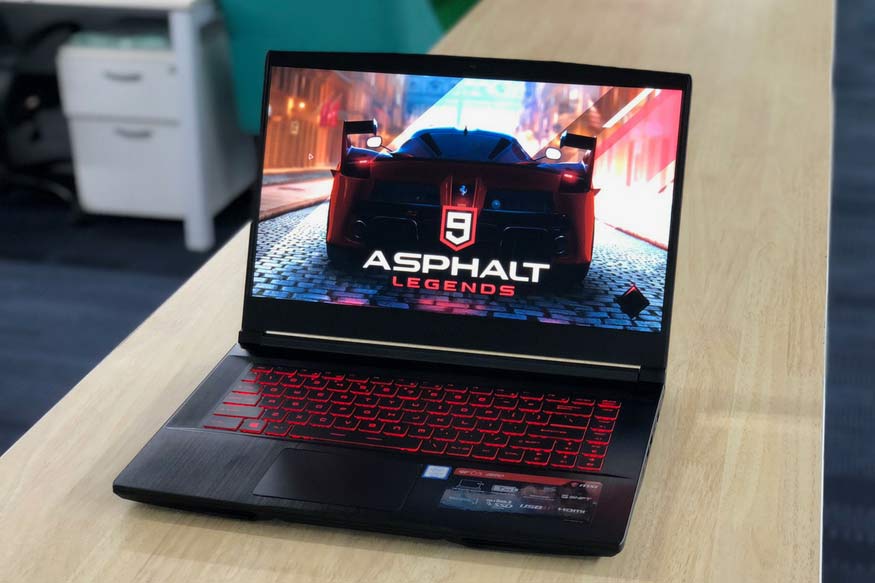 Specification:
CPU: Intel Core i5-7300U @ 2.6 GHz | GPU: Intel HD 620 | RAM: 16GB DDR4 | Storage: 256GB SSD | Display: 14 inch @ 1080p IPS 60 Hz | OS: Windows 10 Pro
Where to buy?
OK, figure this out – our professional refurbished workstation is a gaming machine.
Well, it is so well made and a pleasure to work with, it will be a crime not to consider it. Also renovated models are priced very well.
MSI GF63 is one of the most compact 15-inch workstation laptops. Attractive, eye-catching, productive and extremely comfortable.
The portability of this laptop is amazing; it's not the usual bulky device. It has а compact, aluminum body and weighs only 1.86 kg!
The picture quality is superb. It uses AH-IPS panel with a resolution of 1920x1080 pixels. The display is bright, with wide viewing angles (178 degrees) and has natural looking colors.
The keyboard is surprisingly good; it has good travel, proper distance between the keys, and it's backlit with а soft red color.
The ports: 3xUSB 3.1, USB Type-C connector, rear HDMI, mini-jacks for a microphone and headphones, one RJ-45. There is also a security K-Slot.
Thanks to the large battery, the laptop will run between 7 to 8 hours. Depending on your work process and intensity of the task – 2D, 3D rendering or image editing.
The unit is powered by eighth-generation six-core Intel Core processor.
Refurbished Chromebooks
Chromebooks come as inexpensive laptop solutions for simple everyday tasks. Perfect for light usage – checking email, browsing the web, doing social media. Think tablet with keyboard.
Some of the advantages worth noting are the fast boot time; lightweight and compact form factor; very long battery life; simple to operate software.
On the other hand, they are not powerful enough to run heavy games or to play 4K video, and definitely not suitable to execute heavy work related jobs – CAD, image and video editing.
Other disadvantages are the lack of customization and lack of better storage. But for people using the cloud, this is not much of an issue.
If you have more specific requirements in terms of software, you can use one of the thousands of apps and extensions on Play store.
Let's dissect one interesting model.
ASUS Chromebook Flip C302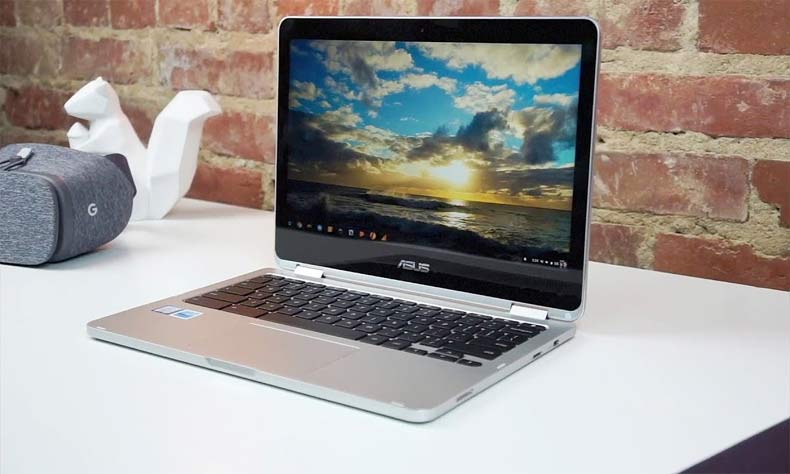 Specification:
CPU: Intel Core M3 | GPU: Intel HD 515 | RAM: 4GB DDR3 | Storage: 64GB SSD | Display: 12.5 inch @ 1080p IPS 60 Hz | OS: Chrome OS
Where to buy?
We decided to steer away a bit from the typical Chromebook, and explore something more powerful and well built.
With its firm aluminum body and rounded corners, the C302 veers away from the standard Chromebook appearance and looks more like a Macbook. It's elegant, professional and has the feel of a premium product.
The thin minimalistic design comes with a few drawbacks: no USB port 3.0 or HDMI. Although, there is still an SD card slot on the right of the camera and a 3.5 jack on the left.
The C302 is a 2-in-one model and can be used both as a laptop and a tablet.
The screen is 12.5 and full HD. The touchscreen works very well; it is responsive and looks quite strong.
Once flipped, the screen fits perfectly to the back of the device, it fits so well, it looks like a real tablet. The latch mechanism is one of the best we've seen on a Chromebook.
The sound from the speakers is OK, but when it comes to listening to music, it's better to use headphones to really enjoy it.
As for the keyboard and touchpad, the C302 is flawless. The keyboard keys are extremely nice, well sized and well spaced, and the touchpad is as premium as it is fluid and efficient.
In contrast to other Chromebooks, the C302 has Intel Core m3 and 4 GB of RAM. This makes the experience ultra fluid. You can open as many tabs as you want, run a couple of Android apps at the same time, and not notice a significant slowdown.
Like all Chromebooks, this model also has excellent WiFi and Bluetooth connectivity.
Despite the backlit keyboard and powerful processor, the C302 has an excellent battery life of about 10 hours in normal use. Keep in mind that this device charges only by USB-C.
Refurbished 2-in-1 touch screen laptops
Older touch screen laptops were hit-and-miss in terms of quality and functionality, so a four or five years old model is not going to be particularly useful.
What we are going to suggest are some 2-in-1 touch screen laptops.
This is a modern approach to this segment. They are fast and much more versatile in terms of functionality.
Refurbished 2-in-1 laptops come in two flavors – convertible and detachable.
Both convertible and detachable units have their pros and cons and if you want to read more about them, visit our dedicated article.
Microsoft Surface Book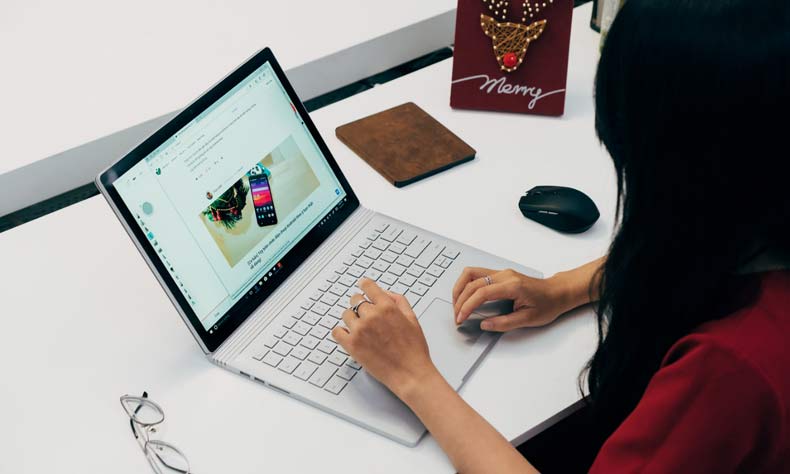 Specification:
CPU: Intel Core i5-6300U @ 2.4 GHz | GPU: Intel HD 520 | RAM: 8GB DDR3 | Storage: 128GB SSD | Display: 13.5 inch @ 1080p IPS 60 Hz | OS: Windows 10 Pro
Where to buy?
As powerful as a gaming notebook, with a good battery life, reasonable weight, and countless cool features – the older detachable Microsoft Surface Book makes a superb 2-in-1 refurbished solution.
The Surface Book is an impressive piece of technology. Although it is a 2-in-1 device, Microsoft focuses on the classic notebook workflow. For this purpose they engineered a secure locking mechanism which connects the tablet and the dock unit. This makes the transition between tablet and laptop much more efficient and easy to work with.
The main part of the hardware is located behind the screen. These include an Intel Core i5-6300U, 8 GB of RAM and 128 GB SSD. This way even the tablet unit offers high performance user experience.
There are models with Nvidia GeForce GTX 965M with 2 GB of VRAM, which is usually found only in gaming laptops. However we recommend a non-GPU model to keep the price down.
Another feature is the Surface Pen, a stylus that allows you to write on the screen.
When it comes to performance, the Surface Book is on par with high-end notebooks.
Surface Book has a total of two batteries – one in the tablet and one in the dock.
Refurbished rugged laptops
Ruggedized laptops comply with military specifications to survive extremely harsh environments.
They are not just an ordinary laptop with a durable body, they are highly specific machines made for professionals like armed forces, oil rig workers, outdoor researchers and factory operators.
The electronics inside are sealed from water and dust and they can work in highly humid and dusty places.
Falls and vibrations are no problem for a rugged laptop. They have aluminum stiffeners inside for shock protection.
They are heat and cold protected, with some ultra rugged models equipped with a heating system to prevent condensation from within.
But all this comes at a price.
High-end fully protected models can cost north of $10000.
If you find yourself in need of such a gadget, you have the option to buy a refurbished rugged laptop model for a fraction of the price. And we mean, really cheap!
If you need to know more, we have a full article discussing refurbished rugged laptops.
Refurbished Dell Latitude 5404 Rugged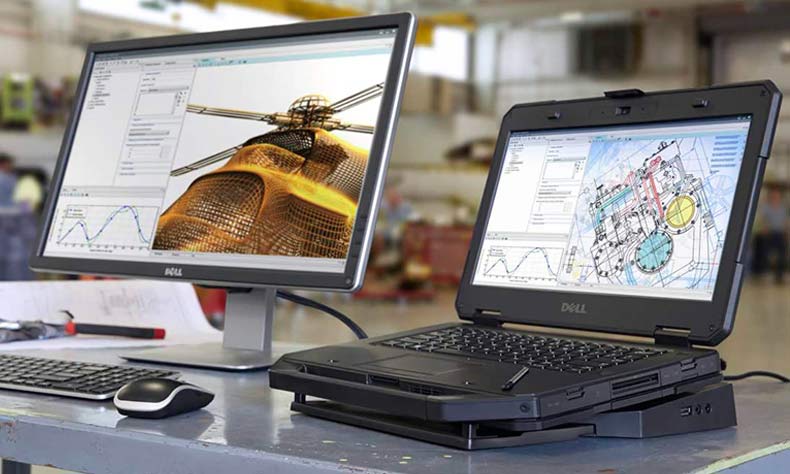 Specification:
CPU: Intel Core i5-6300U @ 2.4 GHz | GPU: Intel HD 520 | RAM: 8GB DDR3 | Storage: 128GB SSD | Display: 13.5 inch @ 1080p IPS 60 Hz | OS: Windows 10 Pro
Where to buy?
Dell Latitude 5404 Rugged is not something you are going to see on the table in a trendy cafe. Try the oil rig instead. Dust, water and shocks are the bread and butter of 5404.
The body is brutal. After all, it has to meet several different standards to guarantee component survivability. One of them, the MIL-STD-810G, covers rain, sand, vibration, high humidity, salt fog and freezing.
Protection against water has to cover IEC 60529 and IP-65, which means that dust, as well as water in the form of rain, spray and even jets, cannot penetrate into the device.
The hardware of the Latitude 5404 is almost the same as a conventional ultrabook – Intel Core i5-4300U CPU, 8 gigs of RAM and 128 GB SSD, which makes it very responsive.
The laptop weighs almost 4 kg and is full of ports. All of them are protected and sealed.
The right side has two compartments with:
USB 3.0
USB 2.0
SD card slot
ExpressCard 54
And on left you have:
5 mm TRRS for connecting a headset
HDMI
USB 3.0
Full of interfaces at the back as well:
two RJ-45s
RS-232 serial ports
one USB 2.0
one D-Sub and a charger connector
Very large number of protected interfaces for connecting external devices.
We can say that this is a balanced configuration with strong and thoughtful design.
Where to find refurbished laptops on sale
Refurbished laptops are sold mostly online, with some offline shops keeping stock for their local customers. Common places to find refurbished laptops on sale are Amazon, Newegg, Dell Outlet, Best Buy, and Walmart. They are usually listed as refurbished, but you can find them as renewed, renovated, remanufactured, reconditioned or restored.
Whatever the name, there are two "flavors" you can choose from  – manufacturer certified or third-party refurbished. The difference between the two is the price and the place where the process was carried out.
Laptops renovated by the manufacturer tend to be more expensive. They are renovated according the the original testing procedures and use original parts.
With seller recertification, the products are also repaired, cleaned and tested. But keep in mind that not all shops follow strict reconditioning procedures.
Nevertheless, both options are equally viable and both have decent models.
The most crucial part when choosing a seller is checking the warranty and return policy.
Recently we wrote a guide about some good places you can use the buy a certified refurbished laptop. Check it out as see if it helps.