Differences Between Dell OptiPlex 3000 Vs. 5000 Vs. 7000 (2022 models)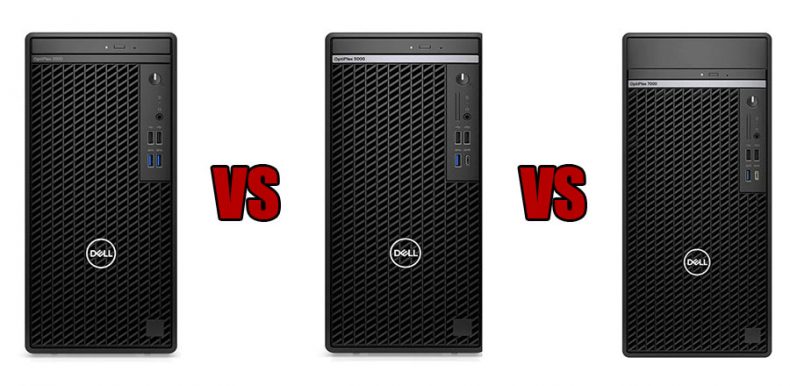 This page is going to give an overview of the main differences between Dell OptiPlex 3000, 5000, and 7000 desktop computers. This comparison includes all three form factors – Mini Tower (MT), Small Form Factor (SFF), and Micro (M)
All the models were released in March 2022 and currently represent the last generation of OptiPlex models.
The main differences between the Dell OptiPlex 3000, 5000, and 7000 is:
The OptiPlex 3000 is the cheapest option. What you get is a less capable chipset (B660); Fewer m.2 SSD slots; Fewer RAM slots (2) and an HDMI port instead of a second DisplayPort. Fewer and and slower USB ports – no USB 3.1 or USB Type-C ports; and less SATA ports;
The OptiPlex 5000 is the mid-tier option which is almost identical to the 7000 with few minor differences. No DDR5 support; Two DisplayPorts instead of three; No USB 3.2 port; Two M.2 NVMe slots; and a 400 watts PSU with the MT model.
The OptiPlex 7000 is the top-tier model and the most expensive one. Among other things, you get a USB 3.2 Type-C port; Three M.2 slots; DDR5 support; Three DisplayPorts; More space for additional storage; and 500 watts PSU.
Differences between Dell OptiPlex 3000 vs. 5000 vs. 7000 Mini Tower
When compared to OptiPlex 5000 MT and 7000 MT, the Dell OptiPlex 3000 MT is still a capable machine with a few missing features.
The OptiPlex 3000 Mini Tower utilizes Intel's B660 chipset, which is slightly less advanced compared to the Q670 chipset used in the OptiPlex 5000 and 7000 models. In the context of the OptiPlex 3000 MT motherboard, the only thing you lack is M.2 RAID support and Intel's Active Management, Trusted Execution, and vPro technology.
Things like DDR5, 20 Gbit/s USB 3.2 port, more PCIe slots are available with this chipset, but are not integrated at all by Dell in order to cut costs and make the model cheaper.
The DDR5 support is the main difference between OptiPlex 5000 MT and 7000 MT. The 5000 MT and 3000 MT models use the older DDR4-3200 where 7000 MT is using DDR5-4400 memory.
However, the difference between DDR5-4400 CL40 and DDR4-3200 CL22, in practical terms, is minimal, with a variation of only 2 to 3%.
OptiPlex 3000 also has two memory slots, reducing the supported memory to 64 GB, where 5000 MT and 7000 MT have four slots and support up to 128 GB RAM.
In terms of external ports OptiPlex 3000 is pretty basic. The model lacks both USB 3.1 (10 Gbit/s) and USB 3.2 (20 Gbit/s) ports and has fewer USB ports than the other two models from the family – eight in total.
The OptiPlex 5000 MT is a little bit better in that regard and has a single USB 3.1 port but no 20 Gbit/s USB-C 3.2 port.
Of course OptiPlex 7000 MT is the winner here, with two USB 3.1 ports and a single 20 Gbit/s USB-C 3.2 port
One thing the OptiPlex 3000 MT has, that the other two don't, is the HDMI video port. If you need HDMI support this is your model, OptiPlex 5000 MT and 7000 MT have only DisplayPort capability.
If you plan to connect more than three SATA storage devices you should choose the OptiPlex 5000 MT or 7000 MT as the 3000 MT has one less – three SATA ports instead of four.
All three MT models have a M.2 slot with PCIe NVMe Gen4 x4 support. However, OptiPlex 3000 MT does not support more than 1 TB NVMe SSD, where OptiPlex 5000 MT and 7000 MT both support up to 2 TB SSD.
When we compare other parameters of Dell OptiPlex 3000 MT, 5000 MT and 7000 MT, we can hardly find any significant differences with big impact on your system performance.
They all have PCIe 4.0 x 16 slots for dedicated GPU, space for 3.5 and 2.5 inch drives, and similar size and weight.
It's important to keep in mind that for a stronger GPU, you should opt for the OptiPlex 7000 MT as you have the option to choose a 500-watt power supply, compared to the 400-watt and 300-watt PSUs supported by the 5000 MT and 3000 MT models, respectively.
** As an Amazon associate we earn from qualifying purchases.
Differences between Dell OptiPlex 3000 vs. 5000 vs. 7000 SFF
Differences between the Small Form Factor (SFF) models are pretty much the same as with the Mini Towers (MT). The OptiPlex 3000 SFF is using the Intel B660 chipset and has only two DIMM slots for maximum 64 GB of memory. All three small form factor models are using DDR4-3200 memory.
In terms of USB support you get exactly the same number of USBs as the MT models – 8/10/10. Again, you don't get a USB-C 3.1 port if you opt for the OptiPlex 3000 SFF, and no USB-C 3.2 if you get the OptiPlex 5000 SFF.
If you plan to use one of the small form factor models with more than two SATA drives, you should choose either the 5000 or 7000 SFF as they come with three SATA slots.
HDMI port is only available on OptiPlex 3000 SFF, for the other two models it is only optional. However, instead of the HDMI port you get a two and three DisplayPort. Additionally, for the OptiPlex 5000 SFF and 7000 SFF you can get a second USB-C 3.1 port which also supports alternative DisplayPort mode (i.e. you will be able to plug your DP monitor there).
Just like with the Tower model, all models are using the latest PCIe Gen4 technology . This means you will get transfer speeds of up to ~16 GBps.
If you don't need too much processing power, it might be a good idea to save some money and use a Pentium CPU. They are good processors and will save you money. OptiPlex 3000 SFF and 5000 SFF are the two models that support Pentium CPUs.
Of course, don't save money on Disk Drives and RAM. You should have at least 16 GB of RAM plus a decent SSD.
The other parameters of Dell OptiPlex 7000 SFF and 5000 SFF are almost the same. The only significant upgrade you get with the 7000 SFF model is two additional M.2 2230 slots.
All three SFF models come with a non-standard 300 (optional) power supply unit, enough for a decent low profile GPU upgrade for gaming. For example, you can use a low profile Radeon RX 6400 on any of these devices.
** As an Amazon associate we earn from qualifying purchases.
Differences between Dell OptiPlex 3000 vs. 5000 vs. 7000 Micro
In category the difference between the Dell OptiPlex 7000 M, 5000 M, and 3000 M is even smaller, especially when they are configured as standard business computers.
The OptiPlex 7000 M is a reasonable purchase option only if you are limited in space but you need a high-performance computer. For example video editing on a machine with a 65 Watt CPU such as the Intel i9-12900. In that case you should get the OptiPlex 7000 M with the optional 130 watt power supply.
The remaining hardware differences are unnoticeable in your day to day tasks, or at least when you use the micro for the usual office tasks.
Keep in mind using a regular processor and not a low powered one in a chassis like this one, may generate excess heat, and sometimes impact the system's performance.
If you do a lot of copying to external drives, you should buy either the OptiPlex 5000 M or the 7000 M as they come with a USB 3.1 Type A/C port (10 Gb/s). The 3000 M has only USB 3.0 ports which have maximum transfer speeds of 5Gb/s.
In terms of power OptiPlex 3000 M has only a 90 watt power supply option,  while the other two models have the option for 130 and 180 watt models.
** As an Amazon associate we earn from qualifying purchases.
Allan Witt
Author
Allan Witt is Co-founder and editor in chief of Hardware-corner.net. Computers and the web have fascinated me since I was a child. In 2011 started training as an IT specialist in a medium-sized company and started a blog at the same time. I really enjoy blogging about tech. After successfully completing my training, I worked as a system administrator in the same company for two years. As a part-time job I started tinkering with pre-build PCs and building custom gaming rigs at local hardware shop. The desire to build PCs full-time grew stronger, and now this is my full time job.