Everything About Refurbished Computers
In our guides and reviews we search for the best renovated models. We discuss laptops, desktops, specifications, and warranty options.
Why Buying Refurbished Computers is Good Option
Get a great desktop computer for a fraction of the price of a new model without sacrificing any performance.
Buy a powerful and well built laptop, where typing is pure bliss without the feeling of a cheap plastic toy.
Why anyone in his right mind would ever buy a used "old!" (refurbished) computer?
Because if you are like us, you want a well-engineered piece of machine at the lowest possible price. Those two things usually don't go hand in hand. Unless you opt for refurbished!
Refurbished desktops and laptops are usually "business class" devices engineered to higher standards due to the environment they were planned to operate in (think grumpy corpo workers).
Let's mark few important benefits when buying a business class device.
Higher durability than the usual consumer graded crap
More powerful and functional (Ports, CPU etc.)
Easy repair/upgrade
Quieter operation (Yes! Office workers can't stand whining computers.)
Less bloatware
It seems like when you buy a refurbished machine you get a computer with excellent specs, and great build quality.
Let's take a look at one such example.
You can buy a refurbished HP EliteBook 830 laptop for the price of $989. Buying it new will costs you $1623! Oh, and by the way, the refurbished offer has 2 years warranty.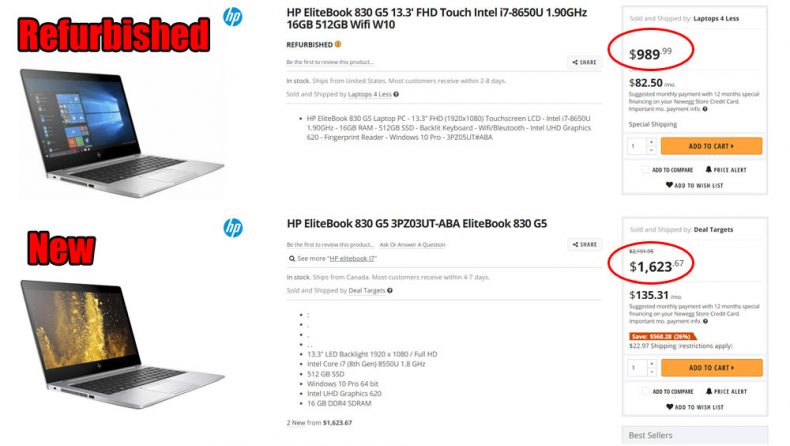 So, almost $700 bellow the original price.
Hooked? Great, let's continue…
Now, you are probably asking yourself: "What makes a good refurbished computer and where do I find one?"
This why we set this guide, to help you find the best refurbished model device. We have been researching and using refurbished desktop/laptop computers for quite some time. Read the rest of the guide and you will find all the info you need.
The best in their category?
If you already know your intended use case, and you look for a cheap offer. We have you covered.
Our site is organized around popular categories and each one has the most popular use cases.
Head down and browse them to learn what and where to look for when you buy refurbished computer.
If you want a general guide about refurbished computers – skip the categories and read the article blow.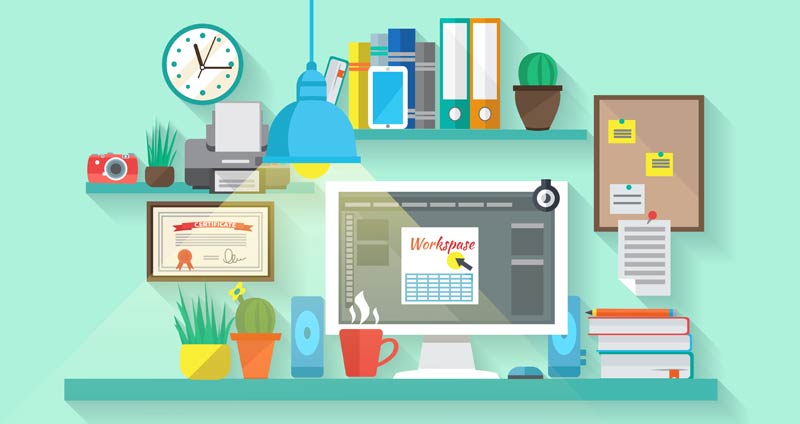 Learn about different models refurbished desktop computers. We talk about manufacturers like Dell, Lenovo or HP and discus gaming, student and professional PCs.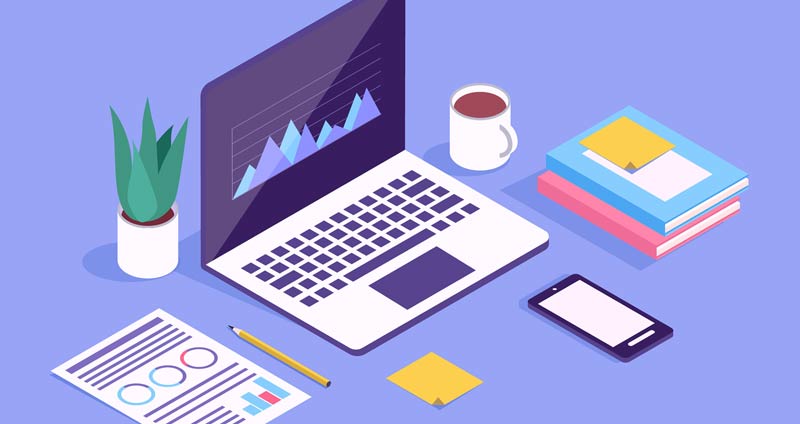 Find out which model suites you the best, and how to spot powerful, well built, factory refurbished laptop for the lowest price possible.
Refurbished computer – the definition
Refurbished computer is a device that has been returned to the manufacturer because of an issue, either hardware or other. It is then tested for defects, repaired if needed, and reinstalled. Finally, it is sold for a lower price.
What gets refurbished?
Any return during the warranty period due to some hardware or structural defect
Open-box returns
Cancelled orders
Demo models
Devices damaged during delivery
Recalls
Off-lease computers return at the end of their cycle
The Process of Refurbishment
After receiving the computer, the manufacturer or the dealer starts the process of renewing.
They check the body for outside structural damage – dents, chips, scuffs or scratches. Then they inspect the screen for spots and scratches. A grade is assigned, according to some grading system.
Demo models or damaged models receive fresh packaging and updated housing elements.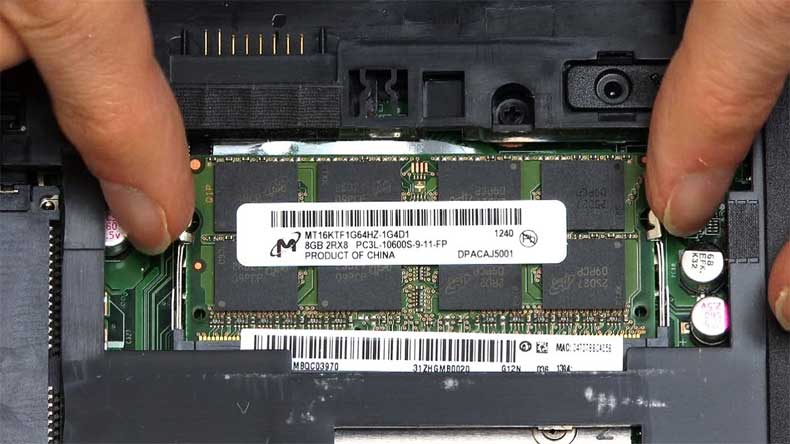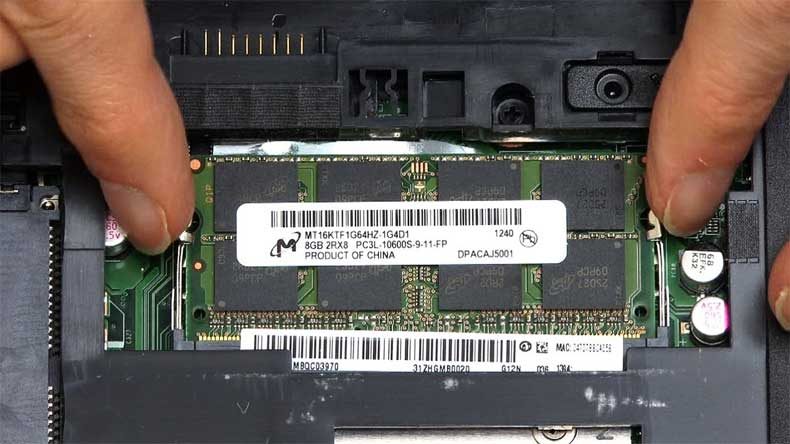 If there are hardware problems, they are corrected. Recalled defective batches go through a process of replacing the failed components with new working parts. After successful tests are passed, the unit is cleaned, repackaged and sold as refurbished.
Certified Refurbished vs Non Certified
Important detail in the whole process is who makes the renovation.
There are two scenarios.
Done by the manufacturer (Certified Refurbished)
Certified refurbished status is given when the renovation process was carried out by the manufacturer. This includes full hardware, software, and body inspection. Companies using the label are Microsoft, Lenovo, Asus (UK), HP, Acer, and Dell.
When done by the manufacturer, the quality is higher because they can leverage their production and manpower to do the work. Additionally, genuine replacement parts are used when the repair is done.
Computer configurations renewed this way are often newer models, as they are typically warranty cases or customer returns.
Such products usually have between two and one-year warranty.
Done by the Seller (Non-OEM refurbished)
In this case the refurbishment is done by the seller or by an authorized repair shop. Usually these sellers buy older off-lease items, do the renovation and sell them online.
When buying from a seller you have to be more careful. You can find really nice deals or stumble on something you won't like.
Such products can come with a 90 day warranty – which should be enough to find defects which were already present at the time of shipping.
So which one is better? Most people should play safe and go with the certified where we expect better diagnostic tools, original parts and of course, a higher price.
We personally prefer to pay as little as possible, thus our choice most of the time is the third-party certified. However, this method needs more time to investigate the market before making the move. We also like places where the actual item is shown and there are enough pictures that give us a good understanding of the physical condition.
Disadvantages of Refurbished Computers
Battery degradation – If the battery has not been replaced during refurbishment and the device is older than 1-2 years, battery degradation should be expected.
Bad visual appearance – If you buy an off-lease computer you ought to expect some signs of usage.
May have limited warranty with certain sellers
Low screen resolutions – some business laptops come with 1366x768 screens which is not ideal.
Bad renovation job – not all sellers are made equal.
Warranty
It is best if the warranty is provided by the manufacturer (Dell, Apple, Lenovo, etc.) and not the seller. It is much safer and usually has a longer time frame.
The length of the warranty period depends on the age of the device, the refurbish category and the seller. Current generation models tend to get the original warranty. While, older devices have shorter period or 90-day return policy.
The number one rule is: read the warranty! If it's not clear – ask the seller.
Warranty period for refurbished computers by seller.
| Sellers | Warranty |
| --- | --- |
| Apple | 1 year limited; 14 day return |
| Dell Outlet | 1 year standard |
| Dell Refurbished | 100 days |
| Lenovo | 1 year standard |
| Acer | 1 year (new open box); other – 90 days; |
| HP | 1 year limited |
| Amazon | 90 days return policy |
| Best Buy | Mac – 90 days; Other 12 – 18 months |
| Microsoft | 1 year limited |
| Newegg | 90 days limited; 30 days (third party sellers) |
Refurbished grading
The grading system is not uniform and varies from seller to seller. Overall, it is a good starting point for how to distinguish among models sold by one specific retailer.
The grading corresponds more to the overall look of the machine and its esthetics, and not so much to its final working potential.
Refurbished computer, grading system.
Grade
Description
Grade A

The units are comparable to new. No damages to the body. Here you will see no scratches or spots on the display and no dents on the chassis.

Perfect visual condition. Esthetics similar to a new model

Grade A-

Good visible condition – normal signs of use on the body. Minor scratches possible.

Screen – no dead pixels, blemishes or scratches.

Similar to Grade A, but with minor visible imperfections.

Grade B

Can have limited dents, chips or scuffs on the body. The keyboard is not in perfect condition. There may be shiny spots on the keys.

The display may have light scratches.

Grade C

Spots and scratches on the display.

Visibly worn out body with scratches, dents and scuffs.
Refurbished Laptops
The idea of refurbished resonates very well with the laptop segment. It is especially true, when your budget is tight and you forced to go down the path of cheap consumer models.
Owning a slightly older, high-end quality product instead of new consumer line garbage is a good tradeoff.
For a refurbished laptop with a decent built and long life you have a couple of options:
For general everyday use or student work – aim for business class
For gaming – focus on gamer targeted models and workstations
For professional use (CAD or Photo editing) – consider more specialized workstation models
Which refurbished laptop offers the best value for the money?
The best value for the money lies within the business segment. Enterprise laptops are made for heavy use within big companies. That's why most of the time the best offers are refurbished off-lease devices.
Unlike modern consumer models, the enterprise class has high-end specs and better components.
Let's talk details…
1. The Chassis
These models have a strong chassis.
The truth is…
…this is one of the most important features to look for when buying a refurbished laptop.
You do not want cheap flimsy plastic that bends each time you press a key.
A good chassis will last years and they can come with additional features – easy hardware access for upgrades, designed to withstand falls, spill protection with drain holes, Mil-spec, etc.
2. The Keyboard
When you type on a good quality keyboard, the work feels so much more rewarding. There is no joy in typing on flimsy keys with shallow travel and no feedback.
And because of the nature of the job they were designed for, business class laptops have a precise keyboard with larger buttons, longer key travel, tactile feedback and longer life.
In each of our guides, we try to include models with such keyboards. But if you need the long story short: ThinkPad keyboards are our favorite.
3. The Battery
Battery degrades with time and usage. The older is your laptop, the worse off your battery.
If the laptop you are buying is not older than 1 year, you should not expect problems. Of course it all depends on how the computer was used. Frequent charging, discharging to zero, charging while the computer is under heavy load (i.e. in warm conditions), charging always 100% – all these factors are causing faster degradation.
If you are worried about the battery you should try to get info from the seller about its condition. On some business-class laptops there is a health status which shows the number of cycles and remaining capacity.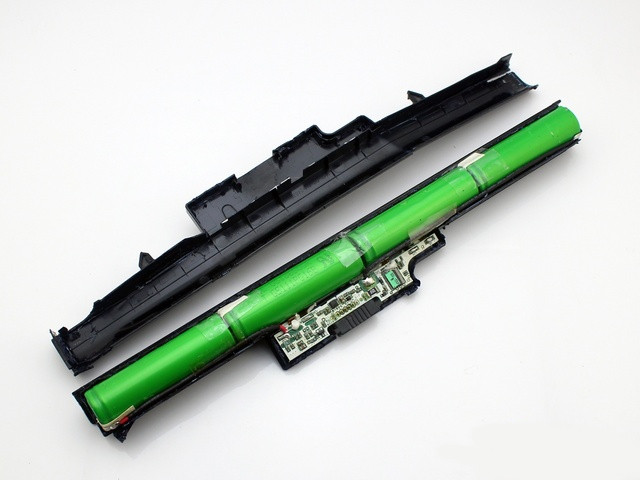 It is a good thing is that on business-class laptops changing the battery is not something difficult.
You also have the option of refurbishing it. We recommend refurbishing instead of buying a non-original replacement. Refurbishing a battery usually involves replacing the old cells with new ones. Where we are refurbishing a battery costs the same as buying a new non-original one. If this is the case for you, definitely go with refurbishing.
Hint: If your new laptop gives you the option, set the battery to stop charging at 90%. This will prolong its life. Of course when needed, charge it completely.
4. The CPU and RAM
Your targeted spec depends on your usage. You can focus on Intel Core i5 or AMD Ryzen 5 Mobile processors. These models give you a good performance for a reasonable price.
Current generation top-of-the-line models use Intel's 9th Gen and AMD Zen+ mobile architectures. Therefore, considering Intel 6th, 7th (8th) Gen or AMD's Zen (Zen+) is a good idea.
If you are a casual user (browsing, watching movies) you may use low power processor (where TDP is around 15W). This will guarantee a quiet environment and a cool lap.
You can see in the image below, that these low power 8th Gen Kaby Lake Intel i5 (2017) and First Gen AMD Zen (2017) processors are similar to each other, as far as raw computing power is concerned.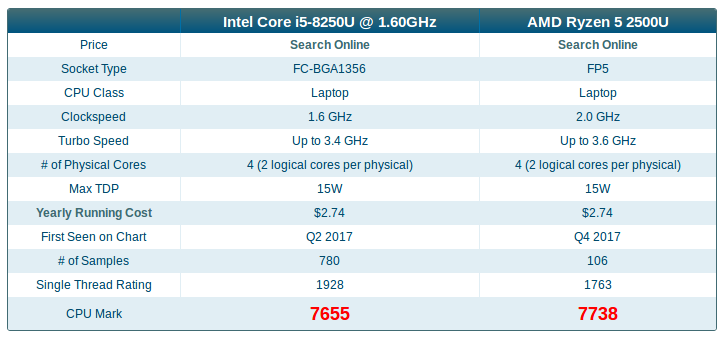 Note that the 8th generation of Intel's i5 low power processor has 4 cores, while the old generations have only 2 cores.
CPUs for simple general use

For general use, you can even go for 4th or 5th gen Intel processor. These are the perfect tools for the job and you will save a ton of money.
The bottom line is that you don't need 9th Gen i7 processor to browse the Internet and write Word documents. Assess your needs and choose accordingly.
What about the RAM?
Six to 8 GB for general use and 16GB+ for gaming and graphics work. Don't worry if you laptop comes with less RAM than you need. Adding RAM is really simple.
5. Storage
Without saying the storage must be SSD or at least the OS should live on SSD.
Check out this next speed comparison. The SSD is 5 times faster than the HDD. Some refurb models have M.2 MVMe drives, where you get the full benefit of the solid state drive technology.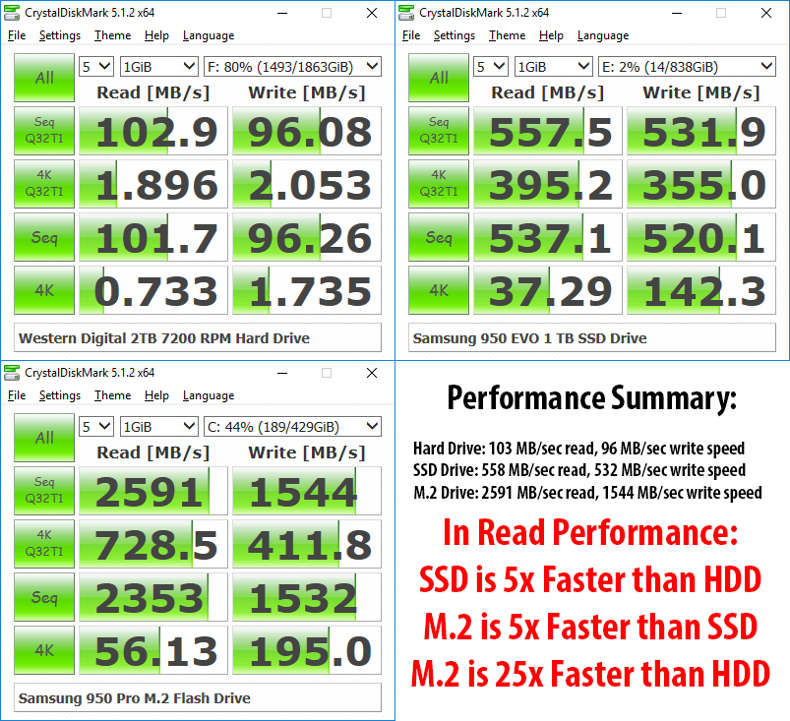 The other option is to go dual drive – smaller SSD for the OS and HDD for more storage.
Because the computers we talking about are refurbished, people tend to worry about the SSD's health status – long working hours, and lots of reads and writes, are some of the parameters worth checking. The chances to land on a drive at its end of life state its pretty slim.
The next screen is form ThinkPad T450 with 120 GB SSD. We bought this laptop 2017 and the model came out in 2015. As you can see 4 years later the drive is in good health with Media_Wearout_Indicator at 97.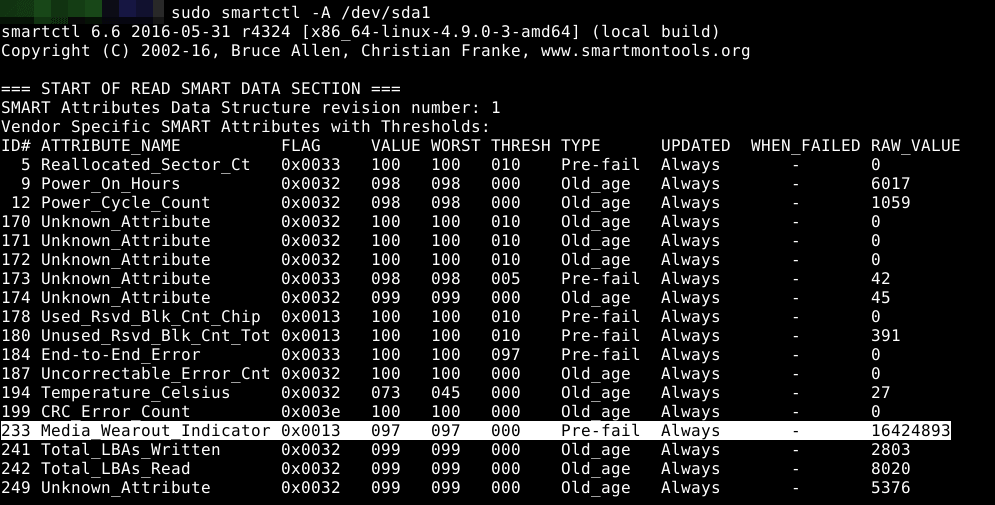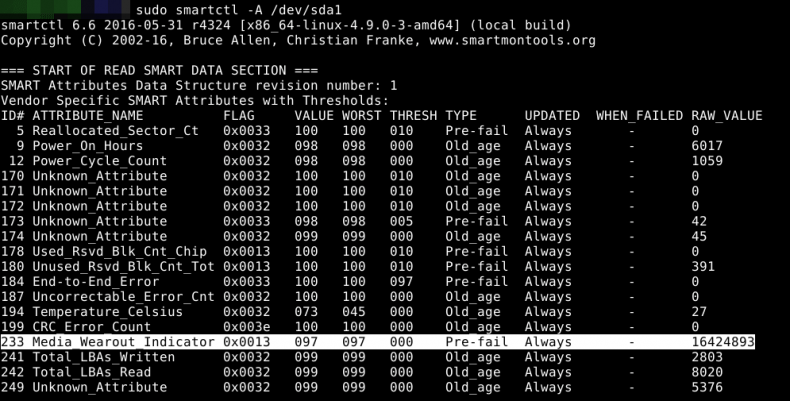 128 GB is usually enough. However, these days the SSD are becoming really cheap, and if you have the budget, why not buy a new and shiny 512GB SSD for your new laptop? We also recommend to keep your photos and videos on external drive, possibly even on Cloud (check DropBox and others). Keeping data in the Cloud might be cheaper than keeping it at home!
Be sure to read out guide about the best refurbished laptops for more info and exact model solutions.
Refurbished Desktop Computers
When we research refurbished desktop computers the focus is slightly shifted. Now the overall build quality is not so crucial, and we are interested in high quality components and good specs.
Possible use-cases:
Office and home use – working with text editors, databases, surfing the Internet, watching videos and listening to music, etc.
Gaming
For professional use – CAD, graphics, engineering, design and research.
1. The CPU
Before we begin, we want to keep one thing straight:
It is not always true that slightly older refurbished machines have less processing power than newer ones. Very often the newer generation CPUs are not exceedingly more powerful but are instead more energy efficient and have newer features.
The CPU parameters we are looking at are:
number of cores
concurrent running threads
frequency
Best approach is to pick a proven processor, which compliments your needs, and then chose a computer assembled with it.
Office and home use
In the office and home use segment the need for processing power is not extreme and any 5th or 6th Gen Intel Core i3/i5 processor is quite sufficient.
The next screen is a comparison between 4th and 8th gen core i5. At first glance there is a substantial difference between the two, but fore everyday home use you can save money.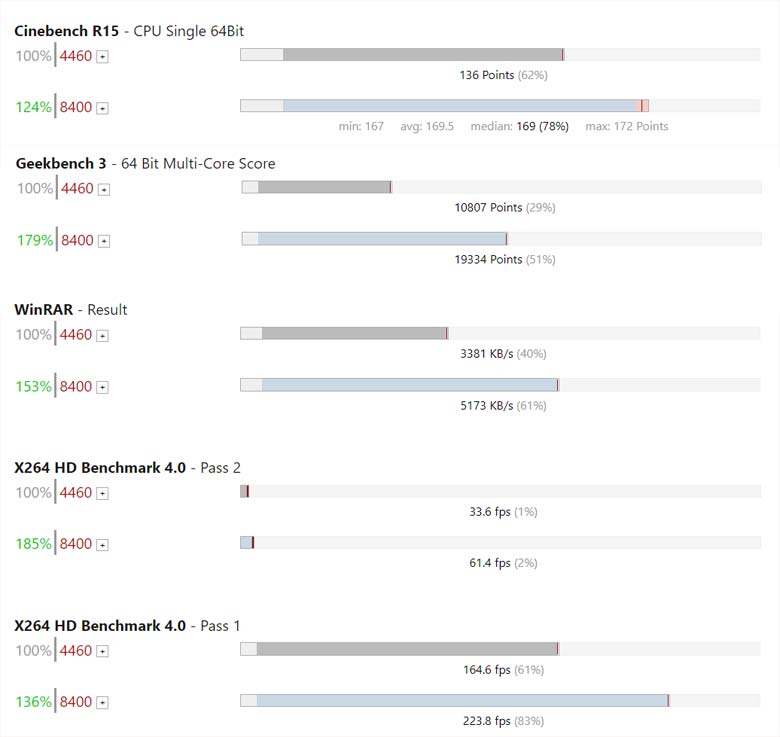 AMD's 1st Gen Ryzen 3 (APU) is another unit that will do the job. In the recent years AMD made a grate push toward making an good processor on par with Intel. Ryzen is just that, grate processor with lots of value when used in refurbished unit.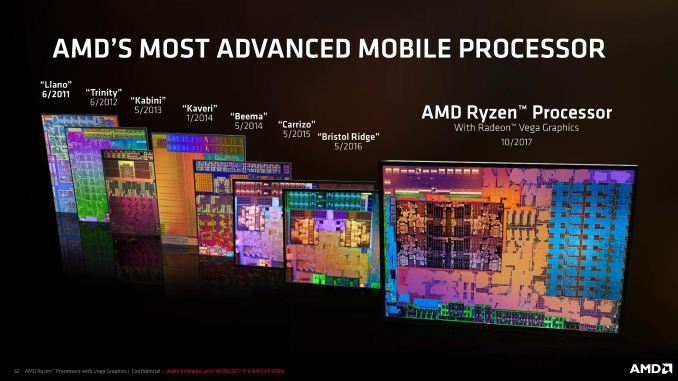 There are many refurbished choices with good CPUS in the business/home segment. We did our best to organize and include the most interesting configurations in our guide – refurbished desktop computers for general home use.
For professional use
CAD, photo editing and alike require a bit more power. You'll need to move from Intel's Core i3 to i5 (even i7) and from AMD's Ryzen 3 to Ryzen 5.
The key here is higher clock speeds.
2.4 GHz to 3.3 GHz 6th Gen Intel Core i5/i7.
3.2 GHz to 3.6 GHz 1st Gen Ryzen 5.
2.8 GHz to 3.6 GHz 7th or 8th Gen Intel Core i5/i7.
To manage your way through the hundreds of options, read our article – refurbished desktop computers for professional use.
For Gaming
Gaming is an interesting category. There are many games, each with their own set of hardware requirements. The type of games you play will guide the choice of CPU.
One thing is sure though: A budget refurbished gaming machine will not be able to run the latest AAA titles on max settings, with high FPS. A PC that is two or three years old is not powerful enough to provide a smooth gaming experience with these games.
However, there is one cool thing; there are hundreds of games perfectly suited to older renewed computers.
Look at this next benchmark. It that spans a couple of generations, and show that when paired with a budget GPU (GTX 1060 in this case), there is no huge difference between each generation, and you can have great 60 FPS gaming experience on older CPU.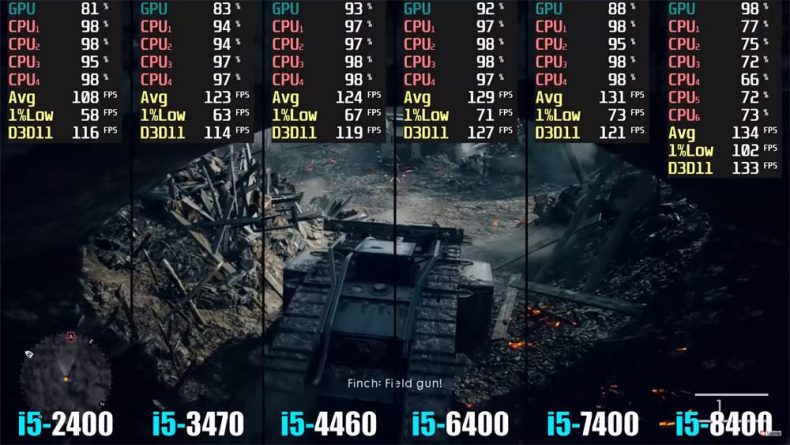 We still game on the legendary i5 2500K CPU. This 8-year old beast it still going strong.
So, what to look for?
On a low budget  –  4th to 6th Gen core i5 3 GHz+ and Ryzen 1st Gen
On a higher budget – 6th to 8th Gen and and Ryzen 2nd Gen
We also have a refurbished gaming desktop review where you can see some model suggestions.
2. The RAM
For people focused on gaming or professional use, higher quantities of RAM are better.
For comfortable everyday home use – email, watching videos, web browsing – you need between 6 and 8GB of RAM.
The next screen shows memory usage of Windows 10 desktop computer running 20 Chrome tabs, Adobe Photoshop, and MS Office Excel.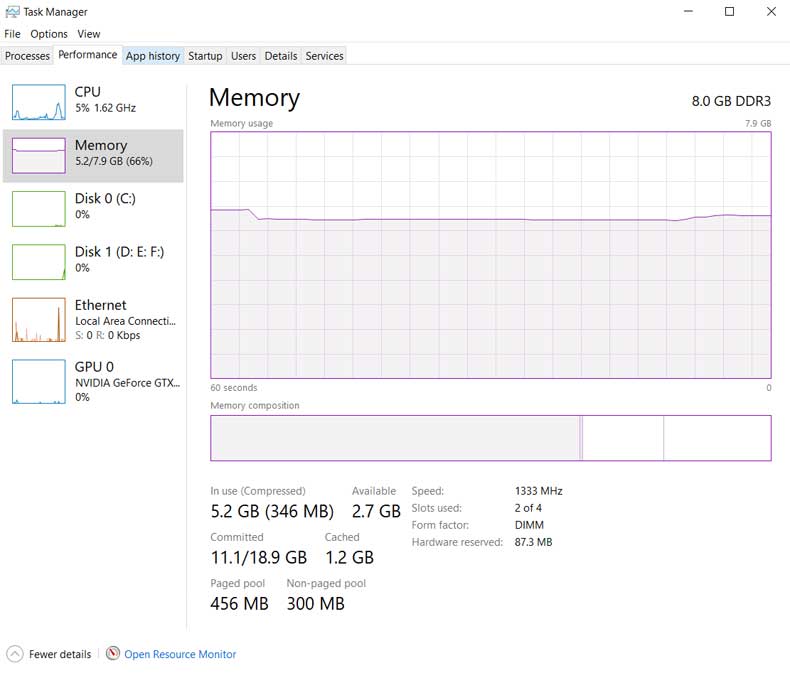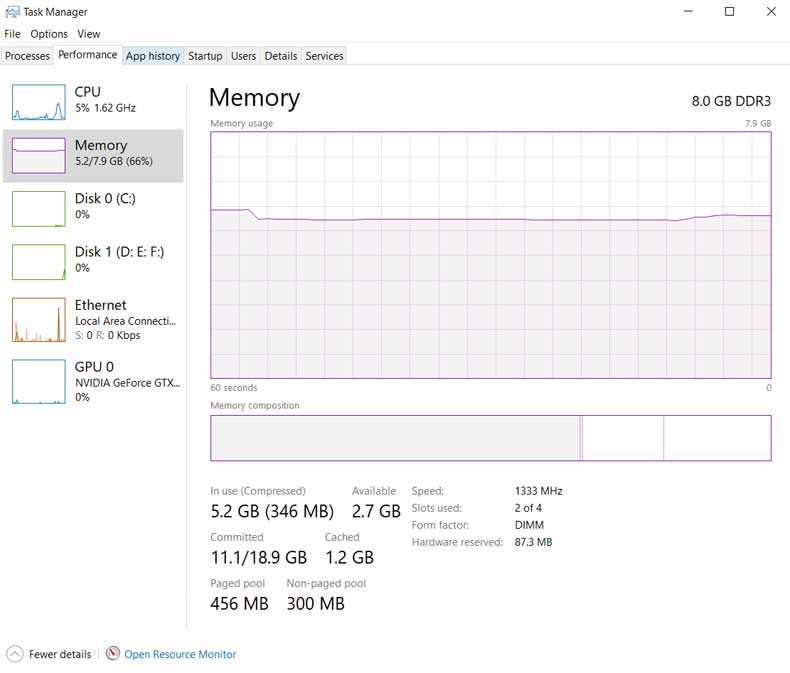 Gamers need to juice up their rig with 8GB+. Higher RAM speeds are also beneficial, especially with Ryzen series. This processor has a split group of cores connected to a bus (Infinity Fabric), and the bus runs on RAM speed.
For Photoshop editing go for 32 GB. There is an old saying about Photoshop – more RAM, all the RAM. 16GB are probably enough, but if you plan to edit large files, and your budget allows it, go for 32GB.
For video editing of 1080p and compressed 4K – 16GB. For 4K RAW – 32GB and more.
3. Video Card (GPU)
Most of the CPUs in the previous chapter have integrated graphics. It is perfectly suitable for your home or office use, browsing the Internet, watching videos and typing.
It is also good, because it is cheap, and lowers the price of the desktop computer significantly.
Intel and AMD CPUs of the same price range have similar performance of their integrated video card.
A striking exception is the AMD 2200G and 2400G APUs with Radeon Vega 8 and Radeon Vega 11 graphics cards, whose performance is close to the stand-alone GeForce GT 1030.
Just check out what you can do with $130 for CPU and a graphics card.
However, for serious gaming you need slightly more power.
There is no point ins pairing older CPUs with high end graphics cards like GTX 1080 or GTX 2060, because there will be a bottleneck.  For good FPS on older refurbished machine, go with models like NVidia GTX 1050/1060 or AMD RX 550, and for low budget configurations use GT 1030 or RX 540.
Here you have two options:
Go with fully assembled gaming configuration – with video card and everything.
Take non-gaming configuration (server or business) and buy a new or refurbished video controller.
It is worth noting that the GPU is doing the heavy lifting and the importance of graphic memory (VRAM) is somewhat exaggerated.
How much video RAM for 1080p gaming?
For 1080p gaming you need between 2 to 4GB of VRAM, depending on the game and the details settings. Do not fall for the idea that the more RAM is better.
How much video RAM for 1440p gaming?
1440p is data hungry and needs 4 to 6GB of VRAM. At this resolution, it also depends on the settings and the actual game.
How much video RAM for 2160p (4K) gaming?
8 GB and above is required only by the newest games on max settings like 4K (Ultra HD) and VR.
Because we are talking about refurbished budgets systems, the best price-performance combination is:
GT 1030 or Radeon Vega 11 2400G APU (budget level)
GeForce GTX 1050 and RX 570 (mid-level)
GTX 1060 and RX 580 (high-level)
4. Storage
The speed of solid-state drives (SSDs) is several times higher than HDDs. When you use them and even the weakest computer will feel fast in most non-gaming tasks.
The catch? Well, they are more expensive.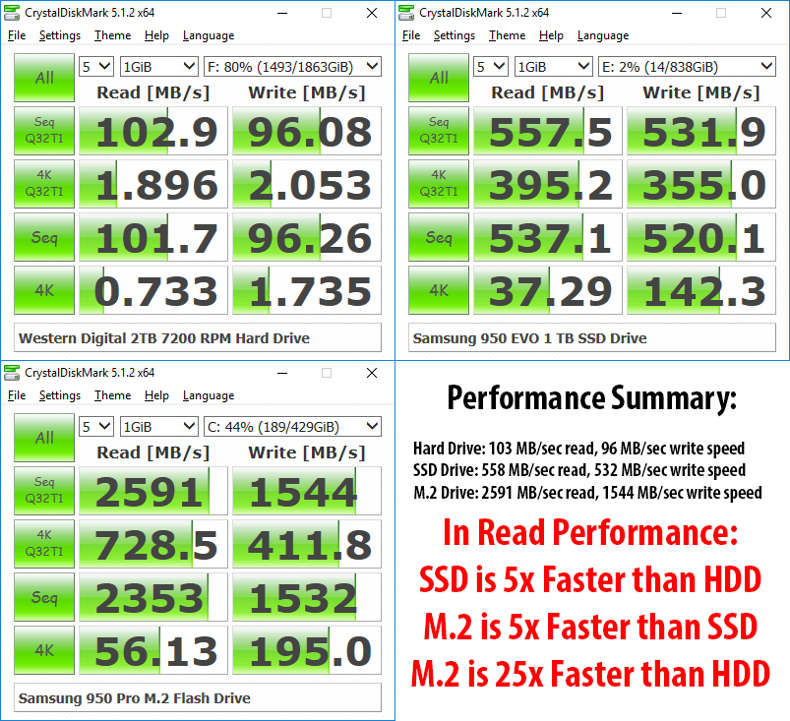 For low budget, refurbished builds, stick to the good old HDD. It is perfectly fine for everyday use. A good 7200rpm HDD is still a go-to-solution for most tasks, even for gaming.
If you don't want to settle for a less responsive system and absolutely want those fast loading times for games and programs, then pick SSD.
Keep in mind that the SSD drive can become quite expensive when storage goes over 256 GB. We recommend storing your huge music and movie collections on an HDD.
5. The Case
The overall health of the system is affected by the cooling efficiency provided by the case. Well ventilated systems tend to live longer. This is significant when there is gaming, video rendering or any other power hungry tasks involved.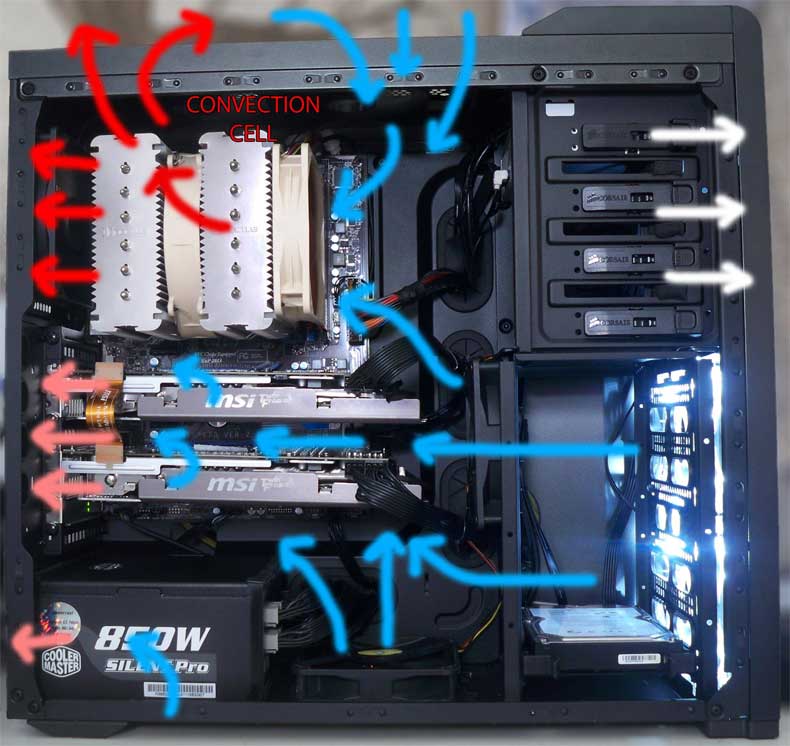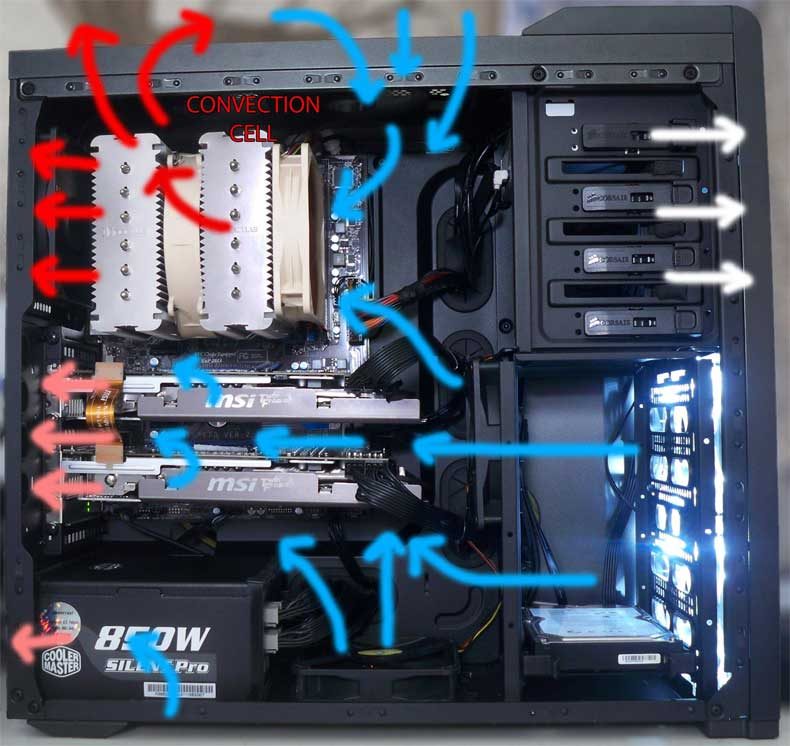 Other important parameters are:
Easy to open side panels.
Space for upgrades – important for gaming machines.
Good dust protection.
Convenient ports and buttons – USB, headphones, power and reset button.
Design and quality of the material.
6. Power Supply Unit (PSU)
The stability of the system relies on the stability of the PSU. That's why a good, certified power supply is absolutely essential.
We don't expect you to buy the supply separately because refurbished computers are already have one. But in case you want to update with stronger GPU for example, then the knowledge of what makes a good power supply is crucial.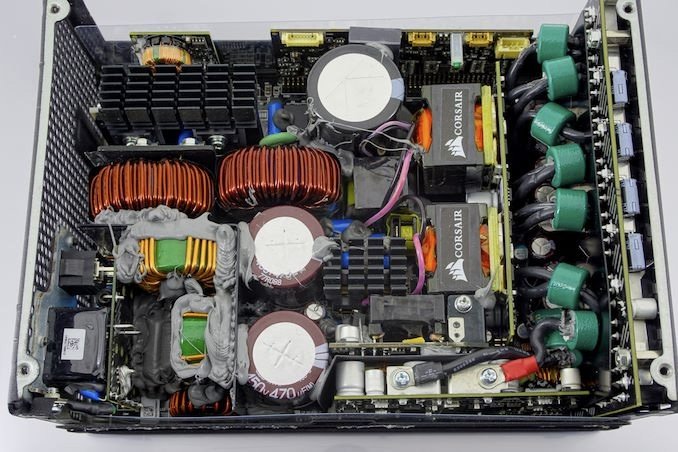 Essentially the job of the PSU is to provide the computer with reliable power. If the voltages are unstable, it may crash the system. The most important value that you need to know is the Power Rating of the PSU (measured in watts [W]).
Power Rating depending on the usage:
For office PC without dedicated video card – 250W to 300W.
For PC with stand-alone graphic card – about 300W
For gaming PC 450W+. This depends on the type of processor and the number of videos cards installed.
In terms of efficiency, quality power supplies provide 80 percent or more of the consumed energy to the components of your desktop computer.
There is a certificate going by that name – 80PLUS – that tests supply units and labels the efficient models.

Refurbished Mac Computers
We are approaching refurbished Macs the same way as PCs. We select a slightly older model with a proven track record and good value for the money. Lets see some of MacBook's stronger sides.
It has a sturdy aluminum body that will last years. Since 2008 Apple is using the unibody chassis to make the MacBook even sturdier, and in the same time lighter and more heat conductive.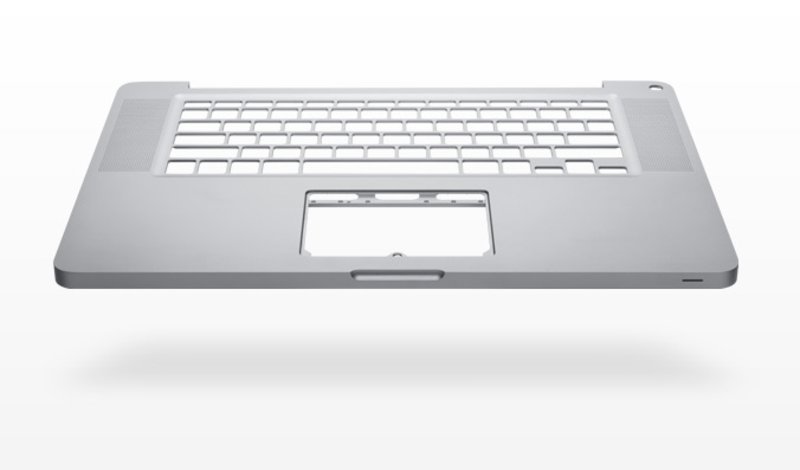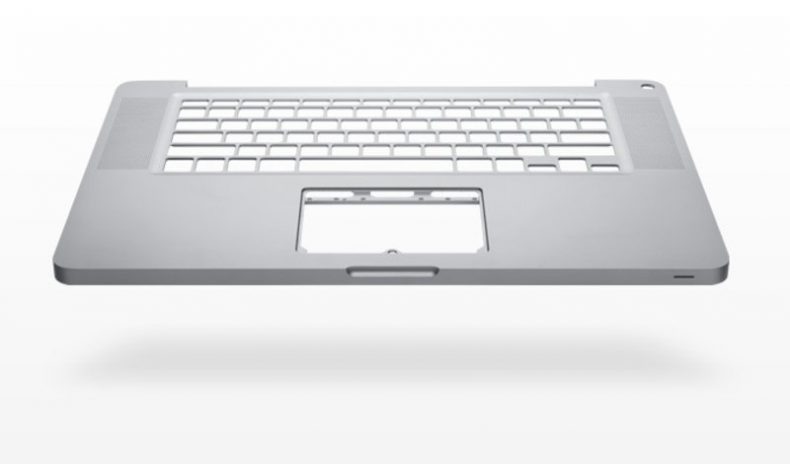 The keyboard from the 2012-2015 model had a distinct travel and good protection. But during the years Apple completely revamped the keyboard, making it unusable (at least for us), and with a major flaw (butterfly switch keyboard). They were forced to extend the warranty coverage to 4 years and issue a replacement program for the malfunctioned units.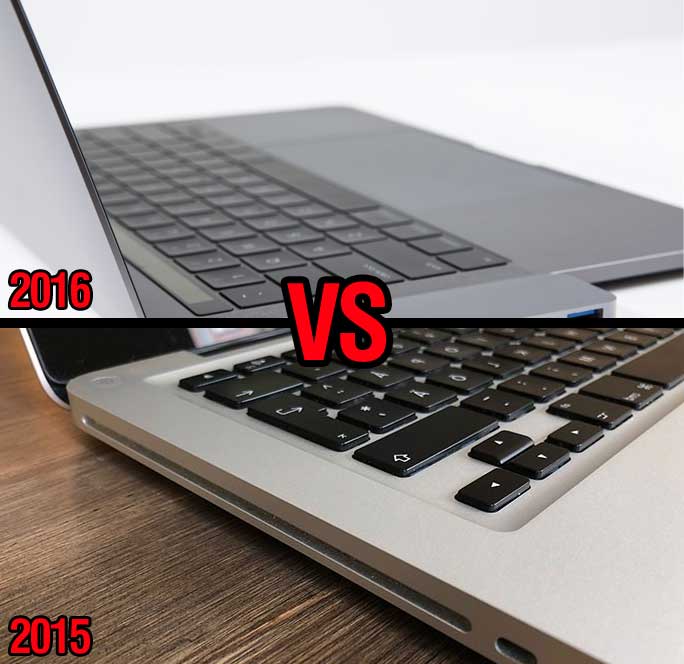 Since 2012 Apple started shipping their new line of laptops and desktops with the Retina display. It gives a clear picture with high viewing angles.


The trackpad on Mac laptops is very good. The combination of material, feel, accuracy, and integration with the OS just makes you very productive when working.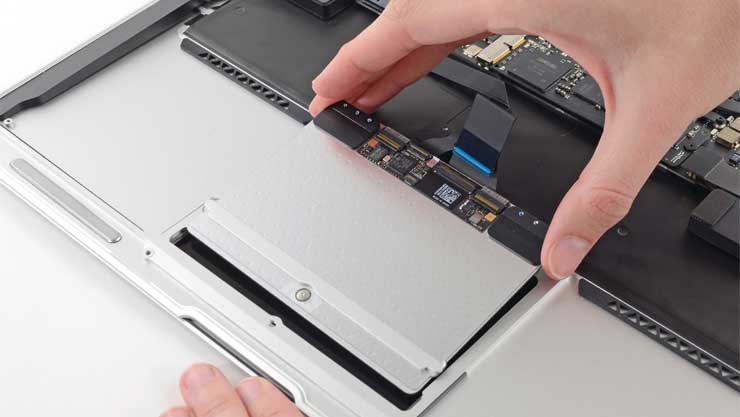 On the software side – Apple has good driver support and overall OS support. The command line terminal is another major selling point, especially with programmers.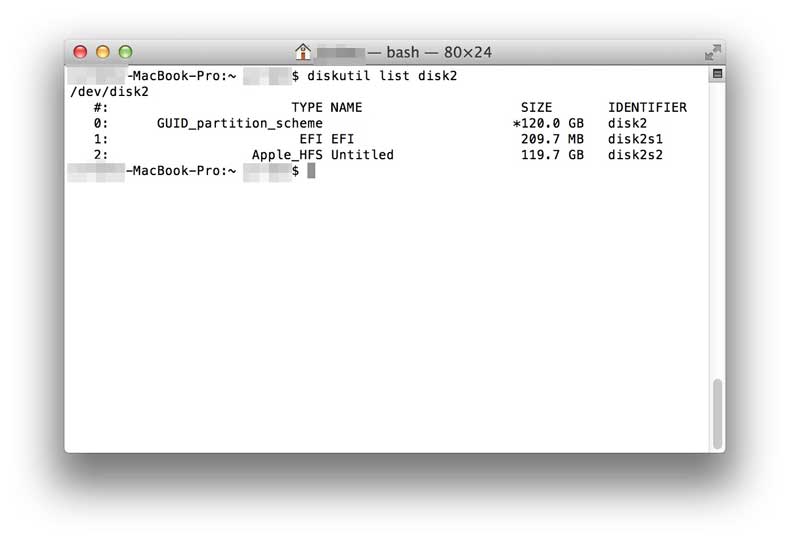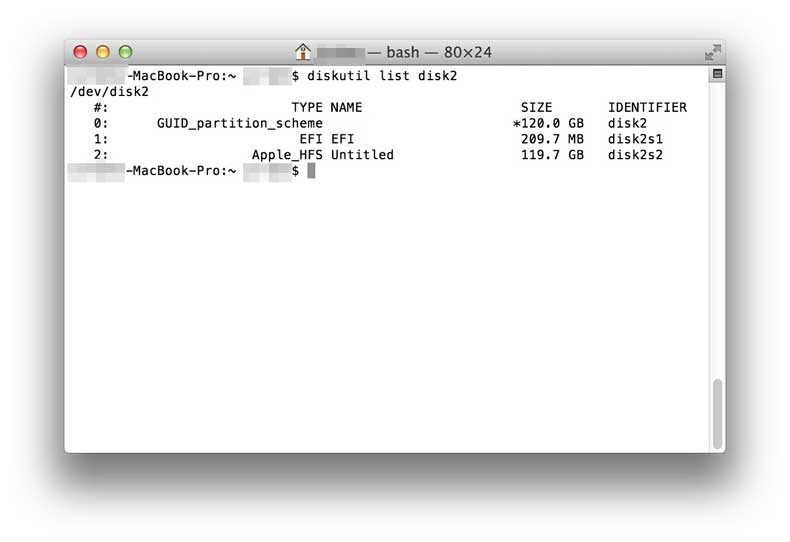 When you buy refurbished directly from Apple, the computer will be like new. There is no difference (warranty, components, quality) between a new Apple Mac computer and a refurbished one. They even change the chassis and the battery if needed.
The only minuscule difference is the box; you are not getting the original box, but a standard white transport box.
Type of Mac
Mac Pro Desktop
If you are a professional that works with heavy graphic, video or audio, you need a Mac Pro Desktop with proper amount of RAM (32GB+) and processing power. Offers can be found on Apple's site.
Mac Air
If you are constantly on the move – blogging, emailing and copywriting, Mac Air is great, because it is small and lightweight. A good quality-price compromise is the 13.3 inch 2013-2014 Air.
MacBook Pro
If you do some work-related stuff like editing audio or video, programming, or just browsing or watching movies but you want some mobility – take MacBook Pro. It has lots of power and in our opinion it is the best Mac laptop.
Good refurbished models are 13 and 15 inch 2013 – 2014 MacBook Pro Retina.
MacBook
Choose MacBook if you want that extra mobility. It is super small and compact with some decent hardware inside. The smaller screen can be harder to use for graphics work, but if you only need to type and edit texts and listen to music, the savings will be in your favor.
Mac Mini
If you are a Windows PC user and want to try a Mac for the first time, then the Mac Mini is the best choice for you. With a starting price of about $ 250 (refurbished), this budget computer will introduce you to the Mac operating system. It is not equipped with a monitor, keyboard and mouse, but it will work with most third-party devices, which allows you to save some money.
iMac
If you are looking for a compact all-in-one system that will allow you to perform most tasks and at a reasonable cost, iMac is the best choice for you. The whole system is in one case with a screen. It is perfect for saving space while not limiting performance.
And remember. For equivalent configurations Macs are more expensive than PCs.
Where to buy refurbished computers
Dell refurbished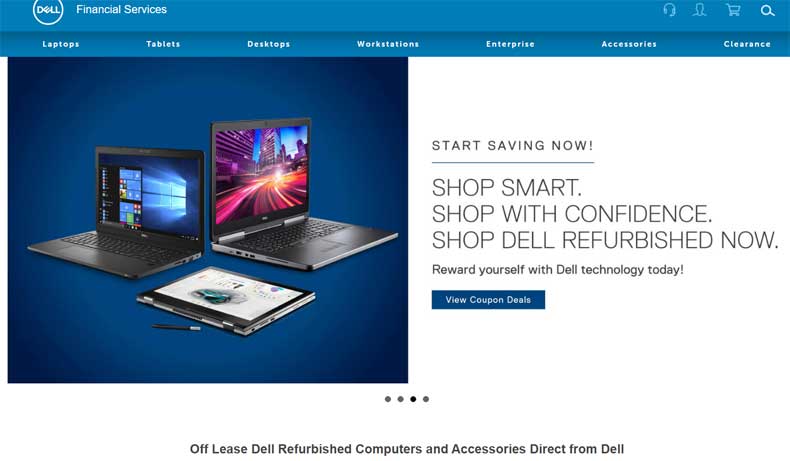 Dell refurbished is a division that sells off-lease laptops used by business for 24 to 36 months as part of the lease. At the end of the period, these computers are returned, tested, renewed, and sold as refurbished.
Dell Refurbished sells Grade-A systems with minor cosmetic blemishes.
Dell outlet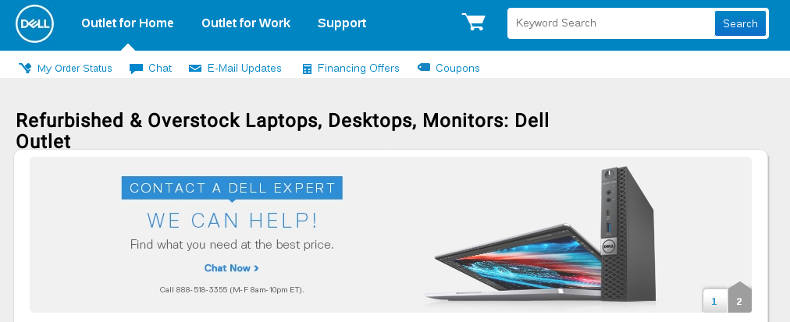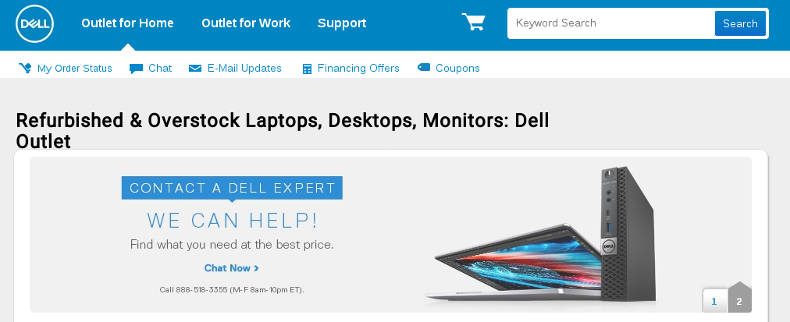 The Outlet store sells slightly used or not used refurbished computers.  Most of them are Dell's most current generation products.
Types of inventory sold on Dell Outlet:
Certified Refurbished PCs – returned and tested laptops; some signs of use;
Previously Ordered New – canceled orders; systems that are not used;
Scratched and Dented products – used machines with cosmetic blemishes; no damages to screen, keyboard, touchpad or palm rest;
Big chunk of the systems sold there are as-good-as-new and carry the original warranty.
Apple Refurbished


Apple refurbished sells only models from the latest Mac generation. Old classics like the MacBook Pro Retina 2012-2015 are not available. If you want one, you have to settle for a third-party retailer.
The device will be "like new" with all the original parts, accessories, cables and OS.
The warranty runs for 1 year with 14 days return policy.
Lenovo Outlet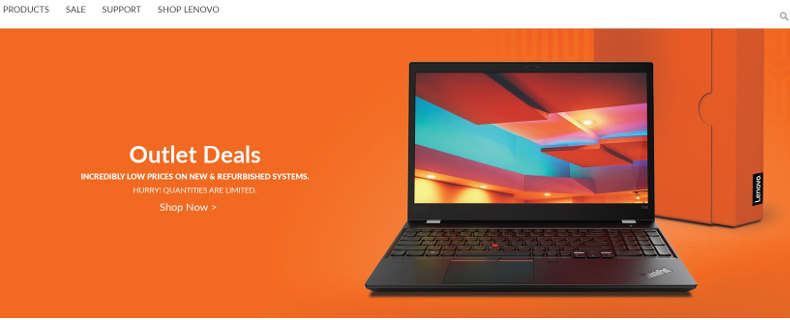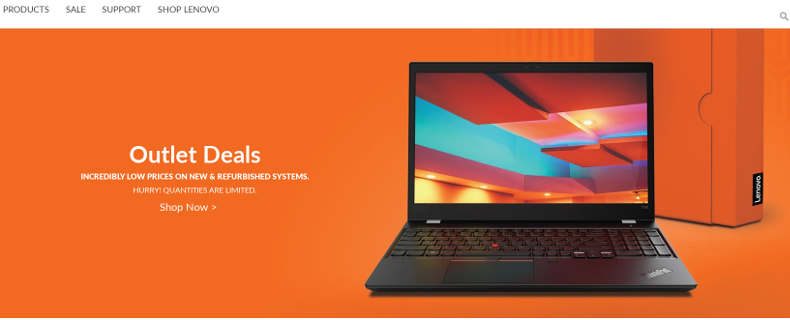 On Lenovo's outlet site, you will find new, refurbished, and scratch and dent offers from the popular ThinkPad (business-class) and IdeaPad series, as wells as desktop systems.
All the models are factory refurbished with a one-year standard warranty.
You can land a nice discount there – from 15% to 50%.
Even high-end workstations like the Think Pad P72 can be substantially discounted.
Acer Outlet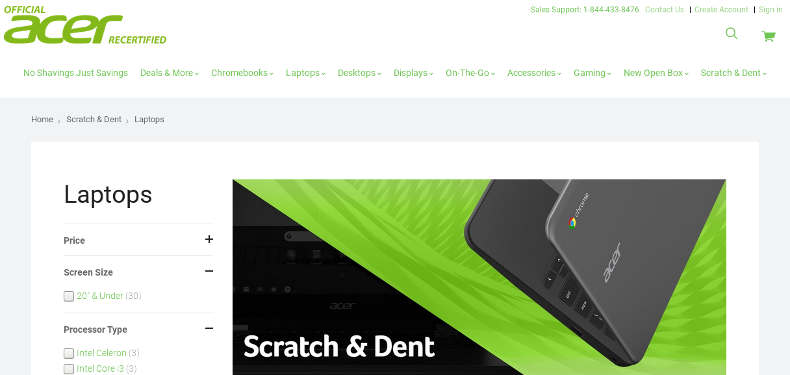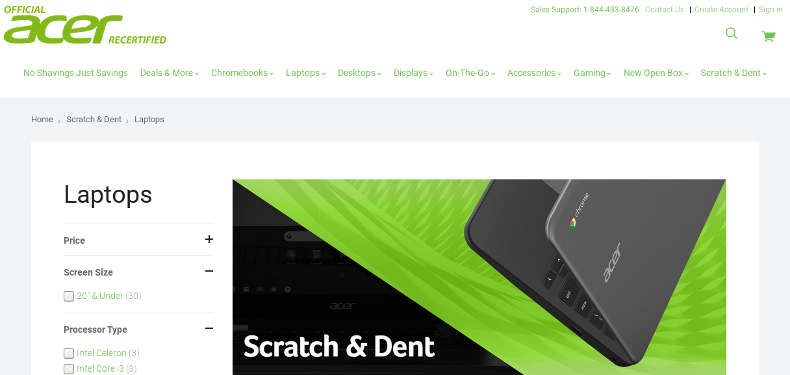 Similar to Lenovo, Acer is going with their full product rage – laptops, desktops, displays and tablets.
They organize their refurbished catalog around three main quality categories – open-box, refurbished-certified and scratch and dent.
All computers come with reinstalled software, power cords, cables, а mouse and а keyboard.
The warranty is between 90 days and 12 months – depending on the type of the unit.
HP Outlet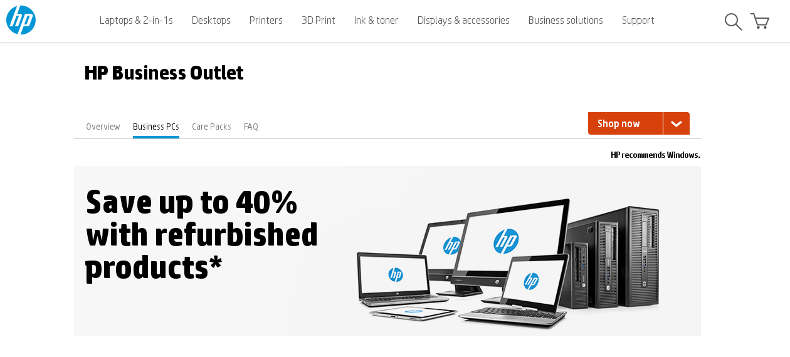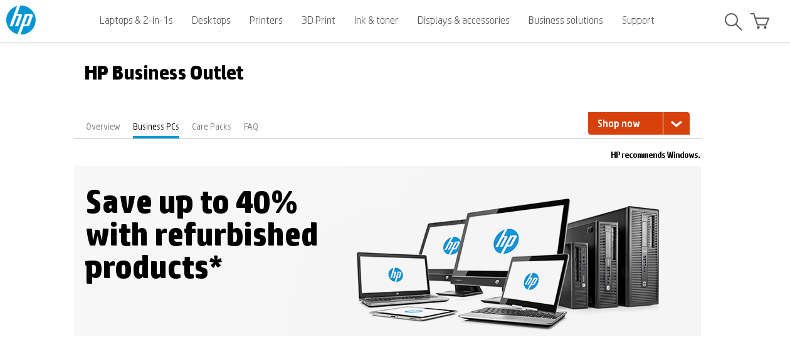 HP's recertified product range consists of laptop and desktop systems available from customer returns, demo units or overstocks.
HP's own engineering department (according to their testing procedure for new computers) does testing, repair and recertification.
All products have a one-year limited warranty.
There is a slight inconvenience as HP does not offer online purchases and everything is done through the phone.
Amazon Renewed


Products on Amazon Renewed are either used or unused products, which are refurbished to a "new-like" working condition by qualified suppliers.
These products are customer returns, open-boxes or damaged products.
Third-party suppliers complete the renewing process. They inspect, test and clean the devices, before repackaging them.
Amazon backs the renewed computers with a 90-day warranty.
Be careful with products sold by third party sellers on Amazon; the quality of work may not be the same as the one performed by the manufacturer.
Best Buy Outlet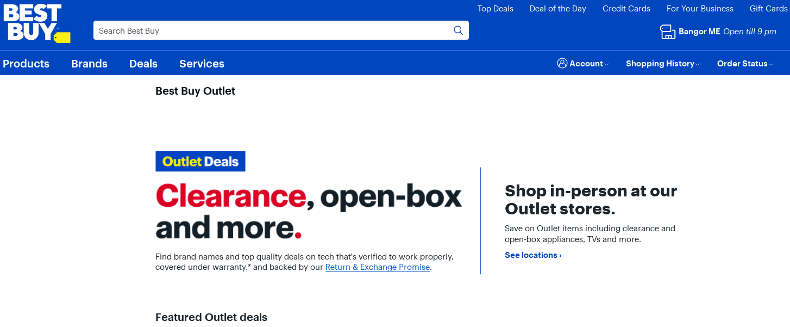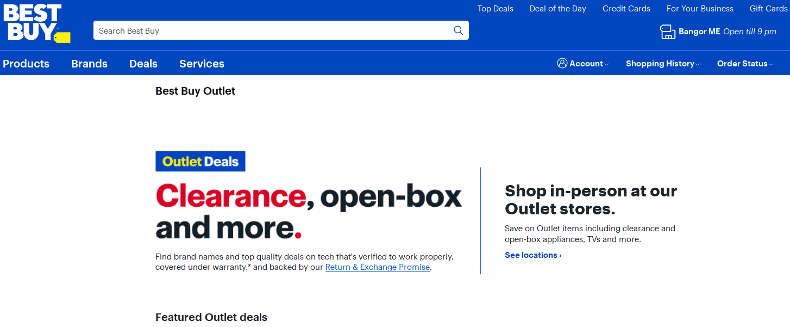 Among all the sellers, Best Buy offers the largest product catalog of refurbished products. There is a huge selection of models from all brands, ranging from 2011 to nowadays.
Refurbished products are classified into three categories – manufacturer certified, certified only and refurbished only. On the site there is additional refinement by the type of the system – new, open-box, refurbished and pre-owned.
Their warranty depends on the conditions of the refurbished product and ranges from 90 days to18 months.
Microsoft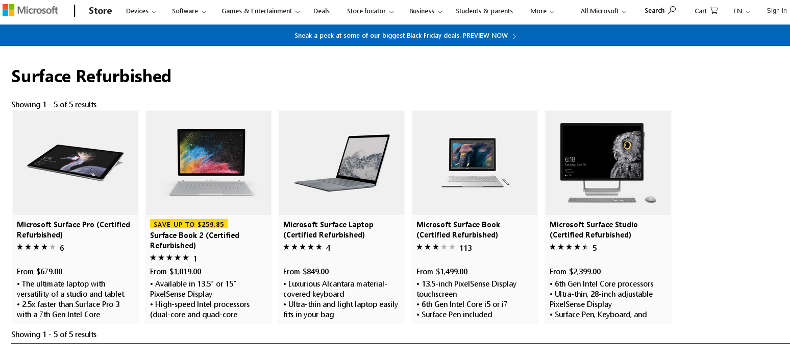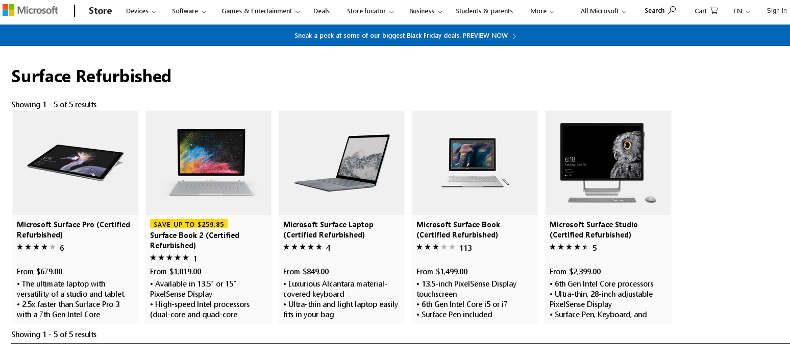 Microsoft does not have a refurbishing program but works with third party certified refurbishers.
Although they sell refurbished Surface laptops on their site, the actual specifics of the renewing process are unknown.
The warranty on all Surface and Surface Pro units is one-year limited.
Newegg


Newegg is one of the largest hardware and consumer electronic stores in the world and as such they have a large catalog of refurbished offers.
There is a large spectrum of brands and models sold by Newegg and their third party sellers.
Currently only Newegg offers manufacturer certified computers,  so be careful when buying from other stores within the site.
Conclusion
Phew! We are done.
You are thinking of buying a high quality computer and you are on a budget? Try refurbished.
Buying low quality consumer graded product for the same price is not advised.
Refurbs have the power!