Disclaimer
---
We are supported by our readers. When you use links on our site to buy products, we may earn an affiliate commission. Read more in our Terms of use.
---
A collection of fast, reliable machines, for less money, and longer warranty
This is a collection of refurbished computers in the desktop segment with proven track record in all kinds of settings.
We collect, organize, and keep this list fresh with the best and most viable recertified PCs.
If you're looking for a desktop computer with good price to performance ratio, then this is the place. There are multiple options to choose from, depending on your needs. From people interested in computer system for general home use, to gamers – eager to crush the latest games with powerful hardware.
All the devices are either manufacturer or seller recertified with 90-day return policy, 1-year warranty, and pre-installed Windows 10 OS.
Here are some of the best refurbished desktop computers we highly recommend.
1. General home use: Dell Optiplex 9020
In order to do the basic stuff, you don't need too much processing power on your computer. Things like surfing the Internet, writing emails, editing your documents or watching movies are all in the realm of general use.
Nowadays, a PC with such requirements should not cost more than $200. They must be easy to upgrade if you decide you need more power, storage, or graphics performance. That's why an easy to upgrade brand refurbished desktop computer is a good idea.
Let's look at one of the best all-rounders.
Dell Optiplex 9020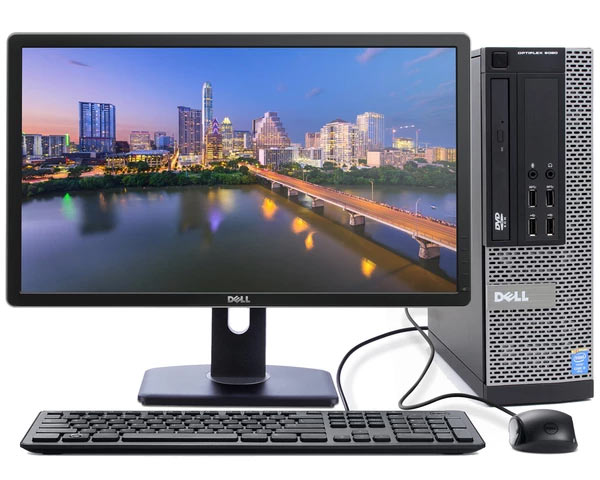 Specification:
CPU: Intel Core i5-4570 @ 3.2 GHz | GPU: Integrated | RAM: 8GB DDR3 | Storage: 256GB SSD | Form Factor: Mini tower | OS: Windows 10 Pro
Where to buy?
What can you do with it?
Word processing
Watching HD movies
Streaming Web content
Working with Excel
Retro gaming
Dell Optiplex 9020 comes in three flavors – the ultra small form factor (USFF), the small form factor (SFF) and the mini tower model.
The SFF is the best model for everyday home use; it has a smaller footprint than the mini tower and at the same time has room for upgrade. Although, not less powerful, the USFF model is cramped inside and it's not so easy to install new hardware. If you lack space, you may consider the USFF.
The good parts.
The Refurbished Dell OptiPlex 9020 is perfect for users who are looking for a compact PC for everyday tasks. The Core i5-4570 processor with TurboBoost up to 3.60 GHz provides the necessary power for multimedia, Internet, and business apps.
The 8 GB of RAM are also sufficient even for memory hungry programs.
Since there is no dedicated graphics card, 9020 isn't suitable for hardcore games, although you will be able to do some retro gaming and play older titles.
The system has all the necessary ports you'll ever need – USB 3, USB 2, Display ports, Ethernet, VGA, and even a Serial port.
The system comes preinstalled with Windows 10 Pro. which provides a good user experience for this type of hardware.
The drawbacks.
The one thing this system lacks is storage. 256 GB SSD may be ample for your OS, important software and some media, but is surely not enough for large media collections. Installing additional storage (internal or external HDD) is something you may want to consider. The space inside is enough to accommodate an additional drive.
Conclusion
Despite the lack of large storage, this device packs lots of power for your everyday tasks. For this exact use case, the price of a refurbished 9020 model has no competitors.
2. For gaming: HP OMEN
Previously used and refurbished PCs are a perfectly viable solution for gaming. You have all the benefits of a new device at a lower price.
Before you settle on configuration, think about your gaming requirements. Are you a casual gamer interested in classical titles or more of an AAA kind of player? Defining those two parameters and choosing appropriately will save you top dollars.
Now.
The next model is something in between these two requirements.
For a more detailed overview, check our dedicated article – refurbished desktop computers for gaming.
HP Omen Obelisk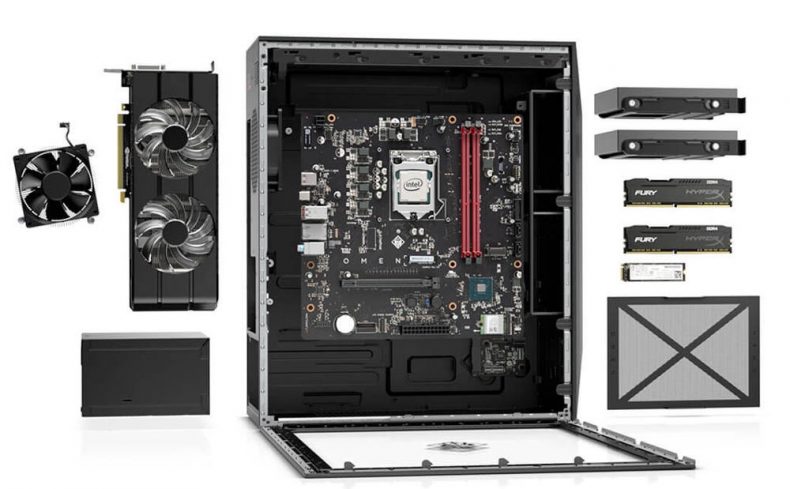 Specification:
CPU: AMD Ryzen 2600 @ 3.4 GHz | GPU: NVIDIA GTX 1060  GB | RAM: 8GB DDR4 | Storage: 256GB SSD | Form Factor: Tower | OS: Windows 10 Pro
Where to buy?
If you are not hyped by some soon-to-be-released (2020) AAA title, this mid-tier OMEN model is for you. It's a dedicated gaming machine and not a retrofitted business class model. That's why it has everything you need to run modern games at good FPS.
One look from the outside and it is apparent that HP took the minimalistic route, and not the modern beastly looking futuristic approach to case design. This is one of the things we like – when you put the case under your desk, the only things that matter are good airflow and convenient ports. When we are on a budget, and looking for refurbished gaming desktop, we don't care about RGB lights or see-through side panels.
When we look for a renovated device, especially for gaming, one thing we care about is upgradability. And the OMEN is easily upgradable. In contrast to some other prebuild gaming solutions, there are no fancy proprietary solutions inside the case that will block future improvements. This makes a lot of sense for refurbished gaming desktop, because if you need to change any of the hardware along the way, it is easy to do so.
But even without immediate upgrade the OMEN is powerful. The RAM is 8 gigs, dual channel, enough for 1080p gaming. For future upgrades you can go up to 64 GB with 32 GB DIMMs on each slot.
The chassis is spacious, not cramped up, and with lots of room for cooling the Ryzen 5 2600 and the GTX 1060 3GB. These two can give you some decent FPS if you don't go beyond HD resolution. And if you are not happy with them and you want to jump to UHD or even 4K resolution, the Moaria motherboard uses the AM4 socket and will happily run the latest AMD architecture – the Zen 2.
On the motherboard there are two NVMe M.2 SSD slots – one for the 256 GB drive and the other for an additional WiFi card. With the additional harddrive bays you can expand the storage beyond the available 256 gigs.
For people interested in RGB, there is some functionality programmable through the OMEN command center, but it's nothing special.
The combination between NVidia GTX and AMD Ryzen is logical; both excellent choices for fluid 1080p gaming experience. Sixty FPS on 4K Ultra is not in the scope of this exact OMEN model, but keep in mind this is a gaming computer for less than $800, so there are some drawbacks.
What games can you play with this refurbished model:
| Year | Game | Frames Per Second |
| --- | --- | --- |
| 2018 | Battlefield V (U) | |
| 2018 | Assassin's Creed Odyssey (H) | |
| 2019 | Resident Evil 2 (U) | |
| 2015 | Rocket League (U) | |
| 2012 | CS:GO (U) | |
| 2016 | Overwatch (U) | |
| 2017 | Fortnite (H) | |
| 2016 | DOOM (U) | |
* (H) – High settings; (U) – Ultra settings
3. Refurbished all-in-one: Lenovo IdeaCentre 520
All-in-one PCs are great for saving space. They are compact, use less cables, and reduce the clutter under your desk.
In terms of specs and performance you have a lot of choices, but usually you'll see devices with less powerful hardware. This way the manufacturer keeps things cool inside the chassis.
After renovation, the lower price makes these low spec models very lucrative to buy. Although we do not recommend buying something with such low specs, there are some cases where it is acceptable.
As a general rule, search for an AIO device that has more processing power – Core i5 CPU is a good start.
For upgradeability, the AIOs sit somewhere between the laptop and the desktop – not great but not terrible to improve. Some models will have easy RAM and HDD access, others will have no access at all. If you have plans to upgrade, don't go for the cheapest offer.
Recently these types of computers became quite popular, so refurbished models are easy to find both online and offline.
Lenovo IdeaCentre 520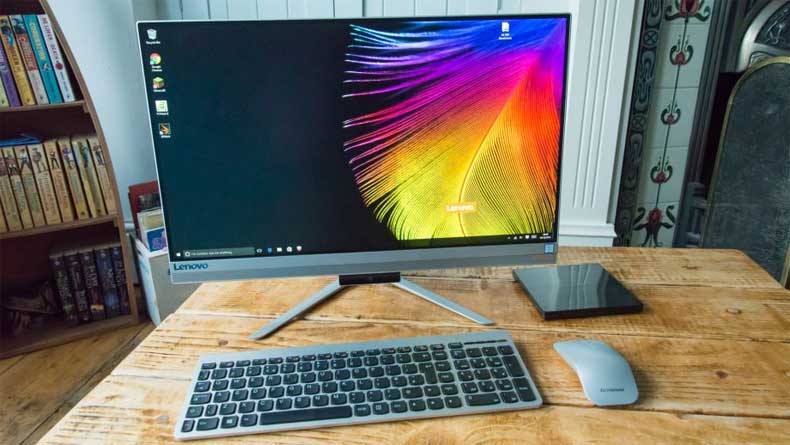 Specification:
CPU: Intel Core i5-8400T @ 3.3 GHz | GPU: Integrated | RAM: 8GB DDR4 | Storage: 1TB HDD | Form Factor: 23.8″ All-in-one | OS: Windows 10 Pro | Additional: WiFi, DVDR-W
Where to buy?
What can you do with it?
Home use
Office use
Light 2D graphic design and photo editing
A stylish and modern looking refurbished IdeaCenter 520 in black and silver, no bezel screen and compact body.
It is quite heavy – 22 lbs (10 kg.), so it is not something you are going to carry often around the house.
The screen is a high-quality Full-HD touchscreen – packed with powerful components and decent amount of connectors. It has a wide viewing angle and even when viewed from above, everything on the display is clearly visible.
One thing we didn't like about the display is that you cannot switch between the HDMI-in signal and signal coming from the computer. The only way to do so is to pull the input cable. This can put stress on the cable as well as the port.
The device stays cool most of the time and when on load it's not very noisy. Quite thin (2.3 inches), but does not sacrifice performance because of it.
What's inside?
It has a powerful 35 Watt six-core Core i5 8400T processor – perfectly fine for most tasks. There is no separate graphics card, so only light gaming is possible. IdeaCentre 520 comes with 8 gigs of RAM and 1 TB HDD with 16 GB Optane for an SSD-like experience.
For more cable free experience the 520 has an onboard 802.11ac WiFi card and a Bluetooth 4.0 chip.
A useful feature is the additional HDMI video out port for an additional display.
There is a retractable web camera (depth sensor) at the top of the screen to give you a laptop-like experience and to save you cable and battery use.
This is a good refurbished solution. It's not a gaming machine but it will be perfect for an office or home computer. It is not too expensive, has a high-quality screen, powerful internal components, many ports and it's very well built.
Pros
Sharp display, high color fidelity
Nice and quiet
Low power consumption (44.8 watts)
SSD cache (14 GB) and hard drive (932 GB)
WiFi and Bluetooth
Cons
Device can not be opened and upgrade is not possible
No button to switch between HDMI-in and computer sygnal
The mount is not very adjustable
4. For photo editing, design and CAD: HP Pavilion 595
For graphic design and CAD you need more processing power. This means better CPU, more RAM, faster storage and a separate graphics unit.
For CPU, skip the higher core count and shoot for higher core-speed. Most of the software used in graphic design and CAD is designed as single thread and will benefit from this element.
Computers in this category are mostly equipped with fast Solid State Drives or Optane memory modules. This adds fluidity to your work process because these storage devices have much faster read and write speed.
In the case of 2D graphics and photo processing, a powerful graphics card is not super important, but useful when working with larger files. However, if you work with 3D graphics, especially in UHD resolution, it becomes inevitable. In addition, the GPU has support for multiple high-resolution displays.
The RAM, especially in the context of a graphic targeted workstation, must be no less than 8 GB. For more serious enthusiasts and professionals 16 gigs or more is a must.
HP Pavilion 595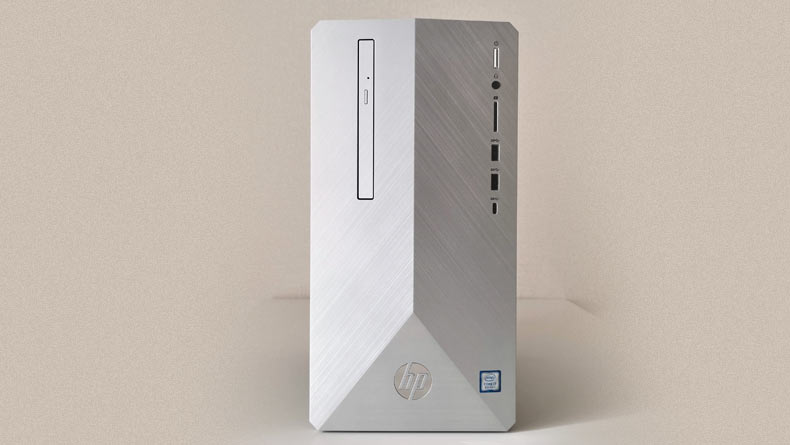 Specification:
CPU: Intel Core i5-8400 @ up to 4.0 GHz | GPU: RX 550 2 GB | RAM: 16GB DDR4 | Storage: 128TB SSD | Form Factor: tower | OS: Windows 10 Pro | Additional: WiFi, DVDRW
Where to buy?
What can you do with this model?
Photoshop and Lightroom photo editing
Adobe Illustrator design
AutoCAD
Solidworks
5. Refurbished model for video editing: Dell Precision T5600
Video is now the most consumed content on the Web. Thousands of vloggers, streamers and YouTubers are now full-fledged video editors. The number of videos produced is rising exponentially and 4K video becomes more popular each day.
The problem: editing high quality video has higher hardware requirements; and high spec components cost money. Of course you can edit on a budget device, but for handling the modern 4K – 6.5K RAW footage on your timeline you need a powerful desktop computer.
If you want to edit at high resolution but you don't have $3000 for a high-end machine, one interesting choice is a refurbished enterprise desktop workstation. They make first-class video editing computers. Most of the time they are assembled with Xeon processor, lost of RAM, SSD storage and Quadro or GTX video card.
Let's look at two of these models – one is cheap and the other one is expensive.
Dell Precision T5600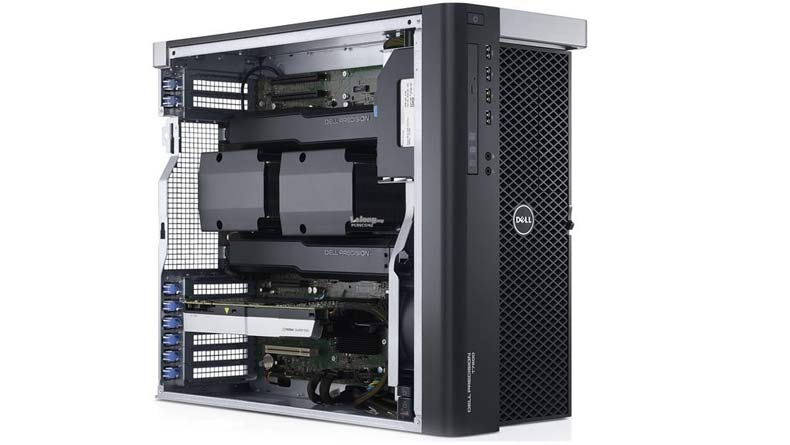 Specification:
CPU: Dual Xeon E5-2670 @ 2.6 GHz | GPU: Dual GTX 1050 Ti | RAM: 32GB DDR3 ECC | Storage: 240GB SSD + 2TB HDD | Form Factor: Workstation tower | OS: Windows 10 Pro
Where to buy?
This mid-range workstation is charged with stupid amounts of power and it is specially assembled for one of the most intensive tasks that computers can do – CGI. It's built for visual effects artists in mind, to make their life easier and more productive.
The best part…
…It is great for video editing. You can do RAW 4K with ease. Just check out what's under the hood.
The device we found is super pumped. It has has two Intel Xeon 8 Core E5-2670 2.6GHz processors and two GTX 1050 Ti. These components alone are enough to peak our interest. Usually the models within that family come with either NVIDIA Quadro 600 or Quadro 2000.
RAM is only 32 GB, but you can easily add more DDR3 RAM at any time. Currently the DDR3 is dirt cheap and you can find 32 GB for less than $100.
The 2TB hard drive will keep your work files and the 240 GB SSD will speed up your OS.
Overall, the T5600 Precision workstations are well designed machines with easy to access internals, loaded with power and assembled into a compact body.
If you need more convincing and you know your CG, check out this review focusing just on CGI.
Dell Precision T5810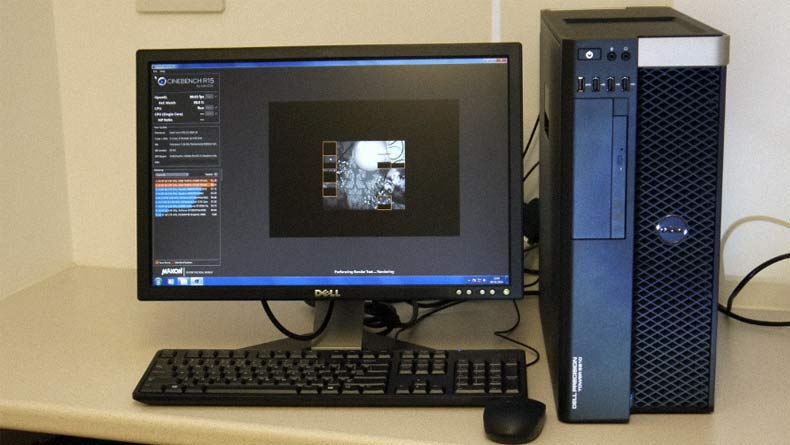 Specification:
CPU: Xeon E5-1620 v3 @ 3.5 GHz | GPU: GTX 1080 Ti 11 GB | RAM: 64GB DDR3 | Storage: 256GB SSD + 4TB HDD | Form Factor: Workstation tower | OS: Windows 10 Pro
Where to buy?
Another heavy hitter. This time a single slot CPU but with higher clock speed – 3.5 GHz. Almost 1 GHz more than the previous model. Combine this processor with the wonderful GTX 1080Ti 11GB, and you have a well configured, high-end workstation for rendering video and doing CGI.
The CPU and GPU are supported by more wonderful components: 64 GB of fast DRR4 memory; 256 GB SSD and 4TB of HDD;
A major advantage of all Dell workstations is the tool-less design approach to hardware change. It makes component upgrade a breeze. T5810 is no different. If you decide you need more umph and swap some hardware along the way, you'll need no more than five minutes to do so.
When released, the price tag for this beast was around $2500, now, you can find it used and refurbished for much less.
What can you do with these models?
4k video transcoding/encoding/decoding
4K RAW video editing
Gaming
Running virtual machines
6. Refurbished mini: Dell Optiplex 9020 Tiny
Mini PCs are the best devices for personal DIY projects. If you need something for a media server, set-top box or development server you should consider one of these small form factor (SFF) computers. They are cheap, quiet and have a small footprint.
They are easy to stick behind the TV or under the desk and forget about them. Some models come with fast modern hardware and will run your favorite 4K movies, transcode video or compile code.
Mini computers are almost as open to upgrade as traditional desktops. You can add more RAM, storage or swap the CPU.
For a refurbished model look for something branded and well build. Best go for a business class device like Lenovo ThinkCentre, Dell Optiplex or HP. There are some Aliexpress models that are dirt cheap, but we generally prefer quality renovated units.
Dell Optiplex 9020 Ultra mini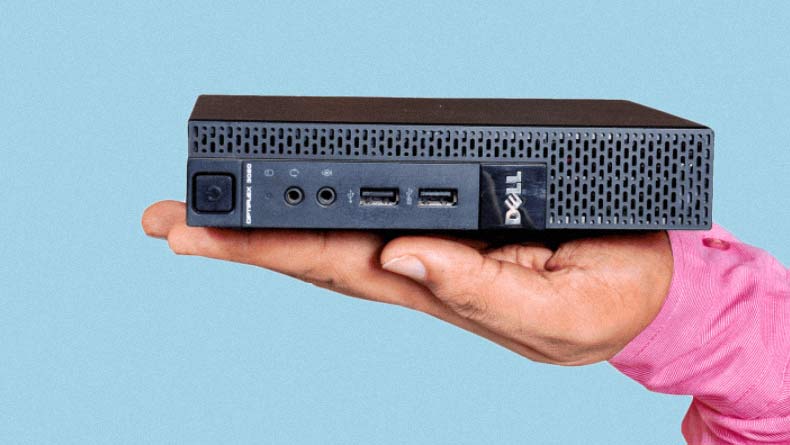 Specification:
CPU: Intel Core i3-4160T @ 3.1 GHz | GPU: Integrated | RAM: 8GB DDR3 | Storage: 256GB SSD | Form Factor: Ultra mini | OS: Windows 10 Pro | Additional: WiFi (dongle), Bluetooth
Where to buy?
What can you do with this model?
Dev box
Home theater PC
General use
Use as console to play arcade platformers on your TV
The Dell OptiPlex 9020 Micro computer is designed for those users who are looking for a tiny desktop for everyday tasks.
The 3 GHz Intel Core i3-4160T processor has enough power to run you everyday home tasks. You can even spin a home theater machine from this model. This CPU has Intel Quick Sync and will easily decode 1080p video at 25Mbps. The 8 GB of RAM are enough for everything you can expect to do with this device.
Of course there is no dedicated graphics card, so no serious gaming. On the other hand, one thing you can do is find some cute platformer on Steam and play it on your TV. Something like Broforce – a super fun platformer for lovers of 80s action movies.
We were surprised how quiet is this device. Even fully loaded (burn tested) it keeps a low noise level and stays cool.
If you are still not convinced this is a good option, there is more: 256 GB SSD for a more responsive system, HDMI and VGA output, six USB 3.0 ports, WiFi and Bluetooth.
It comes with pre-installed Windows 10 OS.
7. Cheapest refurbished desktop computer: Dell Optiplex 790
Currently the cheapest refurbished models, suitable as a good all rounder, are equipped with 3rd Gen Core i5 processor, 7200 rpm HDD and 4/8 gigs of RAM. They are usually refurbished off-lease enterprise modes from one of the big brands – Lenovo, HP, or Dell.
In our book to qualify for cheap refurb model, a desktop must cost no more than $150.
Dell Optiplex 790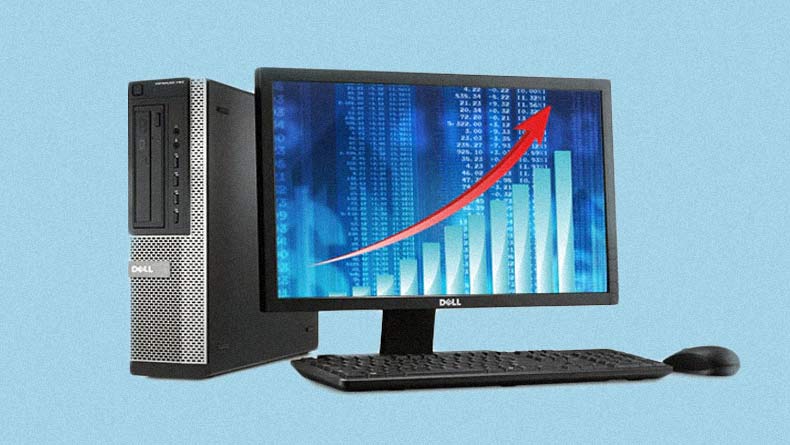 Specification:
CPU: Intel Core i3-4160T @ 3.1 GHz | GPU: Integrated | RAM: 8GB DDR3 | Storage: 256GB SSD | Form Factor: Ultra mini | OS: Windows 10 Pro | Additional: WiFi (dongle), Bluetooth
Where to buy?
Small form factor with a decent amount of power. Will run 720p and 1080p HD video with no problem.
You get 4GB of RAM, Core i3-2130 and 5 gigs of SDD.
The warranty is 90 days Amazon return policy, but you can add up to 3 years Protection plan.
The OptiPlex 790 has accessible inner parts, although there is no point to upgrade. It is too old to spend money on newer components. Take it if you need something super simple and super cheap to run word processing, browse the Web or to teach the kids some coding.
Lenovo ThinkCentre M72e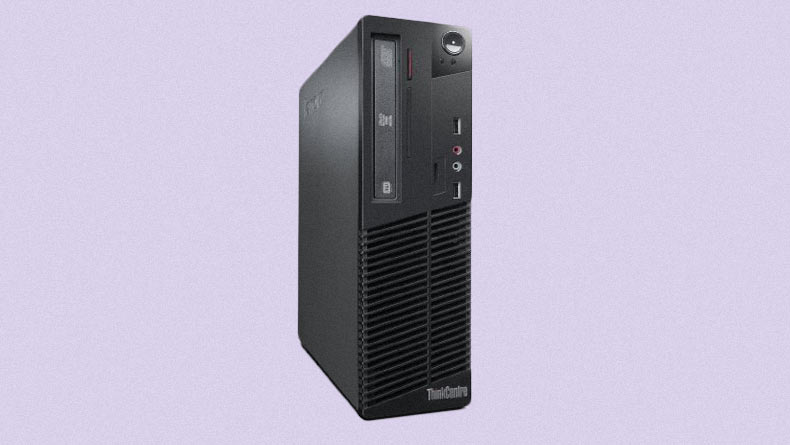 Specification:
CPU: Intel Core i5-3220 @ 3.3 GHz | GPU: Integrated | RAM: 8GB DDR3 | Storage: 500GB HDD | Form Factor: Small form factor | OS: Windows 10 Pro
Where to buy?
There are several modifications of the Lenovo ThinkCentre M72e, but the one which is most functional, is this small form factor equipped with a dual-core Intel Core i5-3220 processor based on the Ivy Bridge microarchitecture. The processor frequency is 3.3 GHz with no Turbo boost and each of the two cores is capable of simultaneously processing two threads.
It is equipped with 8 GB of RAM on 2 DIMM slots with a maximum capacity of 16 GB. Since this is an off-lease renovated office machine there is no standalone graphics card, but an integrated Intel HD video adapter inside the CPU. This makes it strong enough to run high-def video, but gaming and video processing will underperform.
The Lenovo ThinkCentre M72e works almost silently and the sound emitted by the fan can be heard only in a very quiet room.
The model runs on the 64-bit version of Windows 10 Pro operating system.
Due to the rich configuration and the pre-installed Windows 10 Pro OS, the model is fully usable after purchase.
What can you do with this model?
Watch HD movies
Word processing
Browse the web
Learn programming
Buyers Guide
Before you go to Amazon, Best Buy or Walmart and start sifting through hundreds of refurbished desktop offers, read the next couple of lines. They contain useful hints and tips which you can use in your research process.
What type of specs to choose?
It all depends on the purpose. A desktop PC for gaming has different requirements than a PC for general use. We recommend you go back to the top of the article, find your use case and check the model suggestions. They are a good starting point when searching for renovated desktop personal computers. You can always go up or down the generation tree based on your budget.
If you still want some fast suggestions, look at these specs:
For general use select Core i3 or Core i5 with around 6 GB of RAM. No standalone graphics card is needed.
For office it all depends on the type of applications you are going to use. General rule of thumb is – Core i5 or Ryzen 5 with 8 gigs of RAM and no standalone graphics card.
For gaming is a bit more complicated. Playing AAA titles on Ultra you needs a high-end machine – Ryzen 5 3000 X series or 7th/8th Gen Core i5 with GTX 1080 or newer. For more casual use – Ryzen 5 2000 series or 6th Gen Core i5 with GTX 1050/1060 or Rx 560. For oldschool retro gaming the specs can go even lower – 4th/5th Gen Core i5 and first Gen Ryzen 5. Don't take less than 8 gigs RAM in any case.
For professional use (Graphics, CAD, video) – 16 GB+ RAM with Core i7 with the highest clock speed you can afford and fast SSD.
How long do refurbished desktop computers last?
A properly refurbished and certified desktop computer can easily last more than 10 years. This is longer than its life cycle and you will most definitely going to change it with a newer model. This is much longer than the average consumer grade laptop that hardly lives through the 3rd year.
If you need a long lasting device and you are ready to sacrifice mobility, desktop is you best bet.
Are refurbished desktop computers reliable?
Refurbished desktops are reliable and there are a couple of reasons for this.
First, these systems are not mobile which reduces the mechanical stress. Physical impact can damage components and break ports. For example, laptops are much more prone to mechanical damage.
Studies show that older hardware is not less reliable. For example, a study by Bianca Schroeder shows that DRAM error rates do not increase with age.
Dust and humidity puts stress on the hardware. Most of the refurbished offers however come from enterprise environment, where the surroundings are clean and dry.
Another important feature is the temperature. High operating temperature will damage components inside the PC. Overheating related damages can lurk and manifest later, even after the machine is renovated. In a business setting (where most refurbished models come from) there is less hardware overuse and almost no overclocking. Underclocked or at-clock CPUs are much more reliable and will last longer.
Another point worth mentioning is the brand name. A study by Microsoft showed that brand desktop machines are more reliable than white box desktops. This is significant in the context of refurbished, where most of the time we are dealing with brand models.
Quality of the component matter, it is better for the big companies to use high quality components and not spend money shipping and replacing the faulty part.
What is the best form factor?
Choosing between each type of desktop chassis is a matter of usage, budget and available space.
These are the main pros and cons of each form factor:
Tower or mini tower – use this type for maximum upgradability. It has lots of available space for storage, a powerful standalone graphics card and more serious cooling. Usually used for professional workstations and gaming configurations.
Small form factor – it's an in-between model. It has less space for additional hardware but is still somewhat upgradable. There is space for more storage and a low profile graphics card. Used as an everyday home computer or business workstation.
Ultra small form factor or micro tower – In case you are low on space or you want a low profile solution for your Kodi media center, this is your best bet. Space is extremely limited. Because of the cramped space, micro models usually use less powerful processors (low wattage). Swapping components is easy, but adding something more powerful that requires better cooling is not an option.
Are refurbished desktops upgradeable?
Refurbished desktop computers are as upgradeable as any other desktop PC. You can change any major component inside – processor, graphics card, RAM and power supply unit. But you have to be careful, because these upgrades are not as straightforward as you may think. For example some small form factor Dell models have their x16 slot very close to the PSU, this means that 2 slot GPUs are not an option.
The most common mistake people face is incompatibility of components. They buy something new, only to find out that this part is incompatible with their computer.
That's why there are a couple of pitfalls you have to look for before you choose the precise model for upgrade.
Things to keep in mind before buying a refurbished computer for upgrade:
1. The power supply unit
Low watt PSU (290W) is only capable of powering low wattage GPU. They give satisfactory results for less demanding games or 2D graphics, but for cards like GTX 1080 you'll need a stronger power supply. Branded models use decent quality OEMs with 80+ Gold or Platinum certificate.
2. The motherboard
The motherboard can be the biggest issue when upgrading. If you keep it inside the original case you are OK, but changing the case can bring some problems – different cooler holes (not standard), proprietary wire headers (fan headers and I/O connectors), PSU connectors (double 6 pin connector instead of 24+2 pins), and the ATX standard (not the same screw-holes as atx, micro, itx etc.). So it is a good idea to look for the motherboard model if you have have plans to change the case.
3. The number of SATA ports
SATA ports are important when you migrate data from your older machine and you have more than one drive. Some old refurbished models may have fewer SATA ports; when combined with the already installed storage devices, there will be no free ports for your older devices.
4. The number of RAM slots
Models with two RAM slots are OK for general use. For something more versatile, 4 DIMM slots is the optimal solution.
5. The CPU socket
Let's say you took a hard to resist offer and you bought a PC with 5th gen Core i5-5575R processor. You do your everyday stuff and then one day you start doing video editing; now you need something with a bit more strength to render – 7th Gen Core i7. But you're stuck, you can't change the CPU, because your motherboard has a different socket. Be extra careful if your idea is to upgrade the processor right off the bat. This is especially true with Intel, where they change the socket with almost every new microarchitecture. Check their site for processor-socket support.
6. Chassis space
New generation components may take more space, especially the GPU. Talk with the seller, check images or specifications online to see if you have the needed room. There may be a slot or component preventing you from installing bigger GPU, a cooling fan or RAM.
7. The form factor
For maximum upgradability consider a tower or mini tower case. Small form factor (SFF) are very limited in this regard. And ultra small form factor (tiny, mini) are even harder to upgrade.
What are the best brands of refurb computers?
When you search for a refurbished model, you have two options – manufacturer assembled (brand) or third-party assembled (white box) device.
With manufacturer assembled you'll see the usual suspects – Dell, Lenovo, HP, MSI, and Acer – with easy to find refurbished models. Unlike the laptop market, here the brands are much closer to each other in terms of build quality. Most of the time it doesn't matter if you chose Dell or Lenovo. If both configurations meet your requirements, go for the best price.
As for third party assemblers, there are many companies making stylish and useful configurations. However, these prebuilt desktop computers are hard to find as refurbished offers. Two popular brands that sell refurbished custom builds are NZXTBLD and IBUYPOWER.
Do refurbished desktop computers have WiFi?
It depends how old the device is. Older refurbished desktop models don't have WiFi. To compensate, most sellers offer separate USB solutions to their clients. However, nearly all of these WiFi dongles are cheap and lack good wireless connection. We suggest you either use an Ethernet cable or buy a new dongle.
Newer generation models have WiFi mounted on the motherboard or have NVMe M.2 slot to add one.
Do refurbished desktop computers come with a monitor?
Most online retailers don't include monitors in their offers. If there are any, you will have a hard time finding the best possible combination between monitor and specs. Many of these refurbished combinations come with older 4:3 screens and not with a standard 16:9 widescreen display.
We suggest you find a proper reconditioned desktop model and research monitors separately. Although buying both is not the optimal approach, if you don't care about the display type and the brand, there are cheap offers that will do the job of a simple home computer.
Is Dell OptiPlex a good option for refurbished?
Dell OptiPlex is a great refurbished solution. Variations of different models will work in all sorts of settings – gaming, video editing, general use. You should be careful though, because there are a bunch of different OptiPlex models on the market that look exactly the same on the outside but have very different components.
Carefully inspect the model number and the specification before you buy. Define your needs and decide if you plan to upgrade later or you want something more basic.
For general use, focus on older generations – 790, 9xx, 3010, 7010, and 9010. Although they provide good value for less money, they lack upgradability. For example, the weak PSU and the absence of space for a larger GPU makes them bad candidates for a gaming machine.
A better candidate for gaming and professional use are units from the 3020, 7020, and 9020 series. They use newer CPUs, higher wattage power supplies, and have more space and better access for upgrade.
Refurbished desktop vs new?