OptiPlex vs EliteDesk/ProDesk vs ThinkCentre
Business class desktops from Dell, HP and Lenovo – comparison and differences
Disclaimer
---
We are supported by our readers. When you use links on our site to buy products, we may earn an affiliate commission. As an Amazon associate we earn from qualifying purchases.
---
In this article we will have a look at the business-class desktops from the three major producers Dell, HP and Lenovo. We will inspect the form factors from the most popular series OptiPlex, ThinkCentre, EliteDesk and ProDesk. Jump to the end of the article where you will find a comparison table between the most popular refurbished models. If you are looking to compare specific models, new or old, please use dedicated our comparison page.
Business Desktops – Introduction
The three product lines ThinkCentre, OptiPlex, ProDesk, and EliteDesk, are all business-class computers. What this means is that they are sold mainly to companies and not usually found in retail stores. Sometimes these computers are also called enterprise desktops.
But what is a business-class desktop?
The most obvious difference is in the chassis. It will usually be of a higher quality with easy access to all the components. Additionally most of the components are changeable without the need of a screwdriver.
Have a look at this instructional video by HP which demonstrates how to disassemble such a PC. You will notice how easy is to remove components. Notice how most of the mounting is done by latches.
A feature that you will always find in a business class desktop is quiet operation. Without it, work in an open office would be impossible. Everyone knows how annoying noisy PCs can be. The difference in emitted sound between retail and enterprise desktops can be really staggering.
Cooling is another thing that a business-class desktop is doing incredibly well. Each model has a sophisticated cooling design which allows it to operate 24/7 at constant high loads. As long as you don't put your computer in a tight drawer, there is really no need worrying about cooling.
Electromagnetic interference (EMI), also called radio-frequency interference (RFI), can be problematic especially if you do radio related work. All business-class desktops are well shielded and tested against RFI. If you do any radio sensitive work you should definitely stay away from retail PCs.
Reliability is in the cards for all enterprise machines. Most of them are design to pass various military standards, meaning, their build is sturdier and the components used are of a higher quality. Life expectancy for the enterprise desktop is longer than an equivalent retail one.
Almost all enterprise machines come with a non-standard Power Supply (PSU). While some models will have the standard ATX form factor, most will not. This is inconvenient especially for the cases where one would like to upgrade to a powerful GPU (graphics processing unit). Best is to plan in advance how much power will be needed and buy the computer that satisfies those requirements. It is very rare that the manufacturer will offer you an aftermarket PSU upgrade for your business-class desktop. So think twice before picking up any particular model.
Now for the biggest feature of all business-class desktops – their price! Unfortunately quality doesn't come cheap. You will need to pay quite a bit more if you want to equip yourself with a sweet looking enterprise machine. You should expect to pay at least 30% more than for an equivalent retail PC. However, there is a way around the high price – go with refurbished. Companies do go bankrupt or change their aging equipment, and when this happens, it is usually sold as refurbished or renewed. For individuals we strongly recommend buying refurbished. There is really no need paying the premium for a new device.
Form Factor
Different manufacturers have different names for the various form factors. We have decided to use the following naming convention:
Micro – Also called Mini, 1Litre, Thin or Tiny. It is the desktop with the (almost) smallest form factor and with no standard PCIe slots.
Small – You will recognize this form factor by its 2x PCIe slots (low profile).
Desktop – This form factor usually has 4x PCIe slots and aside from its low profile, it is very similar to the Tower.
Tower – Usually comes with 4x PCIe slot, occasionally 5 (some HP models), and is the most versatile model. It will fit full size GPUs (not low profile) and will run the most powerful CPUs.
All-in-One – These are systems where the computer part is located inside the display chassis. Arguably the best looking devices that will keep your desk clean of any cables.
Other – These include all of the other form factors usually smaller than the Micro.
Hint: If you want to find out equivalent models between manufacturers, one way to do it would be to have a look at the chipset. The chipset type will immediately tell you if the desktops you are comparing are of the same class. For example EliteDesk 800 G3 and OptiPlex 5050 both are using the Intel Q270. Thus, it is very probable that both computers will have similar features and performance.
Dell OptiPlex
OptiPlex is a business-class desktop series from Dell. It is probably the most popular enterprise brand that almost every office in the world is using.
Currently Dell OptiPlex desktops are offered in 5 form factors each covering different use cases:
Ultra Small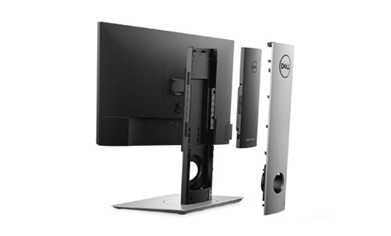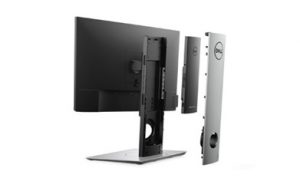 The OptiPlex Ultra is marketed as the world's most flexible desktop computer. We are not sure if it actually is, but it is really slim. It fits in the display stand so that you won't be able to tell that there is a computer inside. This tiny computer will run an Intel Core i7 processor which will provide you with all the power expected from an average office PC. Of course a dedicated GPU is not in the cards. If you are going to do 3D designing or gaming you should pick one of the other Dell models.
In general the OptiPlex Ultra is not so much smaller than the Micro form factor models. We don't see any real benefits choosing this form factor, thus we recommend buying one of the Micro models instead. It will give you more processing power and better upgradability.
All-in-One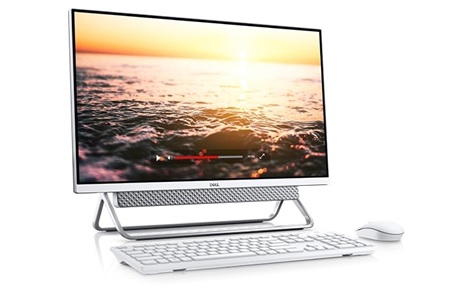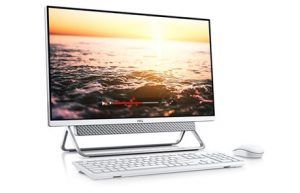 The OptiPlex All-in-One from Dell is a desktop system in which the computer is integrated with the monitor. There is no possibility of physically removing the computer part away. You are stuck with the supplied display, so choose wisely.
Buy an All-in-One desktop, if you want the coolest looking system and the one which creates the smallest amount of clutter on your desk.
If you are worried that the All-in-One models are difficult to service – don't be. Dell has carefully designed the models so that all important components are easily accessible and upgradeable. For example the Dell OptiPlex 7070 All-in-One has even an upgradable CPU!
Micro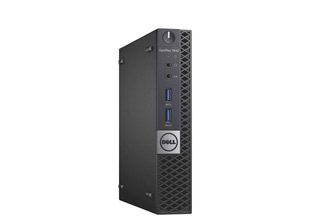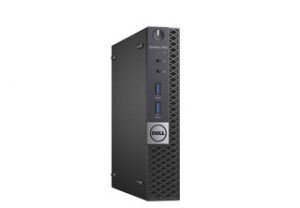 OptiPlex Micro is a Tiny PC which will fit almost anywhere. Do not be mistaken though, even if it is small it can still pack a really powerful processor (think Intel i9). This is not all – the newest generation of OptiPlex Micro is even able to run a dedicated GPU. A minor drawback, when running so much power in such a tiny PC, is noise. Some people may find those machine a bit louder than expected from a business-class desktop.
One important consideration to keep in mind when buying a Micro is the external laptop like power supply. Just like the Ultra, the Micro works with an external PSU. Some of those can be quite big especially for the most powerful 180 Watt models.
Small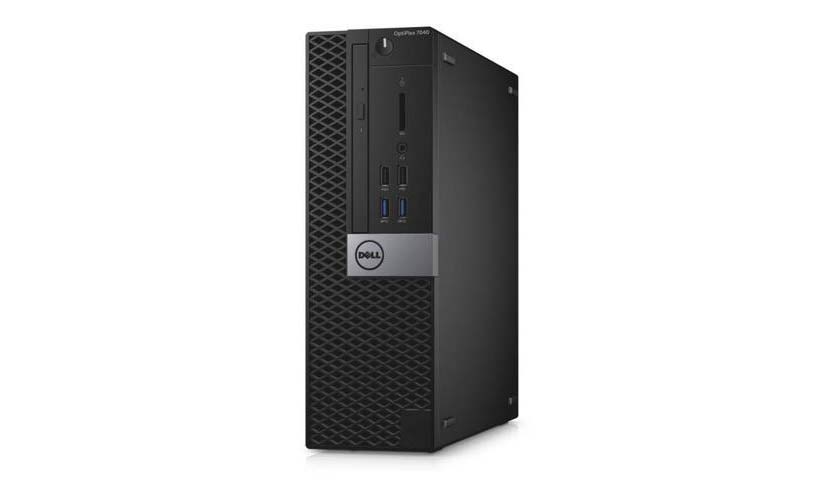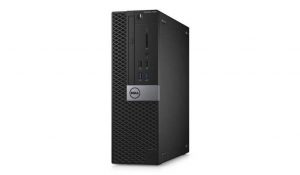 The OptiPlex Small form factor sits between the Tower and the Micro model. It is a great compromise between power and size. That's why it is the most sold model from Dell.
The latest Small Form Factor (SFF) from Dell can fit two PCI express cards, a powerful 65 Watt CPU and has lots of communication ports. The productivity that you get from this not especially large desktop is very reasonable. Probably the only drawback is that Dell does not supply the SFF desktops with high powered PSUs. For example the Dell OptiPlex 7080 SFF comes with a 200 Watt power supply. We think a 250 Watt one would be more appropriate.
Tower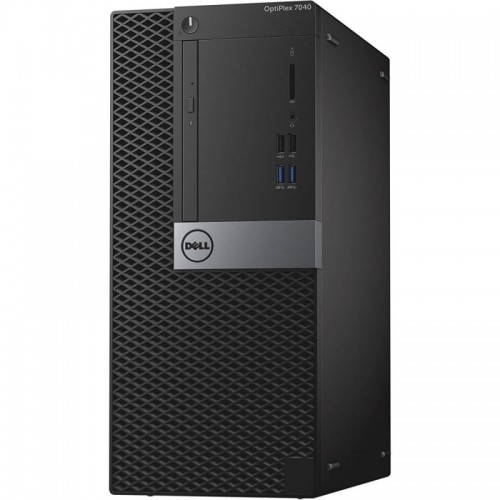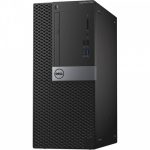 Dell does not offer a Desktop form factor OptiPlex which sits between the SFF and the Tower. If you want a low profile desktop with 4x PCIe slots your only choice is to pick another manufacturer. But if you are OK with the full size Tower than Dell has you covered.
The newest Towers from Dell are really powerful. For example the OptiPlex 7080 MT comes with an optional 500 Watt power supply unit which is capable of running the GeForce RTX 2070 Super GPU. Of course you can pick a cheaper and less powerful model which will suit more modest needs.
If size is not a problem for you or your business, then we recommend getting a tower model. They are the quietest, have the best upgradability options and will usually pack the most amount of ports.
HP EliteDesk and ProDesk
EliteDesk and ProDesk are business-class desktop series from Hewlett-Packard. The differences between the ProDesk and the EliteDesk models are usually not so many. For example the EliteDesk may come with a powerful PSU, better port options, and different PCIe slot arrangement. For most people the differences between a ProDesk and EliteDesk won't matter. Just pick the model with a CPU that will do the job done.
As of today HP offers 4 different desktop form factors:
Micro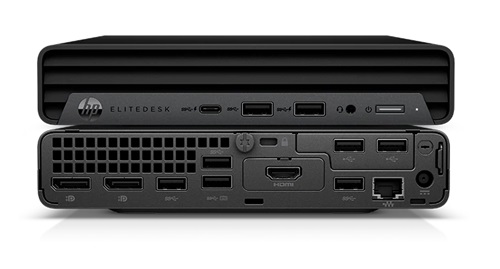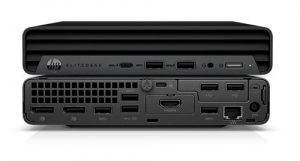 HP calls its Micro desktop "Mini". It's almost the same size as the OptiPlex Micro and has very similar processing capabilities. There are some minor differences here and there but for the average user the two manufacturers provide the same capabilities.
A thing that we like a lot about the HP Mini is that it is offered with AMD processors. The new generation of AMD CPUs beat Intel across the whole field. They are cheaper and have more processing power. If you have the opportunity, we recommend getting an HP EliteDesk Micro with an AMD CPU.
Small
Interestingly, HP offers two desktop sizes which are named "Small". The smaller one comes with two PCIe slots and it's a typical Small form factor desktop. While, the larger one has 4 PCIe slots and is actually a Desktop form factor. We don't know why they did this but it's a fact which you should be aware of. In particular the Small Form Factor EliteDesk 800 G6 is actually a Desktop form factor, while the SFF ProDesk is an actual Small form factor.
Putting aside the naming convention mess, the HP Small Form Factor PCs are just as capable as the Dell ones. We ought to mention that some users may like the possibility to have the HP with an AMD processor – an option which is not available with Dell. What is also very cool about the newest HP Small is that it has an optional 350 Watt power supply. Unfortunately Dell is offering max 200 Watts.
The way to discern between HP models using AMD and Intel is to look at the model number. For example the HP EliteDesk 800 is using an Intel CPU while the HP EliteDesk 805 is running AMD one. If we were to choose which model to take, we would probably go with the AMD model as current generation of AMD processors is superior to Intel. But of course the choice might vary, especially for corporations.
Desktop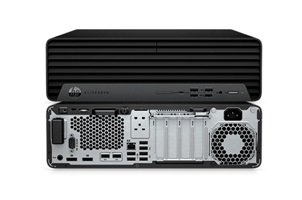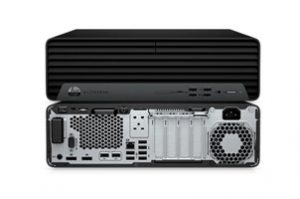 As mentioned above, HP is naming its Desktop form factor models using the name "Small". Other than that, the Desktop has the typical 4x low profile PCIe slots and usually uses the same motherboard like the Tower model. Because of this fact, the Desktop has the same feature and functionalities as the Tower.
Be aware that if you opt for a Desktop form factor computer, you will be limited by the low profile PCIe slots. The low profile GPUs on the market are not a lot and you will have to plan in advance if the available hardware will satisfy your requirements.
Tower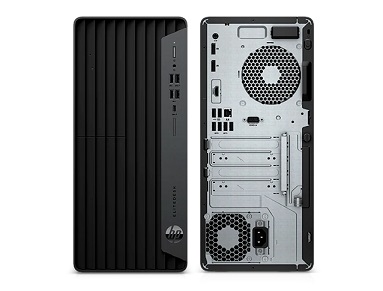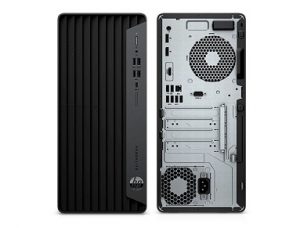 HP offers a typical Tower form factor PC without any major differences from the other two manufacturers. Older models used to have an optional 5th PCI slot but this is not the case anymore.
Unfortunately at the time of writing, the HP Tower is not offered with an AMD processor option. You will need to buy a smaller form factor if you want to run HP with an AMD inside.
Lenovo ThinkCentre
ThinkCentre is the name that Lenovo uses for their business-class desktops. Just like Dell, Lenovo is also using this name for its All-in-One computers and few other ultra small desktops. The currently available ThinkCentre form factors are:
Nano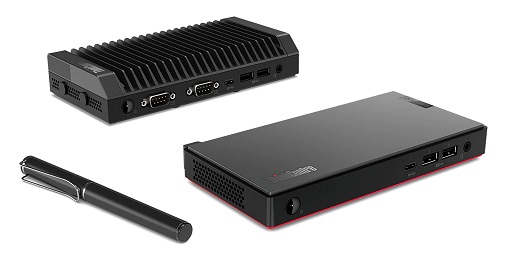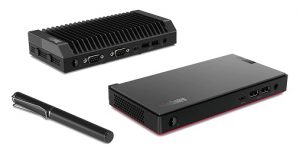 Lenovo is using the name "Nano" for its smallest ThinkCentre computers. These are smaller than the Micro form factor and have reduced processing power due to using low power CPUs (up to 15 Watts). You can buy such a machine with both Intel and AMD processors inside.
Currently there are two main Nano models. One is being featured as IoT (Internet of Things) ready and has a large heat sink plus 2x RS232 Serial ports. The other model is aimed at offices, features a sleek design and uses laptop low power processors.
All-in-One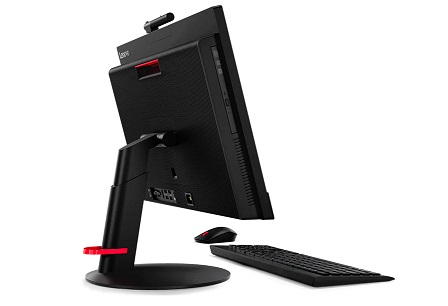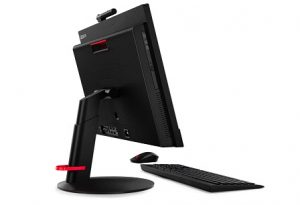 Analogically to Dell, Lenovo is branding several of its All-in-One models with the ThinkCentre brand. These computers are running only Intel processor and have very similar specification to the Dell machines. You get the usual web camera, microphones and a decent display.
We recommend buying an All-in-One only if you need a super clean look in your office or home. Other than that, the All-in-One system really doesn't offer any other real benefits. It's much better to buy a separate desktop and display. After all, it is very often that one wants to change the display or the computer only. Think about it. If you purchase an All-in-One, you will be stuck forever with the selected combination of display and computer.
Micro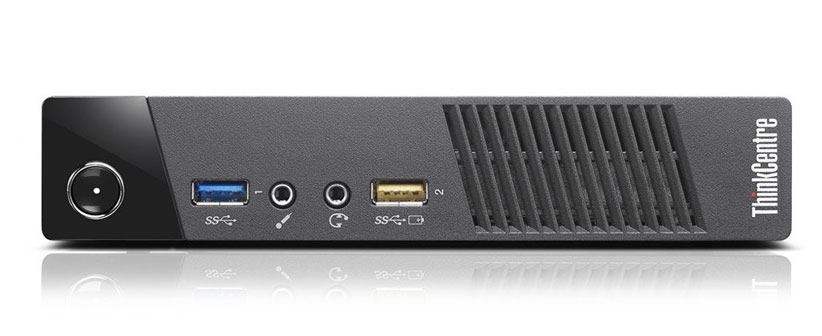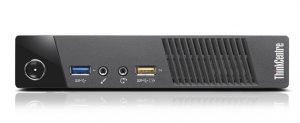 The ThinkCentre Micro from Lenovo is called "Tiny" and has exactly the same form factor like the HP and the Dell ones. Unlike the Dell, which is offering only Intel CPUs, Lenovo is featuring both Intel and AMD processors. All in all the ThinkCentre Tiny provides you with all the features that you would expect from a Micro desktop. Deciding on buying a Lenovo ThinkCentre Tiny is a choice which will depend very much on the particular circumstances like offered priced and specific needs.
Small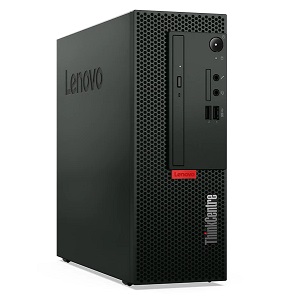 The Small Form Factor ThinkCentre from Lenovo is called "Compact Small Form Factor" and features the typical 2x PCIe slots. You will also get the usual slim ODD with few HDD bays also available.
In our opinion, the small form factor desktops are the best all-rounder computers. We estimate that they are good for around 90% of the use cases. They are not as small as the Micro but still large to fit two low profile PCIe cards and powerful CPU.
Desktop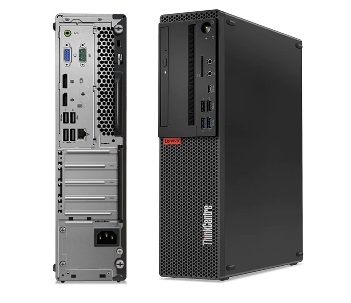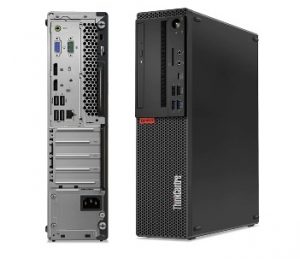 The Desktop Form Factor from Lenovo is featuring 4x PCIe slots. There are really no significant differences from the analogical HP models that we could mention.
One think that we would like to add which is not Lenovo specific, is that we actually don't like the Desktop form factor that much. Yes, it is a bit thinner than a Tower but the benefit from the smaller chassis doesn't outweigh the negatives. We consider buying a Tower makes much more sense as it gives you full size PCIe slots. Looking for the right low profile card very often turns into a pain in the neck.
Tower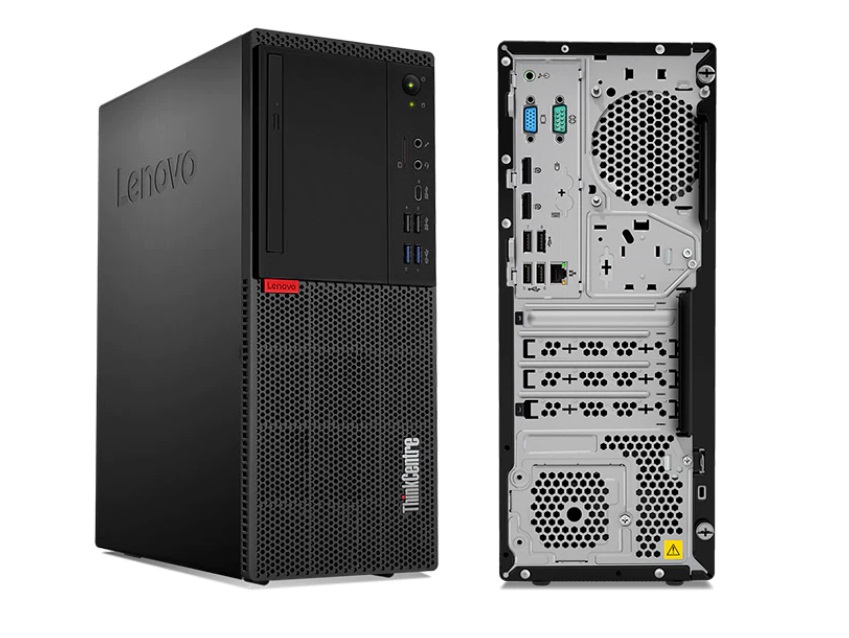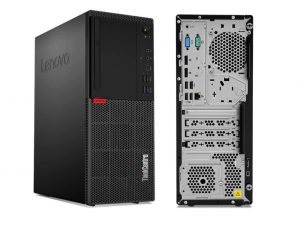 Lenovo ThinkCentre Towers are no different from the competition and offer the standard 4x PCIe slots arrangement.
That's it, there is nothing more that we can add. Go to the final section for the specific model comparison.
OptiPlex vs ThinkCentre vs ProDesk – Which is better
If you were expecting to learn which manufacturer makes "better" desktops, well you won't – because they are very similar. However, we have created a desktop compare page which will allow you to match up any two desktop models from HP, Lenovo or Dell (the database is constantly being updated). Use it to find the differences and decide for yourself which suits you better.
For the sake of completeness we will present an example comparison between similar Small Factor models from Dell, HP and Lenovo. At least it will give you some general idea about the general differences.
Follows a table of Dell OptiPlex 9020 SFF vs HP EliteDesk 800 G1 SFF vs Lenovo ThinkCentre M93 Small Pro:
| | | | |
| --- | --- | --- | --- |
| Model | Dell OptiPlex 9020 SFF | HP EliteDesk 800 G1 SFF | Lenovo ThinkCentre M93 Small Pro |
| Form factor | Small | Desktop | Desktop |
| CPU options | Intel Gen4 i3/i5/i7; | Intel Gen4 i3/i5/i7; Celeron; Pentium; | Intel Gen4 i3/i5/i7; Pentium; |
| Chipset | Q87 | Q87 | Q87 |
| RAM | DIMM DDR3-1600 | DIMM DDR3-1600 | DIMM DDR3-1600 |
| RAM slots | 4 | 4 | 4 |
| RAM speed | 1600 MT/s | 1600 MT/s | 1600 MT/s |
| RAM max | 32 GB | 32 GB | 32 GB |
| USB ports | (4x) USB-A 3.0; (6x) USB-A 2.0; | (4x)USB-A 3.0; (6x)USB-A 2.0; | (6x)USB-A 3.0; (2x)USB-A 2.0; |
| Video ports | (2x) DisplayPort 1.2; VGA; | (2x) DisplayPort 1.2; VGA; | (2x) DisplayPort; VGA; |
| Other ports | RJ45; Hdph; Mic; Line-Out; Line-In; Serial; (2x) PS2; | Serial; (2x) PS2; RJ45; Hdph; Mic; Line-Out; Line-In; | RJ45; Hdph; (2x) Mic; Line-Out; Line-In; Serial; |
| Optional ports | N.A. | Media card reader (USB 3.0); Serial; Parallel; | (2x) PS2; Serial; Parallel; Media card reader (USB 2.0); |
| SATA ports | 3 | 3 | 4 |
| PCI slots | PCIe 3.0 x16; PCIe x16 (wired x4); | PCIe 3.0 x16; (2x) PCIe 2.0 x1; PCIe 2.0 x16 (wired x4); | PCIe 3.0 x16; PCIe 2.0 x1; PCIe 2.0 x16 (wired x4); PCI; |
| M.2 slots | N.A. | N.A. | N.A. |
| Drive bays | 2.5/3.5-inch; 5.25-inch(slim) | 2.5-inch; (2x) 3.5-inch; 5.25-inch; 5.25-inch (slim) | 2.5-inch; 2.5/3.5-inch; 5.25-inch; |
| PSU | 255 W | 320 W | TFX 240 W |
| Weight | 6.00 kg (13.22 lb) | 7.6 kg (16.75 lb) | 7.8 kg (17.20 lb) |
| Released | 2013 | 2013 | 2013 |
| Manual | link | link | link |