There are a number of Dell OptiPlex desktop PCs that are excellent for upgrading and building gaming PCs, including the xx40 series like 3040, 5040, and 7040. Unfortunately, out of the box, they cannot run games at decent frame rates.
However, similar to OptiPlex xx20 and HP 800 (G1/G2) series you can upgrade any of these models to get a smooth gaming experience. Playing Fortnite, PUBG, DOTA 2, CS:GO and many modern games with 100+ FPS is not a problem.
In this guide we will show you the type of component upgrade you will need in order to build such a PC. Keep in mind that this is a DIY case modding project and has some risk of damaging your hardware.
In our guide we are going to use OptiPlex 7040 MT as our base model for this guide.
It is usually available as a refurbished offer with an Intel Core i5-6500 processor running at 3.2GHz (turbo up to 3.6GHz) and 8GB of RAM, but without a video card. To upgrade it to a decent gaming PC you will need a GPU, more memory and an SSD drive.
As a first step, let's examine the power supply. It determines what GPU you can use when upgrading the system.
Power supply upgrade (3040, 5040, 7040)
Power supply for OptiPlex 7040, 3040, and 5040 comes standard at 240 watts. This is not enough to meet the demands of high-end graphics cards.
Even so, you can use the stock power supply if the GPU consumes up to 75W. As a matter of fact, the stock power supply will support graphics cars that consume between 75W to 110W.
If you plan to use a power-hungry GPU (110+W) such as the RX 580, GTX 1080, or RTX 2060, RTX 3060, you will need a new power supply. There is just not enough power in the stock 240 watt model.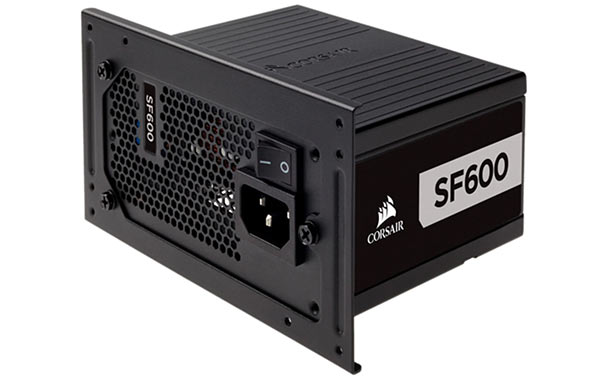 Swapping however, is not as easy as with the OptiPlex xx20 series. This is because OptiPlex 7040 MT has a new chassis that uses a long and skinny SFX power supply with custom screw holes and proprietary connector.
To equip OptiPlex 7040 MT with a new power supply you need a small form factor (SFX) model and 24 to 8 pin power adapter. There are many SFX models that will fit inside this new chassis. The hard part however is securing it, because Dell is not using the standard SFX screw holes.
Your best option for OptiPlex 7040 (3040, 5040) PSU upgrade is the Corsair SF series. You can use either 450W (SF450) or 600W (SF600) versions. They both make sense for GPUs suitable for this type of build.
You can secure this model with two screws to the back of the PC case. The fit however is not perfect and the power supply will be slightly angled.
In addition, you need to pay attention to the rails that hold the original power supply in place. Depending on the PSU model, some banding may be required. Since most SFX models are higher than the stock model, they will exceed the rail spacing.
Best PSU for OptiPlex 3040, 5040 or 7040 MT upgrade:
Corsair SF600 600W
Be Quiet! SFX-L Power 600W
Cooler Master V450 SFX Gold
GPU upgrade
The next thing we need to upgrade is the graphics card. A good rule of thumb when choosing a GPU is to match it with the resolution you are going to play on. With the 6th Gen i5 or i7 you are probably aiming for 60+ FPS on a 1080p or 1440p monitor.
But before we look at actual models let's first discuss the GPU size.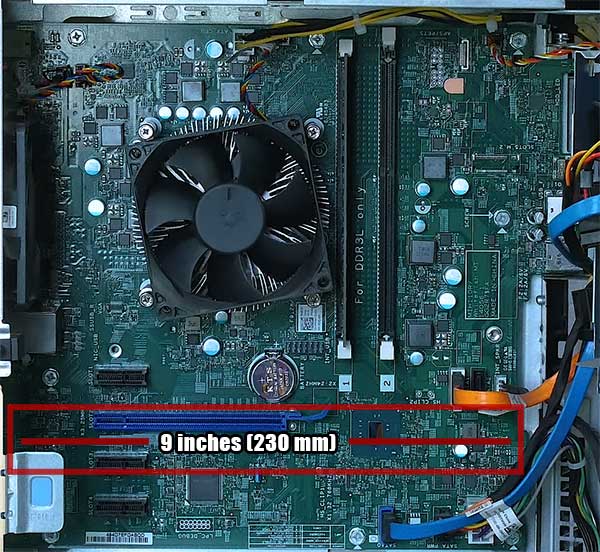 It is important to consider GPU size when using OptiPlex 7040, 3040, and 5040. This is primarily due to the slimmer and shorter case compared to the xx20 version. As a result, there is a smaller selection of GPU models available.
There are two parameters you need to be careful about – the GPU length and GPU height. In terms of height, don't go over 5.5 inches (140 mm), this is the maximum you can go and still conveniently close the case lid. And because the case is now shorter the length is also reduced – 9 inches (230 mm) or less.
Now on to the GPUs.
As we said earlier the type of GPU depends on what PSU you have. The following table will give you general info about the possible GPU upgrades.
Best GPU upgrade options for OptiPlex 3040, 5040, and 7040 MT: 
| | | | | |
| --- | --- | --- | --- | --- |
| GPU model | GPU Power | GPU Memory | PSU Change/Cable | Price |
| ZOTAC RTX 3060 Twin Edge OC | 130 W | 12 GB GDDR6 | PSU change required | Check Price |
| Gigabyte RTX 3050 Eagle | 130 W | 8 GB GDDR6 | PSU change required | Check Price |
| Sapphire Pulse RX 6600 | 132 W | 8 GB GDDR6 | PSU change required | Check Price |
| EVGA GTX 1060 6GB SC | 120 W | 6 GB GDDR6 | PSU change required |   |
| GeForce GTX 1650 Super | 100 W | 4 GB GDDR6 | 24 to 8 pin adapter |   |
| ZOTAG GeForce GTX 1650 | 75 W | 4 GB GDDR6 | No changes required | Check Price |
| MSI GTX 1050 Ti | 75 W | 4 GB GDDR5 | No changes required | Check Price |
| Radeon RX 470 4GB | 120 W | 4 GB GDDR5 | PSU change required |   |
| Radeon RX 560 4GB | 80 W | 4 GB GDDR5 | 24 to 8 pin adapter |   |
*When you use links on our site to buy products, we may earn an affiliate commission. As an Amazon associate we earn from qualifying purchases.
Memory upgrade
It's relatively easy to upgrade the RAM on the OptiPlex 7040. All you need is a certified model or a model that is tested and known to work with this motherboard.
The Crucial models are the only officially certified modules, but there are other vendors available as well. The most important part is to use the type of memory suggested by the manufacturer. Avoid mixing and matching memory vendors with Dell OptiPlex. It might work, but it's not guaranteed.
For example OptiPlex 7040 can use up to 64 GB of DDR 2133 MHz memory. The other two models (3040, 5040) from this family are both using 1600 MHz DDR3L memory only.
Knowing this, check out some RAM upgrade suggestions. These models are compatible and will work with both the MT and the SFF versions of Dell OptiPlex 7040, 5040, and 3040.
Best memory upgrade options for Dell OptiPlex 7040 (MT, SFF):
| | | | | |
| --- | --- | --- | --- | --- |
| Model | Serial number | Size | Frequency | CAS latency |
| Crucial | CT2K8G4DFS824A | 16GB (2x8GB) | DDR4-2400 | CL17 |
| Crucial | CT4G4DFS824A | 4GB (1x4GB) | DDR4-2400 | CL17 |
| Hynix | HMA41GU6AFR8N-TF | 8GB (2x8GB) | DDR4-2133 | CL15 |
| Corsair | CMK32GX4M2A2400C16 |  32GB (2x16GB) | DDR4-2400 | CL16 |
| Corsair | CMK32GX4M2A2400C16 | 16GB (2x8GB) | DDR4-2400 | CL14 |
Best memory upgrade options for Dell OptiPlex 3040 and 5040  (MT, SFF):
| | | | | |
| --- | --- | --- | --- | --- |
| Model | Serial number | Size | Frequency | CAS latency |
| Hynix | HMT41GU6BFR8A-PB | 16GB (2x8GB) | DDR3L-1600 | CL11 |
| Crucial | CT102464BD160B | 8GB (1x8GB) | DDR3L-1600 | CL11 |
| Crucial | CT2K102464BD160B | 16GB (2x8GB) | DDR3L-1600 | CL11 |
| Micron | MT16KTF1G64AZ-1G6P1 | 8GB (1x8GB) | DDR3L-1600 | CL11 |
| Timetec | FBA_75TT160UL1R8-4G | 16GB (2x8GB) | DDR3L-1600 | CL11 |
Upgrading the Processor (CPU)
Optiplex 7040 comes with Intel Q170 chipset and supports a wide variety of CPUs – from a dual core Celeron G series processor to a 6th gen Core i7 CPUs.
The best CPU upgrade you can do is the Intel Core i7-6700. We think that this model makes the most sense when building a gaming machine from this OptiPlex model.
Usually most refurbished andr second hand 7040 models come with either Core i3-6100 or Core i5-6500. The 6500 is perfectly fine for gaming, and we suggest you keep it to lower your costs. The 6100 is a Core i3 dual core model and it's not perfect for gaming.
But if you happen to find a bargain for Core i7-6700, go for it. It will definitely boost the performance and enable better video cards.
Upgrading the storage
PCIe NVMe (PCIe 3.0 x4) drives can be installed in Dell OptiPlex 7040 MT's M.2 socket and gaming and work tasks will both benefit from this type of drive.
The most logical storage upgrade for Optiplex 7040 is a 500 GB m.2 NVMe SSD drive for the OS and 2TB HDD for your media and games. Using a 256 GB SSD for the OS is also an option if you are on a budget.
Allan Witt
Allan Witt is Co-founder and editor in chief of Hardware-corner.net. Computers and the web have fascinated me since I was a child. In 2011 started training as an IT specialist in a medium-sized company and started a blog at the same time. I really enjoy blogging about tech. After successfully completing my training, I worked as a system administrator in the same company for two years. As a part-time job I started tinkering with pre-build PCs and building custom gaming rigs at local hardware shop. The desire to build PCs full-time grew stronger, and now this is my full time job.