Best Dedicated GPU for Dell OptiPlex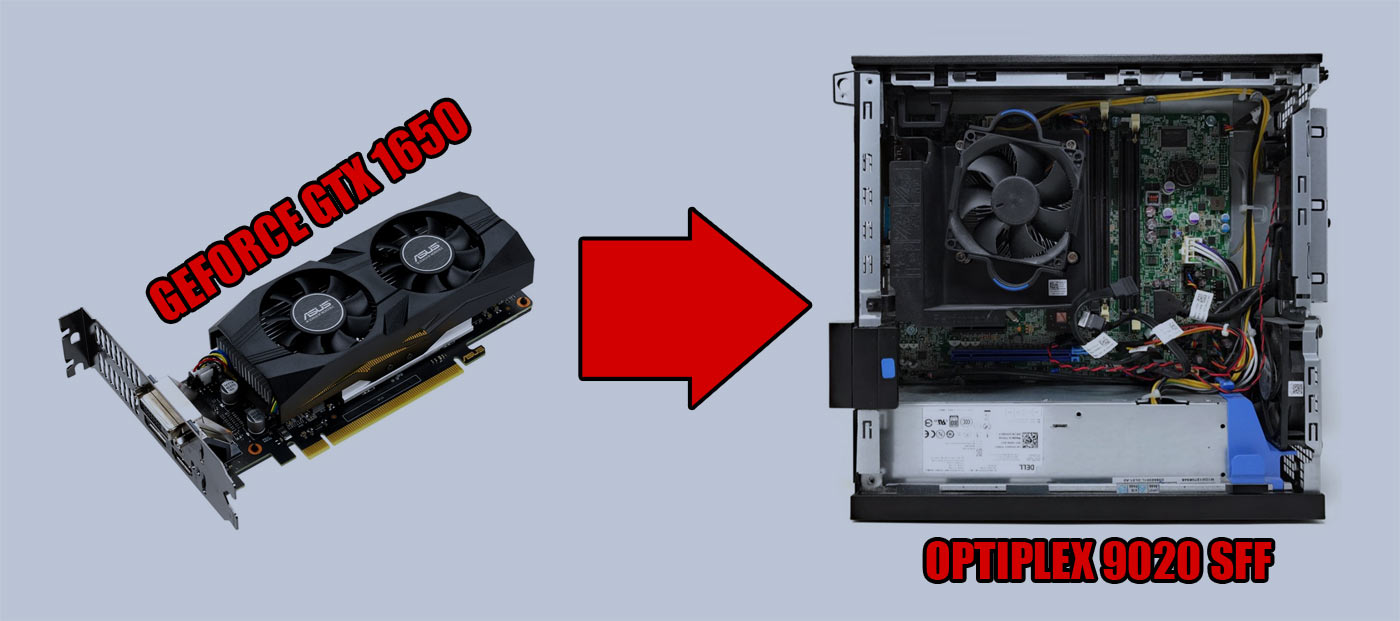 Disclaimer
---
We are supported by our readers. When you use links on our site to buy products, we may earn an affiliate commission. As an Amazon associate we earn from qualifying purchases.
---
This guide is for those of you who want to boost the graphic performance of their Dell OptiPlex for either gaming or work.
Find out what are the best possible GPU upgrade options for the whole range of Dell OptiPlex models – 3010, 7010, 9010, 3020, 7020, 9020. These graphics cards are great for 1080p High, and 1440p Medium gaming.
Let's begin with two GPU upgrade options that make the most sense – they have a good price to performance ratio and don't require any changes to the hardware whatsoever.
The best dedicated GPUs for Dell OptiPlex are:
GeForce GTX 1650 4GB GDDR6 – For all Dell OptiPlex Mini Tower (MT) models you can use this 75 Watts GPU which does not require an auxiliary PCIe power connection. At your own risk, you can run a more powerful GPU if you use a SATA to 8 or 6pin power adapter.
GeForce GT 1030 2 GB GDDR5 Low Profile – For Dell OptiPlex Small Form Factor (SFF) models you can use this low profile 30 Watt dedicated graphics card. Dell recommends a maximum of 50W PCIe power draw for the SFF models. However, at your own risk, you can also try the more powerful GeForce GTX 1650 Low Profile (75 W).
Disclaimer: If you install a GPU that is more powerful than the one recommended by Dell, there is a chance of damaging your PC. We take no responsibility if something goes wrong. All upgrades are made at your own risk. If you want to stay safe, use Dell website to order your Dell OptiPlex components.
The following table is our selection of possible GPU upgrades by NVIDIA and AMD that will fit inside Dell OptiPlex desktop.
Keep in mind that GPUs with power consumption up to 75W will manage without additional power form the PSU. In fact, you can keep the stock PSU with cards between 75W and 120W. However, you will need SATA to 8 or 6 pin power connector for additional GPU power. Above 120W, you will need new PSU.
These are only rough measurements and we cannot guarantee you that the system will be stable in any of these scenarios. You have to test by yourself.
For model specific GPU, check out the table at the end of this guide
| | | | | |
| --- | --- | --- | --- | --- |
| Best OptiPlex GPU | GPU Power | GPU Memory | Brand | Link |
| GeForce GTX 1080 Ti | 250 W | 11 GB DDR5 | Gigabyte | Check Price |
| GeForce RTX 2070 Super | 225 W | 8 GB DDR6 | Gigabyte | Check Price |
| GeForce RTX 3050 | 130 W | 8 GB GDDR6 | MSI | Check Price |
| GeForce GTX 1660 Super | 125 W | 6 GB GDDR6 | Asus | Check Price |
| GeForce GTX 1060 6GB | 120 W | 6 GB GDDR6 | Asus | Check Price |
| GeForce GTX 1650 Super | 100 W | 4 GB GDDR6 | MSI | Check Price |
| GeForce GTX 1650 | 75 W | 4 GB GDDR6 | Gigabyte | Check Price |
| GeForce GTX 1050 Ti | 75 W | 4 GB GDDR5 | Gigabyte | Check Price |
| GeForce GTX 1650 Low Profile | 75 W | 4 GB GDDR5 | Gigabyte | Check Price |
| GeForce GTX 1050 Ti Low Profile | 70 W | 4 GB GDDR5 | Asus | Check Price |
| GeForce GT 1030 Low Profile | 30 W | 2 GB GDDR5 | Gigabyte | Check Price |
| Radeon RX 580 8GB | 185 W | 8 GB GDDR5 | Sapphire | Check Price |
| Radeon RX 470 4GB | 120 W | 4 GB GDDR5 | Maxsun | Check Price |
| Radeon RX 560 4GB | 80 W | 4 GB GDDR5 | ASRock | Check Price |
Now.
Let's discuss some pitfalls you may encounter along the way, like – do you need to change the PSU, or what size card will fit inside the chassis,  and how much bottleneck should you expect.
Things to consider while researching for a dedicated GPU upgrade for your Dell OptiPlex desktop:
GPU power rating
Dedicated GPUs usually use the PCIe x16 connector. This connector alone can deliver a maximum of 75 Watts. Graphics cards with 75 W and more will require additional power provided by the auxiliary connector. Your system may not operate properly, if you don't use the connector for extra power.

The SFF models of Dell OptiPlex officially support maximum 50W power draw from the PCIe slots. However, installing a 75W GPU is possible and might work. Many users, including us, are using this setup. However, others report issues with their power supply units. Be careful and test the system.
On the other hand Dell OptiPlex MT models will support the full 75 W draw from the PCIe slot.
GPU profile (height)

The Small Form Factor (SFF) Dell OptiPlex is smaller than the larger Mini Tower (MT) model. This makes it impossible to fit a standard size dedicated graphics card into the SFF models. In order to upgrade, you will need a lower profile dedicated GPU (also called half-height).
For the MT model you can use GPUs with standard height.
GPU length
To be sure that everything will fit properly, it is important to know the length of the graphics card and the free space inside the chassis.
Dell OptiPlex xx20 MT and earlier models
Out of the box 3020, 7020, and 9020 have no more than 10 inches (25.5 cm) of free space for dedicated graphics cards. To be on the safe side the maximum GPU length you can use on OptiPlex 3020, 7020, and 9020 is between 9.5 and 10.0 inches. Everything above that calls for drive bay removal. Removing the bay will free space and give you the option to use a proper (long) size version of the GPU. Check out this Game Bench video for instructions on how to remove the drive bay.
For earlier models like x90 series and xx10 series some of the boards have their SATA and USB 3 ports on the path of the video card. So, you have to either stick to the short version of the card (less than 8.5 inches) or get some low profile cables.
Dell OptiPlex xx40 MT and later models
Coming soon.
GPU width

Because of their cooling, powerful graphics cards tend to be thicker and occupy two PCIe slots (dual slot). This might be a problem especially with the Small Form Factor, where some of the models have their PCIe x16 connector located immediately next to the power supply. Many GPUs will not fit here due to being dual slot. If this is the case you can use a less powerful but thinner GPU, or to use the nearby PCIe x4 slot (expect slight performance penalty).
If you have a MT model one thing you should watch out is the thickness of the backplate. Bigger GPUs may rub against the RAM release clips making it impossible to install.
Bottleneck
If you play demanding titles and buy a very powerful GPU, your CPU might not be able to cope with the processing demands – thus bottlenecking the system. When this happens, the GPU will not run at its full capacity. Intel has a nice article on the topic.
In many of the cases the bottleneck depends on what type of game you play, the current load on the system, and the power of your GPU and CPU.
The variables are many,  but we will try to give you a short summary of what to expect in terms of bottleneck while researching for your OptiPlex GPU upgrade.
OptiPlex 3020, 7020, and 9020
Dell OptiPlex 3020, 7020, and 9020 are the most popular models used for gaming upgrades. They use processors from Intel's 4th generation Core i series. Usually the budget gaming builds are paired with either Core i5-4590 or Core i5-4790 processors. These two CPUs will begin to bottleneck with GTX 1070 (RX Vega 56), and see more frequent dips with GTX 1080 and the cards from RTX 2000 family. Less powerful models like GTX 1050 Ti, GTX 1060, GTX 1650, RX 570, and RX 480, will run perfectly fine with these two CPUs.
If you still want to go GTX 1070 or RX 5700, or even beyond, we suggest you get a Core i7-4770 or i7-4790 processor to help alleviate the bottleneck effect.
Slotting RTX 3000 series card in xx20 series OptiPlex is also possible. Your best bet is RTX 3050 (130W) GPU. This model will work perfectly fine with the stock OptiPlex power supply. The only thing you need is a dual SATA to PCIe power adapter.
Upgrading the GPU on a SFF model
Due to their compact design, the OptiPlex 3020, 5020, and 9020 Small Form Factor (SFF) versions have limitations on the size of graphics card that can be installed. These models have limited space for a GPU, so the size of the graphics card is restricted
Installing two slot GPU on the x16 PCIe slot is not an option. Instead you have to use for the x4 slot. This slot has limited bandwidth compare to x16 slot. However the performance difference is not huge – around 10% when comparing the same PGU.
Currently the most powerful graphics card you can install on OptiPlex 3020, 5020, 9020 SFF is the RTX A2000. This is a it's a workstation card that performs close to RTX 3050 but consumes 70 watts. It's essentially a cut down version RTX 3060/3050 that comes in both 6GB or 12GB versions.
The A2000, however, may not be the best option for a budget gaming build due to its high cost, which ranges from $450-$500. A more affordable alternative for budget-friendly gaming build would be a single or double slot Radeon RX 6400 Low Profile or the GeForce GTX 1650 Low Profile graphics card.
OptiPlex 3010, 7010, and 9010
For the OptiPlex xx10 series with Core i5-3570, the bottleneck is visible with GTX 1060. This generation of OptiPlex has a 3th gen Intel Core processor that is very similar in terms of performance with the next generation. Therefore, you can expect almost similar FPS results when pairing with the same GPU.
Again using Core i7 processors will lower the bottleneck effect and give better performance.
OptiPlex 390, 790, and 990
For the 2nd gen the things start to look a bit different – the FPS gap between this and the 3th generation of processors is wider and the bottleneck is much more visible. GTX 1060/1650 is the end of the line for this generation of OptiPlex.
Core i7 will give better performance but the difference is not substantial enough to invest in a better GPU.
Power Supply Unit
The Power Supply Unit (PSU) must be powerful enough to cope with your system. If you install a dedicated GPU, make sure that your PSU is able to supply the extra power.
You have a couple of options to approach the weak power supply problem for the most of the models.
Swap the original power supply with new one
Dell OptiPlex 3010/7010/9010 MT and OptiPlex 3020/7020/9020 MT and use a standard size ATX power supply. Because of this, they are easier to upgrade with better GPUs. For this to work you will need a 24-Pin to 8-Pin adapter cable to power the motherboard.
Keep the original (for xx20 series and early)
In case you wish to upgrade to a more powerful GPU but keep the original power supply, there is one simple solution – draw additional power from the SATA cable. This is done with the help of a SATA to PCIe power adapter (6-pin or 8-pin). This hack alone is enough to power a better GPU from the original unit. For example, the popular xx20 series will run GeForce GTX 1660 (120 W) of the original PSU.
Buy a smaller one (for xx40 series and later)
All Dell OptiPlex models after the xx20 series have a non-standard Power Supply Unit (PSU) and most of them don't have an auxiliary PCIe power connector. This becomes quite inconvenient in case you want to install a GPU rated at more than 75 W.
This gives you two options.
The first one would be to search for a more powerful Dell XE PSU. But it is hard to find and expensive. The second option is to buy an SFX type PSU like Corsair SF600 600W, and use a 24-Pin to 6-Pin adapter cable to power the motherboard. This and other SFX power supply models will fit inside the chassis, but will only align two of the four mounting screw holes.
Buy the latest model
Although not viable at the moment, the Newer Dell OptiPlex, 5080 MT and 7080 MT models now officially support GPUs with an auxiliary power (i.e. rated at more than 75 W). This is due to the more powerful PSUs that Dell is using (up to 500 Watts).
Dell OptiPlex 3010, 7010, 9010 GPU upgrade
The Best GPUs to upgrade Dell OptiPlex 3010, 7010, or 9010 with 3th gen Intel Core i5 or Core i7 processor.
We now have a special article dedicated to Dell OptiPlex 3010, 7010, 9010 GPU upgrade. Go there and find more GPUs about each xx10 model.
Dell Optiplex 3020, 7020, 9020 GPU upgrade
The Best GPUs to upgrade Dell OptiPlex 3020, 7020, or 9020 with 4th gen Intel Core i5 or Core i7 processor are:
Dell Optiplex 3040, 5040, 7040 GPU upgrade
The Best GPUs to upgrade Dell OptiPlex 3040, 5040, or 7040 with 6th gen Intel Core i5 or Core i7 processor are:
Dell Optiplex 3050, 50540, 7050 GPU upgrade
The Best GPUs to upgrade Dell OptiPlex 3050, 5050, or 7050 with 7th gen Intel Core i5 or Core i7 processor are:
Dell Optiplex 3060, 5060, 7060 GPU upgrade
The Best GPUs to upgrade Dell OptiPlex 3060, 5060, or 7060 with 8th gen Intel Core i5 or Core i7 processor are:
Dell Optiplex 3070, 5070, 7070 GPU upgrade
The Best GPUs to upgrade Dell OptiPlex 3070, 5070, or 7070 with 9th gen Intel Core i5 or Core i7 processor are:
Dell Optiplex 3080, 5080, 7080 GPU upgrade
The Best GPUs to upgrade Dell OptiPlex 3080, 5080, or 7080 with 10th gen Intel Core i5 or Core i7 processor are:
Desktops
Dell refurbished desktop computers
If you are looking to buy a certified refurbished Dell desktop computer, this article will help you …
Guides
Dell Outlet and Dell Refurbished Guide
For cheap refurbished desktops, laptops, and workstations made by Dell, you have the option to use …
Guides
Refurbished, Renewed, Off Lease
When you are looking for refurbished computer, you often see – certified, renewed, and off-lease placed in …
Laptops
Excelent Refurbished ZenBook Laptops
If you are looking for a compact ultrabook and a reasonable price, consider a refurbished Asus Zenbook …