Best Dedicated GPU for Dell OptiPlex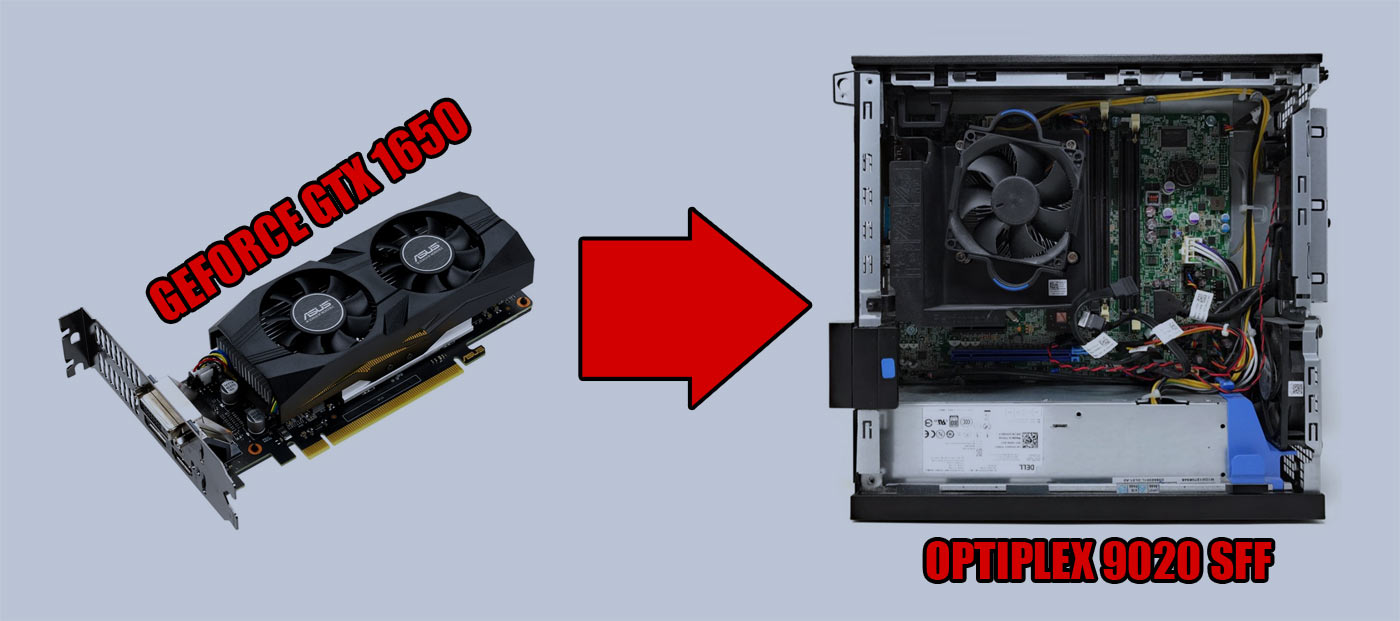 Disclaimer
---
We are supported by our readers. When you use links on our site to buy products, we may earn an affiliate commission. As an Amazon associate we earn from qualifying purchases..
---
Dell OptiPlex desktops are probably the most popular computers in the refurbished segment. You usually get a lot of value when buying a renewed one. However, most of the models come with an integrated graphics card which is not ideal if one intends to do some gaming or 3D processing.
The best dedicated GPUs for Dell OptiPlex are:
GeForce GTX 1650 4GB GDDR6 – For all Dell OptiPlex Mini Tower (MT) models you can use this 75 Watts GPU which does not require an auxiliary PCIe power connection. On your own risk, you can run a more powerful GPU if you use a SATA to 8 or 6pin power adapter.
GeForce GT 1030 2 GB GDDR5 Low Profile – For Dell OptiPlex Small Form Factor (SFF) models you can use this low profile 30 Watt dedicated graphics card. Dell recommends maximum of 50W PCIe power draw for the SFF models. However, on your own risk, you can try also the more powerful GeForce GTX 1650 Low Profile (75 W).
Disclaimer: If you install a GPU more powerful than the recommended one by Dell, there is a danger of damaging your computer. We take no responsibility of something going wrong for you. All upgrades are done on your own risk. If you want to stay safe, order from the Dell website based on your OptiPlex model.
Table. Our selection of best GPUs for Dell OptiPlex (For model specific GPU, check out the table towards the end of the page)
| | | | | | |
| --- | --- | --- | --- | --- | --- |
| Best OptiPlex GPU | GPU Power | GPU Memory | Brand | Last seen | Link |
| GeForce RTX 2070 Super | 225 W | 8 GB DDR6 | Asus | $529 | Check Price |
| GeForce GTX 1660 Super | 125 W | 6 GB GDDR6 | Asus | $229 | Check Price |
| GeForce GTX 1650 Super | 100 W | 4 GB GDDR6 | MSI | $187 | Check Price |
| GeForce GTX 1650 | 75 W | 4 GB GDDR6 | Gigabyte | $159 | Check Price |
| GeForce GTX 1650 Low Profile | 75 W | 4 GB GDDR5 | Gigabyte | $159 | Check Price |
| GeForce GT 1030 Low Profile | 30 W | 2 GB GDDR5 | Gigabyte | $84 | Check Price |
General considerations when deciding on a dedicated GPU for your Dell OptiPlex:
GPU power rating
Dedicated GPUs are usually installed in the PCIe x16 connector. This connector alone can deliver only up to 75 Watts. Graphics cards 75 W and greater will require more power, provided by both the PCIe connector and an auxiliary power cable coming from the power supply. Your system may not operate properly, if you don't connect the extra power cable.

The SFF models of Dell OptiPlex are said to support maximum 50 W power draw for the PCIe slots. However, installing a 75 W GPU is possible and might work. Many users, including us, are using such a setup. However, there are others who report issues with their power supply units.  Use on your own risk.
The MT models of OptiPlex should support the full 75 W draw from the PCIe slot.
GPU profile (height)

The Small Form Factor (SFF) Dell OptiPlex is smaller than the larger Mini Tower (MT) model. You will not be able to install a standard size dedicated graphics card into the SFF models. In order to do so, you will need to buy a lower profile dedicated GPU (also called half-height).
GPU length
Measure the length of the graphics cards and be sure that you have enough free space inside your chassis.
GPU width

Because of their extensive cooling, graphics cards tend to be on the fat side occupying two PCIe slots (dual slot). This might be a problem especially with the Small Form Factor, where for some of the models the PCIe x16 connector is located immediately next to the power supply. Many GPUs will not fit there, due to being dual slot. If this is the case, your alternatives are: a less powerful and thinner GPU, or to use the nearby PCIe x4 slot (expect slight performance penalty).
Bottleneck
If you buy a very powerful GPU, your CPU might not be able to cope with the processing demands – thus the processor being the bottleneck. When this happens, the GPU will not run at its full capacity. Intel has a nice article on the topic.
Power Supply Unit
The Power Supply Unit (PSU) must have enough power to drive all the components of the system. If you are going to install a dedicated GPU, make sure that your PSU is able to supply the extra power that is going to be needed.
Dell OptiPlex 3010/7010/9010 MT and OptiPlex 3020/7020/9020 MT use a standard ATX power supply. Thanks to this, you will be able to substitute it easily in case you decide you want to run a really powerful GPU.
All later models of the Dell OptiPlex have a non-standard Power Supply Unit (PSU) and most of them don't have an auxiliary PCIe power connector. This is inconvenient in case you want to install a GPU rated at more than 75 W. However, there is little we can do about it. One option would be to search for a more powerful PSU (from XE models or an aftermarket one), but it is not easy to find one and they don't come cheap. Best is to decide in advance how much GPU processing power you will need and pick the appropriate desktop model.
We are happy to see that the new models of Dell OptiPlex, 5080 MT and 7080 MT, now officially support GPUs with auxiliary power (i.e. rated at more than 75 W). This is made possible by the more powerful PSUs that Dell is using (up to 500 Watts).
Note: You can actually install a GPU which is more powerful than 75 Watts, even if the PSU doesn't have the auxiliary PCIe power connector. For this purpose, you will have to draw the additional power, needed by the GPU, from the SATA cable. This is done with the help of a SATA to PCIe power adapter. This hack is especially useful for all the Dell OptiPlex MT models which are capable of driving a GeForce GTX 1660 Super (120 W).
Table – Dell OptiPlex model specific GPUs
Desktops
Dell refurbished desktop computers
If you are looking to buy a certified refurbished Dell desktop computer, this article will help you …
Guides
Dell Outlet and Dell Refurbished Guide
For cheap refurbished desktops, laptops, and workstations made by Dell, you have the option to use …
Guides
Refurbished, Renewed, Off Lease
When you are looking for refurbished computer, you often see – certified, renewed, and off-lease placed in …
Laptops
Excelent Refurbished ZenBook Laptops
If you are looking for a compact ultrabook and a reasonable price, consider a refurbished Asus Zenbook …