Refurbished HP EliteBook 830/840/850 G5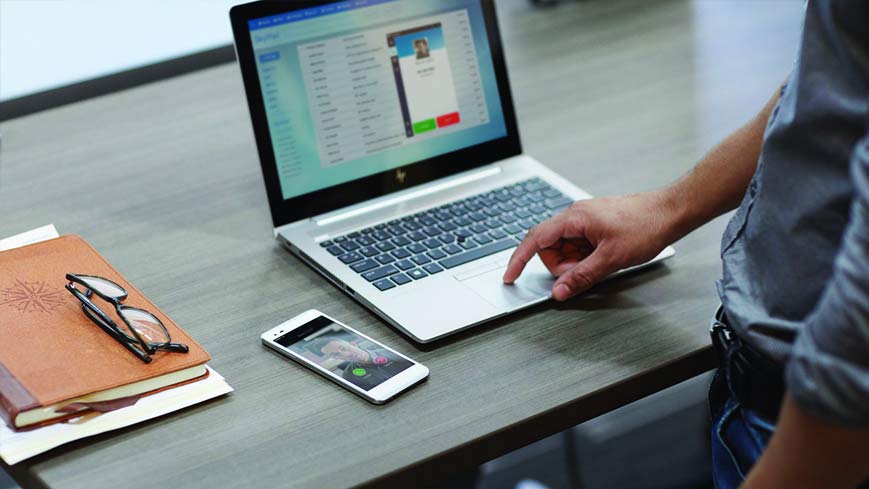 Disclaimer
---
We are supported by our readers. When you use links on our site to buy products, we may earn an affiliate commission. As an Amazon associate we earn from qualifying purchases.
---
We are supported by our readers. When you purchase through links on our site, we may earn commission.
One of our best purchase of a refurbished business-class laptop is the HP EliteBook G5. It has a comfortable keyboard, powerful processor and a very sturdy casing.
The laptop comes in three different sizes: the smallest one is the 13-inch HP 830 G5, the 14-inch HP 840 G5 and the 15-inch HP 850 G5. If you decide on going for a refurbished laptop, you can get this machine for around 65% of its original price.
Things we like
Slim, strong chassis

Lots of ports for peripherals

Quality Display

Comfortable keyboard
Things we don't like
No SD card reader

The trackpoint (if you are used to one go buy a ThinkPad)

Battery life is average
HP EliteBook 800 series
The EliteBook G5 is a well build laptop and with its aluminum casing should resist time and usage. It is slim and has a very satisfactory set of ports. The only negative that we see is the lack of a SD card reader. One thing to watch out for is the processor. The EliteBook G5 comes with 7th or 8th generation of Intel Core processors. The 8th generation has four cores while the older one has two. This might not be an issue for everyday tasks but if you plan on doing more CPU intensive work you should take it into account and go for the 8th generation processor.
Remark: After buying your HP 800 G5 series laptop, we recommend to set the max charge level of your battery to 80%. This will hopefully extend its lifetime. You can access these settings through the BIOS.
Refurbished HP EliteBook 830 G5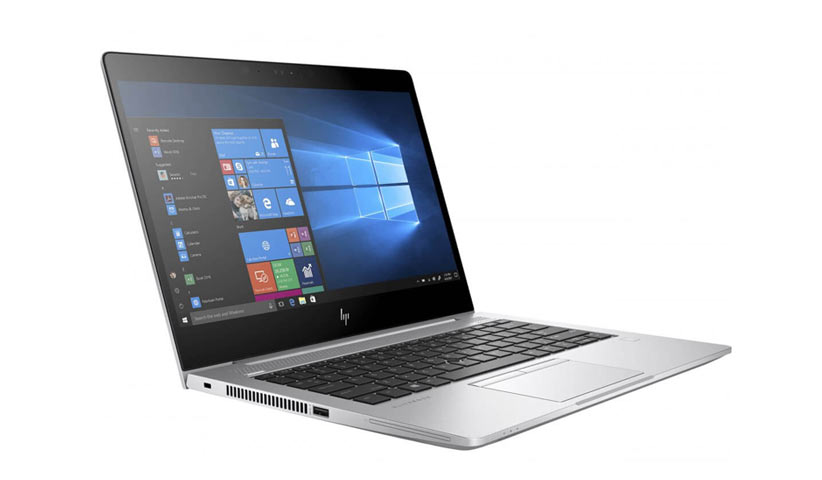 CPU: Intel Core i5-8350U @ 1.7 GHz (3.60GHz) | GPU: Intel UHD 620 | RAM: 8GB DDR4 | Storage: 256GB SSD M.2 | Display: 13.3″ @ 1080p IPS | OS: Windows 10 Pro | Release date: 2018
---
Original  price: $1200 | You save: ~ $420
Where to buy?
The smallest of the EliteBooks is the 830 which has a 13.3″ display. The keyboard is ergonomic and easy to type with. The casing is made out of aluminum and it's fairly slim. It holds on beating well and fingerprints are not visible. You know how annoying they can be especially on the rubberized ThinkPad. 🙂
You can choose between i5 or i7 processors. We recommend the 8th generation of the i5 processors (e.g.  i5-8350U).
RAM can be up to 32GB and there are 2 slots available which is not typical for every 13″ laptop. Fortunately no soldered RAM here.
If you intend on playing games you should know that there is no dedicated GPU with any of the versions (no surprises here). Although, you can connect an external GPU through the Thunderbolt 3 port.
The speakers are a pleasant surprise and are much better than what we would hope to find in a 13″ corpo laptop.
Battery time is close to average at around 7 hours when Web surfing through WiFi.
Servicing this little machine is very easy. The back plate is removable after unscrewing 8 bolts. Then, you gain access to the 2 SODIMM slots and the NVMe M.2 slot. No 2.5″ drive bay is available. You can find out more about the great serviceability design of this laptop on the ifixit website. They give it a 10 out of 10, and we concur.
Finally, we recommend selecting a version, which has the SureView display option. It comes in handy when working in a public place.
SureView is a special mode of operation of the display that restricts viewing angles to a narrow field and thus, improves your privacy.
Our overall opinion about the HP 830 G5 is very positive. We think that this laptop will age well making it a great refurbish purchase. When new it can be quite pricey but if bought refurbished the price can drop to a reasonable level.
Refurbished HP EliteBook 840 G5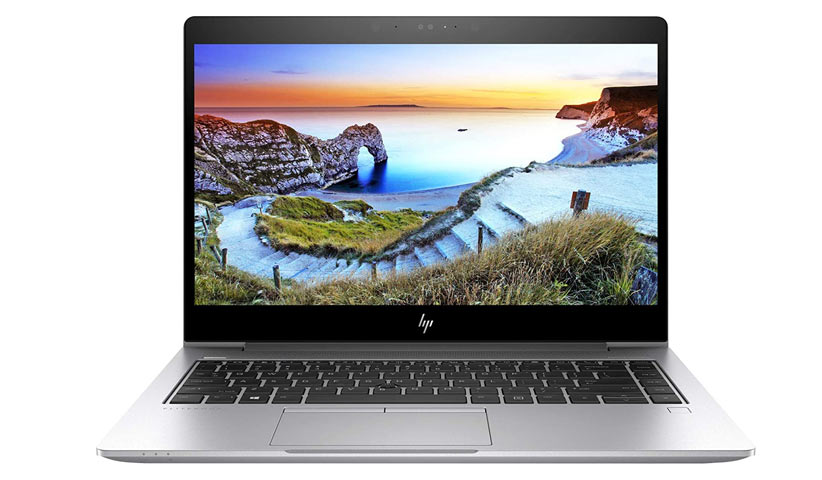 CPU: Intel Core i5-8350U @ 1.7 GHz (3.60GHz) | GPU: Intel UHD 620 | RAM: 8GB DDR4 | Storage: 128GB SSD M.2 | Display: 14″ FHD Touch Display, @ 1080p IPS | OS: Windows 10 Pro | Release date: 2018
---
Original  price: $1000 | You save: ~ $222
Where to buy?
If you are not sure about the size of your next laptop you should probably go with the 14″ model. The HP 840 G5 has a slimmer body than the 850 making it a bit lighter. It is small enough for tossing around your home and keeping it on your laps. It runs very cool so you won't feel any heat while operating it close to your body. The display size is good enough for watching movies from close distance and you can even pick a version with a 4K display. Of course you will have to pay an extra.
The build quality is solid and the case is made out of metal – aluminum to be precise. We like that you can open the lid using only one hand. In general, the build quality feels really premium.
It is good to see that HP kept the usual barrel jack charging port. We hate to see when producers get rid of it in favor of the USB-C in order to save few bucks (e.g. ThinkPad). You will be shocked to find out the sheer amount of posts with topics like: "My USB-C port has become very loose". At least with this model you won't have this issue.
If you can't afford buying this laptop new, we urge you to look at a refurbished one. It is a much better option than buying some retail crap that will flex anytime you touch it. The HP 840 G5 is worlds apart from the usual consumer-oriented laptops that you will find everywhere. All in all, a lovely device that we hope you will enjoy for a long time.
Refurbished HP EliteBook 850 G5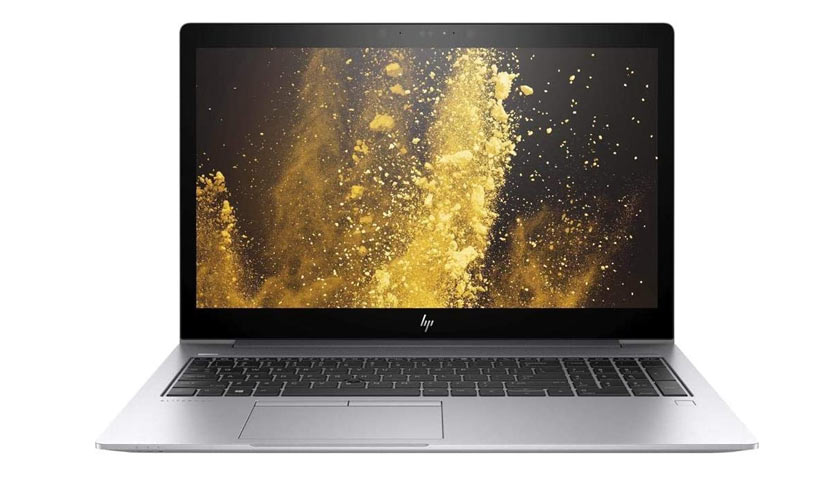 CPU: Intel Core I5-8250U @ 1.7 GHz (3.60GHz) | GPU: Intel UHD 620 | RAM: 8GB DDR4 | Storage: 256GB SSD M.2 | Display: 15.6″ @ 3840x2160  IPS (Ultra HD 4K) | OS: Windows 10 Pro | Release date: 2018
---
Original  price: $1800 | You save: ~ $700
Where to buy?
HP 850 G5 is the largest model from the HP's EliteBook 800 series. It features a 15.6″ display and a full-size keyboard with a numpad. Go with this model if you expect to use the laptop mainly on a desk and if you need the bigger screen or keyboard.  Of course, this is not to say that the laptop is heavy (around 3.94lbs/1.7kg) but if you are after portability have a look at the 830 or 840 models.
The display options are numerous but the 4K display is the one, which we recommend highly if you care about picture quality. Avoid the SureView display if you are not going to travel a lot with your laptop. The viewing angles are not very good even when the SureView functionality is disabled.
The laptop has a wide selection of ports, which will come in handy when using it without a docking station. You will find few docking station options further down this page.
We recommend buying a dedicated keyboard and mouse if you are going to work on a desk. Our favorite keyboard is the Logitech G413 backlit keyboard. Everyone in our office has one. Some of us even bought one for home – it's that good! Try it and thank us later. 🙂
For a mouse we think there is no better one than the dirt cheap Logitech M90. Looks can be deceiving! This simple mouse is super precise and pleasure to use. Don't be a snob and just buy one.
The 15-inch HP 850 G5 has a great keyboard and touchpad but dedicated devices are in order of magnitude better. Make yourself also a favor and don't forget the keyboard and mouse wrist support!
OK, you are set.
Once you get your hands on this slick and cool handling laptop you will enjoy the time spent in front of it. Just make sure that you take a refurbished one. New one can break your heart and also your bank!
Refurbished port replicator options for the HP EliteBook
Modern laptops are slim and cool looking. However, they tend to have fewer ports, and connecting your old monitor might not be always possible.
A port replicator to the rescue!
A port replicator extends the amount of ports at your disposal. With its help, you will be able to connect all your peripheral: display(s), USB devices, SD cards, LAN cable and others.
While buying a new laptop sometimes might make sense, buying a new port replicator does not. A port replicator usually sits somewhere all day, not being touched or moved. It does not take any physical abuse and telling a refurbished one from a new is virtually impossible. If you decide to buy a renewed one you should also expect to save around 40% of its original price.
We recommend buying a universal port replicator, which uses USB 3.0, USB3.1 or Thunderbolt interface. Don't take a model-specific port replicator (i.e. docking station)! If you buy a new laptop you will need to throw it away.
Note: These days the names docking station, dock and port replicator are used interchangeably. This was not always the case. A docking station used to denote a proprietary extension to which the laptop was usually clipped, whereas a port replicator was providing a universal solution for all laptops via USB 3.0, USB3.1 or Thunderbolt.
Refurbished Dell business Thunderbolt dock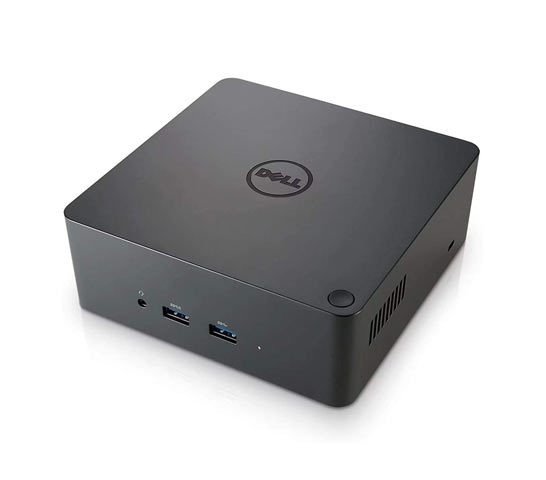 Video Ports: mDP, DP, HDMI, VGA, Thunderbolt 3 (Type-C) | Audio Ports:  Headset, Line out | USB Ports: USB 3.0 (x3), USB 2.0 (x2), Thunderbolt 3 (Type-C) | Other: Gigabit Ethernet (RJ-45)
Price when new: $299
Dell Thunderbolt Dock TB16 links all your electronic devices to your laptop using a single Thunderbolt 3 (USB-C) cable. You don't have to plug each one into the laptop. When you connect the computer to the dock, you are gaining access to all your peripherals such as the mouse, keyboard, speakers, hard drive, and displays.
What we like about this device is that you can connect up to 3 external displays. It has the usual USB-A ports, plus an additional USB-C (Thunderbolt 3)! It will also power your laptop. This means that you need to plug only a single cable when connecting it. Note that computers requiring more than 90 Watts of power input must also be connected to their own power adapter.
If you decide to buy a refurbished one, you should be able to get it for around $130.
HP USB-C Mini Docking Station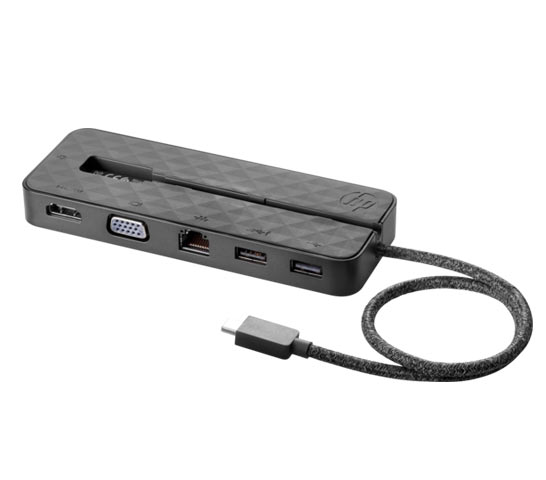 Video Ports: HDMI, VGA | USB Ports: USB 3.1, USB 2.0 | Other: Gigabit Ethernet (RJ-45), USB-C (only for pass-through charging)
Price when new: $109
If you need a light and portable port replicator that you can carry around we recommend the HP USB-C Mini Docking Station. It has the mandatory video ports and supports up to 4K video. Unfortunately, at one time you can only connect a single display to either the VGA or the HDMI port.
If your computer comes with a USB-C charger, you will need to use the pass-through function of the dock. This means, that you should power the dock with your USB-C charger, and the dock will power your laptop.
The dock features a soft-coated USB-C cable that loops and folds into a channel on the bottom of the dock. Cool solution that makes carrying the dock around easier.
For what it offers we consider it to be a bit pricey but if you are able to get it refurbished for around $60, it is a recommended purchase.
Checkout our more in-depth review of refurbished universal docking stations.
Laptops
Refurbished Microsoft Surface 2 in 1 Laptops
MS Surface is one of the best devices you can find for digital handwriting and note taking – a useful feature …
Laptops
Classic Refurbished Dell XPS 13 Laptops
If you are looking for an ultrabook type of refurbished laptop – super light, slim, durable, and easy to carry …
Laptops
Refurbished Razer Blade 15 Compared
We have used a refurbished Razer Blade 15 and the performance was very good with no major issue with …
Laptops
Excelent Refurbished ZenBook Laptops
If you are looking for a compact ultrabook and a reasonable price, consider a refurbished Asus Zenbook …