If you are looking to buy a certified refurbished Dell desktop computer, you have landed at the right place. This article will help you understand your options and hopefully assist you in making the right choice. In case you are afraid or shy about buying a renewed computer – don't be. It will give you a lot for your money and might even make our planet a greener place. Additionally, the refurbished computers recommended by us are all business-class models, which equates to higher quality, higher reliability and quieter home and office environment.
Before going into details, have a look at our comparison table where you will find the best desktops for your kids and home, for your office, and for professionals who might require a bit more processing power.
We are supported by our readers. When you purchase through links on our site, we may earn commission.
Disclaimer
---
We are supported by our readers. When you use links on our site to buy products, we may earn an affiliate commission. As an Amazon associate we earn from qualifying purchases.
---
Why buy a refurbished Dell business-class desktop computer?
The main reason for doing so is to save some money while still getting a high quality product. Dell's business-class devices are built to higher quality standards and offer greater functionality.  When new they are very expensive and few individuals will ever decide on buying one. However, when being sold as recertified refurbished their price is very compelling and purchasing one starts to make sense.
Think about it! Why wouldn't you buy a computer that is cheaper than the usual ones sold to consumers, has better quality, is quieter and will serve you equally if not longer?  Possible excuse would be if you need the newest and most powerful hardware on the market. In this case, yes, you should definitely buy new. But if you are like us, and you just need to do a certain job with minimum resources spent, you should definitely consider renewed devices.
Refurbished Dell Desktop Computer for Kids and Home
We assume that you are a person who doesn't know computers so well but in a need of one, for your kids, or general home usage. You intend the machine to be used for writing homework, searching the internet, watching videos and maybe playing Minecraft from time to time.
We have selected two configurations for you. One budget, in case you don't want to spend too much, but which still gives you all the essentials. This machine will not be slow and will perform the tasks without annoying delays.
The second setup is a bit more expensive but actually is not much more powerful. The biggest differences are: a smaller form factor and the fact that it has an SSD which will give you faster startup times. A Solid State Drive (SSD) will also improve loading speeds when different programs are initiated for the first time.
Refurbished Dell OptiPlex 3020 SFF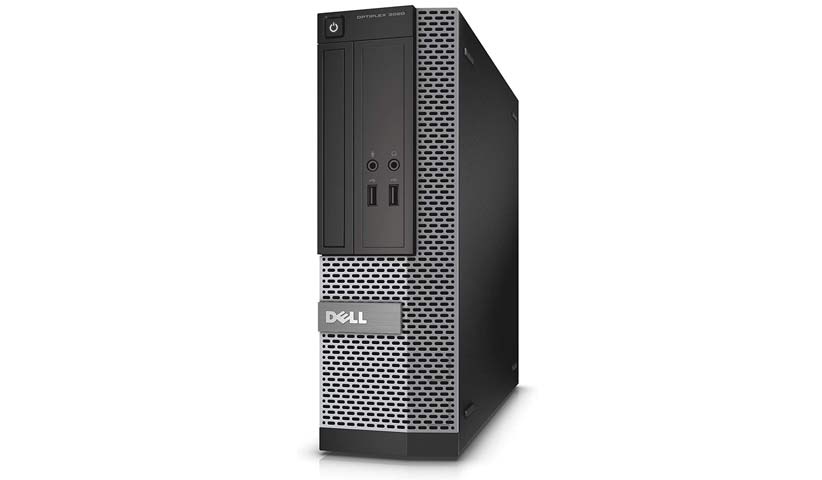 Specification:
CPU: Intel Core i5-4570 @ 3.2-3.6 GHz | GPU: Integrated | RAM: 8GB DDR3 | Storage: 500GB HDD | Form Factor: SFF | OS: Windows 10 Pro
Where to buy?
This budget Dell configuration has everything that a good home computer needs. The processor is a powerful 4th generation Intel Core i5. RAM memory is 8GB, and the storage of 500 GB will allow you to keep a significant amount of data – roughly 140,000 photos/music files or 400 movies. Most importantly the desktop comes with a pre-installed Windows 10. This means you can start using the computer from the first moment without the need of installing an operating system (OS).
If you have an old monitor, lying somewhere in your home, you will be able to use it without problems as the computer comes with a VGA port. Newer monitors can be plugged to the available DisplayPort v1.2 which has a maximum supported resolution of 3840x2160@60Hz.
The good thing about this renewed desktop is that it has upgrade options. For example, if you or your kid enjoys gaming, you can buy a dedicated graphics card. For very little money ($70) you can improve the capabilities of your machines so that you will be able to play most modern games. For your Dell OptiPlex 3020, buy the following dedicated graphics processing unit (GPU): GeForce GT 1030 Low Profile.
Update: Check out our Dell OptiPlex GPU guide. There you will find the best GPU for every OptiPlex model.
Installing the graphics card takes no more than 5 minutes, and because those business-class desktops are so easy to service and open, it can be done by anyone.
Although, a DVD drive is not essential, the OptiPlex has one. This might come in handy when you want to play old movies or listen to some music.
The computer comes with a sound card, so you will be able to feed music into your HiFi.
You will be able to connect the desktop to the internet through a LAN cable. If you want to use WiFi, you need to acquire a WiFi USB dongle.
In case you don't have a mouse, keyboard,  or display. Below are our propositions which should not break the bank but still provide an excellent experience.
Refurbished Monitor Dell P221H IPS 22-inch – A good renewed Dell monitor for a reasonable price.
Logitech Mouse and Keyboard MK120 – low price but really good quality.
Short technical specification for Dell OptiPlex 3020 is here.
Refurbished Dell OptiPlex 3040 Micro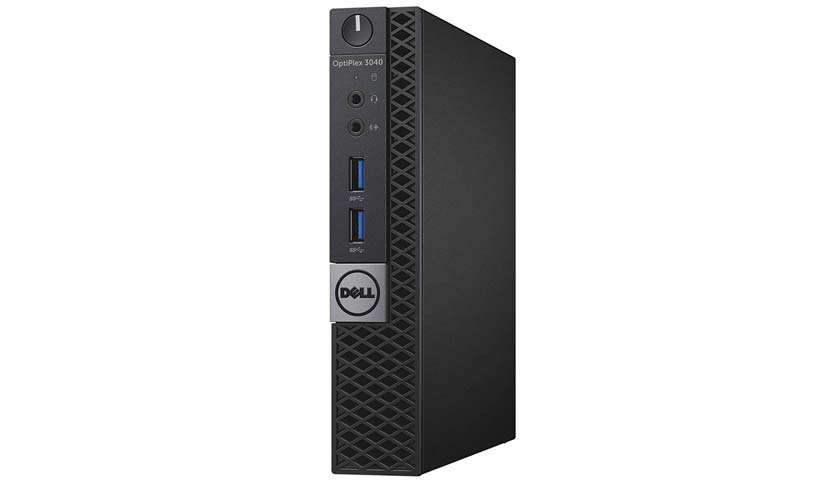 Specification:
CPU: Intel Core i3-6100T @ 3.2 GHz | GPU: Integrated | RAM: 8GB DDR3L | Storage: 256GB SSD | Form Factor: Micro | OS: Windows 10 Pro
Where to buy?
Although, the Dell OptiPlex 3040M has a newer generation processor, it is not more powerful than the OptiPlex 3020 presented earlier. In fact, if it wasn't for the SSD you wouldn't be able to tell the difference.This refurbished Dell is wonderful choice in case you have little space at home (and a bit more cash to spend). You will be able to hide this small machine anywhere. One disadvantage that comes with the size is the lack of DVD drive. Also because the machine is so small you will not be able to install a dedicated graphics card. So, evaluate your needs and make your purchase carefully.
If you like the idea of a Mini PC but you are not ready to spend so much money, you can have a look at the article "Refurbished Mini PCs for under $200".  There you will be able to find a Mini Desktop which is much cheaper and with similar performance.
One thing to pay attention, when buying such a Mini Desktop, is to make sure that the seller is shipping the computer with a power supply. Those small computers have power supplies similar to the ones used in laptops. You don't want to be in a situation where you need to pay an additional $80.
WiFi is optional and will not always be installed inside the device. If this is the case, we recommend buying a WiFi USB dongle which has a larger antenna – similar to the one we've recommended for the OptiPlex 3020.
All in all, the Dell OptiPlex 3040M is a really cute and capable little device. But yes, it is a bit pricey, and you should carefully consider if the smaller form factor, faster disk drive (SSD), and the newer generation processor, are worth the extra cost (almost double the OptiPlex 3020). At the end, it all depends on your current financial position.
Technical specification for Dell OptiPlex 3040M is here.
Refurbished Dell Desktop Computer for Office Use
Refurbished Dell OptiPlex 9030 AIO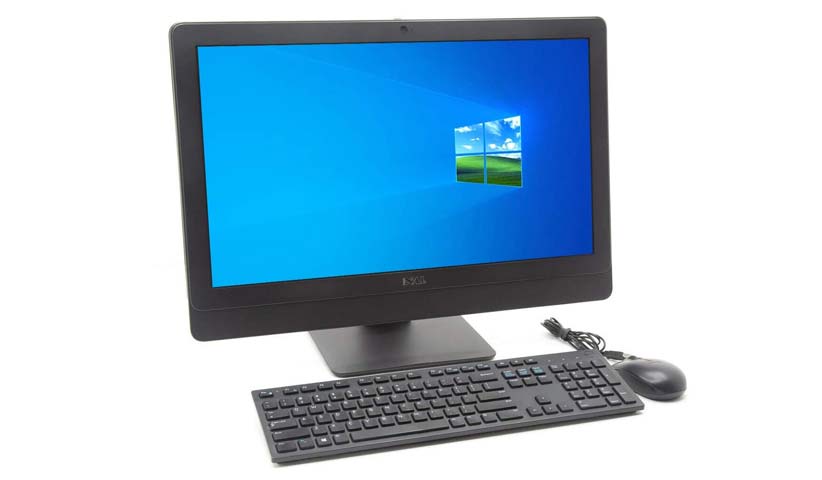 Specification:
CPU: Intel Core Intel i5-4590S @ 3.0-3.7GHz | GPU: Integrated | RAM: 8GB DDR3L | Storage: 120GB SSD | Form Factor: AIO | OS: Windows 10 Pro
Where to buy?
The Dell OptiPlex 24 is perfect desktop for your office, or is it? With its clean look and lack of hanging cables, you will be more than proud to show off your desk. It all sounds good but we recommend getting one, only if the price is right. Although, how do you tell if the price is right? Generally, you should compare it with the price of an equivalent mini desktop configuration including a display. Doing the calculation today ($250 for equivalent OptiPlex Micro and $150 for a display), it turns out you shouldn't pay much more than $400 for the OptiPlex 9030 All-In-One.
If you decide to buy one you will not be disappointed though. The computer is well built and servicing it is very easy. If needed, you will be able to swap the RAM (2xSODIMM, max 16GB), CPU and the disk drive (2.5-inch). There is also a M.2 (2242 B-keyed) slot which supports NVMe SSD (no SATA). Checkout this thread if you need more info on how to setup a boot partition using the M.2 slot.
DVD drive is optional and you should ask the seller for confirmation that the device being sold comes with one. We have seen cases where a refurbished OptiPlex AIO was advertised as having a DVD drive but actually did not come with one.
The situation is similar with the WiFi card – it is again optional. Very often sellers will make ambiguous claims advertising having a WiFi "adapter". However, this might just mean they are throwing a $3 WiFi USB dongle into the package.
Here are some of the additional features you will find in the all-in-one Dell:  two built-in speakers (4W each), 2MP retractable camera, two microphones, optional dedicated GPU, and an optional touch screen display.
In case you want to save some money (around $40) but still want an all-in-one Dell solution, you can opt for the earlier version of this model – the OptiPlex 9020 AIO. Compared with OptiPlex 9030, the older version has a larger 3.5-inch drive, is more cumbersome to service and does not have an M.2 SSD slot.
Complete technical specification, for Dell OptiPlex 9030 All-In-One, can be found here.
Refurbished Dell OptiPlex 7040 Micro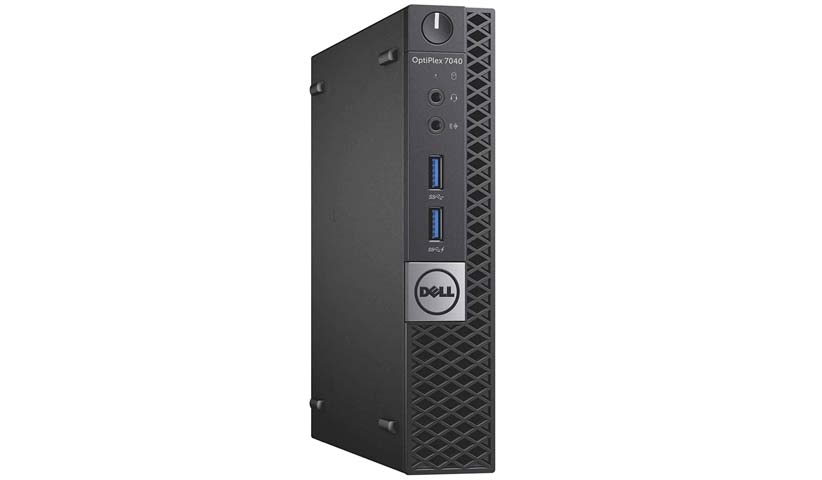 Specification:
CPU: Intel Core i5-6500T @ 2.5-3.1 GHz | GPU: Integrated | RAM: 8 GB DDR4 | Storage: 128 GB SSD | Form Factor: Micro | OS: Windows 10 Pro
Where to buy?
It is obvious that if we had to choose for our office between the OptiPlex 9030 AIO vs. OptiPlex 7040M, we would pick the latter. And not only because the Dell Micro is so cute, but because we like the flexibility of having a separate monitor and desktop. After all, at some point you might want to get a better display or more powerful computer.The Dell OptiPlex 7040M is our second proposition for the office. Unlike the all-in-one, the Dell Micro comes without a display. On the other hand it costs $100 less and has a newer generation Intel Core i5 processor. With the leftover money you can buy yourself a cool refurbished 22-inch Dell Monitor – P2214H. What you will end up with is an equally powerful configuration which is almost as clean as the all-in-one model (assuming you mount the Micro behind the monitor).
Now that you know which our preferred model is, let's inspect what this little machine is giving us.
First thing to note is the processor – a capable 6th generation i5 processor running at 2.5GHz with turbo boost up to 3.1GHz. It is operating at lower frequency (hence the "T" in the name) due to the fact that the Dell 7040M cooling is not as efficient owing to the small form factor. Don't worry though, this CPU is powerful enough for any office work you can think of.
There are 2xSODIMM slots for maximum of 32 GB of DDR4 RAM. In case you plan to upgrade, make sure that the device comes with a 1x8GB module so that there is one free slot left. Although, when we think about it, 8GB of RAM should be more than enough for everyday office tasks.
Inside the Micro PC you will find two M.2 slots. One is for the optional WiFi/Bluetooth4.1 module, and the other is for an SSD. The SSD slot is of the type M.2 2280 M-key and supports PCIe Gen3x4 and SATA. Note that some M.2 SATA disks will not work with the Dell OptiPlex 7040M. Best is to stay on the safe side and buy a PCIe (NVMe) SSD – it is much faster than the SATA interface, anyway.
If you are worried that a Mini PC like this will not have enough extension ports, don't be. They are more than adequate and additionally some of the computers might come with the optional port which can be of the type: second DisplayPort, VGA or Serial.
If you need more detailed information on the Dell OptiPlex 7040M you can find it in the user manual.
Refurbished Budget Dell Desktop Workstation
Refurbished Dell Precision Tower 3620
Specification:
CPU: Intel Core i7-6700 @ 3.4-4.0 GHz | GPU: Nvidia Quadro K2200 4GB | RAM: 16 GB DDR4 | Storage: 512 GB SSD | Form Factor: Tower | OS: Windows 10 Pro
Where to buy?
The chassis is of very high quality with all the hardware easily accessible and exchangeable. Two versions of power supplies are available – a less powerful 290 Watts and a more powerful 365 Watts.The Dell Precision 3620 is a nice budget workstation. When new it was quite expensive, but now you can get it as refurbished for a very nice price. With its powerful i7 processor, decent amount of RAM, and a dedicated mid-range 3D graphics card, it is perfect for the professional creator. You will be able to do a broad-spectrum of digital content creation: 3D designs, document creation, audio and video engineering, etc.
When upgrading the GPU of the Dell Precision Tower 3620, you should limit yourself to maximum power consumption of 75 Watts (for the 290W version PSU).  If you have the higher power model, it will support GPUs of up to 150 Watts.
If your secret plan is to do some gaming, and you do not intend to change the Power Supply to a more powerful one, the best GPU option for your 290W Dell Precision 3620 is the GeForce GTX 1650 (rated at 75W). In case you have the 365W power supply, you can go for the more powerful GeForce GTX 1660 Ti (rated at 130W). Note however, that you will need to buy an additional 6 Pin to 8 Pin PCIe Adapter Power Cable. It is needed because the GPU has an 8 pin power connector, but the 365W power supply has one with 6 pins.
The workstation has a single M.2 Gen3x4 slot which has a size of 22x80. There you will be able to install an M.2 PCIe SSD. If not already there, we definitely recommend one. The fastest SSD option currently available is the Samsung 970 EVO Plus.
We like this Dell entry workstation. You get good quality and significant processing power for your money. If you are a hardcore gamer, this probably is not your best option (think AMD Ryzen). Nevertheless, for professionals, who don't want to break the bank, the Dell Precision T3620 is worth considering.
You will find additional technical information in the Precision 3620 owner's manual.
Best Refurbished Dell All-Rounder Desktop
Refurbished Dell OptiPlex 7040 SFF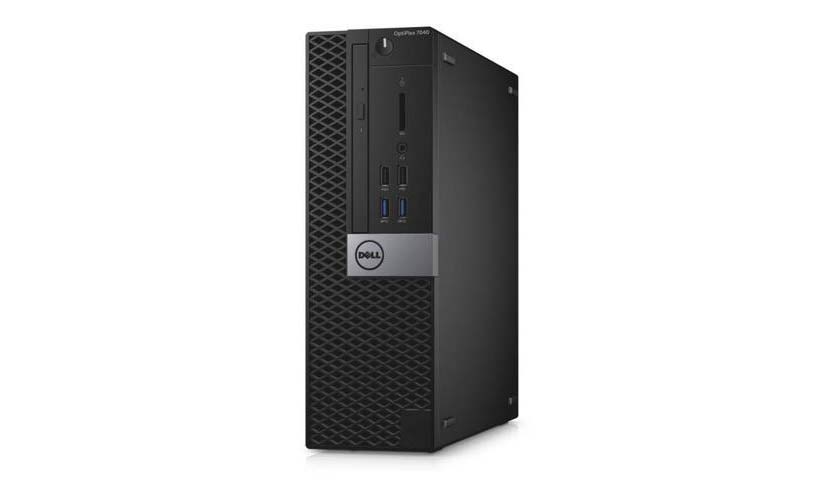 Specification:
CPU: Intel Core i5-6500 @ 3.2-3.6 GHz | GPU: Integrated | RAM: 16 GB DDR4 | Storage: 256 GB SSD | Form Factor: SFF | OS: Windows 10 Pro
Where to buy?
The current deal that we found for a refurbished Dell OptiPlex 7040 SFF is great. For around $320 you get, truly, a no compromise all-rounder desktop. Used in home or in the office, this PC has enough power and storage for performing all the essential tasks.
If you enjoy occasional gaming, for around $85, you can turn the OptiPlex into a decent gaming station. For your Dell OptiPlex 7040, we recommend buying a GeForce GT 1030 2GB Low Profile graphics card. With it you will be able to play a huge amount of modern games at medium or high detail settings. You can also check out on the Dell website for the officially supported GPUs.
In general, when buying a dedicated GPU for your SFF OptiPlex 7040, you should pay attention to few things:
Power rating of the GPU – shouldn't be more than 55 Watts.
GPU profile – for a SFF desktop the graphics card should be a Low Profile
GPU dimensions – the PCIe x16 slot is very close to the Power Supply. If the card is too thick it will not fit. Although don't worry, you have a backup option – to use the PCIe x4 slot. In this case you should expect some performance drop – very minor though.
This Dell OptiPlex comes with an SSD drive, so you probably will not want to do any upgrades there. In case you do, you have two options. One is the standard 2.5/3.5 inch SATA drive bay, and the other is a M.2 2280 PCIe/SATA slot. However, be careful when installing M.2 SATA drives – not all of them will work. Best is to play safe and purchase a PCIe SSD.
Manual for the Dell OptiPlex 7040 SFF is here.
This is it! We are done with our article concerning Refurbished Dell Desktops. We think that anyone who cares to save some money and reduce waste should consider buying renewed equipment. Not to mention that you are also getting a high quality business-class device at a great price!