For cheap refurbished desktops, workstations, and laptops made by Dell, you have the option to skip the all third party retailers and go directly to the source – with either Dell Outlet or Dell Refurbished. 
They are the best place for manufacturer recertified Dell devices.
But why two sites instead of one, and which one is better?
Read our guide and find answers to most common questions regarding these sites.
What is the difference between Dell Outlet and Dell Refurbished?
The difference between Dell Outlet and Dell Refurbished is in the device condition and model generation. While Dell refurbished sells slightly older (used), off lease computers, the Outlet keeps stock of Dell's latest generation devices. Both places inspect and refurbish the units before selling them.
What types of computers they sell?
Dell Outlet sells a wide selection of devices – from entry level laptops to high end gaming machines. They also cover the enterprise segments with servers and  monitors. Their stock consist mostly of canceled orders, and unsatisfied returns, segmented into three distinct categories:
Dell Outlet New – New devices, where the system has never been turned on. You can get either open-box or device that has never been opened.
Dell Certified Refurbished –  Devices that has been returned and undergo the process of testing and repair (if necessary) to meet the condition of a new system.
Scratch and dent – The same as number 2 but with slight blemishes and small dents. They are also certified refurbished.
Dell Refurbished sells laptops, desktops, servers, and enterprise models. Here the selection is more narrow, because most of the computers are business models. Consider them if you look for cheap, premium grade, business classics like E7470 or OptiPlex 7040. Currently (2020) you can find models from 2013 until 2017.
Because all devices are previously used, there is a grading system to separate models.
Dell Refurbished is using the following grading system:
Grade A – Very good cosmetic condition with slight signs of use.
Grade B – Good visual condition. May have scratches or dents. Lower visual quality than grade A and also cheaper.
Computers in both grades have the same functional condition.
How long is the warranty?
Devices on Dell Outlet keep their original one(1) or three (3) years warranty, while Dell Refurbished have 100 days warranty. The Refurbished division gives you the option of extending the warranty for one year in exchange for $50.
What is their return policy?
Dell Outlet has 30 days return policy. And to keep the same standards as their regular online store,  the Outlet offers free shipping and free returns with no restocking fee. Keep in mind if you buy from Outlet New category, and the unit has a problem, the replacement device will be Certified Refurbished and not Outlet New. To get Outlet New again, return the device and then reorder.
With Dell Refurbished you also have 30 days to return the item, but with a 15% restocking fee added on each return. The shipping is not free. For a regular sized laptop with 2 days shipping the price is around $40.
Dell Outlet buying tips
Computers come and go very fast on Dell Outlet, especially the most popular laptop models. They are usually one of a kind units and not a part of batch restock. You have to be fast and refresh the site regularly to snatch the desired model.
For best results, think of the model(s) you want to buy (sizes, specs), write down the regular price and watch the Outlet store. You can use the chat function to ask for restock dates.
Dell Refurbished buying tips
Buying on Dell Refurbished is more laid-back. There the availability is higher and there is no pressure to choose the product fast.
If you care for the looks – taking Grade A computer, it is the better option. Our suggestion is to go with the Grade B – there is no performance difference between A and B. Take for example these two offers – Dell Latitude E7450 Grade A and Dell Latitude E7450 Grade B. The same spec, but with a price difference of $80. For that amount of money you can upgrade RAM , add more storage, or apply for a longer warranty.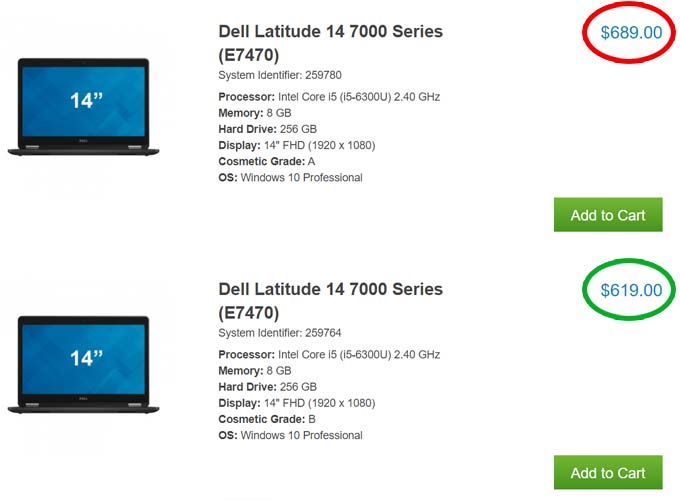 Are they certified?
All models on Dell Outlet and Dell Refurbished are inspected, repaired (if needed), and cleaned upon arrival. They all have certified refurbished status when listed on their respective site.
Which site has the best deals?
The quality of the deal depends on your use case and budget. For home, student, and business use, definitely Dell refurbished. Their business class offers are super valuable. You can land a 6th Gen Core i5 business laptop for as low as $400.
If you are focused on last gen computers – gaming rigs, Chromebooks, and business computers – use Dell Outlet. Look out for coupons for even sweeter deal.
Where to find coupon codes for Dell Outlet and Dell refurbished?
For Dell Outlet the best place for discount codes is their Twitter (UK) and Facebook accounts. They post flash sales and coupons with 20% to 30% off quite regularly. Certain models can go even higher. And all of this on top of already discounted prices. You can save more than $800 with the right discount.
Dell Refurbished have special coupon page. What they do is run heavy discounts on certain models – up to 60% –  with free shipping added to each order. The discount rules are also posted on category pages of each product segment (laptops, desktops, etc.).
When do they restock?
There is no clear pattern regarding the restock. On a daily basis, the best time to refresh the site is around mid afternoon.
Is there Dell Outlet and Dell Refurbished in other countries?
There is Dell Outlet online stores in the US, UK, and Ireland. The dedicated EU store covers most of the other European countries.
Dell Refurbished is available in the US and UK.