Disclaimer
---
We are supported by our readers. When you use links on our site to buy products, we may earn an affiliate commission. Read more in our Terms of use.
---
If you are looking for an ultrabook type of refurbished laptop – super light, slim, durable, and easy to carry and use wherever you go – we strongly suggest you check out the deals on refurbished Dell XPS 13.
For a much lower price you will get a fast and durable machine, that also looks great and packs a lot of bang for your buck. 
Another thing that holds true for all XPS 13 models – you get an awesome display, even in earlier models. The screen quality and the thinner bezel (InfinityEdge in post 2015 units) are the hallmark of the product. And since the process of recertifying includes a thorough checks, the display will probably look and work as new.
Now, let's talk models.
The 9350 is one of our favorite. It's the first model following the major XPS series revamp – adding the higher resolution (3200x1800) and thinner frame.
You save: ~ $200
Refurbished Dell XPS 13 9350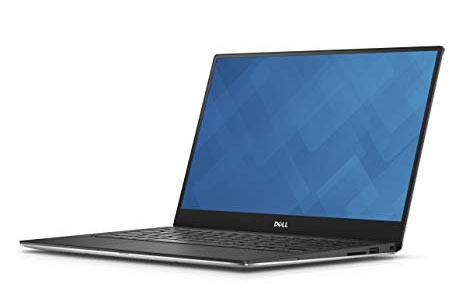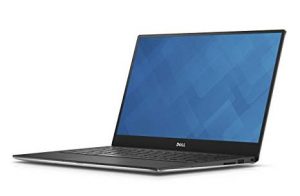 Specification:
CPU: Intel Core i5-6200U @ 2.3 GHz | GPU: Intel HD 520 | RAM: 8GB DDR3 | Storage: 512GB SSD M.2 | Display: 13 inch QHD @ 3200x21800 IPS 60 Hz  / Touchscreen | OS: Windows 10 Pro | Release date: November 2015
Where to buy?
A real crowd pleaser when it came out in late 2015, the Dell XPS 13 9350 is still an excellent laptop today and there are some great refurbished deals out there. It is really attractive, the chassis is made from sturdy and pleasant to the touch metal alloy and the whole laptop feels more like a 12-inch device – very light and thin.
As a whole, a perfectly portable ultrabook you can even use on an airplane tray, which is very often an issue with other models. And thanks to the rubber lines at the bottom, it really won't slide away from you.
Once you open the lid, the first thing you notice is the nice display with very wide viewing angles. Also the work surface is very soft to the touch – made from carbon fiber, with a gentle silicone on top, and edges are nice and rounded, so typing is a breeze even for a longer period.
The trackpad is good and the backlit keyboard is very comfortable, even if travel is on the narrow side. It is to be expected in a laptop this slim, after all.
The Dell XPS 13 9350 comes with a variety of specs – a 6th Gen i3, i5 or i7 dual core processor; 4, 8 or 16GB of RAM, and 128, 256 or 512GB SSD, all depending on what you plan to do with the laptop.
Keep in mind adding RAM to this model is pretty much impossible, so if you need 16GB for example, make sure to get a model with 16GB already installed. There are plenty of refurbished XPS 13 models out there, so you should be able to find exactly what you need.
If you need something newer, with four cores, and still very compact – our list of refurbished ZenBook laptops might be the place to go.
Does Dell XPS 13 makes a good refurbished laptop candidate?
Yes it makes a grate refurbished laptop choice. And to build up on our previous points we should mention the body itself.
All XPS 13 models are made from aluminum and carbon and not only look and feel great, but last forever. The design remains pretty much classic – and classy – and only the later models come in a new look or two.
Obviously newer models come with faster CPUs but as a whole, the range is more than decent when it comes to power. The U and Y series CPUs are super efficient (15W and 3.5W), and don't add to much heat stress on the system. This and the lack of dedicated GPU makes the XPS 13 a battery powerhouse.
Ports on most models of XPS 13 are an OK selection for devices this light and slim, which is to say they can't compare to a standard 15-inch laptop, of course, but are better than many other ultrabooks.
Dell XPS 13 is Linux friendly (prefect driver support), to the extend that it is sold with preinstalled Ubuntu. For those of you involved in IT (programmers and sysadmins), and not on ThinkPad hype train, this may be interesting. Keep in mind that if you opted in for Linux, not all desktop environments scale as well as Windows with QHD and UHD resolution. Gnome and KDE are your best bet.
All this holds true for new and refurbished models alike. We've mentioned this before but at Dell Outlet you can find an excellent selection of returned and renovated models, the newer generation at especially good prices.
But you need to know exactly what you want and be ready to wait a bit and check availability often, since the best deals are swooped up quickly.
Refurbished Dell XPS 13 9360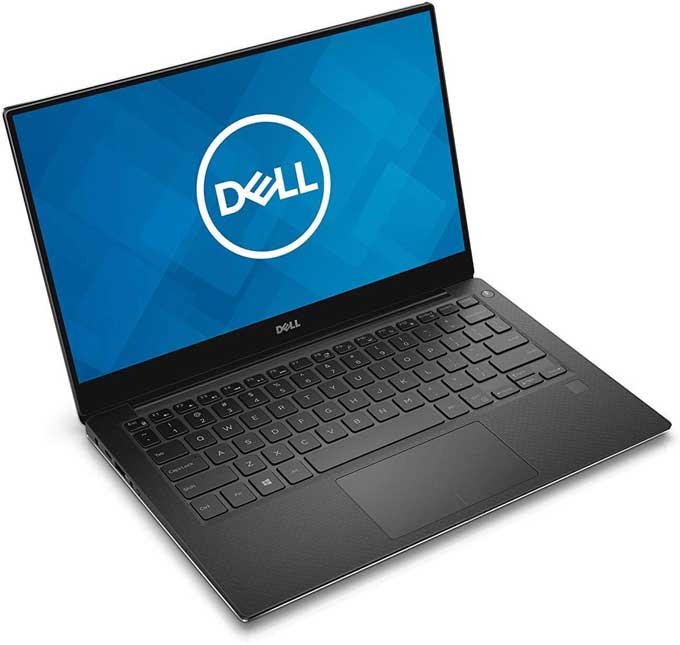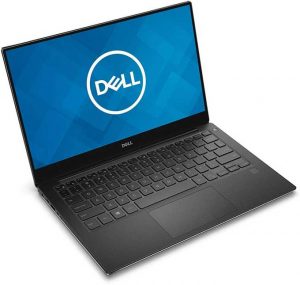 Specification:
CPU: Intel Core i5-7560U @ 2.3 GHz | GPU: Intel HD 520 | RAM: 8GB DDR3 | Storage: 512GB SSD M.2 | Display: 13 inch QHD @ 3200x1800 IPS 60 Hz  / Touchscreen | OS: Windows 10 Pro | Release date: November 2016
Where to buy?
In the XPS 13 9360 ultrabook Dell have kept all the wonderful qualities that made previous models so popular, while adding a few upgrades that make it a bit faster, a bit more powerful and a bit more distinctive, if you prefer your devices stylin' in gold.
The silver option is still available for more traditional users and regardless what color you choose, you get a classy and durable aluminum chassis.
It's a very light laptop, under 3 lbs., which is to say 1.22 to 1.31 kg – the lighter model is the FHD non-touch version and the QHD+ touchscreen is the heavier one, though you could hardly call it a burden to lug around. Either display comes with really thin bezels (InfinityEdge) which is always a big plus.
One of the new additions is a 7th generation Intel Kaby Lake processor and depending on the specs you need, you can get a refurbished XPS 13 9360 with up to 16GB RAM and a variety of SSDs.
This model also has a fairly decent set of ports for a laptop this slim – two USB 3.0, an SD card reader, a Thunderbolt 3, which means you can get a dongle and connect to pretty much anything you want, and of course, a headphone jack.
Refurbished Dell XPS 13 9370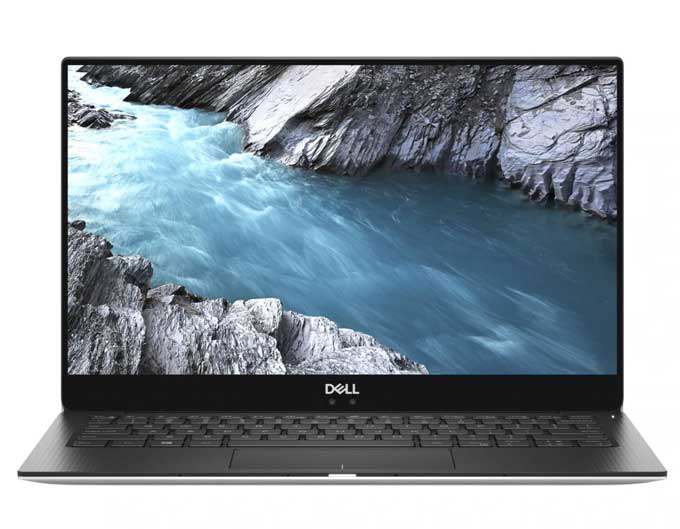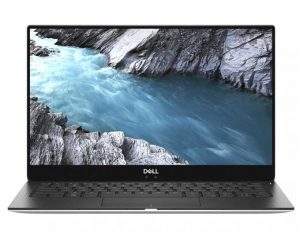 Specification:
CPU: Intel Core i7-8550U @ 1.8 GHz | GPU: Intel HD 620 | RAM: 8GB DDR3 | Storage: 256GB SSD M.2 | Display: 13 inch @ 1920x1080 IPS 60 Hz  | OS: Windows 10 Pro | Release date: March 2018
Where to buy?
A brand new design and an even lighter and slimmer body, as if previous models weren't already super portable, the Dell XPS 13 9370 is a great laptop, one of the most popular devices – new or recertified – and with good reason.
There are different systems to choose from, all including an Intel's 8th generation Core i5 or Core i7 processors and a selection of RAM and SSD configurations.
It is worth noting the display bezels are even smaller than on previous models and you can choose between a standard Full HD and a 4K touch display, both super bright and with great colors.
Dell have now gotten rid of the old charging connector and the XPS 13 9370 has two Thunderbolt 3 ports, a micro SD card reader, one USB-C port and a headphone jack.
The XPS 13 now has two fans and thanks to them and an internal redesign this a cool laptop to use – it will get a little warm if used to its maximum, but the surface never gets unpleasantly hot.
Plenty of pros but one con worth mentioning – in order to make the laptop even lighter (especially the 4K touch option) the battery is a bit smaller and will last you a bit less than on older models. It is still more than decent compared to many ultrabooks, but a bit of a disappointment to be honest.
And a quick note on the new designs: this XPS 13 model is available in rose gold with a white glass fiber woven interior (don't worry, it cleans well) and the traditional gray exterior with a black carbon fiber interior.
Both are aluminum, of course – no horrible, cheap and flimsy plastic for the XPS 13.
Refurbished Dell XPS 13 2-in-1 9365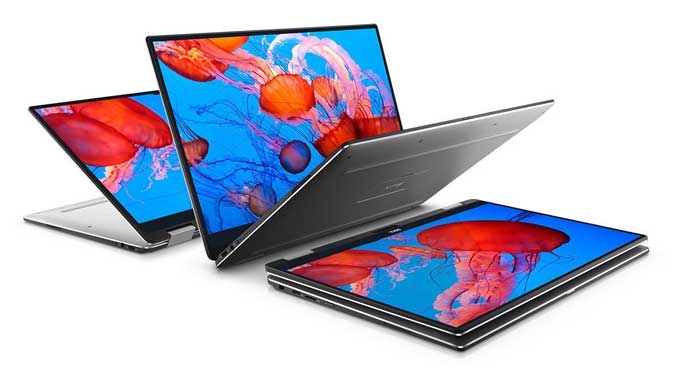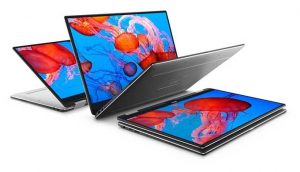 Specification:
CPU: Intel Core Y Series @ 1.3 to 1.5GHz | GPU: Intel HD 615 | RAM: 8GB DDR3 | Storage: 256GB SSD M.2 | Display: 13 inch Full HD @ 1080p IPS 60 Hz  / Touchscreen | OS: Windows 10 Pro | Release date: April 2017
Where to buy?
For fans of the XPS 13 looking for a convertible, a refurbished Dell XPS 13 2-in-1 9365 will hit the spot.
It has most of the same features we like so much – a durable and super light chassis, a decent selection of specs to choose from, a nice backlit keyboard, even though you can also use a pen to write on the touchscreen in tablet mode. The pen is sold separately however, keep in mind.
This 2-in-1 device runs on an Intel 7th and 8th generation Y series CPU, which means it is a little less powerful than a standard XPS 13 but it is still better than most convertibles.
Keep in mind ports are – unsurprisingly – very few. We always try to make a note on ports, especially on slimmer machines and in this case you get a microSD card slot rather than the full size SD card slot, a Thunderbolt 3 port and a USB-C port. So no USB 3.0 type A ports, which is a downside.
On the other hand, the gorgeous touch display and the aluminum and carbon fiber body are great, as to be expected in a XPS 13.
And it's important to note that the hinges that allow a switch from laptop to tablet mode are really tight, which – for us at least – is a plus. This ensures the device will last longer than most of its class and type and when used as a laptop, there is very little bounce and wiggle.
Where to buy XPS 13 refurbished
Depending on where you live, check out the stores below for great deals on refurbished XPS 13 laptops.
If you are in the US the following are your best bet, keeping in mind the difference between Dell Outlet, where you can find newer models, and Dell Refurbished, which offers older generations, usually off-lease business laptops, at wonderfully low prices.
Dell Outlet (last gen models)
Dell Refurbished (older models)
Amazon
Best Buy
Newegg
For those of you looking for deals in the UK, check out these great options, including a UK Dell Outlet with special offers that are easy to find and compare so you don't have to open different tabs and try to figure out differences and similarities before you select the best refurbished XPS 13 for you:
laptopsdirect uk
outlet.euro.dell.com/
For a nice selection of refurbished XPS 13 models in Canada, trust the local Dell Refurbished, where you can search by model or specs, or check out the other sites below – all offer deals on refurbished devices.