Disclaimer
---
We are supported by our readers. When you use links on our site to buy products, we may earn an affiliate commission. As an Amazon associate we earn from qualifying purchases.
---
We are supported by our readers. When you purchase through links on our site, we may earn commission.
Refurbished Chromebooks provide great value for the money. They are well optimized and the OS is design with the Web in mind. No added complexity and no hassle with the OS. What you get is great productivity environment.
On top of that, all major brands have Chromebook models in their portfolio. Some of them pricey but you can get around that by getting a refurbished device for much less.
However, are any of these models the right device for you? As always, the answer is it all depends on what you need and what you are comfortable with (or willing to get used to).
Before we review some models let's see our top Chromebook pick:
You save: ~ $205
ASUS Chromebook Flip C302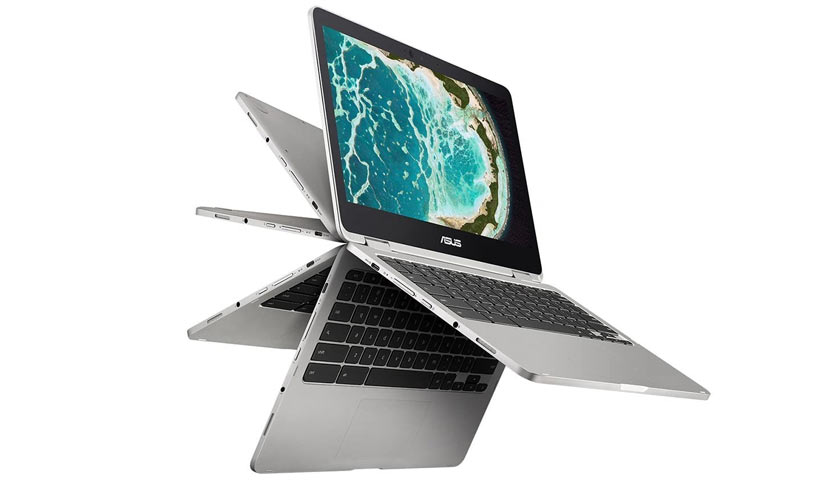 Specification:
CPU: Intel Core M @ 2.2 GHz | GPU: HD Graphics 515 | RAM: 8GB DDR3 | Storage: 64GB eMMC | Display: 12.5 inch @ 1080p IPS 60 Hz | Ports: 2 x 3.1 USB-C, microSD,  headset jack | OS: Chrome OS | Release date: Mar 2018
Where to buy?
One of the best ASUS laptops out there, the ASUS Flip C302 is actually a convertible, 2-in-1 Chromebook and it does feature pretty much the best of both worlds – a sturdy but light device that also turns into a chromebook tablet.
The multi-touch display is Full HD, 12.5 inches and it has a light sensor which can automatically adjust brightness, depending on where you use it.
And depending on how you want to use it, a firm 360-degree hinge and powerful magnets allow you to switch between laptop, tablet and the other standard modes without any wobble.  The body is lovely to the touch aluminum, feels and looks like the premium machine it is.
You have a choice between a 6th generation Intel Core m3, m5, m7 or Pentium processors, depending on your needs, but we would suggest you steer clear of the last one – the price is only slightly lower, so you lose some multitasking power without saving a lot of money. Generally, the Flip C302 loads quickly and works smoothly.
Keep in mind there are no full-size USB ports, but there is a USB-C on each side. The backlit keyboard is very responsive and one of the best you can find on a chromebook.
Pretty much the only bad thing we can say about the Flip C302 is the price – getting it brand new might be a bit too much for your budget. There are great refurbished offers out there however, that will save you a pretty penny.
Best Refurbished Chromebooks
The most important thing you need to know is that Chromebooks run not on Windows or macOS, but on Google's Chrome OS and work with Google Play (on newer models Android apps work as well, which is a gamechanger).
Also, to really use a Chromebook, you need internet access, since data and apps are in the cloud – if you are not online, many apps will simply not work.
On the other hand, as a rule, battery life of Chromebooks is better than expected and depending on usage and the specific model, should easily last you a day of work or classes and then some.
Originally a huge success in the so-called "education market" (Chromebooks are perfect for students and are especially widespread in schools), lately they have become more and more popular for general and business use, thanks to their portability and ever better internet access.
1. Samsung Chromebook Plus Refurbished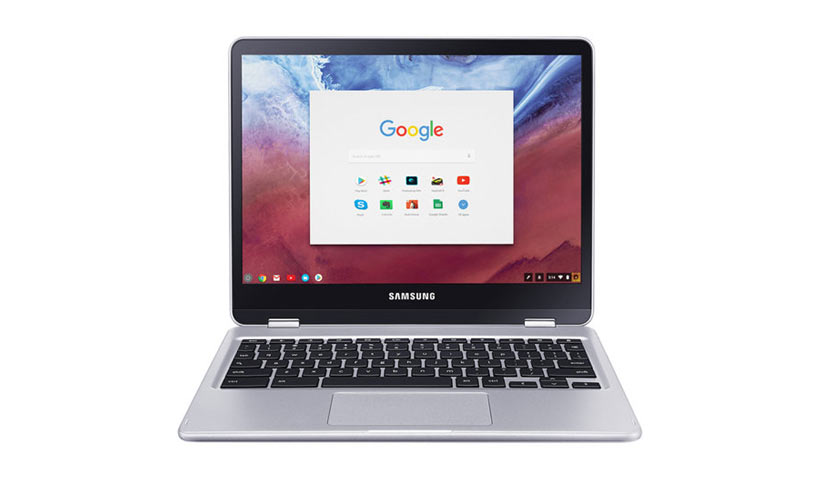 Specification:
CPU: Intel Celeron @ 1.5 GHz | GPU: HD Graphics 615 | RAM: 4GB DDR3 | Storage: 64GB eMMC | Display: 12.3 inch @ 1900x1200 IPS | Ports: 2 x 3.1 USB-C, microSD,  headset jack | Additional: Built-in pen | OS: Chrome OS | Release date: Apr 2017
Where to buy?
Another convertible touch laptop with a 360° profile, a refurbished Samsung Chromebook Plus is good value for a reduced price.
The aluminum body is sleek, light and thin and the 12.3-inch display is first class – Quad HD, made of durable Gorilla Glass 3, perfect for streaming a show when in tablet mode, but also a pleasure to use as a laptop.
There are a few drawbacks however: the keyboard size is not ideal and can take some getting used to. Also, it is not backlit which is a bit of a letdown.
Another issue are the speakers. The sound is decent but not perfect and more importantly, the placement is not great either – they are at the bottom so… not ideal if you are using the Chromebook as a tablet and downright bad if using it as a laptop.
But if perfect sound is not that important to you or you prefer headphones, it shouldn't be a huge deal.
Ports are pretty standard for this type of convertible device, which means no full-size USB – two USB-C ports (and an adapter in the box), a micro SD reader and of course, a headphone/mic combo.
Unlike many other devices, the Samsung Chromebook Plus comes with a pen so there is no need to spend extra on it.
The pen itself feels a little less premium and is made of plastic, but that's hardly a deal breaker and is worth noting that the touchscreen has great palm recognition, so even lefties can use it without any issues.
2. Refurbished Acer Chromebook 15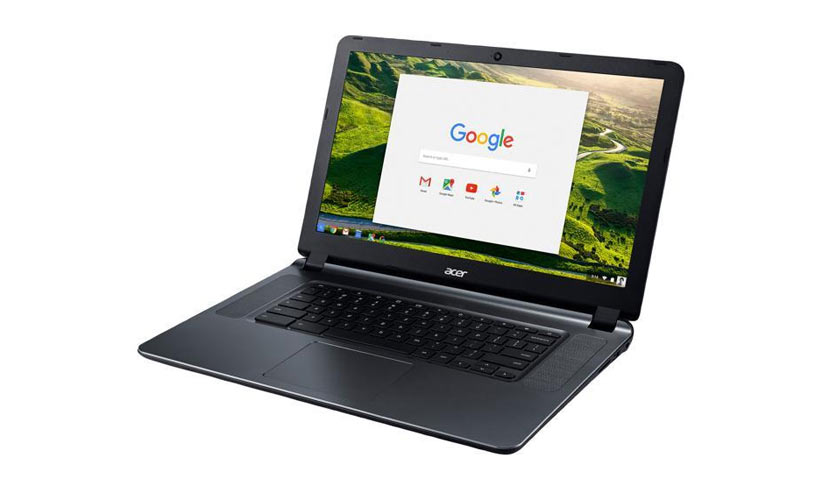 Specification:
CPU: Intel Celeron @ 1.5 GHz | GPU: HD Graphics 615 | RAM: 4GB DDR3 | Storage: 64GB eMMC | Display: 12.3 inch @ 1900x1200 IPS | Ports: 2 x 3.1 USB-C, microSD,  headset jack | Additional: Built-in pen | OS: Chrome OS | Release date: October 2017
Where to buy?
There aren't a whole lot of options if you are looking for a larger Chromebook – most are the 11 and 13-inch variety and while they work great, if you prefer a larger screen, whether for work or play, your best bet is the Acer Chromebook 15.
A beast, compared to most Chromebooks, it has a FHD 15.6-inch display – a real treat when watching videos or playing games.
The body is mostly aluminum (the bottom panel is plastic but is still a good build) and since it is larger, it is not as portable as some of the smaller Chromebooks. However, it is very thin and light for a 15-inch laptop.
The keyboard has decent travel, it is not particularly clicky (keep in mind if you prefer it that way) and the best part is, it is backlit – a feature you won't find on most Chromebooks in the same price range.
Another advantage of the larger chassis – the Acer Chromebook 15 has not only USB-C, but also full-sized USB ports. There is also a microSD card reader, which is nice to have, even though for Chromebooks storage is obviously not as important.
Speaking of storage, the specs depend on what you need – and keep in mind we are talking Chromebook here, so most of what you need is online and in the cloud. As a rule, combinations are decent, not great, but everything comes together and the device works well.
One more thing to note: Acer Chromebook 15 has surprisingly good speakers and their placement is excellent – on both side of the keyboard.
3. Dell Chromebook 3100 11 inch Renewed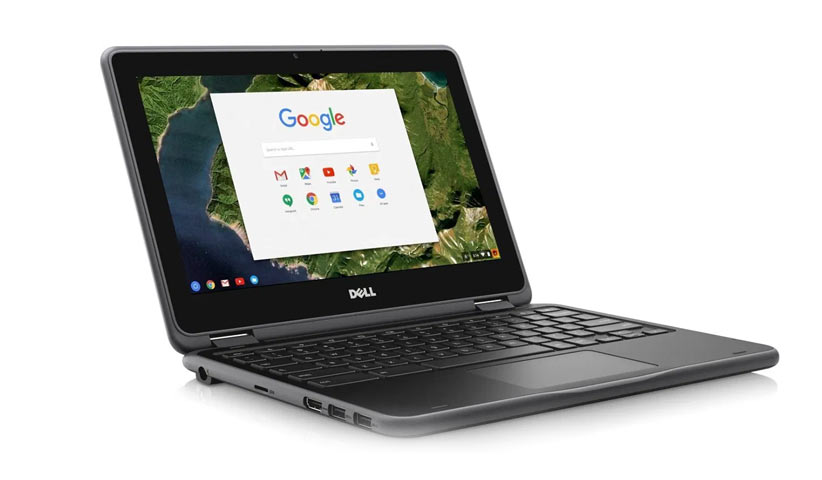 Specification:
CPU: Intel Celeron N4000 @ 2.6 GHz | GPU: HD Graphics 615 | RAM: 4GB DDR4 | Storage: 16GB eMMC | Display: 11 inch @ 1366x768 IPS | Ports: 2 x USB 3.1, 2 x USB-C, microSD,  headset jack | OS: Chrome OS | Release date: Jul 2019
Where to buy?
Designed especially with younger students in mind, the Dell Chromebook 3100 is built to withstand quite a lot of use and abuse – it might not be pretty but it sure is durable.
Rigorously tested to survive about 5000 drops, the Chromebook has rubberized edges to serve as shock absorbers, making it a truly tough little machine, that can be used without worry at school and on the road.
Another feature, that makes it perfect for younger or clumsier users: the keyboard is spill- and tamper-resistant and can truly handle a lot of accidents.
The ports are also reinforced and Dell assure us they have been tested thoroughly, allowing students to connect and disconnect other devices or accessories as many times as needed.
An important note: it is light enough to be tossed in a backpack and carried around all day long. The battery will also last a full day and more – although that's in part because the Dell Chromebook 3100 can't really be used for too many demanding tasks.
Some might find the body downright ugly and old-fashioned and to be honest, on the inside you won't find anything to write home about – a very basic machine with low power components.
But all of that is on purpose – the Dell Chromebook 3100 is designed to get the job done without allowing for too many distractions.
Perfect for completing homework and researching and writing papers, the 11.6-inch HD (only 1366 x 768) display alone will limit game time.
4. Refurbished Toshiba Chromebook 2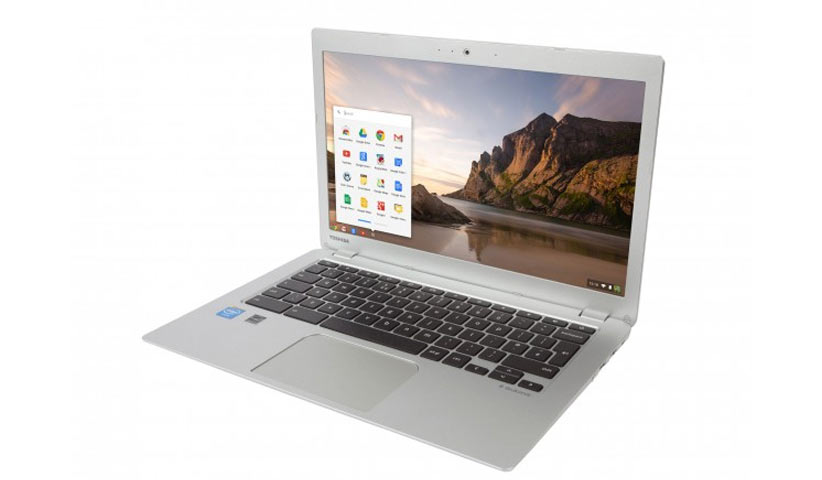 Specification:
CPU: Intel Celeron N2840 @ 1.4 GHz | GPU: HD Graphics 615 | RAM: 4GB DDR3 | Storage: 16GB eMMC | Display: 13.3 inch @ 1366x768 | OS: Chrome OS | Release date: Sep 2015
Where to buy?
The Toshiba Chromebook 2 is, simply put, a good Chromebook – a 13.3-inch laptop with a very nice display, good battery life, an optional backlit keyboard and more than powerful for Chrome OS.
It is not a high-end machine, that's true and it shows in the design especially, but it is a really good machine for its class and price tag.
We suggest you get the highest combination of specs you can find in a refurbished offer – that way you can get the very best configuration without spending too much on it. Keep in mind storage is eMMC, so you can't upgrade it.
One of the things you should keep an eye out for is the display – the Toshiba Chromebook 2 comes with an HD or Full HD 1920 x 1080 IPS display and we strongly recommend the latter. It is a pleasure to look at – bright, with vibrant colors and surprisingly wide angles.
Whichever refurbished Chromebook 2 you choose, you will get a decent looking body made from shock-absorbent plastic, a comfortable to use, standard size keyboard with nice travel and on some models – backlighting. The trackpad is also more than adequate.
Battery life is always a concern and while Toshiba claim around 10 hours for the higher resolution display (a bit more for the HD), in fact it is closer to 7 or 8 hours. But that's not bad at all – after all, in a device this compact this is all the battery you can fit.
5. Google Chromebook Pixel Refurbished
Specification:
CPU: Intel i5 3427U @ 1.8 GHz | GPU: HD Graphics 4000 | RAM: 4GB DDR3 | Storage: 32GB SSD | Display: 12 inch @ 2560x1700 3:2 aspect ratio | Ports: 2 x USB 3.0, mini DP | OS: Chrome OS | Release date: Feb 2013
Where to buy?
Not to be confused with the newer Google Pixelbook, the Google Chromebook Pixel is a discontinued line of Chromebooks that came out in 2013 and 2015.
The older model is no longer getting automatic software and security updates and the newer one will reach this "end-of-life" stage in 2020.
We suggest you steer clear of the Google Chromebook Pixel altogether, if you are looking for an everyday Chromebook for browsing and some apps. Same goes for students – there are much better options out there and getting a device this old makes no sense.
For developers however, it is a totally different story. Many have gotten it refurbished – and since it is an older model, the price is even lower than expected – and installed Linux on it (GalliumOS is an obvious and popular choice).
That way you get a reliable, durable, good-looking laptop with good components and an incredible screen. Actually the display is the best part – a really great 12.85-inch, 2,560 × 1,700 touch display with a 3:2 aspect ratio, that might still give Apple a run for their money.
Storage is 32 or 64GB and unlike many Chromebooks, it is SSD; RAM is 8 or 16 GB and CPU is Intel Core i5-5200U or Intel Core i7-5500U with integrated HD Graphics 5500.
All in all, what used to be a great and expensive Chromebook a few years ago is now a machine that's definitely not for everyone. But for some, it's a steal.
Keep in mind however, that battery life is significantly lower than what we have become used to – depending on your load, it could be somewhere between 2 and 4 hours.
6. HP Chromebook X2
Specification:
CPU: Intel Core m3-7y30 @ 1.0 GHz | GPU: HD Graphics 615 | RAM: 4GB DDR3 | Storage: 32GB eMMC | Display: 12.3 inch @ 2400x1600 | Ports: USB 3.0, 2 x USB-C | OS: Chrome OS | Release date: Jun 2018
Where to buy?
A very popular Chromebook and with good reason – the HP Chromebook X2 is a premium 2-in-1 convertible. Unlike the folding type of convertibles, this model actually has a screen that fully detaches from the keyboard.
It is worth mentioning – the X2 looks really good, it is stylish and sleek, it feels good to work on, it is durable and high quality all-around.
The touchscreen display is 12.3-inch, QHD (2,400 x 1,600) and it works great with the free Active Pen included in the box. The processor is Intel Core m3-7Y30, RAM is perfectly acceptable 4GB and storage is 32GB, which is fine for a chromebook.
The keyboard is also really nice to work with – good travel and well-spaced keys.
Battery life is good and depending on the brightness of the screen (and it is really bright, so we suggest you spend a few minutes calibrating it), it should last you between a decent 7 and a wonderful 10 hours.
The price of the X2 usually puts many people off but of course, getting it refurbished won't cost as much.
Keep in mind, when using it as a laptop in your lap, the screen has some wobble (not so much on a desk), but when detached it really feels like you are working on a tablet.
Also as with many other Chromebooks, the storage is eMMC – not as good as SSD and not upgradeable, but for most people it's not an issue at all.
Buyers guide
The most important thing about chromebooks is, of course, Chrome OS – for people used to Windows laptops or Apple products, it might just be too strange.
But for those who are willing to give it a chance and preferably already use Chrome as a browser on their PC, it is fast and reliable. And there is no need to set up or update anything, no worrying about viruses or anything like that.
You do need reliable internet access however, since many applications will require it and most of your files will be online and not stored on the chromebook itself.
Speaking of storage, another thing to note: most chromebooks have eMMC storage, not SSD, which means it's lower class and cannot be upgraded. But for chromebooks and for most people it shouldn't be an issue.
Do refurbished chromebooks have touchscreen?
Touchscreen functionality depends on the model but many chromebooks have it and it's usually a pleasure to work with. Obviously every convertible chromebook has touchscreen, so you can use it as a tablet as well as a laptop, whether it's a detachable or flip design. The ASUS Flip C302 has a 360-degree hinge and magnets, while the HP Chromebook X2 has a completely detachable keyboard.
Do refurbished chromebooks have pens?
Depending on the model, you can get a touchscreen chromebook that comes with a pen, right out of the box – the Samsung Chromebook Plus for example. Or you can get a stylus of your choice, just make sure it will be compatible.
What is the battery life of refurbished chromebooks?
Any quality recertified device will have the same battery life as a new one and for most chromebooks that means quite a lot. You have plenty of options so we suggest you don't settle for anything lower than a full business day.
Better yet, aim at 9 hours to have something left over. And always keep in mind battery life depends on usage so the impressive hours companies claim might turn out to be rather less impressive in real life.
Are refurbished chromebooks durable?
As a rule, yes, refurbished chromebooks can withstand quite a lot – if a product is well made the fact that you're getting it refurbished makes no difference. The process of recertification includes checking and fixing any issues with the components and the body itself.
Of course, not every machine can survive as many drops and spills as the 11-inch Dell Chromebook 3100, but it is built especially for this purpose – that's why it's perfect for clumsier kids. But the other chromebooks we've selected and reviewed here are also tough, durable devices with chassis, made entirely or mostly from aluminum.
What is the best processor for a refurbished chromebook?
Chromebooks are meant mostly for online use with most of your data in the cloud, so specs are not as important as they are for Windows laptops, for example. Still, there are some basics you need to know and of course, everyone wants to know what they are getting for their money.
The processor in a Chrome OS device will decide how smoothly you'll browse in multiple tabs, stream video or play games. If possible (your budget allowing), opt for an Intel Core CPU but if you are not planning to use many Android apps and you don't like too many tabs open, the commonly used Intel Celeron chip might be acceptable.
How much RAM for a refurbished chromebook?
Most chromebooks have 2 or 4GB of RAM (8GB is more of an exception) and while some users are just fine with the lower RAM, we suggest getting 4GB – it makes multitasking much easier and smoother. True, we are talking chromebooks, but still – you will likely have quite a few tabs open, maybe an app or two as well.
Of course, models with more RAM are more expensive so really think about what you usually have opened in your Chrome browser on your PC. Also, getting a refurbished chromebook means you are paying less (than a new model), so you might be able to afford more (in terms of specs).
Laptops
Refurbished Microsoft Surface 2 in 1 Laptops
MS Surface is one of the best devices you can find for digital handwriting and note taking – a useful feature …
Laptops
Classic Refurbished Dell XPS 13 Laptops
If you are looking for an ultrabook type of refurbished laptop – super light, slim, durable, and easy to carry …
Laptops
Refurbished Razer Blade 15 Compared
We have used a refurbished Razer Blade 15 and the performance was very good with no major issue with …
Laptops
Excelent Refurbished ZenBook Laptops
If you are looking for a compact ultrabook and a reasonable price, consider a refurbished Asus Zenbook …