Laptops with HDMI 2.1 output for 4K 120 Hz TV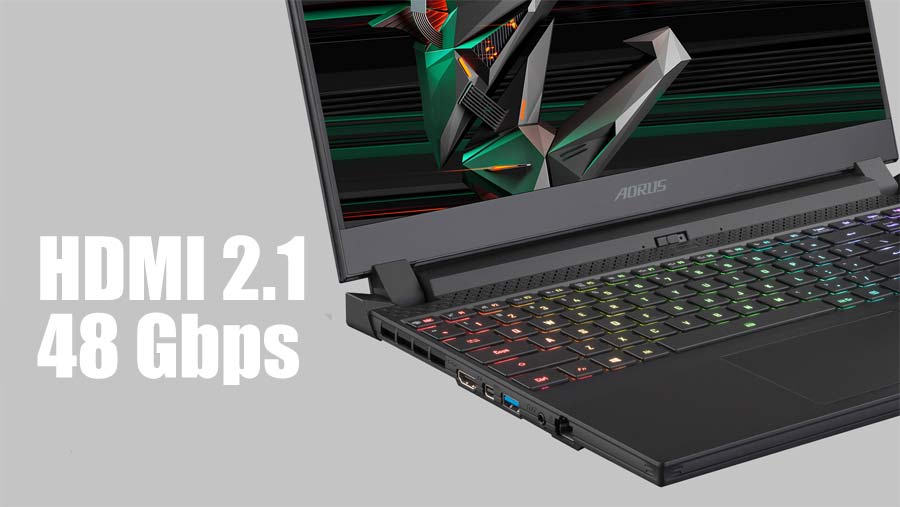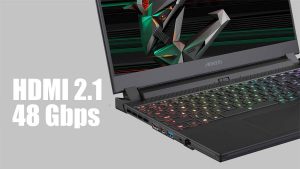 Disclaimer
---
We are supported by our readers. When you use links on our site to buy products, we may earn an affiliate commission. As an Amazon associate we earn from qualifying purchases.
---
We are supported by our readers. When you purchase through links on our site, we may earn commission.
If you have a 4K 120 Hz TV like LG C1 or Samsung Q80T and you want a PC gaming experience in the living room, you have two options. Either drag your Desktop to the living room or connect a laptop to the TV.
Setting up a desktop in the living room is not always the best option. Usually they are they are big, have lots of cables, and they may not sit well with your interior. That's why choosing a laptop looks like a more natural solution.
There is only one small problem – not all laptops have HDMI 2.1, most models use DisplayPort 1.4 to output 4K resolution, and TVs don't (not always) have DP.
Related read: Best TVs with DisplayPort
In this article we list some of the best laptops with HDMI 2.1 that support 4K 120+ Hz.
Razer Blade 15 Gaming Laptop 2021 Edition
Razer Blade 15 is a small technological marvel and can easily be considered as a portable alternative to a desktop computer. If settled on this model, we strongly recommend the Advanced version. The RTX 3080, QHD display, and real RGB Chroma will make all the difference in the long run.
There are many variations of Razer Blade 15 and all of them have HDMI 2.1. We are listing one Base and one Advanced model you can choose from.
Razer Blade 17 Pro Gaming Laptop 2021 Edition
Razer delivers decent results with the Blade Pro 17 2021. It works both as a workstation and a gaming PC and provides more performance than some awful pre-built desktops.
Although the Blade Pro 17 is very slim, thanks to Intel's eight-core Core i7 10875H and Nvidia's RTX 3000 GPU, it can easily handle even the most modern games.
There are a couple of variations of the Pro 17 2021 and all of them have HDMI 2.1 port, making this laptop suitable to connect to your TV.
Gigabyte Aero 2021 Edition
The 2021 model of Gigabyte Aero is perfect for users whose work requires computing power and a sharp, high-contrast, calibrated display.
It has all the necessary ports like Ethernet, HDMI 2.1, Thunderbolt 3 and a fast card reader.
The CPU performance, compared to other laptops, is remarkable. From an efficient 38 watts option to a fast, but significantly less efficient 62 watts setting.
The 2021 model comes with a video card from the RTX 3000 series. The combination between the GPU and the Intel Core i7 10th gen CPU makes the AERO capable of running lots of games with over 120 FPS.
All Gigabyte Aero models have HDMI 2.1 and are compatible with modern TVs.
Gigabyte Aorus 2021 Edition
Gigabyte Aorus 2021 edition is a great laptop for gaming and media consumption.
The faster memory, 10th gen Core i7, and the RTX 3000 series GPU offer plenty of performance to handle even modern AAA titles.
The screen is FHD, IPS, 240 Hz and offers stable viewing angles, a matt surface, and short response times with decent color space coverage, although the maximum brightness ican be better.
The main unique feature about this laptop is the keyboard. It is running a new type of Omron-switch. They need some time to get used to, but once you do the keyboard feels great.
Alienware m17 R4 2021 Edition
The Alienware m17 R4 is great. It is well built with stylish design and LED RGB goodness.
Once again Dell has done a great job with the keyboard touchpad. The display also performs very well: it outperforms similarly fast panels with a lower black value and a higher contrast.
The 2021 model uses 10th gen Core i7 CPU and RTX 3000 graphics card.
The graphics performance achieved by the mobile GeForce RTX 3080 is remarkable. Dell grants the GPU a particularly generous TDP. Very high refresh rates are achieved in current games.
Asus ZenBook Pro Duo 15
(Intel Core i7, 32GB RAM, 1TB NVMe SSD, NVIDIA GeForce RTX 3060 6GB, 15.6″ FHD 144Hz IPS-Level, Windows 10 Home) Gamer Laptop Computer
The real highlight with this model is the extremely high performance even on high loads.
It has a great 4K OLED screen, practical additional display, and high end components. The ZenBook Pro Duo 15 is a good laptop for content creators and gamers. It is extremely powerful and packs performance similar on par with some workstations.
The 4K OLED screen has excellent black levels and extremely fast response times. However, the brightness is not perfect despite the full coverage of the P3 color space.
Schenker XMG Neo 15
Schenker XMG Neo 15 is a powerful laptop with a sturdy metal construction and enormous performance potential. The chassi well built and has a good design.
With this model you get a mechanical keyboard and a decent trackpad.
The actual focus of the laptop is on performance. Both the CPU and the GPU achieve very good results in the synthetic benchmarks and in games. The Tiger Lake CPU Core i7-11800H is particularly good and is on par even with some recent AMD models.
In terms of connectivity the highlight is on Thunderbolt 4 port. In addition you get a HDMI 2.1 port and a 2.5 Gb / s LAN port.
Together with the built-in Thunderbolt 4 port you get and built-in SD card reader and excellent solution
The Schenker XMG Neo 15 offers excellent performance in a slick small format chassis.
Do most laptops have HDMI 2.1 ports?
With the introduction of last generation graphics cards more and more computer companies now equipe their laptops with HDMI 2.1. Currently there are a lot of models with HDMI 2.1 capable ports. Adding HDMI 2.1 is perfect for content creators and gamers who want to use 10 bit RGB (HDR-10) color at 4K with 120 or 144 Hz refresh rate.
Can laptops with HDMI 2.1 run 4K 120 Hz?
Laptops paired with last generation graphics cards, like RTX 3080 with HDMI 2.1, will be able to output 120 Hz at 4K resolutions. This is possible only with slightly older games on less demanding graphical settings. Triple A tiles set on ultra or high settings will perform with an average of 30-40 FPS.
Can laptops with HDMI 2.1 run 4K 144 Hz?
Only laptops with the most recent and powerful graphics cards (RTX 3080M or RX 6800M with HDMI 2.1) will be able to output 144 Hz at 4K resolutions while gaming. This is possible only with older games on less low settings. Newer, AAA tiles set on ultra or high settings, are not playable at 4K 144 Hz.
Can you connect a laptop to TV through HDMI 2.1?
If your laptop has an HDMI 2.1 capable port you can connect to a TV supporting the HDMI 2.1 standard. This is usually true for most recent models manufactured by LG, Sonny, and Samsung. These devices are developed with gamers in mind and have the added benefit of G-Sync and FreeSync technology with low input lag.
Allan Witt
Allan Witt is Co-founder and editor in chief of Hardware-corner.net. Computers and the web have fascinated me since I was a child. In 2011 started training as an IT specialist in a medium-sized company and started a blog at the same time. I really enjoy blogging about tech. After successfully completing my training, I worked as a system administrator in the same company for two years. As a part-time job I started tinkering with pre-build PCs and building custom gaming rigs at local hardware shop. The desire to build PCs full-time grew stronger, and now this is my full time job.
Guides
TV models with DisplayPort, low input lag, and refresh rate of 120+ Hz are a perfect solution for …
Guides
This guide is for those of you who want to boost the graphic performance of their Dell OptiPlex…
Guides
How to upgrade Dell OptiPlex xx20 series
Today we are going to show you what is possible when upgrading OptiPlex xx20 series…
Laptops
Excelent Refurbished ZenBook Laptops
If you are looking for a compact ultrabook and a reasonable price, consider a refurbished Asus Zenbook …