Best TVs with DisplayPort, 4K 120Hz and 144Hz support
Disclaimer
---
We are supported by our readers. When you use links on our site to buy products, we may earn an affiliate commission. As an Amazon associate we earn from qualifying purchases.
---
We are supported by our readers. When you purchase through links on our site, we may earn commission.
Best TV models with DisplayPort, low input lag, and refresh rate of 120+ Hz. Perfect solution to bringing PC gaming to the living room.
| | | | | | |
| --- | --- | --- | --- | --- | --- |
| Model | Resolution | Refresh rate | Size | Response time | Price |
| Philips Momentum 558M1RY | 4K | 120 Hz | 55″ | 4 ms | Current price |
| Asus ROG Swift PG65UQ | 4K | 120 Hz (144 Hz 4:2:2 subsampling) | 65″ | 4 ms | Current price |
| HP Omen X Emperium 65 | 4K | 120 Hz (144 Hz 4:2:2 subsampling) | 65″ | 4 ms | Current price |
| Alienware 55 OLED | 4K | 120 Hz | 55″ | 1 ms | Current price |
High input lag and low frame rates was one of the reasons why PC gamers have shied away from using a television instead of a monitor. But times have changed and modern TVs are changing this notion and giving a better gaming experience in the living room. Now there are TVs with low input lag, response rate and functions like 4K@120Hz/144Hz, VRR, G-Sync, FreeSync, ALLM or HDR.
To access all those features, including 8-bit 4:4:4 HDR you need either HDMI 2.1 or DisplayPort 1.4 capable TV and video card.  This article is for those of you who want all these features but packed in TV with DisplayPort.
Best TVs with DisplayPort you can buy today:
Philips Momentum 558M1RY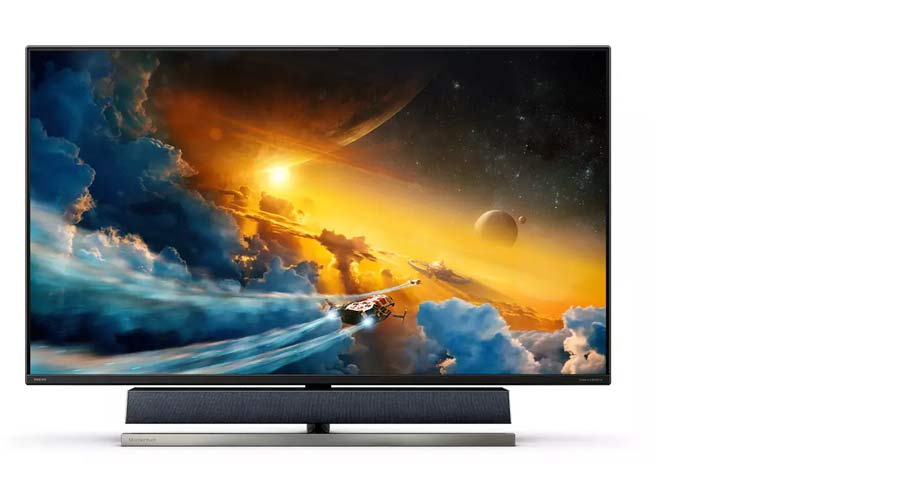 The 558M1RY is a 55 inch TV from Philips equipped with DisplayPort. The TV is made for PC and console gamers in mind.
The model comes with the usual features of a properly equipped 4K HDR TV. The resolution ensures sufficient image sharpness, while the luminosity makes for intense HDR effect, providing the source allows this.
The TV also comes equipped with 120 Hz refresh rate for a smooth gaming experience. If you want to edit media, the 558M1RY is also suitable for this – 125% of the sRGB and 95% of P3 space are covered.
For video input you have 3x HDMI 2.0 and 1x DisplayPort 1.4, ports enough to connect PC, console, and a streaming device.
There are no smart features and the TV that can only display the signal coming in through the input ports. However you can use the ports to connect Roku or FireTV to add some "smart" functionality. The model has a remote control to switch between the available input devices and to manage the picture settings.
On the back there is also the Ambiglow system, a signature of Philips televisions, which provides lighting that is complementary to the color and brightness content displayed at the moment.
Below the panel there is a soundbar with rich sound features.
The huge Philips Momentum 558M1 is a great TV / monitor for gamers. It has brilliant colors with excellent brightness and high sharpness. The DisplayPort and the 120 Hz functionality makes gaming perfect.
Asus ROG Swift PG65UQ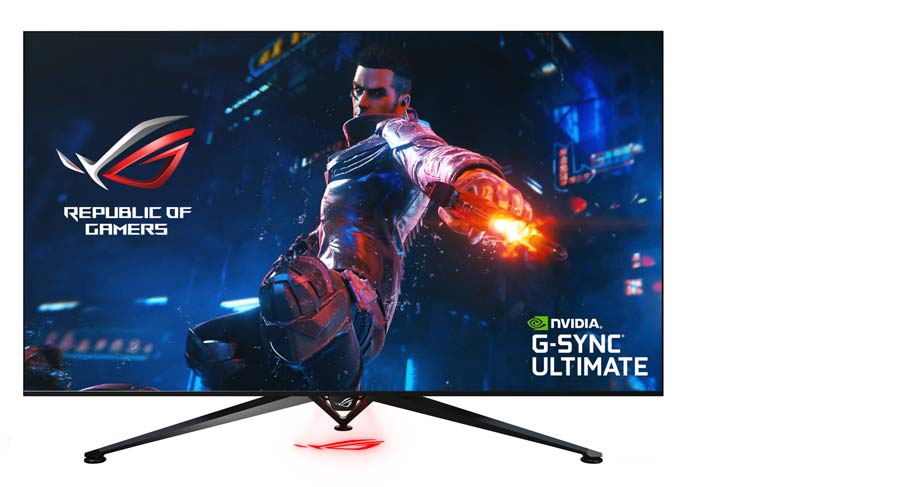 Asus is the second manufacturer in our list to produce a Big Format Gaming Display (BFGD). The DisplayPort 1.4 and the lack of HDMI 2.1 makes it perfect for a PC gaming setup in the living room.
The DisplayPort 1.4 bandwidth is sufficient for smooth gaming experience at 4K 120 Hz. If you have a capable video card it makes sense to overclockable the DP to 144Hz 4:2:2 Chroma subsampling for even more FPS. Thanks to the high screen scaling we cannot find any major quality differences between 4:4:4 and 4:2:2. For those of you who want the absolute best regarding the color experience there is an option for 10-bit color at 98 Hz.
Asus ROG Swift PG65UQ has no smart functionality and you need some form of streaming source to make the device "smarter". Nvidia Shield or Roku are two of the most used solutions. The device has a remote control so you can change between gaming and streaming easily.
The 65-inch panel uses VA technology with a quantum dot layer. The VA technology in LCD panels allows for a low black level, making this TV capable of high contrast values. This is the same panel used in HP Omen X 65, making the two displays very similar with only minor differences .
This is a proper HDR 1000 display, that presents a superb experience, and even with content that is not HDR enabled, the picture is still great. If for example, there is an ingame explosion or a bright light shines during the night, that will create a very distinct wow effect. The HDR with a peak brightness of just over 1,200 cd/m² with fully dimmable background light, delivers a huge added value compared to conventional and significantly cheaper gaming monitors.
Like every Asus model, this one also is pre-calibrated with G-Sync Ultimate and comes with excellent color fidelity.
HP Omen X Emperium 65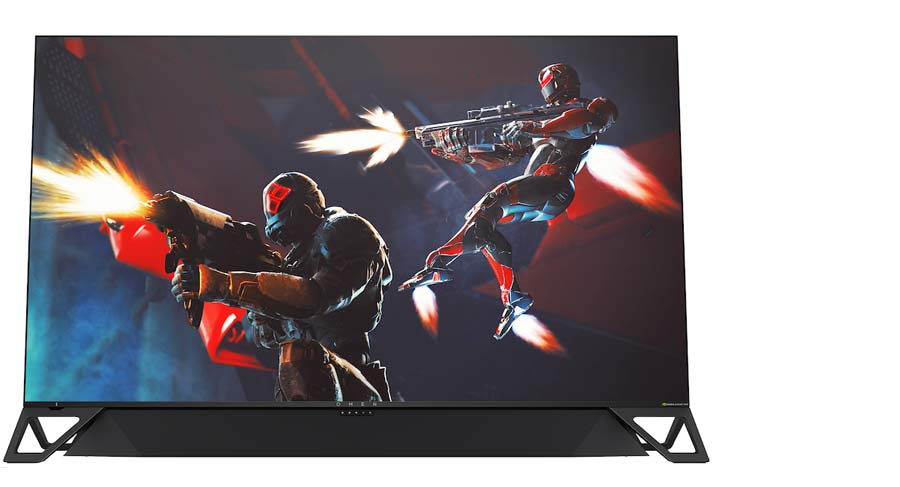 This huge monitor definitely impresses with specs. Ultra HD with 3840x2160 pixels resolution, 64.5 inches in size, 144Hz refresh rate, and G-Sync support. This means that the variable frame rate works together with HDR display – the latter currently in the best possible variant. That means a peak brightness of over 1,000 cd/m² with 384 locally dimmable zones of background lighting.
Another important feature is the integrated Nvidia Shield, which adds a "smart" layer on top of the Omen's bare bones.
The TV has a remote control and small five-way stick at the back for easy navigation, Although, the remote control is much more convenient to use. The remote control is the same model that comes with the Shield console, and includes voice control.
Like all monitors with G-Sync-Ultimate, all BFGDs, including the HP Omen X Emperium 65, have a fan on the module. This also runs constantly and can be heard when the room is quiet. However , it can no longer be heard with game sound or even with a headset .
Alienware 55 OLED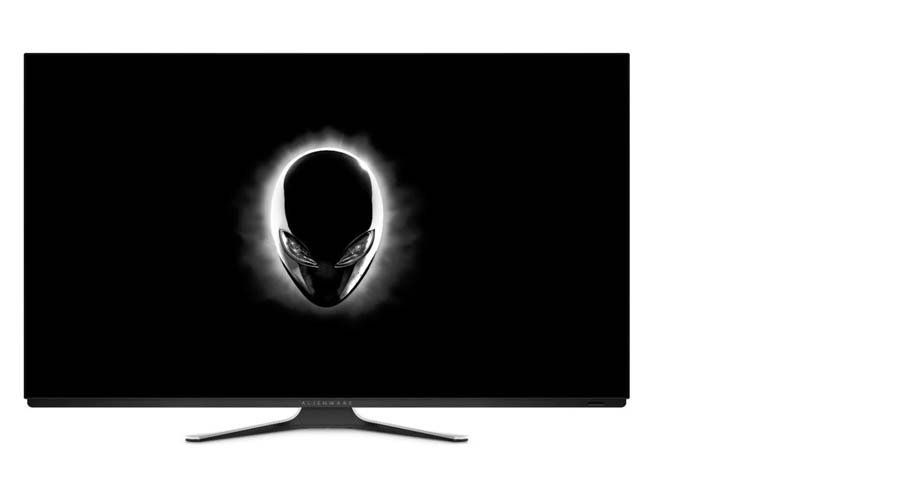 Alienware 55, the only OLED display in our list, has a maximum refresh rate of 120Hz and works at 4k resolution. This makes for extremely smooth animations when gaming,  provided you have the hardware to support this beast.
As expected the OLED technology gives a pitch black blacks; after all each pixel can be turned off individually. This, the OLED tech, and the fast pixel response time (5ms) eliminates completely any ghosting effect and makes gaming events better.
With Alienware 55 you've got a single USB 3 uplink and 4 downlinks, optical audio, DisplayPort 1.4, and 2xHDMI 2.0 ports.
The display is FreeSync ready, but as some of you may know there is an option to force enable Nvidia G-sync over FreeSync, so no problem there.
The model has a remote control, but no button to switch between the inputs. You have to use the TV menu to switch between the available sources.
Overall gaming on Alienware 55 is fantastic. The pixel response time is very low and there isn't any noticeable response lag.
---
Some FAQs about TVs with DisplayPort
There are benefits of using DisplayPort TV, especially if your video card has no HDMI 2.1 or you want a low input lag and better response rate. Checkout the next couple of answers to make a better purchasing decision.
Can I connect my video card to DisplayPort TV?
If you have a DP compatible video card you can connect to DisplayPort capable TV. The only variable is the version of the port. If you have 1.2 you are locked at 4K resolution with 75Hz refresh rate. While with the 1.4 version of DisplayPort you will have 4K 120Hz by default and 144Hz when overclocked.
Do TVs have DisplayPort
Yes, there are TVs that have DisplayPort. These models have very low input lag  and the refresh rate similar to gaming monitors. They have remote control for input signal change, but usually lack a proper TV tuner, adding requirement for a streaming player like Roku or Nvidia Shield.
Why is DisplayPort not popular with TVs?
Display port is not popular with TVs because most of the media devices used in the living room are already equipped with the HDMI port. Also the new HDMI 2.1 standard is capable of doing 10-bit HDR at 4K with 144Hz refresh rate, making the DisplayPort 1.4 unnecessary for TVs.
Another reason is that the HDMI standard was developed by a group of TVs manufactures like Sony, Panasonic, Philips, etc. Thus all of their TVs and devices use the HDMI port.
Do TVs with DisplayPort support 4K at 144Hz?
Yes, most TVs with DisplayPort are using 1.4 standard which is capable of doing 4K 144Hz, either through DSC compression or by lowering down to 4:2:2 Chroma subsampling.
Do TVs with display ports have less lag?
Generally yes. TVs with DisplayPort have less input lag because they use the same display technology as monitors. In contrast TVs are doing a lot more image processing for a better movie experience. However, with the introduction of newer generations of consoles, TVs are much more responsive.
Guides
In this article we talk about laptops with HDMI 2.1 support. This new standard is perfect for…
Guides
Dell Outlet and Dell Refurbished Guide
For cheap refurbished desktops, laptops, and workstations made by Dell, you have the option to use …
Guides
Refurbished, Renewed, Off Lease
When you are looking for refurbished computer, you often see – certified, renewed, and off-lease placed in …
Laptops
Excelent Refurbished ZenBook Laptops
If you are looking for a compact ultrabook and a reasonable price, consider a refurbished Asus Zenbook …