Best place to buy refurbished laptops in 2021
Disclaimer
---
We are supported by our readers. When you use links on our site to buy products, we may earn an affiliate commission. As an Amazon associate we earn from qualifying purchases.
---
Refurbished laptops are sold mostly online, with some offline shops keeping stock for their local customers. Usually, they are listed as refurbished, but you can find them as renewed, renovated, remanufactured, or restored. There are hundreds of places to buy consumer, business, and gaming refurbished laptops, but the sites listed below have some form of buyer protection and are the best in terms of warranty, availability, and price.
Dell Outlet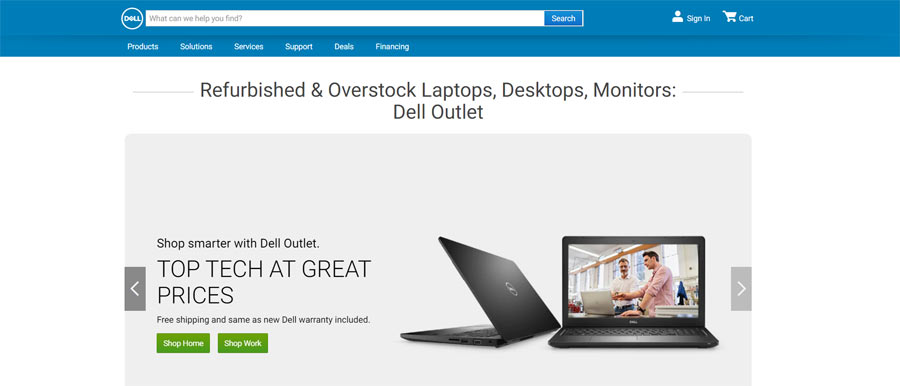 Dell Outlet sells entry-level, business class, and gaming laptops from their current generations. If you are interested in the enterprise they also keep a stock of servers and monitors. At the store, the devices are mostly canceled orders, and returns, segmented into three distinct categories:
Dell Outlet New
These are refurbished laptops that have never been turned on. You can get either an open-box or a completely new device.
Dell Certified Refurbished 
Returned laptops that went through testing and repairing (if necessary) to meet the condition of a new system.
Scratch and Dent
The same as number two but with slight blemishes and small dents. They are also certified refurbished.
Dell Outlet is the best place to buy refurbished last-gen Dell laptops, but they are exceptionally good when they have discount deals.
Dell Refurbished
Second, on our list is Dell Refurbished. This is the place for well-built business-class laptops between three and six years old with good specs and built quality. Refurbished models here are mostly devices sourced from Dell's off-lease deals. If you are not a gamer and you are looking for something for work or at home, thi is the place.
Here the variety of refurbished laptops is somewhat narrower because most of the listings are r Latitude models, with some XPS and Precision here and there. Consider Dell Refurbished if you look for good, cheap, premium grade business laptops.
All devices are used, and Dell has assigned a grading system to distinguish the models.
They are using the following grading system:
Grade A – Very good cosmetic condition with slight signs of use.
Grade B – Good visual condition. May have scratches or dents. Lower visual quality than grade A and also cheaper.
Computers in both grades have the same functional condition.
If you are interested in refurbished desktops we have excellent summary for a couple of Dell refurbished models. For those of you looking for laptop check our Best refurbished Dell laptops guide.
Lenovo Outlet
Lenovo Outlet store sells both consumer and professional grade computers. They have a big selection of Lenovo Thinkpad, IdeaPad, Legion, and Chromebook refurbished laptops.
The restock is quite random and you have to be fast to snatch a good deal, but the prices sometimes are so low, it's hard to believe. You just need to be ready to buy right after the outlet restocks.
They segmented the laptops into three different categories:
New
Refurbished
Scratch and dent
Amazon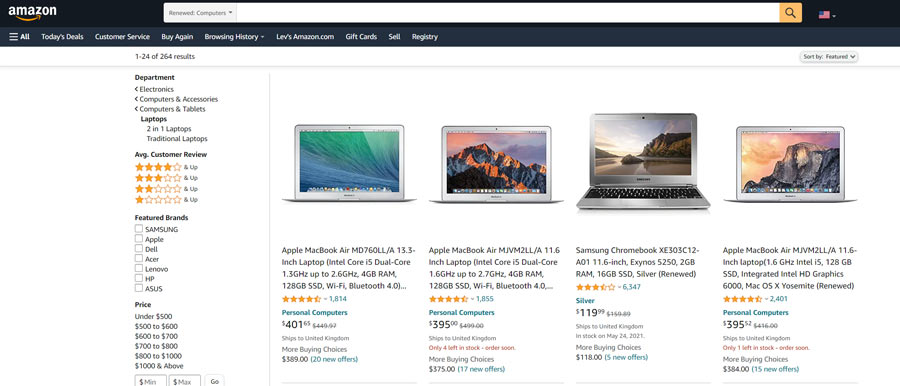 Lots of refurbished business class and consumer graded laptops, mostly from HP, Lenovo, ACER, Dell, and Apple. Amazon is one of the places to snatcha good MacBook Pro and MacBook Air deal.
Keep in mind that most of the refurbished laptops sold on Amazon are by third-party sellers. And because there are third-party sellers involved, the product range and quality may vary – factory refurbished, vendor refurbs, warranty return refurbs are some of the possible options. If you are buying renewed, be ready to return it and go through the refund process.
All major brands are presented, with business, consumer, and gaming graded laptops.
All units are marked as Renewed have a 90 days guarantee and 14 days return policy. Some sellers provide longer warranty periods (one year), but you have to contact them directly and ask.
Newegg
Another good place for refurbished laptops with lots of offers. More than a hundred pages with both certified and seller refurbished models. We give a big plus to Newegg for their advanced hardware selection filter – a real timesaver.
Apple
Apple's online store for certified refurbished laptops has lots of good options for recent MacBook Pro and MacBook Air models.
Refurbished laptops sold on their site are indistinguishable from new because Apple has taken a different approach from their competitors and choose not to sell laptops with scratches, dents, or any other type of cosmetic flow. The only difference is they come in a brown box instead of a pretty white one.
eBay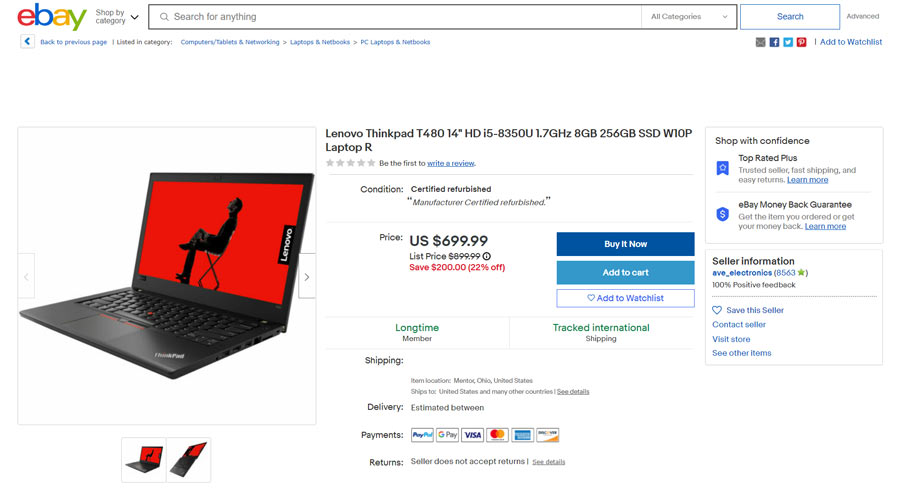 eBay recently launched a program letting their users mark laptops they sell as either certified refurbished or sellers refurbished.
All laptops must meet strict requirements to have certified refurbished label:
Few or no visible blemishes;
Sold by manufacturer or sourced directly from him;
Manufacturer warranty, free shipping, and 30-day free returns;
New packaging
These rules are important and they make purchasing a refurbished device safer than before. The warranty for each laptop is a minimum of one year and there are many listings with a two-year warranty.
There are numerous listings of certified refurbished laptops for business use, gaming, school work, and general home use.
Best Buy
They have a huge selection of offers at very competitive prices. Specification information is well presented and easy to find.
Refurbished products at Best Bay store are repaired and restored either by one of Best Buy's in-house repair centers (including Geek Squad), the manufacturer, or a third-party company. The products have all original parts and accessories.
Walmart
Lots of renovated models. They also have a good product filter that will save you time while searching.
In terms of choices, you have a wide variety of brands and models to choose from – Lenovo, Dell, HP, and Apple with their consumer grade, workstations, and business class computers.
Hewlett Packard Outlet (HP)
Refurbished laptops sold through HP Outlet are fully functional models that have been returned for a variety of reasons. Possible reasons for a laptop to end up at their outlet, are customer's returns, canceled orders, opened box, devices with cosmetic imperfections, or damaged packaging.
There are many good offers there, but most laptops for the ZBook, Elitebook, Probook, and Chromebook series.
Keep in mind that HP has a different approach to selling their refurbished stock. The units are available only through a downloadable product list (hard to navigate) and the order goes through the phone.
Discount Electronic
Discount Electronics has been selling refurbished laptops for over 20 years online and in their retail store. They have a wide selection of refurbished models from all major manufacturers. All their offers come with a 1-year warranty.
Discount Electronic gives you the option to reconfigure some of the laptop specs, like RAM and storage.
Best place to buy refurbished laptops on sale in the UK
GigaRefurb
GigaRefurb is one of the leading online retailers for Refurbished IT Equipment. From their 10,000 sq, ft warehouse based in Manchester Lancashire they are selling refurbish computers all over the world.
Laptops Direct
UKs largest online laptop specialist with lots of refurbished offers. They are based in Huddersfield and have a huge head office which features a massive showroom showing their laptops. They also have a  distribution center in Huthwaite where they dispatch well over 1000 orders every day!
They apply a three-level grading system to distinguish between the laptops.
Grade A1 – As New
Open-box only
No signs of use, the product is similar to a new one
Grade A2 – Slight Cosmetic Damage
Slight wear on keys, very slight marks on the chassis.
Grade A3 – Cosmetic Damage
May include scratches to the chassis or upper plastics, loose hinges, missing flaps or bezels, and minor structural damage which has been repaired.
Product description gives info about missing parts.
Dell Refurbished UK
The same as the US store, the laptops from Dell's older generations. Most of the machines here are off-lease business laptops.
Here the selection of refurbished laptops is narrower because most of the computers are business models. Consider Dell refurbished if you look for good, cheap, premium grade, business laptops.
All devices are used, and Dell has assigned a grading system to distinguish the models.
Amazon UK
Lots of refurbished business class and consumer graded laptops, mostly from HP, Lenovo, ACER, Dell, and Apple. Amazon UK is a good place for refurbished MacBook Pro and MacBook Air deals.
Similar to the US, most of the refurbished laptops are sold and delivered by third-party sellers. Although all units are marked as Renewed and have a 90 days guarantee and 14 days return policy, some sellers provide longer warranty periods.
eBay UK
eBay has the same program in the UK as in the US, they sell both certified refurbished and sellers refurbished. The requirements are the same – good visual quality, sold or sourced by manufacturer, manufacturer warranty, and new packaging.
There are numerous listings for consumer, business, and gaming certified laptops with good prices.
Morgan Computers
Morgan is now one of the UK's leading dealers in surplus, overstock, refurbished, and closeout computer stocks. Equipment is typically sourced direct from manufacturers and large distributors and sold directly to the end user.
Desktops
Dell refurbished desktop computers
If you are looking to buy a certified refurbished Dell desktop computer, this article will help you …
Guides
Dell Outlet and Dell Refurbished Guide
For cheap refurbished desktops, laptops, and workstations made by Dell, you have the option to use …
Guides
Refurbished, Renewed, Off Lease
When you are looking for refurbished computer, you often see – certified, renewed, and off-lease placed in …
Laptops
Excelent Refurbished ZenBook Laptops
If you are looking for a compact ultrabook and a reasonable price, consider a refurbished Asus Zenbook …