Laptops without webcam – List Includes 2021 Intel and Ryzen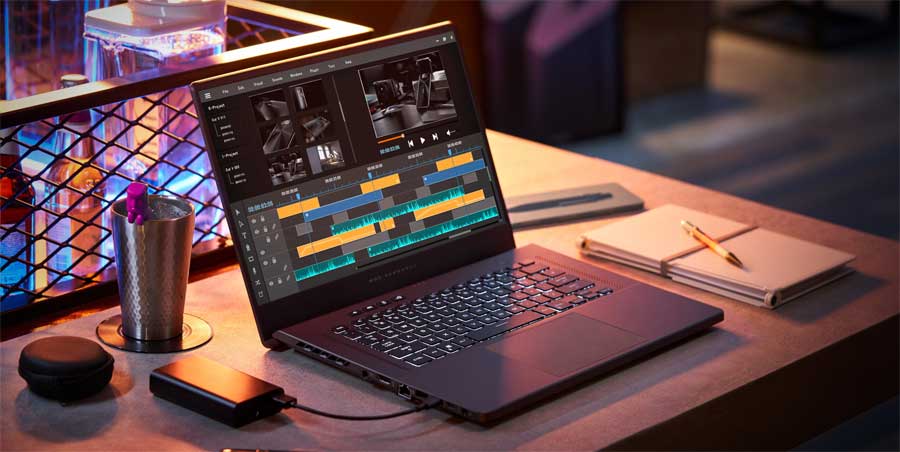 Lack of a webcam may be a deal breaker for many people, but there are those who like their laptops without one. Usually these people are concerned about their privacy, want narrow bezels and thin display profiles, or just prefer the quality of the external models.
Whatever the reason, it helps to have an organized list of best laptop models with no webcam and help you make better purchase decisions.
That is why we assembled the following table. The list contains laptops that have no built-in web camera. We have both Intel and Ryzen based devices from manufacturers like Asus, HP, Lenovo, and Dell. Each row contains model specification and link leading to the current price information. The table contains older refurbished models and laptops manufactured between 2019 and 2021.
We try to keep the list fresh by adding newly released models.
Best laptops without webcam:
| Model | CPU | GPU | RAM | Resolution | Display size | Weight | Price |
| --- | --- | --- | --- | --- | --- | --- | --- |
| ASUS ROG Zephyrus G14 14″ (2020) | AMD Ryzen 7 4800HS 8-core | NVIDIA GeForce GTX 1650 4GB | 16GB DDR4 | 1920x1080 | 14 | 3.64 lbs. | Current price |
| ASUS ROG Zephyrus G14 14″ (2021) | AMD Ryzen 9 5900HS 8-core | NVIDIA GeForce RTX 3070 6GB | 16GB DDR4 | 1920x1080 | 14 | 3.74 lbs. | Current price |
| ASUS ROG Zephyrus Duo SE 15 | AMD Ryzen 9 5900HX 8-core | NVIDIA GeForce RTX 3080 16GB | 32GB DDR4 | 1920x1080 | 15.6 | 5.47lbs | Current price |
| ASUS ROG Zephyrus G15 (2021) | AMD Ryzen 9 5900HS 8-core | NVIDIA GeForce RTX 3070 6GB | 16GB DDR4 | 2560x1440 | 15.6 | 4.19 lbs. | N/A |
| ASUS ROG Zephyrus S15 (2020) | Intel Core i7-10875H 8-core | NVIDIA GeForce RTX 2070 Super 8GB | 16GB DDR4 | 1920x1080 | 15.6 | 4.20 lbs. | N/A |
| ASUS ROG Zephyrus M15 (2020) | Intel Core i7-10875H 8-core | NVIDIA GeForce RTX 2070 Max-Q 8GB | 16GB DDR4 | 1920x1080 | 15.6 | 4.43 lbs. | N/A |
| ASUS ROG Zephyrus S17 (2021) | Intel Core i9-11900H 8-core | NVIDIA GeForce RTX 3080 16GB | 32GB DDR4 | 3840 x 2160 | 17.3 | 5.73 lbs | Current price |
| ASUS ROG Strix G17 (2021) | AMD Ryzen 9 5900HX 8-core | NVIDIA GeForce RTX 3060 6GB | 16GB DDR4 | 1920x1080 | 17.3 | 5.95 lbs. | Current price |
| ASUS ROG Strix Scar 15 (2020) | Intel Core i9-10980HK 8-core | NVIDIA GeForce RTX 2070 Max-Q 8GB | 16GB DDR4 | 1920x1080 | 15.6 | 5.70 lbs. | N/A |
| ASUS ROG Strix Scar 15 (2021) | AMD Ryzen 9 5900HX 8-core | NVIDIA GeForce RTX 3080 16GB | 32GB DDR4 | 2560x1440 | 15.6 | 5.85 lbs. | N/A |
| ASUS TUF Dash F15 (2021) | Intel Core i7-11370H 4-core | NVIDIA GeForce RTX 3060 6GB | 40GB DDR4 | 1920x1080 | 15.6 | 4.40 lbs. | N/A |
| Dell Precision 7510 (2016) | Intel Core i7-6820HQ 4-core | Nvidia Quadro M1000M 2GB | 16GB DDR4 | 1920x1080 | 15.6 | 6.16 lbs. | N/A |
| Dell Latitude E5470 (2016) | Intel Core i5-6200U 2-core | Intel Integrated HD Graphics | 8GB DDR4 | 1366x768 | 14 | 3.38 lbs. | N/A |
| Dell Latitude 7480 (2017) | Intel Core i5-7600U 2-core | Intel Integrated HD Graphics | 16GB DDR4 | 1920x1080 | 14 | 3.01 lbs | Current price |
| Dell Latitude E6430 | Intel Core i5-3320M 2-core | NVIDIA NVS 5200M | 16GB DDR4 | 1366x768 | 14 | 3.38 lbs. | N/A |
| HP ProBook 445 G8 (2021) | AMD Ryzen 3 5400U 4-core | AMD UMA Radeon | 8GB DDR4 | 1920x1080 | 14 | 3.04 lbs. | Current price |
| HP ProBook 440 G8 (2021) | Intel Core i3-1115G4 2-core | Intel Integrated HD Graphics | 16GB DDR4 | 1920x1080 | 14 | 3.04 lbs. | N/A |
| HP ProBook 450 G8 (2021) | Intel Core i3-1115G4 2-core | Intel Integrated HD Graphics | 16GB DDR4 | 1920x1080 | 15.6 | 3.84 lbs. | N/A |
| HP ProBook 455 G8 (2021) | AMD Ryzen 5 5600U 6-core | AMD Radeon Graphics | 8GB DDR4 | 1920x1080 | 15.6 | 3.84 lbs. | N/A |
| HP ProBook 635 Aero G8 (2021) | AMD Ryzen 5 5600U 6-core | AMD Radeon Graphics | 8GB DDR4 | 1920x1080 | 13.3 | 2.20 lbs. | N/A |
| HP ProBook 640 G8 (2021) | Intel Core i5-1135G7 4-core | NVIDIA GeForce MX450 | 16GB DDR4 | 1920x1080 | 14 | 3.04 lbs. | N/A |
| HP ProBook 650 G8 (2021) | Intel Core i5-1135G7 4-core | NVIDIA GeForce MX450 | 16GB DDR4 | 1920x1080 | 15.6 | 3.84 lbs. | N/A |
| HP EliteBook 830 G8 (2021) | Intel Core i5-1135G7 4-core | Intel Iris Xe Graphics | 8GB DDR4 | 1920x1080 | 13.3 | 2.86 lbs. | Current price |
| HP EliteBook 835 G8 (2021) | AMD Ryzen 5 5650U 6-core | AMD Radeon Graphics | 8GB DDR4 | 1920x1080 | 13.3 | 2.86 lbs. | N/A |
| HP EliteBook 840 G8 (2021) | Intel Core i5-1145G7 4-core | Intel Iris Xe Graphics | 8GB DDR4 | 1920x1080 | 14 | 2.97 lbs. | Current price |
| HP EliteBook 845 G8 (2021) | AMD Ryzen 5 5650U 6-core | AMD Radeon Graphics | 8GB DDR4 | 1920x1080 | 14 | 3.02 lbs. | N/A |
| HP EliteBook 850 G8 (2021) | Intel Core i5-1135G7 4-core | Intel Iris Xe Graphics | 8GB DDR4 | 1920x1080 | 15.6 | 3.70 lbs. | N/A |
| HP EliteBook 855 G8 (2021) | AMD Ryzen 5 5650U 6-core | AMD Radeon Graphics | 8GB DDR4 | 1920x1080 | 15.6 | 3.74 lbs. | N/A |
| HP ZBook Power G7 Workstation (2020) | Intel Xeon W-10855M | NVIDIA Quadro T2000 4GB | 16GB DDR4 | 1920x1080 | 15.6 | 4.19 lbs. | N/A |
| HP Zbook Power G8 Workstation (2021) | Intel Core i5-10400H 4-core | Intel Integrated HD Graphics | 16GB DDR4 | 1920x1080 | 15.6 | 2.97 lbs. | Current price |
| HP ZBook Fury 15 G7 (2020) | Intel Core i5-10400H 4-core | NVIDIA Quadro T1000 4GB | 16GB DDR4 | 1920x1080 | 15.6 | 5.33 lbs. | N/A |
| HP ZBook Fury 17 G7 (2020) | Intel Core i5-10300H 4-core | AMD Radeon RX 5500M 4GB | 16GB DDR4 | 3840 x 2160 | 17.3 | 6.55 lbs. | N/A |
| HP ZBook Firefly 15 G7 (2020) | Intel Core i7-10710U 6-core | Intel Integrated HD Graphics | 16GB DDR4 | 1920x1080 | 15.6 | 3.74 lbs. | N/A |
| HP ZBook Firefly 15 G8 (2021) | Intel Core i5-1135G7 4-core | NVIDIA Quadro T500 4GB | 8GB DDR4 | 1920x1080 | 15.6 | 3.74 lbs. | Current price |
| HP ZBook Firefly 14 G7 (2020) | Intel Core i5-10210U 4-core | Intel Integrated HD Graphics | 16GB DDR4 | 1920x1080 | 14 | 2.95 lbs. | N/A |
| HP ZBook Firefly 14 G8 (2021) | Intel Core i5-1135G7 4-core | Intel Iris Xe Graphics | 8GB DDR4 | 1920x1080 | 14 | 2.97 lbs. | Current price |
| Lenovo ThinkPad T460S (2016) | Intel Core i5-6300U 2-core | Intel Integrated HD Graphics | 16GB DDR4 | 1366x768 | 14 | 3.00 lbs. | N/A |
| Lenovo ThinkPad T480 (2018) | Lenovo ThinkPad T480 (2018) | Intel Integrated HD Graphics | 16GB DDR4 | 1920x1080 | 14 | 3.49 lbs. | N/A |
Help & FAQ
Learn how external and built in webcams compare to each other. Find out which one has better…
Guides
In this article we talk about laptops with HDMI 2.1 support. This new standard is perfect for…
Guides
There are hundreds of places to buy a consumer, business, and gaming refurbished laptops, but sites listed…
Laptops
Excelent Refurbished ZenBook Laptops
If you are looking for a compact ultrabook and a reasonable price, consider a refurbished Asus Zenbook …