Disclaimer
---
We are supported by our readers. When you use links on our site to buy products, we may earn an affiliate commission. As an Amazon associate we earn from qualifying purchases.
---
We are supported by our readers. When you purchase through links on our site, we may earn commission.
Compact gaming laptops are a great solution for anyone who wants to keep working and gaming while on the go. This guide explains some of the key features you have to consider before you buy a gaming laptop for work, as well as some of the best models we've tested.
The powerful components are another key feature of gaming laptops, which translates to laptops targeted toward work. Most of these devices are equipped with powerful graphics cards and an i7, i9 or ryzen 9 processor. This is particularly useful for content creators who work with Adobe software packages for video editing and graphics design.
Before we continue with our guide, let's take a quick look at three of the best gaming and work laptops.
Best laptops for gaming and work:
Alienware x14 2022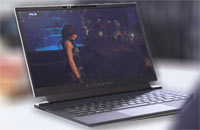 The Alienware x14 is a wonderful surprise that checks off all the right boxes for gaming and work laptop in 2022. The redesigned chassis looks great and doesn't sacrifice performance for its small size. There are some minor issues, like the lack of a FHD webcam, but these are mostly minor issues. If you want a 14-inch gaming laptop that's smaller than most 15-inches and capable of running modern games at 1080p 144HZ, this is easily one of the better choices.
Specification:
Processor: Intel Core i7-12700H 2.7 GHz | Memory: 32 GB | Storage: 2 TB SSD | Display: 14″, 1920x1080, IPS, 144Hz | GPU: Nvidia GeForce RTX 3060 6GB | Networking: Bluetooth, Wi-Fi 6E | Weight: 3.96 lbs (1.8) | OS: Windows 11
Asus Zephyrus G14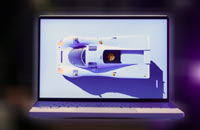 Asus has done a fantastic job evolving the ROG Zephyrus G14. The AniMe Matrix LED display is simply amazing to see in action, whether you're playing games or doing work. The AMD CPU and RTX 3060 GPU combo work well together, and while it can get a little warm under load, that's not out of the ordinary for such a small chassis. If you're looking for high-end performance in a portable package, the Asus ROG Zephyrus G14 should be at the top of your list.
Specification:
Processor: AMD Ryzen 9 5900HS | Memory: 32 GB | Storage: 1 TB SSD | Display: 14″, 1920x1080, IPS, 144Hz | GPU: Nvidia GeForce RTX 3060 6GB | Networking: Bluetooth 5.1, 802.11ax Wireless LAN | Weight: 3.64 lbs (1.6 kg) | OS: Windows 11
Razer Blade 14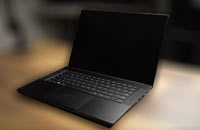 The Razer Blade 14 is a thin and light laptop that comes with a Ryzen 5000 series CPU and Nvidia RTX 3060. As you would expect, given the hardware, this thing is more than capable of playing games. But the biggest surprise is how quiet it runs. Most gaming laptops get loud under load—sometimes as loud as an air conditioner. The Blade 14 just sounds like a fan—which means you can concentrate while gaming and working.
Specification:
Processor: AMD Ryzen 9 5900HX | Memory: 16GB | Storage: 1 TB SSD | Display: 14″, 1920x1080, IPS, 144Hz | GPU: Nvidia GeForce RTX 3060 6GB | Networking: Wi-Fi 6E (802.11ax), Bluetooth 5.2 | Weight: 3.92 lbs lbs (1.72 kg) | OS: Windows 11
Now back to our guide.
Here are some of the features you should consider when buying a laptop for gaming and work.
What is the right display size for work and gaming laptops?
If you have to carry your gaming laptop for longer distances, you should make sure that the device is light enough. That's why 14 inches is the perfect size for a laptop used for office work and gaming. It is compact enough but still has some decent screen real estate.
If you are constantly traveling with the gaming laptop and only have access to limited space, 14 inches are the best. In return, the weight of the notebook drops by several hundred grams and can be stowed away more easily.
Of course the larger the display, the more visible the details are in games. However, with increasing display size, there is also an increase in weight. The weight of a 15-inch gaming laptop can be up to 3 kilograms.
For our use case, a smaller form factor and weight are crucial. For example, there are laptop models from MSI and Razer that weigh less than 1.5 kilos and are therefore easily portable.
Displays of your laptop should be matte (non-reflective) to avoid the reflections made by the glossy displays. Fortunately, now this is standard with most laptops, with the exception of some touch displays, which are usually reflective due to their design.
In terms of screen technology, aim for an IPS display panel for better colors and viewing angles.
Which resolution makes sense for a work and gaming laptop?
Most gaming laptops have 1920x1080 pixels, but there are exceptions with some models using 2K and 4K resolution. However, higher pixel density is not necessary for 14 inch laptops. We think that 1920x1080 is the sweet spot for both gaming and office work on a 14 inch laptop.
In addition, most models use 144Hz display, making higher resolution less desirable in order to experience gaming at high settings and high FPS.
What is the best CPU for my gaming and work laptop?
While on desktop PCs you have almost unlimited power for your CPU and GPU, on mobile the emphasis is on less power consumption.
If your system consumes too much power through the CPU and GPU the battery will be drained far too quickly. That's why Intel and AMD focus on less power hungry mobile CPUs.
Intel Core i9
The Intel Core i9 processor was introduced as part of the 9th generation Core family of CPUs. The Core i9 models have replaced the Core i7 processors as Intel's top mobile CPU, and Core i9 currently represents the fastest mobile processor on the market.
This model is perfect for both gaming and computation-intensive tasks such as video editing and CAD applications.
The Core i9-12900H currently is the fastest mobile gaming processor on the market.
Intel Core i7 and Ryzen 9
CPUs from the Core i7 and Ryzen 9 family are the most common choice for gaming and work laptops. They offer good price to performance ratio and lower power consumption than Core i9 CPUs.
Core i7 and Ryzen 9 CPUs are suitable for both gaming and more demanding applications. Models like Intel Core i7-12700H and Core i7-12650H or Ryzen 9 5900HS are great processors for gaming and work
Intel Core i5
If you're strictly on a lower budget you may consider the Core i5 processor. However, the i5 is no longer the price of performance king and does not work well for 144 FPS gaming. In our model lineup we don't have a single.
The best graphics card for work and gaming laptop
Gaming graphics cards are excellent for work-related tasks. A powerful gaming GPU will benefit a wide range of use cases including graphics design, video editing, and CAD.
Currently the best you can get in terms of performance comes from NVIDIA.
In terms of mobile GPUs, the top models are the RTX 3060, RTX 3070, and RTX 3080. You will have no problem playing any modern game with 144 FPS at 1080p with these graphics cards.
GeForce RTX 3060
If you're looking for a gaming laptop graphics card with a good price to performance ratio, look no further than the GeForce RTX 3060. It's powerful and well-cooled, enabling it to offer an excellent performance-per-watt ratio that means it can run its power-hungry frame rates at lower temperatures than other high-end cards.
It uses the same architecture as its big brothers, but with fewer cores and a lower clock speed. That may sound like a bad thing, but it's actually perfect for laptops. The RTX 3060 is powerful enough to cope with any game at 1080p resolutions with 144 FPS, while also hitting a sweet spot when it comes to price and efficiency.
You can find the RTX 3060 in some of the best gaming laptops right now.
The real question is whether you should buy a gaming laptop with a GeForce RTX 3060 or another graphics card such as the GeForce RTX 2060.
The answer depends on how much money you want to spend on a gaming laptop, how well-cooled the laptop is, and how much graphics performance you actually need for your favorite games.
How much RAM for work and gaming laptops?
16GB is the sweet spot for the majority of gamers, offering enough RAM for even the most demanding games and multitasking needs. If you're not planning on overclocking and don't plan on getting into some serious multitasking like streaming while gaming or using a high-end video editor on the side, 16GB is generally going to be more than enough for years to come.
32GB is overkill for gaming right now, but it's worth considering if you want to make sure you're future-proofed or if you're thinking about getting into some serious multitasking like streaming while gaming and using a laptop for video editing or graphics design.
What's best: SSD or hard drive for work and gaming laptop?
The storage plays a crucial role in your system performance. If your laptop is equipped with a SSD, it will work up to three times faster than the regular hard drive.
The disadvantage of course is the higher price. Laptop with internal 1TB SSD like will cost more than a model with regular drive.
The good news is that these days, almost every laptop equipped with an SSD will deliver good performance and you don't need to stress too much whether the SSD is better than the HDD.
There are some manufacturers that offer a mixed configuration consisting of an SSD and a HDD. The internal SSD serves as an OS drive and the HDD acts as a data storage for music, movies, and work related files.
However these models are not easily found as 14 inch gaming laptops. So, our suggestion is to buy a model with 500GB or 1TB SSD and call it a day.
The Keyboard
There are plenty of things to consider when shopping for a new laptop, but the keyboard is easily one of the most important.
It needs to be comfortable to type on and efficient to use. If you're someone who spends a lot of time at their keyboard – whether you're typing up emails or writing code – you'll want a keyboard that's durable enough to last through years of use.
There are a lot of different factors that go into making an excellent keyboard, but if you keep your eyes open for these few traits, you'll most likely be happy with your purchase.
The first thing to consider is key travel – the distance the keys move when you press them down. A little key travel goes a long way toward making a keyboard comfortable and responsive; too little makes the keyboard feel flimsy and may even cause typing errors.
If the key presses down only 1/8 inch or so, it's probably not going to provide a good typing experience for both gaming and office work. Look for keys that easily depress one-half inch or more – an amount that's generally considered ideal.