Disclaimer
---
We are supported by our readers. When you use links on our site to buy products, we may earn an affiliate commission. As an Amazon associate we earn from qualifying purchases.
---
We are supported by our readers. When you purchase through links on our site, we may earn commission.
Save the Earth and Some Money by Buying a Refurbished Monitor
Refurbished or renewed monitors are a great choice if you are looking for a way to save some money. You need to be careful but if you do your homework you can save considerable amount while getting a display which will serve you for years to come. In this article we will tell you what to be careful about when buying a renewed monitor and also we will review several of the most popular models. Enjoy reading and don't forget to check some of our other articles.
Buying a Refurbished Monitor
Price
When buying а refurbished monitor check the price for the analogical new model. With monitors it is very often the case that only for a little bit more you can buy a new one with even better parameters. The refurbished monitor market is not so great and requires a careful consideration. Calculate if your savings will justify the potential risks of buying refurbished monitor, risks like burned matrix, bad pixels etc. After all, when you buy new you get a flawless device with at least 2 years of guarantee.  Buying refurbished doesn't always make sense.
Also keep in mind that display technology is moving very rapidly and newer monitors are becoming cheaper while also becoming better. Before buying a refurbished or renewed monitor, check out this new one from HP. It is a model with a good quality and an 24 inch IPS panel. The price is very attractive (last seen $110) and in our opinion makes 90% of the refurbished monitors obsolete.
HP 24

inch IPS monitor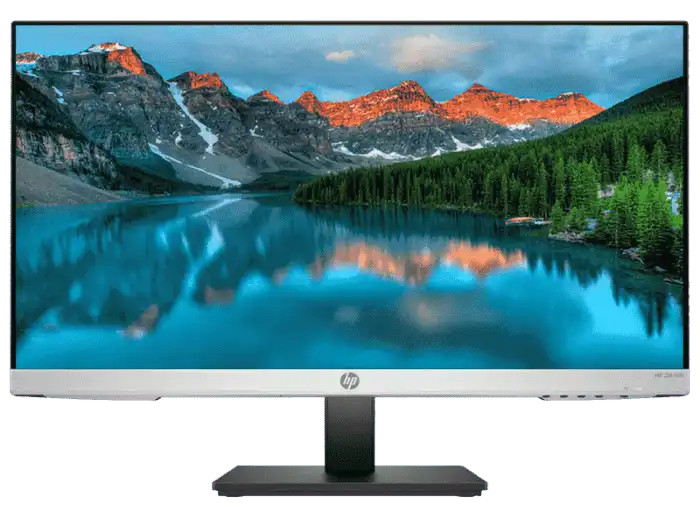 Specification
Screen Size: 23.8 Inches | Max. Resolution: 1920 x 1080 | Response Time: 5ms | Refresh Rate: 75Hz | Brightness: 250Nit | Panel Type: IPS | Extras: Thin bezel
Where to buy?
Display Matrix Condition
Read carefully the description of the product. If unsure about the technical contact the seller with additional questions. Of course it all depends on the price, but buying a monitor with bad pixels or other matrix defects in our opinion doesn't make sense. Best is to buy products which are described as "works and looks like new" with an option to return it if not happy.
Overall Physical Condition
Monitors are usually not taking a lot of beating so you should expect good overall physical condition from your refurbished device. Anything else should be a red light for you, don't buy monitors with lots of scratches and dents on the plastic.
Included cables
Understand what is included in the box. At minimum the renewed monitor should come with a power cable. However, most sellers will also include an HDMI and/or DisplayPort cables. Don't assume but check. You want to avoid downtime caused by not having the right video cable.
Read the Comments
If available always check the comment section for the product or the seller. It will give you a lot of valuable info which is essential especially when buying refurbished, renewed or even used.
Note: If you are completely new to monitors, you are welcome to check our general tips.
Recommended Models
Refurbished Gaming Monitor: Acer K243Y  (K3 Series)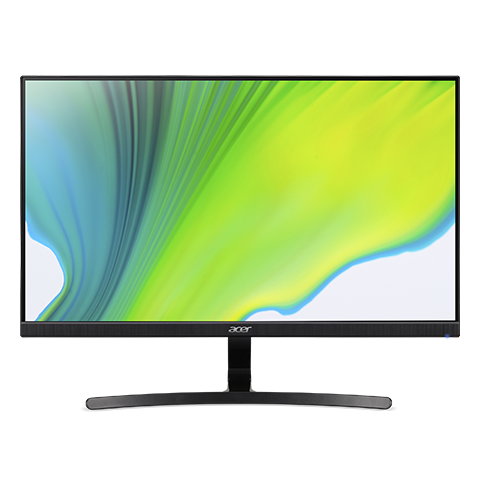 Specification
Screen Size: 23.8 Inches | Max. Resolution: 1920 x 1080 | Response Time: 1ms | Refresh Rate: 75Hz | Brightness: 250Nit | Panel Type: IPS | Extras: AMD Free-Sync
Where to buy?
This refurbished Acer display is perfect as a first gaming monitor. You are getting a lot for your money. It has a near bezel-less display, an FHD resolution and a low response time giving you images with less blur during your fast paced gaming. Enhanced with a wide array of technologies to reduce glare and blue light, the display makes viewing easy on the eyes. Aspect ratio is the common 16:9 and most importantly the panel is an IPS! This mean you will enjoy beautiful colors and great viewing angles while playing your favorite games.
A vital detail is the fact that the monitor supports tearing preventing technology and in particular the AMD FreeSync. This is a must for every gaming monitor. Ideally it would also support the Nvidia technology, Adaptive VSync, but unfortunately this is not the case.
The stand of the Acer K243Y tilts from -5 to +15 degrees which should be enough for most situations. It has the usual built-in speakers but you should not expect miracles as they are only 2x2Watts and of low quality. Anyway, no respectable gamer would ever depend on built-in speakers.
You can connect the Acer either using an HDMI or a VGA cable.
Refurbished 24 inch Monitor:
LG 24MK400H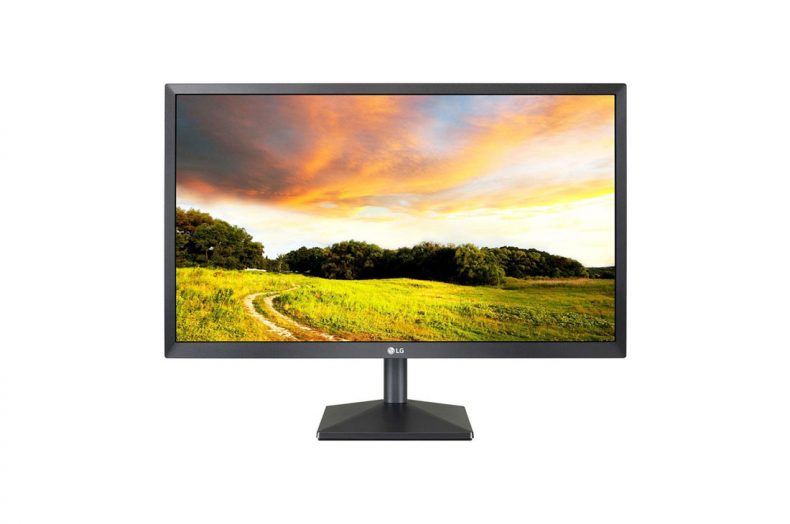 Specification
Screen Size: 23.5 Inches | Max. Resolution: 1920 x 1080 | Response Time: 1ms | Refresh Rate: 75Hz | Brightness: 250Nit | Panel Type: TN | Extras: AMD Free-Sync
Where to buy?
This refurbished LG monitor is a good choice if you are able to get it for below $100. It has a FullHD TN panel which is good for everyday use. Gaming is also an option due to the fact that the monitor supports AMD Free-Sync technology and the response time is very fast at 1ms.
Don't expect too much from the matrix in use and you will be fine. The TN panel being used is not of high quality and the colors are mediocre.  If you are looking for something better you should definitely buy an IPS display.
On the port side you get the standard single HDMI and single VGA. You also have an output for headphones. The device does not have built-in speakers. Tilting the display is possible but very moderately – the LG doesn't specify the amount of degrees. Rotating clockwise and anti-clockwise is not possible, so forget about portrait mode viewing except with an after-market stand or arm.
All in all, the LG 24MK400H is a budget monitor with a very limited set of features. If you find it at a discount or renewed at a reasonable price – go for it. But these days we always recommend buying an IPS display whenever your budget allows it.
Refurbished IPS Monitor: HP Pavilion 22CWA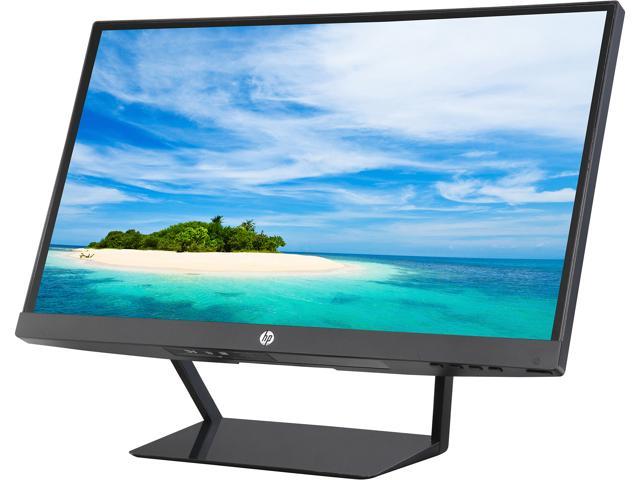 Specification
Screen Size: 21.5 Inches | Max. Resolution: 1920 x 1080 | Response Time: 7ms | Refresh Rate: 60Hz | Brightness: 250Nit | Panel Type: IPS | Extras: Antiglare with hard-coating 3H
Where to buy?
The HP Pavilion 22CWA refurbished monitor is great value for your money. You get a great looking device including an IPS panel with deep colors. At the current price (around $80) it's really difficult to ask for more. Aspect ratio of the HP is the standard 16:9 and the bezel is nicely thin.
Connection-wise you can depend on a single VGA and single HDMI 1.4. We prefer to use the DisplayPort whenever available but the HDMI will do the job too.
A disappointing fact is that the monitor doesn't have a VESA mount. So look elsewhere if you were planning to use another stand or a monitor arm. In this case you are stuck with the factory stand which by the way is not terribly bad looking. Unfortunately it can be only tilted – no swivel or height adjustments.
If you are looking for built-in speakers – don't. It doesn't have them and also doesn't have any audio output jacks.
This is not the perfect monitor for hardcore gaming. It has only 60Hz refresh rate and it's rather slow at 7ms response time. Aim for 5ms or below if you are expecting to do a lot of gaming. Other than that, this is a perfectly fine IPS display which will serve you fine in the office or home.
Refurbished 4K Monitor: LG 27UD59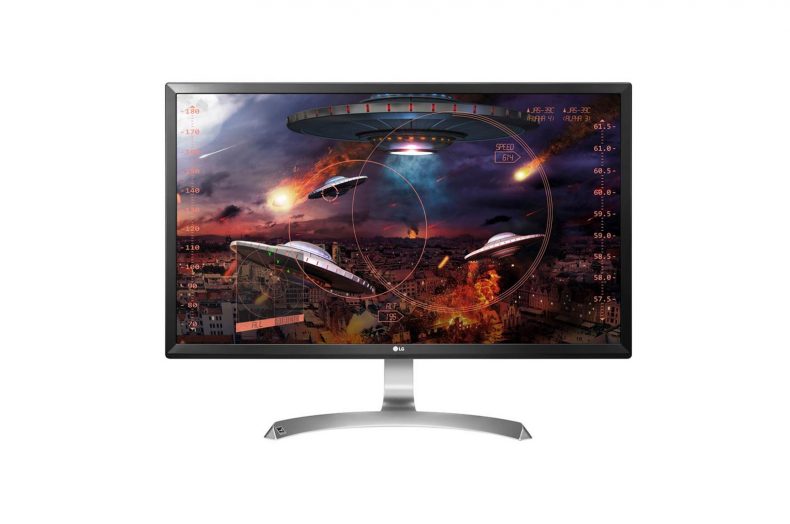 Specification
Screen Size: 27 Inches | Max. Resolution: 3840x2160| Response Time: 5ms | Refresh Rate: 60Hz | Brightness: 250Nit | Panel Type: IPS | Extras: AMD FreeSync
Where to buy?
This is a big monitor! Not everyone will be fine with working on a 27 inch display. Sometimes your desk will be too small or your eyes will feel uncomfortable. However, if you are sure that this is what you need, then this model will definitely do the job. With its 4K resolution and an IPS panel you will get super detailed picture with great colors.
Gamers will be happy to find out that the LG display supports AMD FreeSync with maximum refresh rate of 60Hz and a decent 5ms response time. However, if you plan to use the maximum resolution and refresh rate, make sure that you are using the DisplayPort interface. The HDMI supports only up to 4K at 30Hz.
This device has a decent set of video ports: 2x HDMI (2.0) and a single DisplayPort (1.2). It also has an audio output jack for speakers or headphones.
The stand is not very functional and allows only for tilt adjustment (-2 to +15 degrees). The good thing is that the monitor has VESA mounting wholes (100x100) which will allow you to use a better stand or a monitor arm if needed. In case you find the similar LG 27UD58 model, go for it, as it has a much better stand that allows for vertical viewing, tilt and swivel.
Other interesting features of this refurbished LG monitor are the Screen Split and the On-Screen Control. Screen Split allows you to emulate several monitor layouts for multitasking with the latest version of LG Screen Split. With it you can resize and display multiple windows at once and also have four different picture-in-picture (PIP) choices.
This 4K LG is a solid display that will impress you with its size and high quality picture. It is up to you to decide if the refurbished price is right. Last we saw it at around $288 which is definitely steep especially when there are offers for a new and better LG 27UD58 at $290.
Refurbished 19 Monitor: Dell P190S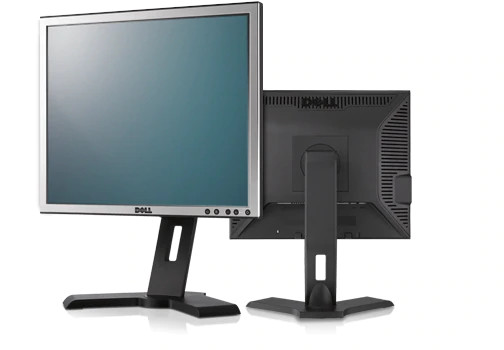 Specification
Screen Size: 19 Inches | Max. Resolution: 1280 x 1024 | Response Time: 5ms | Refresh Rate: 60Hz | Brightness: 250Nit | Panel Type: TN | Extras: Antiglare with hard-coating 3H
Where to buy?
This is another professional display from Dell. As usual it comes with a great stand which is adjustable in tilt, swivel, and vertical extension. The aspect ratio is 5:4 or very similar to a square.
The size and resolution of this screen is very limited but if you are after a 19 inch display, this monitor is a good option. It's pleasant to watch to and won't cause easily an eye fatigue. After all it is a professional device designed and manufactured for long working hours.
Connectivity is ОК – you get only DVI-D, VGA and 2x USB 2.0 ports. If your computer is using HDMI or DisplayPort, you will need to buy either an HDMI to DVI or DisplayPort to DVI adapter. Always use the DVI port whenever possible, the VGA one does not provide you with best video quality as it is analog.
We recommend buying this refurbished Dell monitor, especially when the price is right. The cheapest refurbished model we were able to find was around $70. In our opinion it is a bit too steep but at least you get a 90-day Amazon Renewed Guarantee.
Refurbished Dell Monitor: Dell P2213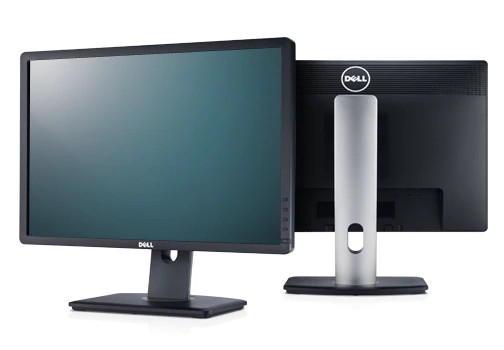 Specification
Screen Size: 22 Inches | Max. Resolution: 1680 x 1050 | Response Time: 5ms | Refresh Rate: 60Hz | Brightness: 250Nit | Panel Type: TN | Extras: Antiglare with hard-coating 3H
Where to buy?
The Dell P2213 is a professional screen which will do just great for office or home use. It comes with a great stand which is adjustable in all three axes. That's not all – you can even adjust the height! This is especially important for programmers who prefer to keep at least one monitor in portrait mode so that they can maximize the amount of code being visible at one time. The aspect ratio of the screen is 16:10 (widescreen).
The Dell monitor comes with a TN panel which is not great for colors but it is still of high quality and should give you enough comfort when working. The monitor is not the fastest at 5ms response time and it is missing anti tearing technology. Playing games is of course not a problem but there are better options out there when it comes to gaming. You should look at devices that support at least one of the anti-tearing technologies.
This refurbished display comes with a DisplayPort 1.2, DVI port and a VGA port. You also get two USB 2.0 ports. It's missing an HDMI port and doesn't come with built-in speakers.
We highly recommend this professional Dell Monitor. It has good quality TN panel and a very versatile stand which will allow you to set your working position perfectly. Don't underestimate the importance of a good monitor stand. You don't want to end up putting books under it.
General Tips on Buying a Monitor
Monitors have several parameters which will determine whether your work will be enjoyable or not.  Selecting a monitor with the proper parameters is done based on your use case. For example, for gaming you want to focus on image quality, refresh rate and response time;  For office work you care the most about image quality; For image processing  image quality and in particular color accuracy are important. Let's have a more detailed look at the different parameters.
Size
The size is usually given in inches and measures the diagonal of the display. Most popular sizes are 22 to 24 inches. This is also what we recommend. Going smaller is not much cheaper and will reduce your work comfort. Going bigger doesn't make much sense except for the cases where you need to display many programs at the same time.
Resolution
Resolution is the amount of pixels that a monitor has. A 24 inch monitor will usually have 1920 by 1080 pixels for total of 2,073,600 (1920x1080=2,073,600). Resolution by itself doesn't give you the whole picture. What matters is the resolution in relation to the display size or what is also called pixel density (measured in Pixels Per Inch – PPI). Generally the higher the PPI value the better.
Here is a link to a PPI calculator. You can input the resolution and the screen size and get the PPI value. As an example a 23 inch display with a resolution of 1920x1080 has approximately 95 PPI.  If the same 23 inch display has 4K resolution, then you will get a value of 190 PPI.
Table with popular resolutions:
| | |
| --- | --- |
| Name | Resolution |
| 5K | 5120 x 2880 |
| 4K | 3840 x 2160 |
| Ultra HD (UHD) | 3840 x 2160 |
| Quad HD (QHD, WQHD or 2K) | 2560 x 1440 |
| WUXGA | 1920 x 1200 |
| Full HD (FHD) | 1920 x 1080 |
| HD | 1280 x 720 |
Image Quality
Image quality (viewing angles, contrast, brightness, colors etc.) depends on the technology used for making the display matrix. The three main LCD technologies used today are:
TN – Has a low price and fastest response times. Image quality is not great but TN displays are good for office use and gaming.
VA – Have the longest response times but usually the best contrast and image depth. VA monitors are good for office use.
IPS – Usually these are the most expensive displays with best picture quality (great colors and viewing angles). Response times lie between VA and TN.  We recommend buying an IPS display whenever possible.
Refresh Rate
Refresh rate is measure of how often can a screen be updated with new information. A refresh rate of 60Hz (Hertz) indicates that a monitor can draw up to 60 frames in one second. General use monitors will have a refresh rate of 60Hz. Gaming Monitors should have at minimum 75Hz and ideally 144Hz and above.
Response Time
This is the time it takes for a pixel to change (usually from grey to grey). Monitors with long response times will display motion blur and ghosting around objects that are moving. If you are looking for a gaming monitor you have to look for response times of 5ms or lower. If you want to use an IPS Monitor for your gaming, you should pay attention to the response time as it tends to be a bit slower for this type of technology.
Ports
There are numerous types of video ports, the most popular being: DisplayPort, HDMI and VGA. You should check what type of video port is your computer using and buy a display with the same one. Don't worry though, even if your monitor is not compatible with your laptop or desktop you can always get an adapter. Use the VGA port as a last resort only as it supports very low resolutions and refresh rates.
Note: Find out more in our article about ports.
Stand
Selecting the right monitor mount or stand is crucial. Ideally you should have a monitor stand which is adjustable in all three axes: tilt, pan (pivot), rotation (swivel). If your monitor stand can swivel clockwise or anti-clockwise, it will allow you to set the monitor in portrait mode – a feature especially often used by programmers.
Another important feature is to be able to lift your monitor up and down (height adjustment). However, this is only available with the most expensive models.
Finally, we recommend whenever possible to mount your monitor on the wall or to use a monitor arm. This will free up space on your desk and keep your setup clean.