Disclaimer
---
We are supported by our readers. When you use links on our site to buy products, we may earn an affiliate commission. As an Amazon associate we earn from qualifying purchases.
---
We are supported by our readers. When you purchase through links on our site, we may earn commission.
If you are looking for a compact ultrabook and a reasonable price, consider a refurbished Asus Zenbook – a light but sturdy aluminum chassis will make all the difference in the world when you have to carry your laptop around. None of this cheap – and cheap-looking – plastic will do, especially if, like us, you prefer not to change your laptop every year.
As of today, there aren't many (if any) refurbished Zenbooks sold online that fall in our refurbished laptop sweet spot – $400 to $600 with three to four years old CPUs.
But still, you are probably searching for ZenBook. So, to save you time and money we found couple of grate models from the recent years that go between $200 and $600 less than the regular price.
Let's jump straight to our favorite model – the 15 inch Zenbook UX533FD.
You save: ~ $220
Asus 15 inch Zenbook UX533FD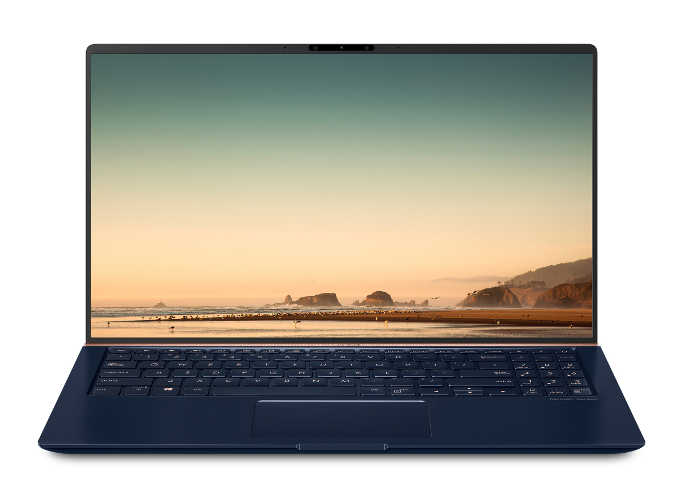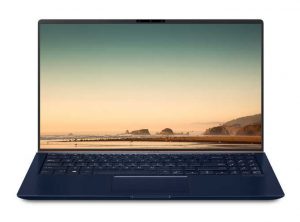 Specification:
CPU: Intel Core i7-8765U @ 1.8 GHz | GPU: GTX 1050 Max-Q | RAM: 16GB DDR4 | Storage: 512GB SSD M.2 | Display: 15 inch @ 1080p IPS 60 Hz | OS: Windows 10 Pro | Release date: August 2018
Where to buy?
Before we take a look at a few small size Zenbook options, it's time to tell you about the 15-inch Zenbook UX533FD. After all, not all of us need or want a small or super portable machine.
Which is not to say this 15-inch laptop is heavy or bulky – it is actually very thin and light and has been touted as the most compact machine of its type. It is also entirely made of dark blue aluminium, tough but also super stylish (and has won an award or two for it).
Definitely premium class and getting it refurbished doesn't change that one bit. Especially since it has a military grade certification for reliability and durability.
While not a gaming laptop and designed with business use in mind, thanks to the high quality, really narrow bezel display and the powerful components inside, you can actually play quite a lot of titles and fairly good settings.
And do quite a bit of work – the NVIDIA GeForce GTX 1050 Max-Q graphics card, the 8th generation i7-8565U processor, 16GB of RAM and 512GB SSD… this is definitely more than a simple everyday laptop for browsing and email needs. But if you are looking for something more powerful and compact for your gaming sessions, consider a refurbished Razer Blade 15.
Another thing worth mentioning is the keyboard and touchpad – really comfortable to work with, even for hours on end, which is something the battery will allow. On a slow day a single charge will last more than one business day but of course it all depends on what you use it for.
Best Refurbished Asus ZenBook
As already mentioned, build quality is great and as a rule the design is pretty good as well. Another thing that the Zenbook line has in its favor is the display quality. You will read a lot about how great the displays are and there is a reason for it – Asus have not made any compromises with their screens. And all the renewed models below already have Windows 10, so you don't waste any time with OS installation.
There are a lot of refurbished Asus Zenbooks to choose from, so before you check out the selection below, you need to think about your needs and your budget. No need to get something too powerful if you are going to use it only for checking social media and watching YouTube videos.
However, if you really do need a bit more horsepower or your heart is set on the lightest possible option, Asus have you covered.
1. Asus 13 inch Zenbook UX331FAL Refurbished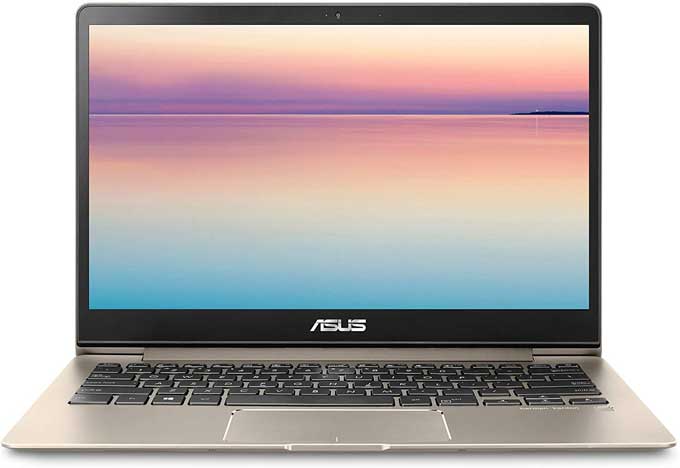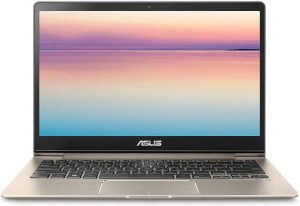 Specification:
CPU: Intel Core i7-8565U @ 1.8 GHz | GPU: Intel UHD 620 | RAM: 8GB DDR3 | Storage: 256GB SSD M.2 | Display: 13 inch @ 1080p IPS 60 Hz | OS: Windows 10 Pro | Release date: August 2018
Where to buy?
If you are looking for something super slim and really light, you can't go wrong with the Asus Zenbook UX331FAL. And since this model is refurbished the price is on the slim side as well.
The fairly generic looking body hides an excellent Full-HD display with great contrast and surprisingly good colors. The touchpad is decent, nothing special to be honest, but the keyboard – now that's a pleasure to work with.
The Asus Zenbook UX331FAL boots up in no time and thanks to a decent set of components, it will handle anything you might need on a regular day. The 256GB SSD, an 8th gen i7 Intel core and 8GB RAM should be more than enough. This model updates the UX331UA i7 8550U with the newer i7 8565U.
Obviously not a whole lot of storage but let's face it – this thin, ultraportable laptop is not going to be where you store your video or music collection.
What you are most likely looking for is something you can take with you pretty much anywhere and in order to do that, you need a decent battery. And this model has it – it will pleasantly surprise you to go through about 10 hours or more of browsing on a single charge.
And on days you decide to carry the charger with the laptop, so you can juice up on the go, it is also rather slim and light, easy to stuff in a laptop bag or a backpack.
2. Asus 13 inch Zenbook UX305CA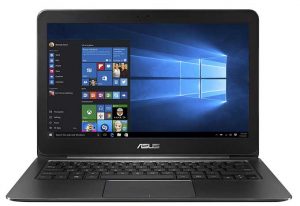 Specification:
CPU: Intel Core i5-8250U @ 1.6 GHz | GPU: Intel UHD 620 | RAM: 8GB DDR4 | Storage: 256GB SSD M.2 | Display: 13 inch @ 1080p IPS 60 Hz | OS: Windows 10 Pro
Where to buy?
Another slim and light Asus Zenbook, the 13-inch UX305CA is durable enough to be constantly carried around, which is – let's face it – why anyone gets a laptop this portable in the first place. It needs to withstand some jostling and it will.
And unlike some other ultrabooks, this laptop has a very decent amount of ports, especially considering how thin it is: three USB 3.0, a micro HDMI (no room for a regular HDMI however), an SD card slot and a standard headphone jack.
It comes with preinstalled Windows 10, so you are good to go as soon as you open the box, and it also has a very nice 13.3-inch FHD IPS display. Nice colors, bright, matte and very decent viewing angles. No touchscreen however, so if your heart is set on it, check out the Zenbook Flip below.
If you need a light laptop (on the smaller side, so you can easily carry it around) and you plan to use it for everyday stuff, the refurbished Asus Zenbook UX305CA will certainly get the job done. It should go without saying, but no heavy gaming or video editing is possible – there is no dedicated GPU, the display is 13 inches and no room to even store super large files.
But 8 GB RAM, 256 GB SSD and a 6th gen M3-6Y30 processor are pretty sufficient for browsing online with plenty of tabs opened or getting some work done on the go. And since we said "on the go", the battery lasts almost 10 hours on most days.
3. Refurbished Asus 12.5 inch Zenbook UX390UA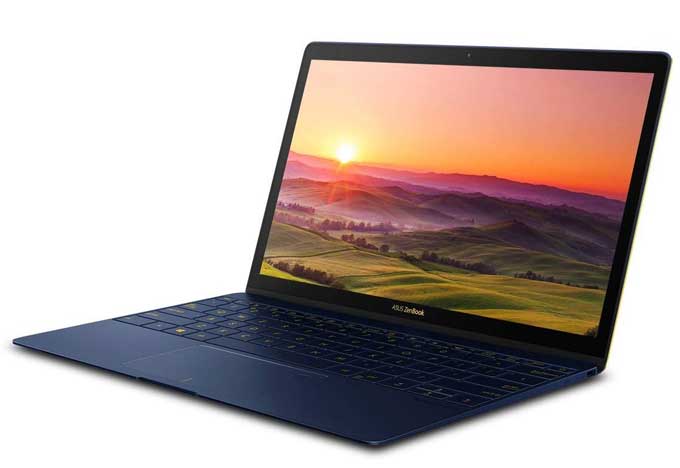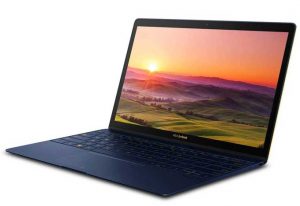 Specification:
CPU: Intel Core i7-7500U @ 2.7 GHz | GPU: Intel UHD 620 | RAM: 16GB DDR4 | Storage: 512GB SSD M.2 | Display: 12.5 inch @ 1080p IPS 60 Hz | OS: Windows 10 Pro |  Release date: September 2017
Where to buy?
The 12-inch Asus Zenbook 390UA is a response – and a competitor – to the 12-inch MacBook Air but with a very different price tag. And made even lower, once refurbished.
And no offense to Macs and their loyal fan base, but this Zenbook is not only way cheaper, it is also surprisingly fast and powerful for such a tiny machine.
It might be light – only 2 pounds – but lightweight, it certainly isn't. Not with 16GB of RAM, i7-7500U Intel processor and 512GB SSD, which is way better than most ultrabooks.
The keyboard is pretty ok, yes, with short travel but decent for an ultrabook, and the trackpad is better than ok – it is actually really nice, big and responsive. The IPS display is FHD, dynamic and really high quality, lovely to look at. And to round up the best possible entertainment experience, audio is surprisingly loud.
The one thing we don't like is the lack of ports – only a single USB 3.1 Type C, but that is to be expected with a laptop this small. A mini dock is included but it's not the same and while it gives you a few more ports, we are not super big fans of mini docks in general.
And another thing to mention: not everyone might really care what color their laptop is, but this Zenbook comes in royal blue which is actually pretty nice and adds a bit of a premium feel to it.
4. Asus 13.5 inch ZenBook Flip UX370UA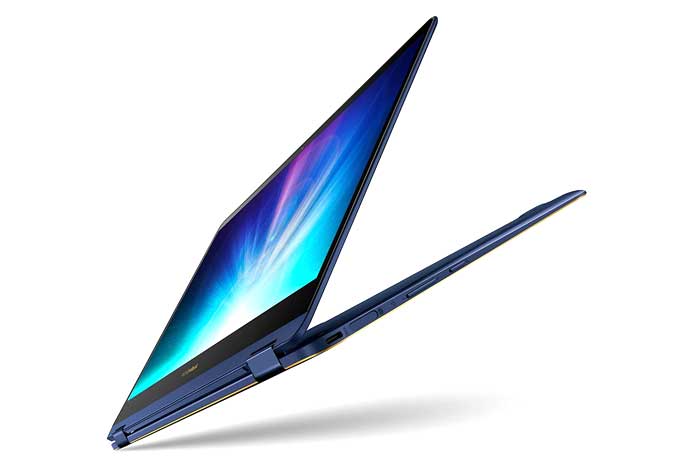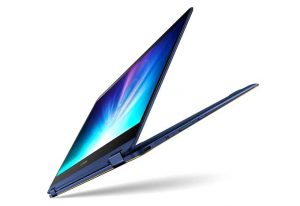 Specification:
CPU: Intel Core i7-8550U @ 1.8 GHz | GPU: Intel UHD 620 | RAM: 16GB DDR3 | Storage: 512GB SSD M.2 | Display: 13.5 inch @ 1080p IPS 60 Hz | OS: Windows 10 Pro | Additional: Flip | Condition: Manufacturer refurbished | Release date: July 2018
Where to buy?
Holding the Asus Zenbook Flip S you immediately realize this is one of the lightest convertible laptops on the market and for our money, one of the most stylish as well.
Unlike some other convertible models, the Zenbook Flip is not a tablet that can be used as a laptop – it is a premium, durable, comfortable to use and a pleasure to work on laptop, that has a tablet mode. You can spot the difference, right?
The first thing to mention is the body, closely followed by the powerful components. If you are getting a touchscreen convertible Zenbook, you will be switching from one mode to another and most likely often. It's a good thing the ErgoLift 360-degree hinges are sturdy and fluid. The whole machine is very durable and there are no issues, even with a refurbished model like this one.
And inside the beautiful chassis it is packed with 16GB RAM, 8th gen i7 Intel Core processor and 512GB SSD, as well as a preinstalled Windows 10 Pro.
The FHD 13.3-inch display is touchscreen, with great colors and wide viewing angles. It also works great with the included pen but keep in mind it needs to be regularly wiped since it attracts a ridiculous amount of fingerprints.
The battery is good and has fast charging but since this laptop can do more than light web browsing, chances are you will be using it a lot and that of course means less workhours on a single charge.
5. Asus 14 inch Zenbook Flip UX430UA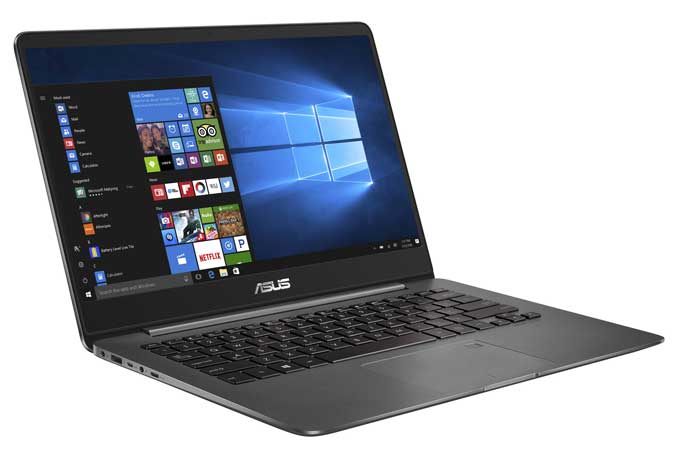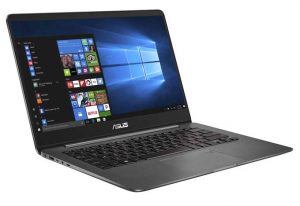 Specification:
CPU: Intel Core i7-7500U @ 2.7 GHz | GPU: Intel UHD 620 | RAM: 16GB DDR3 | Storage: 512GB SSD M.2 | Display: 14 inch @ 1080p IPS 60 Hz | OS: Windows 10 Pro | Additional: Flip | Release date: November 2017
Where to buy?
For a high quality, solid but ultra-slim and light laptop with excellent specs, that is also actually affordable, go for the refurbished Asus 14-inch Zenbook UX430UA. It has a 14-inch Full-HD display in the chassis of a 13.3-inch machine – possible thanks to the tiny display bezel.
It's the perfect combination of a small device you can take literally anywhere (it's just 1.25 kg) and a powerful and really fast machine with an 8th generation i7 processor, 16GB RAM and 512GB SSD. The graphic card is integrated but that's more than fine for a business laptop. Obviously not recommended for heavy gaming anyway.
The Zenbook 14 also has a decent set of ports with a USB 3.0, USB 2.0 (not perfect but for a mouse for example, it doesn't really matter) and USB-C, micro HDMI, an SD card reader and a headphone jack of course.
The backlit keyboard is not perfect but more than adequate for a laptop this compact and the touchpad is actually very good and comfortable to use. Another note: this device doesn't get too hot or noisy even when working hard for a while.
As always, the refurbished Zenbook comes with preinstalled Windows 10 and Amazon's guarantee it will work and look like new (backed by the 90-day Amazon Renewed Guarantee). And for a considerably lower price.
If your options are a new laptop with lower specs or a refurbished machine, indistinguishable from new and with great components, well, we know what we'd choose.
Where to buy Zenbook refurbished
Depending on where you live you have a few options to find the refurbished Asus Zenbook to suit your needs, whatever they may be. Keep in mind, while you browse and research, sometimes these might be listed as reconditioned, renewed, remanufactured or recertified.
For US residents the following four are your best bet and you will find a large selection of renewed Zenbooks with great specs and prices:
Amazon
Best Buy
Newegg
Wallmart
Obviously nowadays you can order pretty much anything from any part of the world but if you live in the UK and want to save up on delivery, check out the following:
laptopsdirect uk
https://uk.store.asus.com/outlet.html
https://www.europc.co.uk
If you are in Canada and looking for a quality recertified Asus Zenbook, look no further than the following:
Best Buy Canada
Amazon Canada
https://www.staples.ca
Newegg
Laptops
Refurbished Microsoft Surface 2 in 1 Laptops
MS Surface is one of the best devices you can find for digital handwriting and note taking – a useful feature …
Laptops
Classic Refurbished Dell XPS 13 Laptops
If you are looking for an ultrabook type of refurbished laptop – super light, slim, durable, and easy to carry …
Laptops
Best Refurbished Chromebooks Laptops
Chromebooks are well optimized and the OS is design with the Web in mind. No added complexity and …
Laptops
Refurbished EliteBook 830/840/850 G5
This business-class laptop has a comfortable keyboard, powerful processor and a very sturdy casing …