Without a doubt, Alienware is one of the most popular brand of laptop for gamers and for a good reason. In fact, when most people say "Alienware" they mean "gaming laptop" and vice versa.
But Alienware are in general pricey machines. If you find it hard to shell out for the configuration you want, don't lower the specs but the price. Remember? Getting a refurbished Alienware laptop will cost you less.
Check out the best Alienware refurbished models.
We are supported by our readers. When you purchase through links on our site, we may earn commission.
Disclaimer
---
We are supported by our readers. When you use links on our site to buy products, we may earn an affiliate commission. As an Amazon associate we earn from qualifying purchases.
---
Best refurbished Alienware laptops
Dell's line of Alienware machines are designed for heavy gaming and it shows – not only are they super powerful, but also ridiculously stylish. Instantly recognizable, Alienware laptops are a sure sign of a serious gamer.
After some concerns that Alienware are getting "too mainstream", Dell surprised everyone with an update and a redesign. Now you get even more excellent choices for the different the games you play and the quality you demand.
One of the newer models also offers a desktop CPU bringing a desktop-like experience on a laptop. Of course, something like this will cost you and in fact Alienware are in general pricey machines. But remember, if you don't have the resources or don't feel like spending that much, you have always the choice to buy a refurbished laptop.
One more thing to consider – many of these are not just heavy-duty but also seriously heavy on weight. Not to mention that their power supplies are massive as well. True, most people don't carry often their gaming beast around but if you need some mobility, you'll definitely feel the pain.
1. Refurbished Alienware 17 R5 [AW17R5]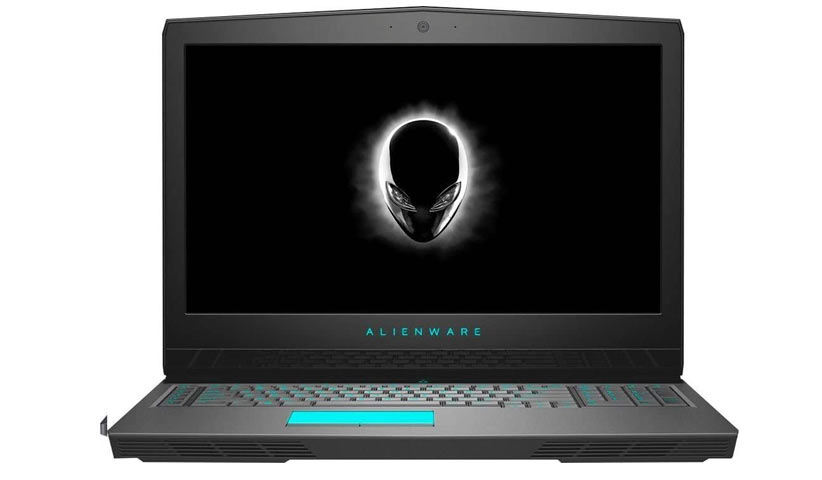 Where to buy?
When people, who are not intimately familiar with Dell's Alienware line, hear the name Alienware 17 R5, it is pretty much what they think of – a big, heavy laptop with a classic design and a large screen.
The 17-inch chassis isn't actually any heavier or larger than other gaming laptops of this screen size, but yeah, portable it isn't, especially when you add the bulky charger.
But it's obviously not designed to be carried around, it's designed to allow some serious gaming – and to look cool doing it. The processor is an 8th generation i7-8750H, RAM is 16GB, it has a 1TB hard drive and 256GB SSD, as well as an NVIDIA GeForce GTX 1070 8GB dedicated graphics.
Ports are as abundant as expected for a 17-inch laptop, including the usual Alienware Graphics Amplifier port, a Thunderbolt 3, a USB-C, a Mini DisplayPort, HDMI and 2 USB 3.0.
However, there is no SD card slot or a DVD/CD drive, which might have been useful for people wanting the Alienware 17 R5 not for gaming  (e.g. video editing).
One thing you should always consider with the Alienware – and really with any gaming laptop – is the cooling system. Dell insist they have updated the Alienware 17 R5 one, but actual our experience shows no real difference from previous models.
However, this is not not to say cooling is not doing its job. You shouldn't have any problems with the i7 and GTX 1070 configuration. The fact that this is a certified refurbished device should not worry you either.
Model variations:
aw17r5-7092slv, aw17r5-7405slv-pus, aw17r5-7092slv-pus, aw17r5-7441slv, aw17r5-7108slv-pus, aw17r5-9729slv-pus, aw17r5-7108slv, aw17r5-781, aw17r5-7092slv-pus
2. Refurbished Alienware Area 51m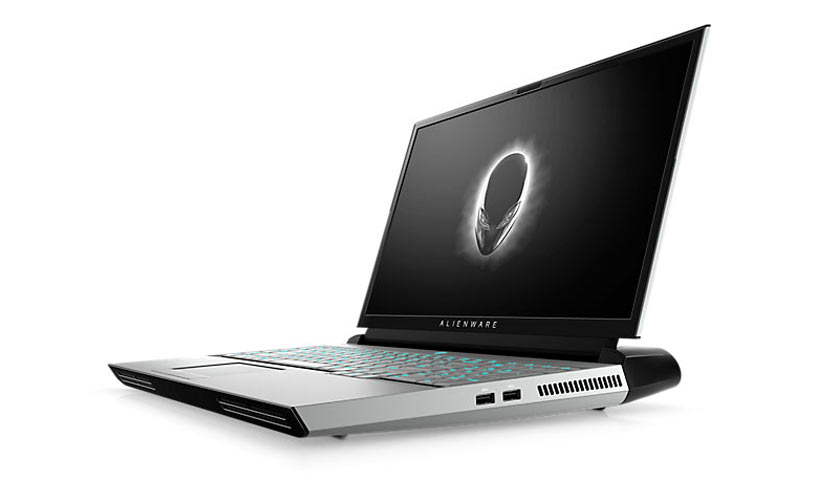 Where to buy?
A gaming device that really does stand out, the Alienware Area 51m is a 17-inch laptop with a desktop CPU, and while the laptop itself is not much bigger than a standard Alienware 17, it packs significantly more performance, upgradability and cooling.
It is available with a few different NVIDIA GPUs to choose from and perhaps more importantly, graphics are upgradable. In fact, both CPU and GPU upgrades are possible and this is one of the Area 51m's best features.
Another excellent feature is the cooling system, which can be a deal breaker for a gaming laptop if not properly designed. Luckily, Alienware's Cryo-Tech thermal technology is actually surprisingly effective.
So the pros are many and awesome, including the desktop CPU (worth mentioning again!).
However, there is one significant con and it should be pretty obvious already – a machine like this comes with a staggering price-tag. Of course, you can lower it by getting a refurbished model.
And while there are always concerns about the display and the battery of a recertified device, let's be honest – these are hardly mind-blowing in the new Area 51m anyway.
The display is a 17.3-inch FHD IPS which is a surprise, but you can always plug in a 4K monitor. Battery life is even less impressive but of course, that can be expected and shouldn't surprise anyone.
The redesigned Area 15m comes in two shades – Dark Side of the Moon and Lunar Light. This might be just a fancy way of saying black and white, but they are undoubtedly cool.
3. Refurbished Alienware 13 R3 [AW13R3-7420SLV-PUS]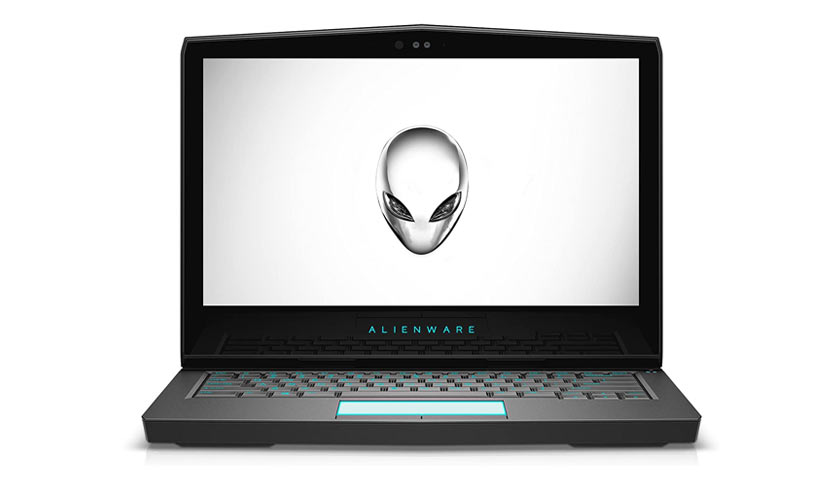 Where to buy?
Smooth and fast, the Alienware 13 R3 is currently the latest 13-inch laptop that Dell's Alienware offer in order to cover the most popular laptop sizes on the market.
But don't be fooled – keep in mind the size and especially the weight is actually considerable. But this is normal for all Alienware laptops.
For a 13-inch device, the Alienware 13 R3 is certainly heavy and with its huge charger it will weigh you down even more. If portability is super important to you, keep that in mind but after all this is not your regular 13-inch laptop.
A 7th generation Intel Core processor, NVIDIA GTX 1060 graphics, 16GB RAM (32GB is the maximum capacity) and 512GB SSD will get you a lot out of this 13-inch device.
If you plan to use not an external monitor but the laptop screen, it is a 13.3-inch FHD anti-glare 300-nits display with excellent viewing angles.
As with Alienware laptops in general, many people get them not (only) for gaming but for demanding photo or video editing. If that's the case, you will not be disappointed. Plus, the battery should last you a few hours.
Build quality is what you might and should expect from Alienware: a high-quality laptop with silver aluminum exterior and soft-touch interior.
The keyboard and the touchpad are nice to the touch and perform well. There is more than a decent selection of ports, especially for a 13-inch laptop (not surprising, considering the actual size of the chassis).
Model variations:
aw13r3-7420slv-pus, aw13r3-7000slv-pus, aw13r3-7000slv, aw13r3-7420slv-pus
4. Refurbished Alienware m15 [AWm15-7830SLV-PUS]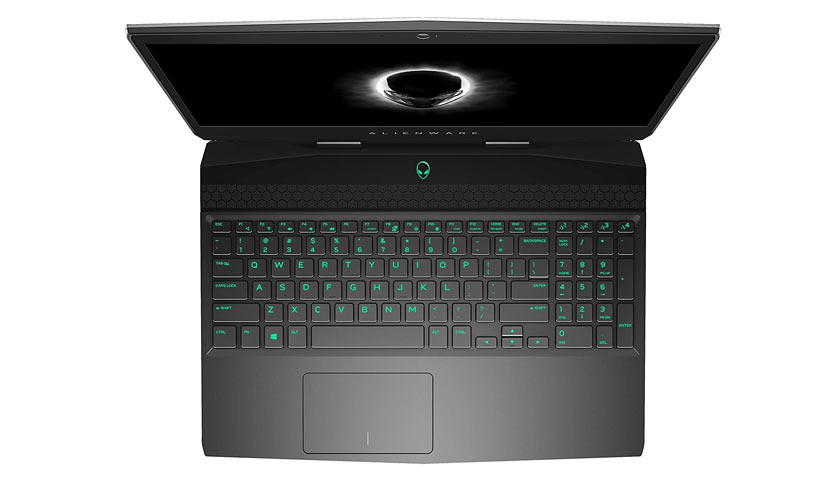 Where to buy?
A thin and light gaming laptop, the Alienware m15 is the brand's first try at giving their fans a gaming experience in a slim, lightweight 15-inch machine (followed by the m15 R2).
While it keeps the classic Epic design similar to the much bigger Alienware 15, the m15 is impressively 38% lighter which adds up to a little over 2 kg (4.8 lbs.) – lighter than the Alienware 13, if you can believe it.
And while the size is also quite reduced – 30% smaller footprint in fact – the build quality remains as good as ever, the chassis is rigid and looks and feels truly top-of-the-line. This is absolutely valid for a refurbished machine as well.
Inside is an 8th gen Intel processor, NVIDIA GeForce GTX 1060 graphics, 16GB RAM, 128GB SSD and 1TB storage – not the highest configuration but it hits the sweet spot.
Display is a 60Hz anti-glare 15.6 inch Full HD, but a 4K option is available in case you plan to use the laptop not as a gaming device but for some demanding creative work.
As with all gaming laptops, one thing to keep in mind is the heat signature. Fortunately, there's really nothing to worry about – it's pretty similar to a standard Alienware 15 which is not mind-blowing but more than OK. The body itself does not get too hot to the touch during load.
One thing you don't get with this model is all the lighting effects of the bigger Alienware laptops. Keep that in mind if you are a fan. The logo and keyboard still lit and color is adjustale.
Model variations:
awm15-7806slv-pus, awm15-7862slv-pus, awm15-7830slv-pus, awm15-7469slv, awm15-7469slv-pus, awm15-7861slv-pus, awm15-7830, awm15-7059slv-pus, awm15-7411slv-pus, awm15-7667slv-pus, awm15-7954slv-pus
5. Refurbished Alienware 15 r3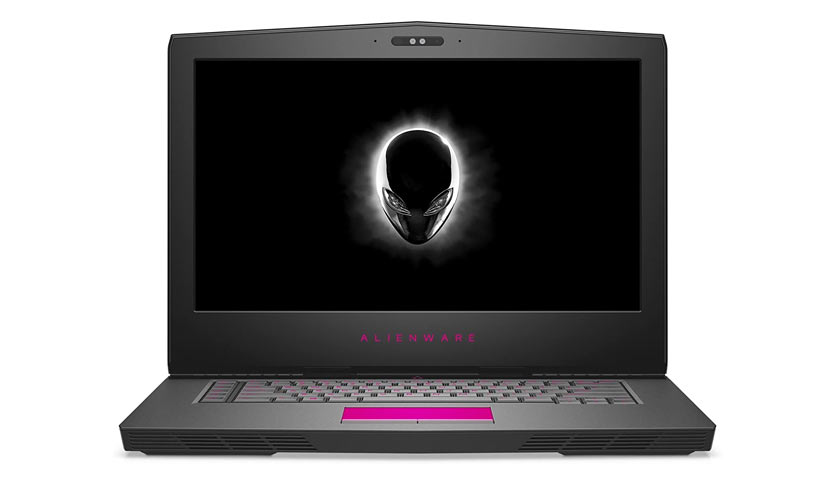 Where to buy?
Not the newest model Alienware have to offer, but a solid and high performing gaming laptop nonetheless. The Alienware 15 R3 comes in a variety of configurations to suit pretty much every need and budget.
A refurbished laptop with an Intel Core i7-7700HQ processor and an NVIDIA GeForce GTX 1070 (6GB GDDR5) graphics will not cost you an arm and leg.You get also 16GB RAM and 256GB SSD + 1TB HDD hybrid storage.
The display is a 15.6-inch FHD anti-glare. The 68 Whr battery will get you just about 3 hours of browsing, while gaming will obviously eat up your battery much quicker.
The keyboard is great, with a nice travel it is pleasure to work and play on. Lighting effects are pretty much standard for this type of Alienware laptop (as opposed to the newer models – smaller and lighter, but less LED).
For those who actually plan to use the Alienware 15 R3 not for gaming but for work – video editing, heavy duty apps, that sort of thing – there are plenty of ports to work with, but no SD card.
Once you remove the bottom panel, which is easy to do on most Alienware laptops, components are easily accessible for upgrade (e.g. more RAM or storage).
As with all Alienware devices, build quality is excellent and the Alienware 15 R3 is simply a high-quality machine. It is also not too thick but it is heavy at 3.5 kg (7.7 lbs.), even for its kind.
Check more about this model at our dedicated review.
Model variations:
aw15r3-7376slv-pus, aw15r3-7003slv-pus, aw15r3-737, aw15r3-5246slv-pus, aw15r3-0012slv, aw15r3-7001slv-pus, aw15r3-3831slv, aw15r3-7338slv, , aw15r3-7001slv
Buying guide
What condition to expect
Buying a refurbished Alienware, you can safely expect a laptop that works and generally looks as new. There might be minimal scratches on the body but that's rare and there shouldn't be anything that affects performance.
Check battery wear
One thing to consider is battery wear. If you do get a laptop that's not in perfect condition – chances are slim but anything can happen – in most cases this is immediately obvious and you can return your purchase. Battery wear on the other hand, is not so obvious but super important, so go ahead and check it.
There are several ways to check battery wear and if you are wondering how, a quick search will get you all the information you need. Once you get your new refurbished laptop, we suggest that's the first thing you do.
Warranty, repair and replace
Recertified Alienware laptops come with a full warranty and free 30-day return, but more importantly, if you do get a device for Dell Outlet with any issues, they will replace it quickly and quite possible with a refund. And this includes laptops with more than minimal battery wear.
Can you upgrade
Upgradability depends on the model but as a rule, Alienware devices are easy to access and upgrade – after all they are aimed at gamers who appreciate that sort of thing.
Often that means more RAM or SSD, but as we've mentioned, the Area 51m in particular allows fairly easy CPU and GPU upgrades as well.
What discount to expect 
The discount you get for a refurbished Alienware can be between 20 and 30%, which is already great. However, if you want an even better deal and you are not in a rush, look out for coupons on Dell Outlet's twitter feed.
A good idea is to get a recertified laptop, even if you can afford the configuration brand new. Spend the extra money you save on some upgrades, like more RAM for example, or SSD, or perhaps some decent peripherals.